Successful quilting begins with accurate cutting. The first rule of quilting I learned as a beginner came from my grandmother: "Measure twice; cut once." This old adage has stayed with me over the years and helped prevent many mistakes. As a result of her sage knowledge, I really do check the pattern and the measurements twice before cutting. As it takes only a few extra seconds and helps make my quilting better.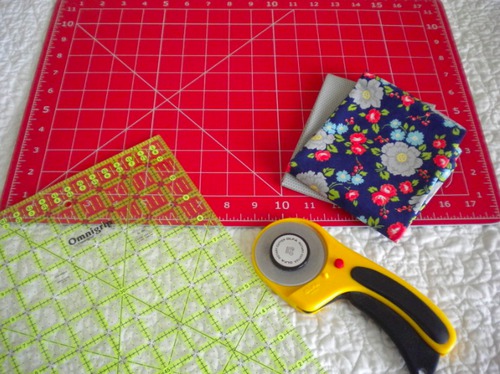 Knowing the measurements you need to cut is just the first step. You also need to ensure that your cutting is accurate and straight. Rather than using the lines on your cutting mat for measuring, refer to your ruler as it's going to be more precise. It is okay to use the lines on your mat to keep your fabric straight on the cutting surface, but remember to use your ruler lines for measurement purposes.
Before beginning, your fabric needs to be smooth and free of wrinkles. So if your fabric has folds be sure to iron it before you begin cutting. Fat eighths and fat quarters should definitely be ironed first as they have often been folded for a long period of time and may have deep wrinkles. Also using spray starch can help, when ironing fabrics to cut. The use of starch gives the fabric a little extra texture making it easier.
After ironing, fold your fabric in half with the selvages together; though smaller pieces of fabric can be cut without folding. Begin your cut with a clean, straight edge. Align the bottom fold or edge of your fabric with one of the horizontal lines on the cutting mat to keep your fabric straight. Then, line your ruler up with the same vertical line on the cutting mat at the top and bottom of the fabric. Cut off the minimum amount necessary to have a straight edge. From this point on you'll be using the measurements on your ruler for cutting.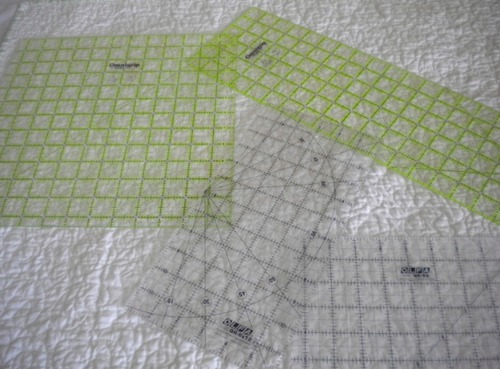 When cutting strips or pieces for a project, the bottom edge of your ruler should be even with the bottom edge of your fabric. Once it is, place the ruler in position for your desired cut. Make sure the measurement line is even with the straight, cut edge of the fabric. Remember to check this measurement twice! If you are cutting several strips from one piece of fabric you should occasionally square up the fabric as you did when beginning the cutting process. After every 3-4 cuts check to see if the bottom edge of the fabric lines up with the top edge of the fabric. If it doesn't, square it up before continuing to cut.
By using these simple techniques your cutting will be precise which will help your piecing to be more accurate. Do you have a favorite cutting tip or technique?
Now, discover how to cut perfect half square triangles with Camille Roskelley!