We've already covered how to make classic hoop earrings. Today, we'll show you how to customize your hoops with woven wire. This is a fabulous way to add some flair and personality to your jewelry designs!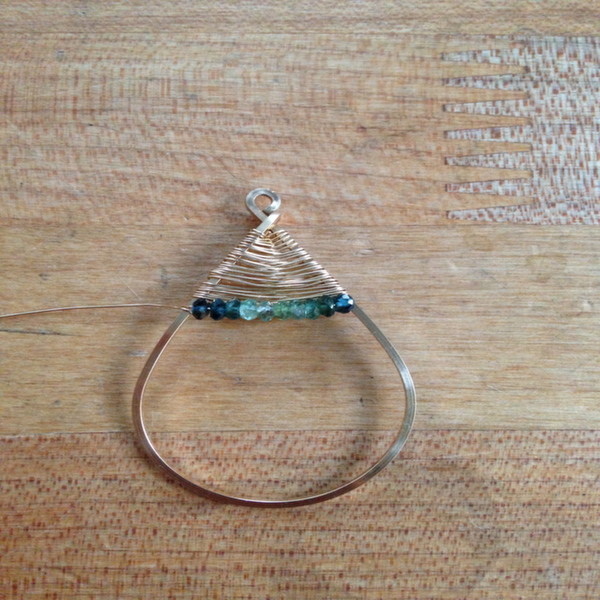 How to customize hoop earrings with woven wire
Tools you'll need:
Hoop earrings
Flat-nosed pliers
Thin wire*
Wire cutters
Rondells and briolettes (optional)
*Note: I like using 30 gauge wire for these because it's so delicate, but 26 gauge also works well. Whatever you choose, remember that 30 gauge will fill less of the hoop than 26 will.
Step 1:
Start with just shy of an arm's length of wire. Please note, this is a pretty loose measurement, since there is a lot of room for customization. If you want just a tiny bit of weaving, start with a smaller amount. The reverse is also true, if you want the majority of the piece woven, use a more wire. Either way, cut one piece of wire and then immediately cut your second so it matches the first. You'll be sure to end up with a matching pair this way.
Step 2:
Hold the wire on the backside of the hoop. Have about 1/2″ of wire extending from the edge and about an 1/8″ of room above the wire and your intersection. Using the flat-nosed pliers, grab the end of the wire and begin to wrap to cover that 1/8″. Keep the wire taut and make sure it flattens to your hoop base so it's more secure. Make about 2-3 wraps and push it up to the top with your fingernail. It should be enough so as the wire goes across it will be level. Not so much that it'll really be tilted.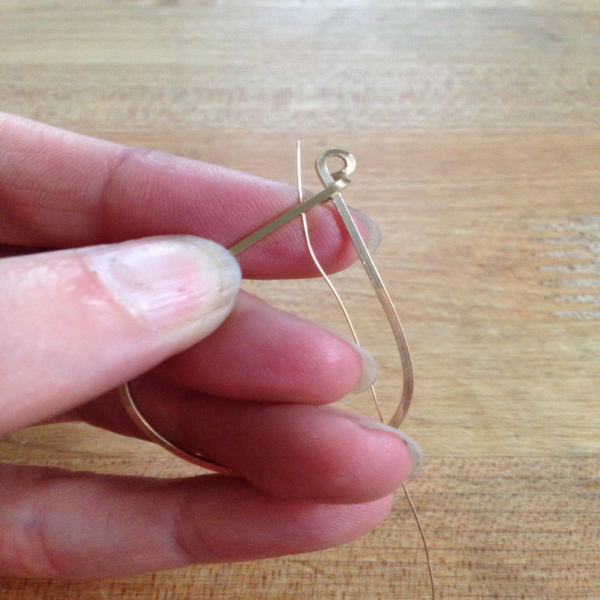 Step 3:
Wrap the wire over the top of the hoop on the beginning side and then underneath the opposite side. Then, around the hoop, over the top and under the first side. You're essentially making figure 8s with the hoop serving as your base. Make sure to keep them even and not pull so hard as to make your hoop loose its shape.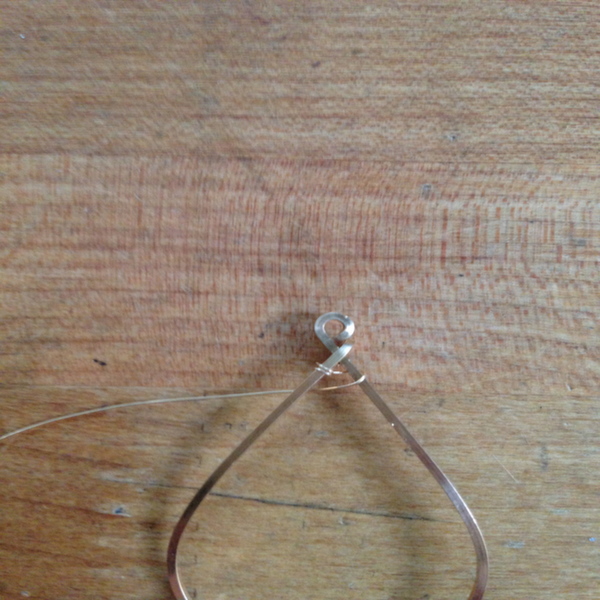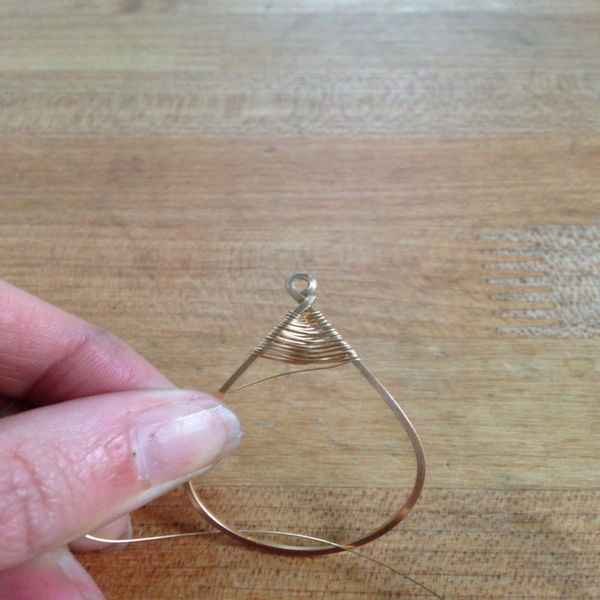 Step 4:
When you've decided that you're happy with the look of your wrapped hoops, you have a few options. You can end here by making one last loop and flattening the end to secure it.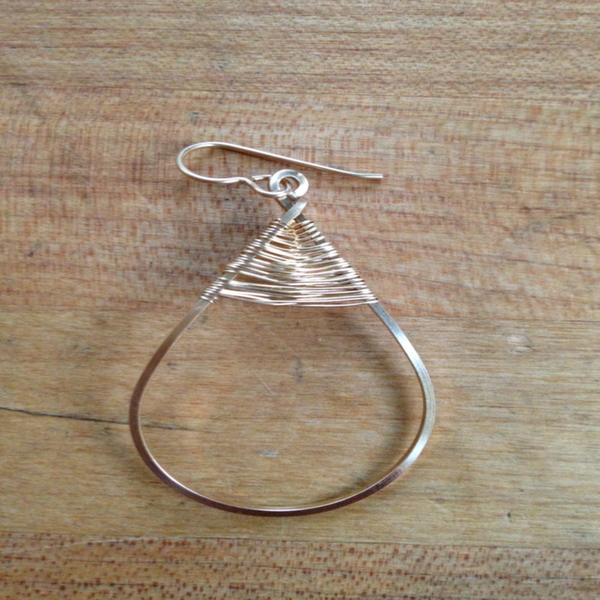 OR, you could add beads to the last line. Maybe a line of rondells? A few rondells and a briolette in the center? In this version, I'm making sure that with added beads the wire does not go across the top and under the next side so that the wire is tilted. Although that could be a pretty look as well. You'll likely want it to be flat, either across the front or the back. Plan accordingly.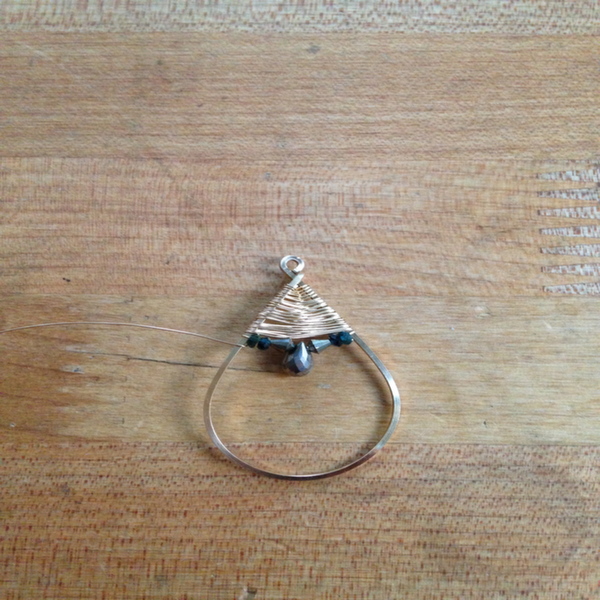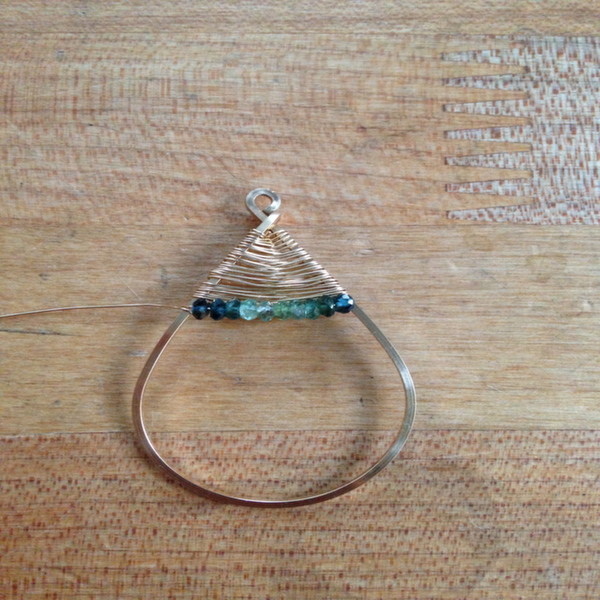 If you decide that you want to end your piece before you run out of wire, trim the excess and make note on the twin piece by trimming the same length you just cut from that one as well.
Later this week, I'll share a tutorial on how to further customize your hoop earrings with rondells. Subscribe to the Craftsy Jewelry Making blog today to stay up-to-date on all the fun!
What's your favorite way to customize hoop earrings?