Having specialized in fondant cupcake toppers for the last five years, I can attest to the fact that working with intricate fondant designs can be extremely time consuming, especially when it comes to an entire collection of cupcake toppers!
Take advantage of these five simple tips to save time (and your sanity) when creating an assortment of custom cupcake toppers!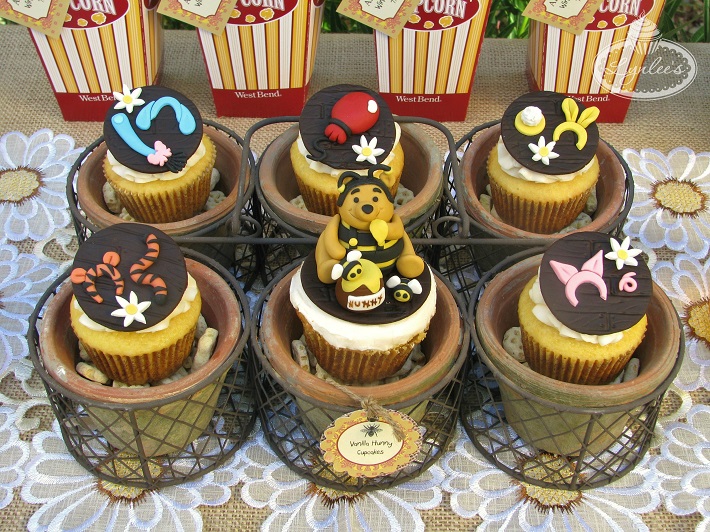 1. Center of attention
Three-dimensional fondant figures can make a huge impact on your topper presentation, but the thought of having to make numerous characters can be daunting! Try spotlighting your assortment with one or even a few figures, then be creative to simplify the remaining designs, such as this Winnie the Pooh cupcake collection. Pooh Bear is hand-molded from fondant, while the remaining toppers merely depict highly recognizable features (ears and tails) from the supporting characters. Doing so will save you time, yet still achieve the overall portrayal of the desired theme!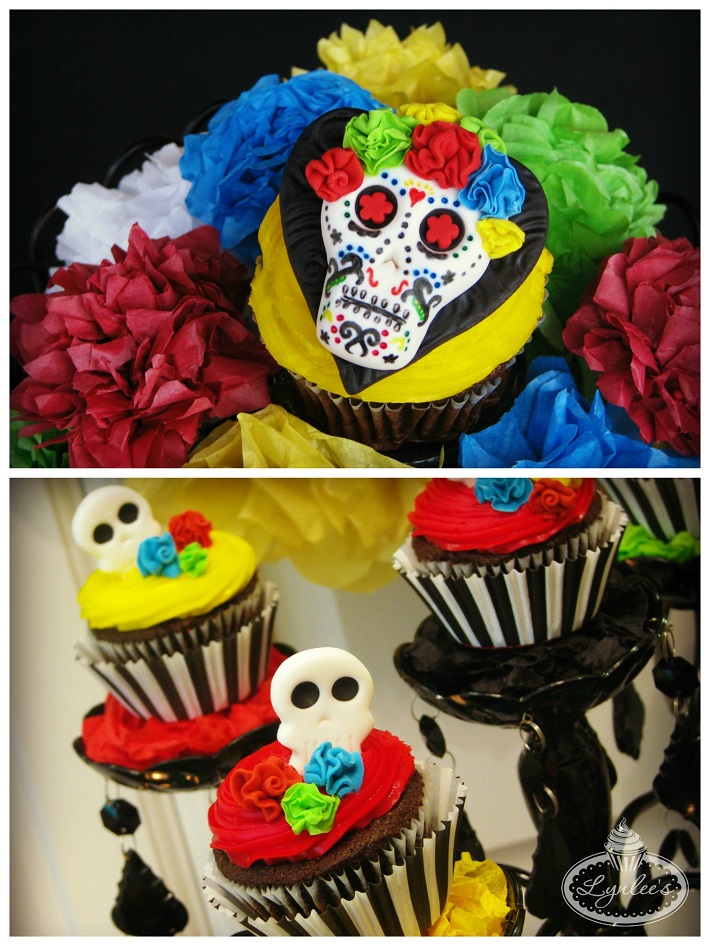 Another example of creating a more intricate centerpiece topper can be shown in this detailed Sugar Skull fondant topper. Created for a Day of the Dead celebration, the more elaborate topper is molded and decorated to showcase the traditional painted designs, while the subsequent toppers were made simpler, yet still achieve a very similar look, especially with the coordinating icing colors. The entire presentation is still cohesive, yet not quite as time-consuming!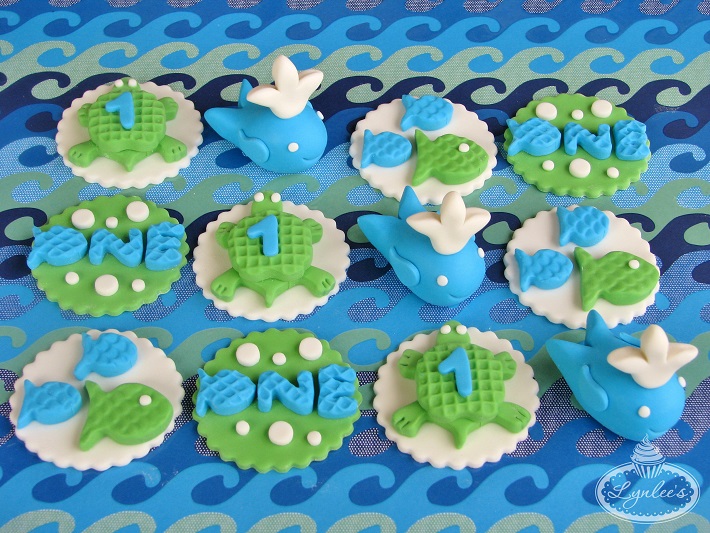 2. Cut it out!
While hand-molding fondant can produce beautiful results, it's not very time-efficient and can actually be quite difficult! Finding cutters that coordinate with your overall theme and mixing up your collection with the use of both techniques can save you time, especially when creating multiples of each design. In this Under the Sea topper assortment, the fondant whales were molded by hand, but the turtles and fish were punched out with shaped cutters, decreasing the time that would have been spent forming each creature manually!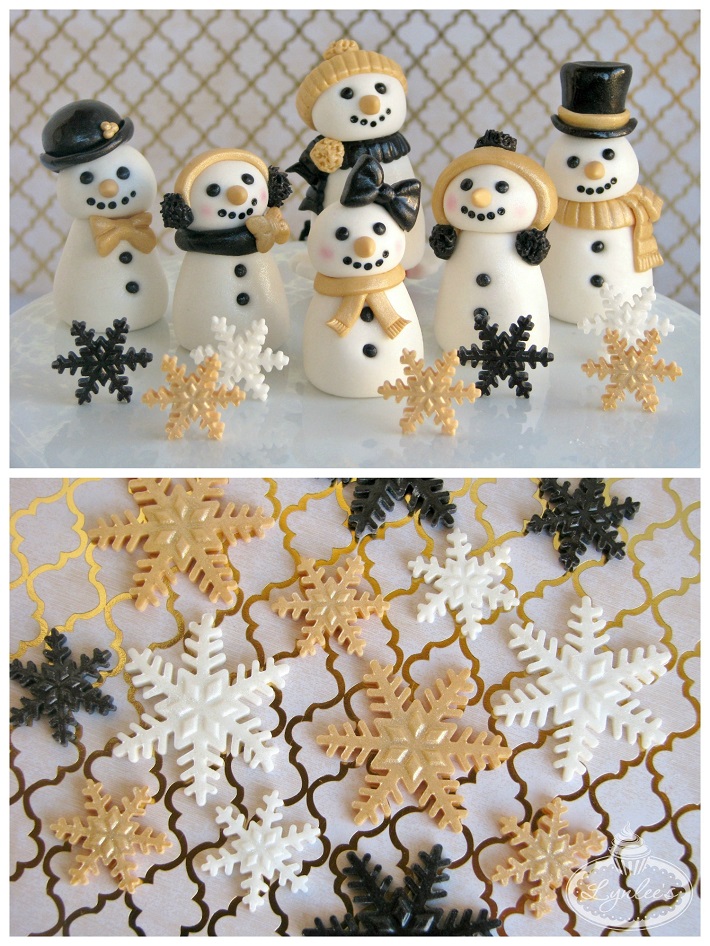 Sometimes you might have a large project or order that requires a high volume of decorations and such was the case with these snowy winter toppers. Six 3-D figures were created as the centerpiece, while the remaining cupcakes were adorned with 300 additional snowflakes that were cut out with the use of snowflake plunger cutters, which were absolute life savers!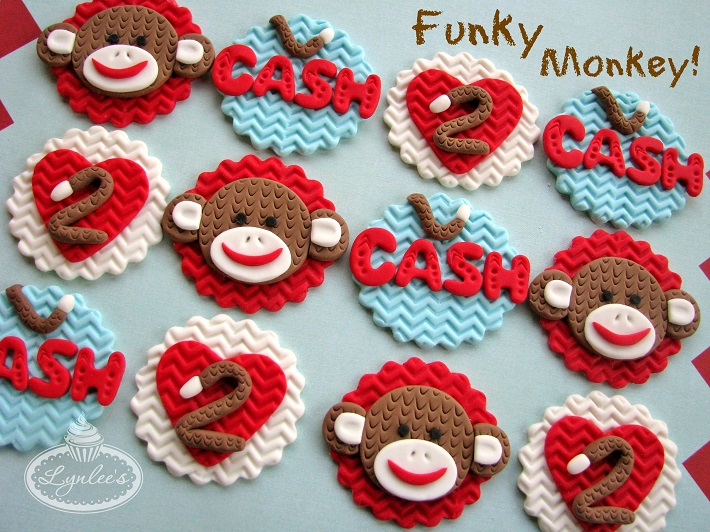 3. Make an impression
Adding details to fondant designs can be a long and tedious process when decorating toppers, but boosting them with patterns can add quite a bit of interest with minimal work! In this Sock Monkey assortment, the appearance of texture is achieved with the indentation of the bottom of a teardrop cutter, while an impression mat is utilized to add the chevron pattern. Give texturing techniques a try to easily dress up your designs.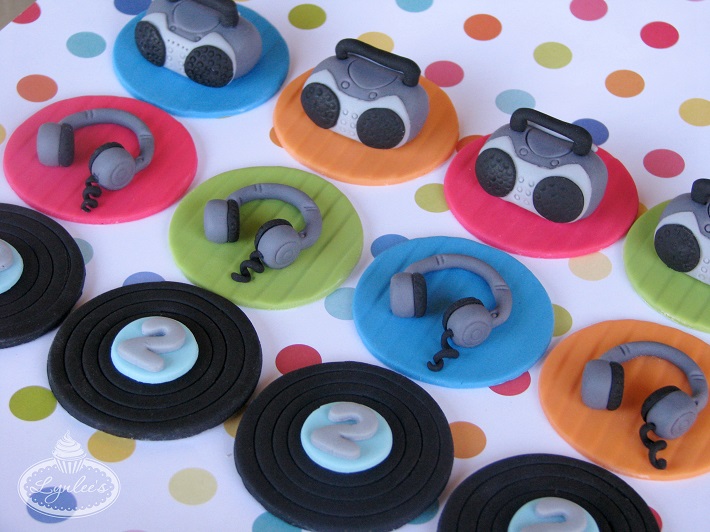 4. Design and repeat
The use of repetition will cut down on your time designing an excessive amount of toppers and consequently, save you time in the long run! In this Fresh Beats set, three motifs were conceptualized for a collection of 12 toppers, rather than each single one being different. Additional time is saved by varying the difficulty levels in those designs, which can then be embellished in various colors to differentiate them and provide a bit more excitement! Make sure you are brainstorming and designing the collection ahead of time so that you can properly plan and mix colors to save time once you start working.
5. 5. Say it with words
Adding words and sayings to your fondant topper assortment will help to vary the designs and decrease the level of difficulty in creating them, but it will also provide the opportunity to personalize them to the guest of honor. In this colorful Monster collection, the production of the characters is the most time-consuming, so breaking them up with the BOO and RAWR words in a creative manner not only works with the theme, but provides simpler techniques to cut down on the time of production!
Do you have tips to cut down on time when decorating your cakes and cupcakes?
How to Make Fabulous Fondant Toppers
Wow clients with customized toppers for baby showers, birthdays & beyond.Get My FREE Guide »