Family heirlooms are cherished treasures that need new life breathed into them from time to time. This project is a great example of using embroidery skills to make a lasting impact on prized pieces.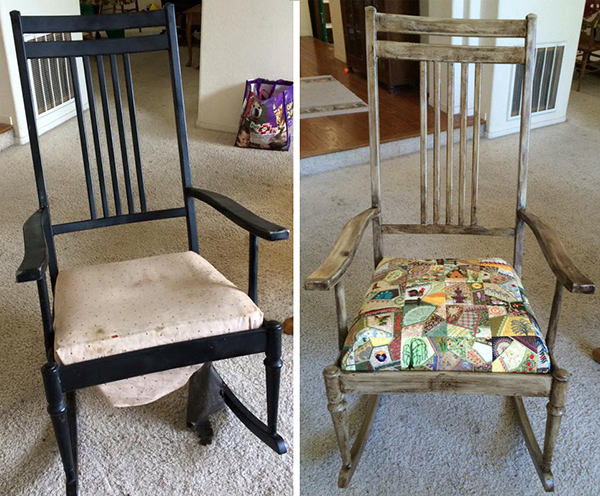 Photos via Terry Morse Colucci
Add some paint, embroidered squares and elbow grease, and this rocking chair is ready for the next century of service.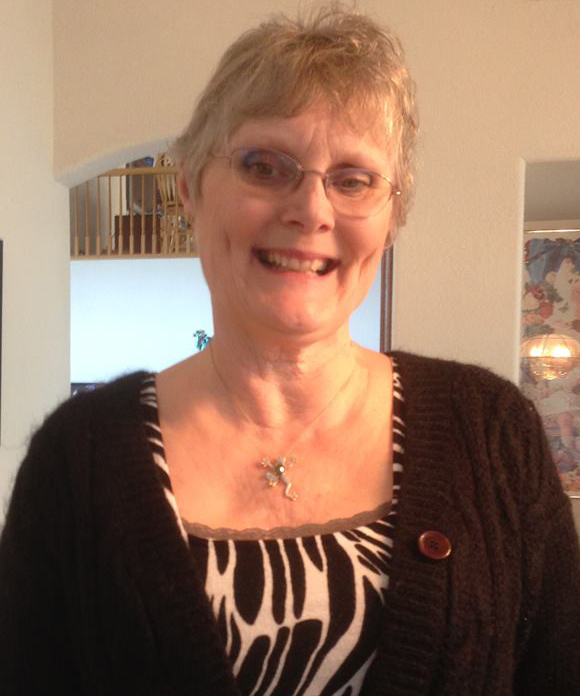 Terry Morse Colucci from Fresno, California, has turned her passion for machine embroidered crazy quilt squares into a true work of heart.
If the chair could talk…
Terry started with a one-of-a-kind steel rocking chair more than 100 years old. Her father bartered for it, from an elderly couple, when she was a baby. The oldest of 11 and now a grandmother, Terry's four children and two stepchildren have given her and her husband 15 grandchildren. All of those babies have been rocked in this chair.
Terry said the chair is perfectly balanced to nurse a baby while dozing in the wee hours, rocking by just wiggling a toe. After three generations of use, she could still feel the love, but the chair needed to be redone.
Creating the seat cushion
Terry took the drop-in cushion down to its wooden frame and rebuilt and reupholstered it.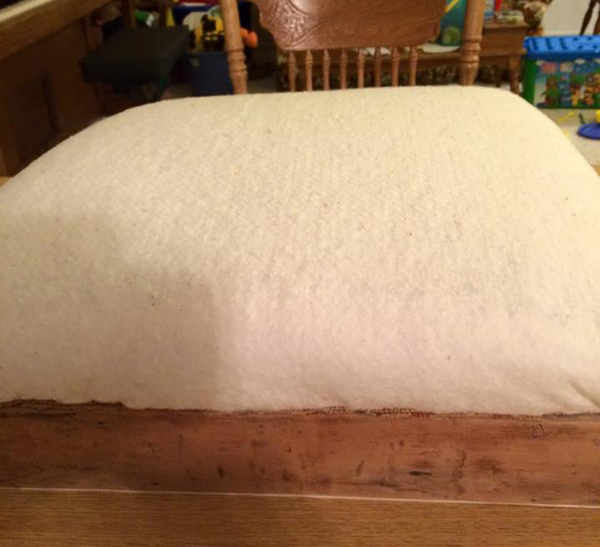 A layer of Warm and Natural batting was placed over the stuffing.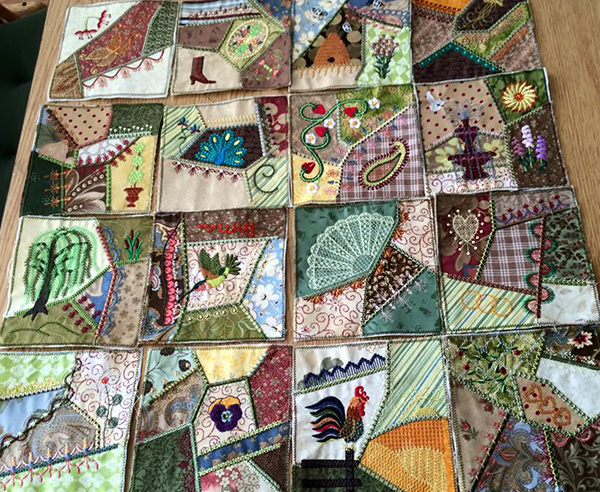 The upholstery fabric was created using crazy patch squares stitched in earth tones, 36 of them. The 5″x5″ squares were stitched from the Molly Mine Crazy Quilt Series.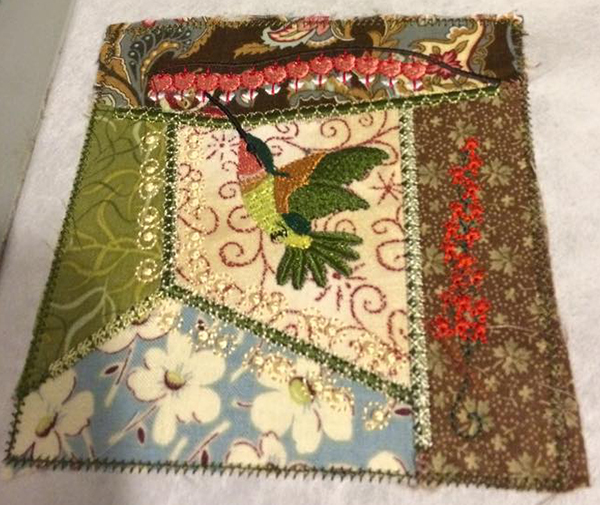 Terry hooped a medium weight cut-away stabilizer with a piece of muslin and stitched the blocks. The designs have two features: one with satin stitched borders and one with a seam allowance built in. Since they would be pieced, the seam allowance version was used.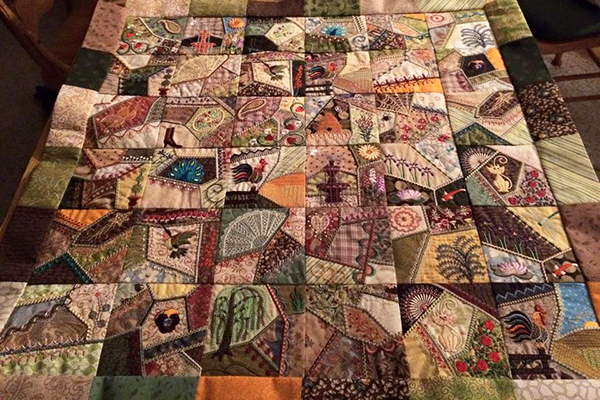 After auditioning the pieces, they were stitched together and framed by pieced sashing.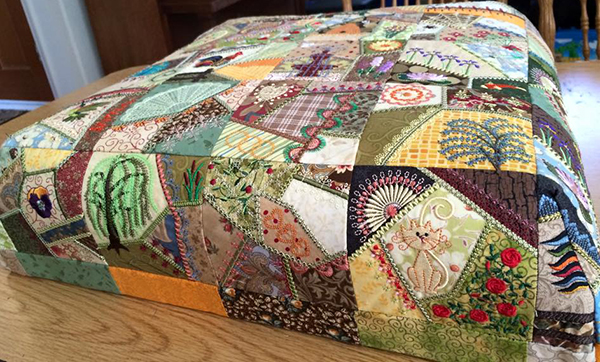 Corners were fitted much like that in handbag construction, basted wrong-side out then turned until snug in the frame. They were stitched and reinforced before the final placement.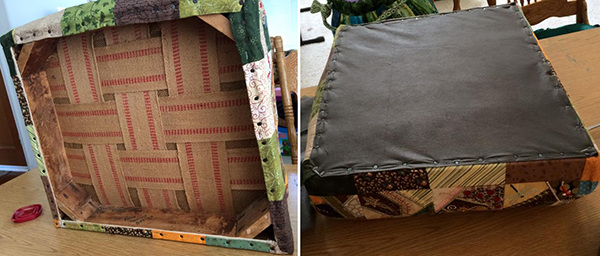 The seat cushion edges were tacked to the seat frame and finished with a dust cover.
Finishing the chair frame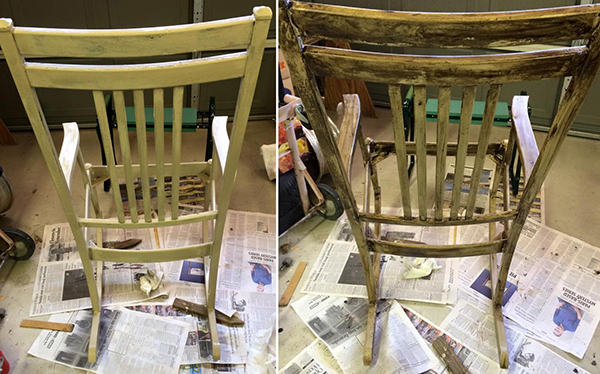 Slight repairs were made to cracks in the steel chair with Bondo. Then it was sanded and scrubbed. Terry applied two layers of chalk paint followed by clear wax (left).
Dark antiquing wax was added for a distressed look (right), followed by another layer of clear wax and a coat of urethane to withstand the next generation of use.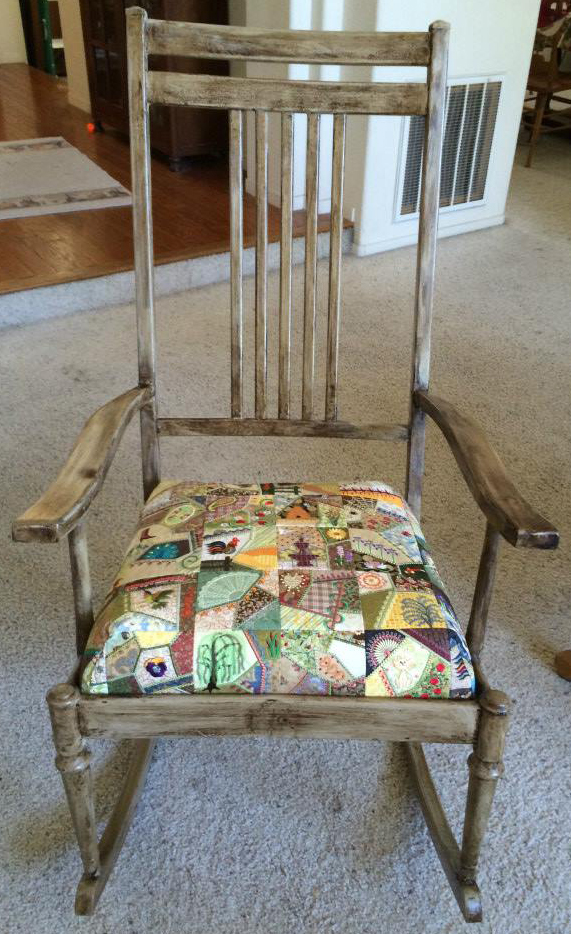 The result is priceless. Terry admits that she wept when it was finished.
"Yes, it is a precious thing to my family, this rocker. I've painted and reupholstered it before, but this is the happiest it's looked in many years. It is filled with love, and had loved us forever. It made my heart happy to love it back."
Share your inspiring story. What works of heart have you created?
Free Online Embroidery Class