"Make a Hat Day" is celebrated on the 15th of September, and the rules to celebrate are very simple: make a hat out of any material desired! From fabric to felt to even newspapers, hats of all kinds can be made for this fun and silly day, but the sweetest are the hats that are used for cupcake and cake decorating.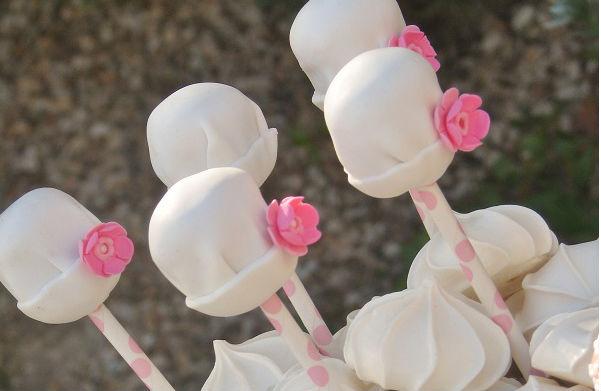 This collection of hat toppers, made of either fondant or modeling chocolate, are the perfect embellishment for your cakes and cupcakes, and span from classic stories to fun themes and nearing holidays.
Check out the FREE mini-class Basic Fondant Techniques to learn the fundamentals of working with fondant.
Get inspired with these tutorials for making your own edible hats!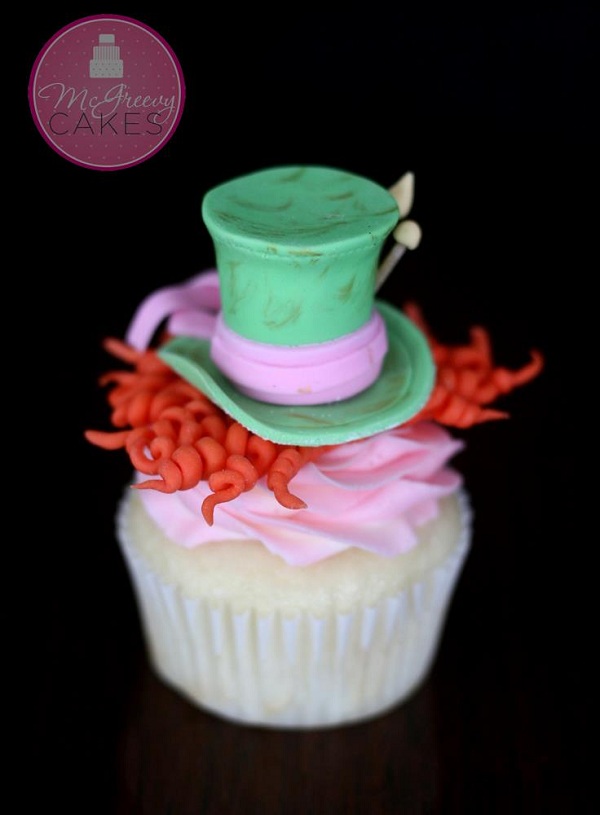 Photo via McGreevy Cakes
Mad Hatter cupcake
This beautiful fondant hat topper by McGreevy Cakes was fashioned after the top hat worn by the Mad Hatter in Tim Burton's 2010 of "Alice in Wonderland" and even includes the character's distinguishable curly red locks. Follow the incredibly detailed video tutorial to make your own hat, which would be especially suitable for a collection based on the movie or a tea party design.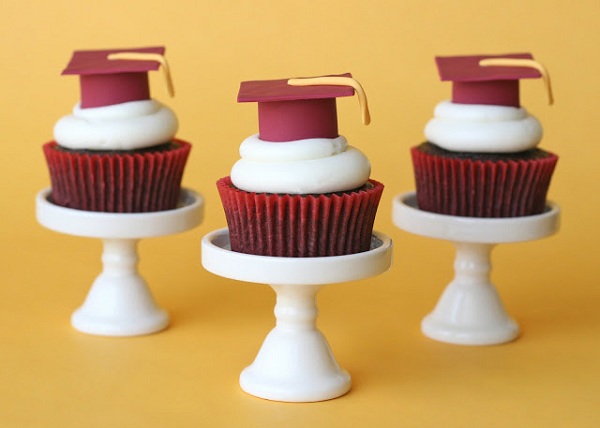 Photo via Glorious Treats
Graduation cap cupcakes
These adorable graduation cap cupcakes by Glorious Treats are the perfect way to celebrate such an important milestone in peoples' lives. Follow the tutorial to make these fondant toppers and simply swap out the colors for those of the corresponding school or program.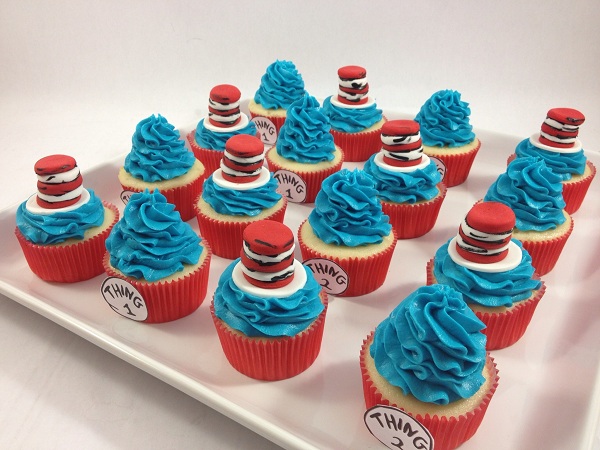 Photo via Creative Cakes by Allison
Cat in the Hat cupcakes
The Cat in the Hat is a classic storybook by Dr. Seuss and continues to be such a popular and classic theme. Creative Cakes by Allison made these delightful iconic striped hats out of fondant by stacking the red and white layers and finished them off with black accents with an edible marker. The simple addition of blue icing and red liners complete the look and match perfectly back to the character and story.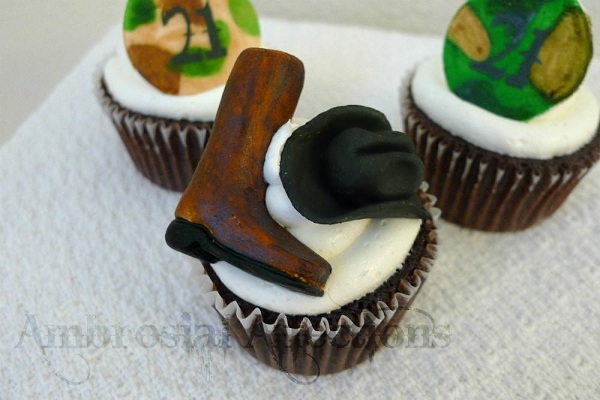 Photo via Bluprint member Ambrosial9491
Cowboy cupcake
Western-themed cupcakes and cakes are a never-ending trend for both kids and adults alike. This cake artist modeled this perfect cowboy hat out of fondant and paired it with a cowboy boot to complete the look. For hats such as these, it is imperative that you prop up the sides of the brim and give it ample time to dry completely.

Photo via Bake Happy
Witch hat cupcake
With Halloween fast-approaching, these charming witch hat fondant cupcakes by Bake Happy are the ideal addition to your bewitching cupcakes. The bright colors add a fun and playful aspect to the design and are complemented by the matching icing. You can be creative with the hat accents and even the shape.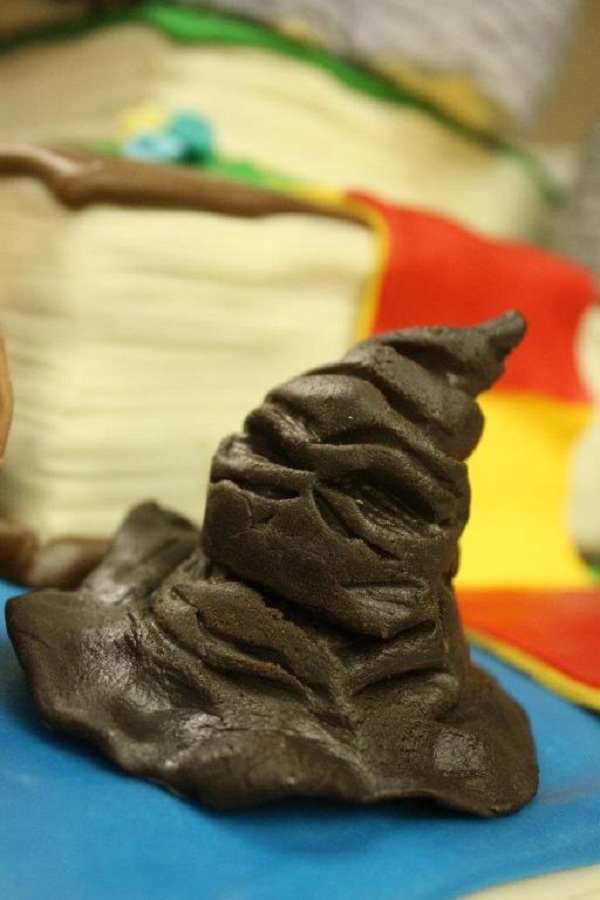 Photo via Bluprint member CokoPanda
Harry Potter sorting hat
After taking the class Intro to Modeling Chocolate: Cityscape Cakes with Lauren Kitchens, this cake artist created this amazing sorting hat to accent her Harry Potter cake, putting her newly-learned techniques to work. Her main advice in working with modeling chocolate: "Make sure your hands aren't too warm."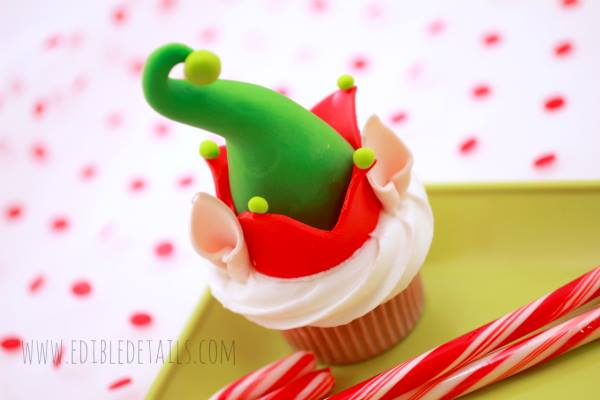 Photo by Edible Details
Whimsical elf hat cupcake
As the end of the year nears, so begins the holiday baking season! Edible Details created this absolutely precious fondant elf hat that would be the hit at any festivity. Follow the tutorial at Best Friends for Frosting to create your own army of Santa's little helpers.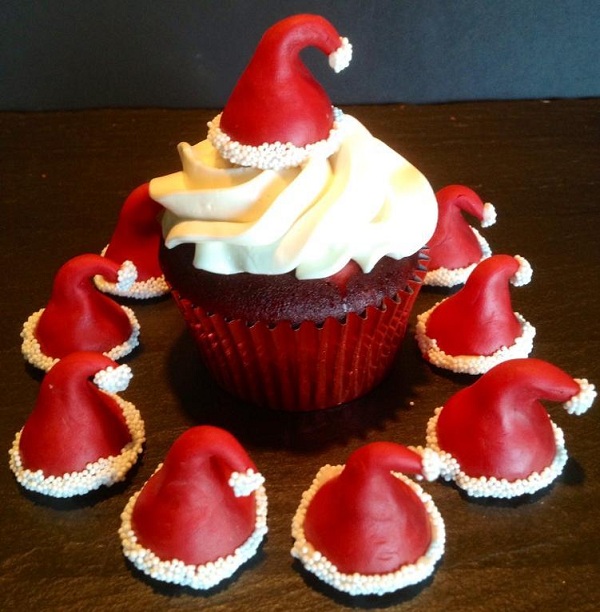 Photo via Bluprint member Vagabond Baker
Santa hat cupcake
This cake artist is also prepared for Santa's arrival after taking the class Intro to Modeling Chocolate: Cityscape Cakes with Lauren Kitchens. These adorable Santa hats were created by wrapping red modeling chocolate around Hershey's Kiss candies, then embellishing the shaped hats with a trim of royal icing and white non-pareils.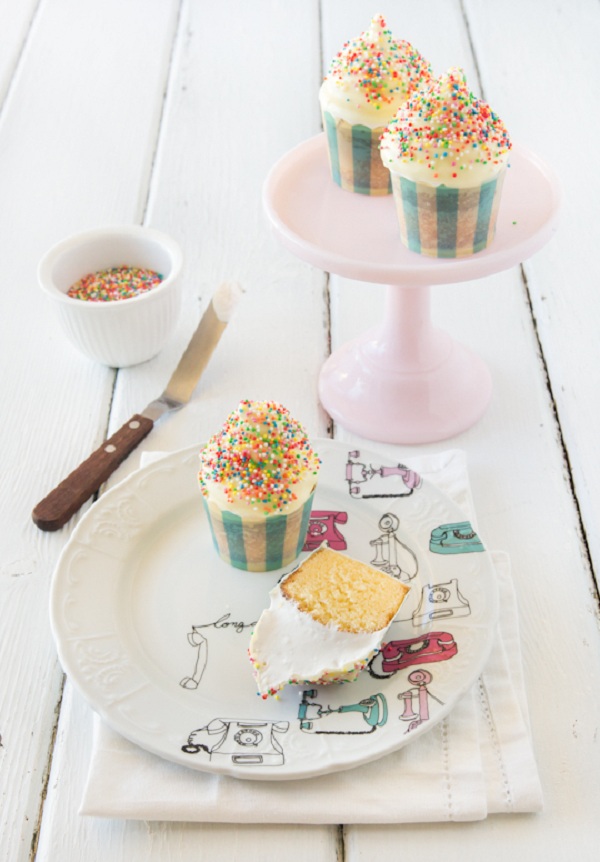 Photo via Raspberri Cupcakes
Hi-hat cupcakes with sprinkles
Though not an actual hat that one would wear, the hi-hat cupcake is an absolute must-try! Raspberri Cupcakes provides the tips and tricks to executing the technique of piping the icing high, then dipping them into chocolate with these White Chocolate Hi-Hat Cupcakes with Sprinkles.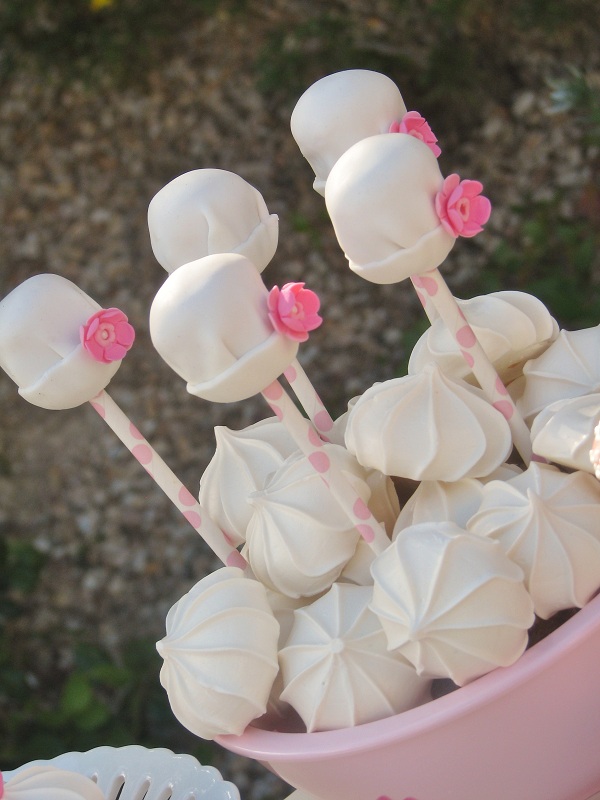 Photo via Lynlee's Petite Cakes
Chef hat cake pops
Chef hats make the perfect accent for baking and cooking themes and parties. While you can model one out of fondant, another super cute idea is to make chef hat cake pops, such as these girly ones made for a Valentine baking-themed celebration. Though you could simply dip them in white chocolate, I opted to also cover them in fondant to achieve the folds and added the flower embellishments. The use of decorated and colored paper straws and sticks helps to accentuate the entire presentation.
For more detailed techniques in modeling fondant, check out Cake Topper Techniques: Figure Modeling with Anne Heap.
I tip my hat to all these adorable creations! What type of hat are you excited to make?