When creating petite treats like cupcakes for a fun party or fancy event, it helps to know how you're going to decorate your bakes in advance. Knowing just how to ice your cupcakes may seem like a small detail, but it'll affect your designs as well as time-management and even stress levels. For small events, for instance, you can spend more effort on toppers, fondant work and details. but for huge orders, you'll want to keep your cupcake icing ideas simple and sweet.
Here are five simple cupcake icing ideas to consider for your next batch!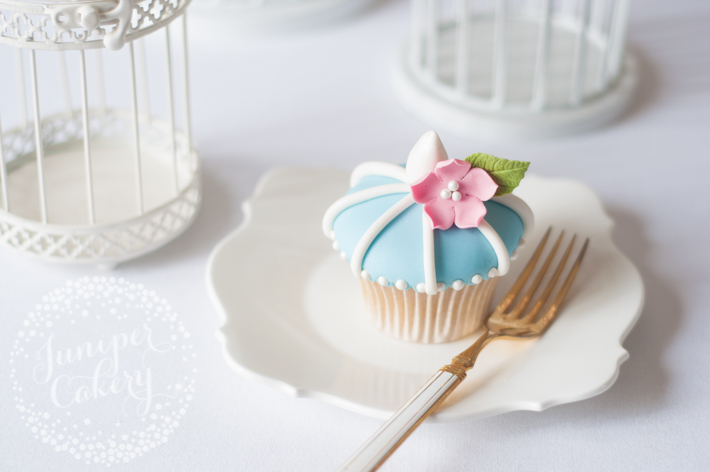 1. Fondant covering/flat ice
What we call 'flat ice' is simply covering the top of a cupcake with buttercream before smoothing over a circle of rolled out fondant on top. It's a great way to get a nice smooth surface to work on since buttercream can be sticky, messy and a bit more fragile.
Flat iced cupcakes are perfect for extra decoration work, like the pretty birdcage cupcakes pictured above.
Tip: With this method you get less of that silky smooth buttercream everyone loves. One solution is to core and fill your cupcakes with a squeeze of tasty frosting.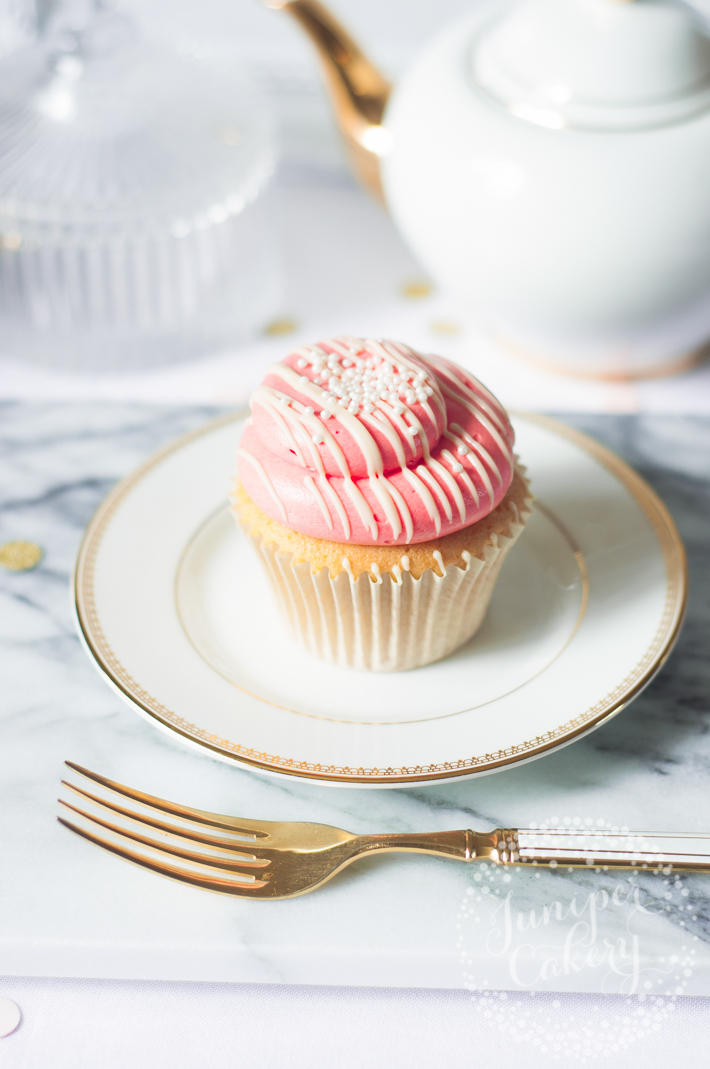 2. Buttercream swirl
For simple, classic or more rustic cupcakes, the traditional buttercream swirl will never be out of place. For larger events and orders, these are oh-so much easier to frost and finish. The best thing about the humble frosting swirl, however, is that you can use different piping tips for lots of different looks. We opted for a plain large round piping nozzle like the Ateco 809 to pipe the strawberry milkshake cupcake above.
Tempting buttercream iced cupcakes are a perfect fit for any occasion from corporate get-togethers to romantic wedding receptions, which makes this cupcake icing option the most versatile.
Tip: The secret to piping perfectly centered and round swirls is in your position. Set up a piping area on a lower surface or table so that you can view the cupcake from directly above. This helps you see every turn your piping bag makes around the top of your cupcake. Just think…if you pipe on a high up counter where you can only see the front, you're going to only consider how that side looks, which leads to lopsided or heavily angled frosting.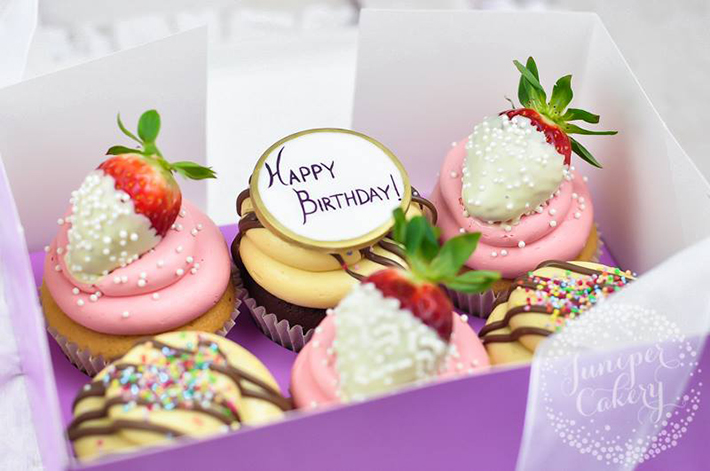 3. Fondant topper discs
Flat fondant disc toppers are great ways to add a touch of personalization to cupcake orders. You can decorate them so many different ways and using so many different methods. For the peanut butter cupcakes above we hand painted a birthday message on a smooth fondant disc before then painting the edges a luxurious gold.
Tip: No one likes out-of-shape discs that should lay flat atop of a cupcake, but actually droop or wilt. To stop this, think ahead and make your discs a few days in advance (and leave them to dry/set on a flat, clean surface). Add a little tylo powder in them too, which will help them harden quicker and firmer.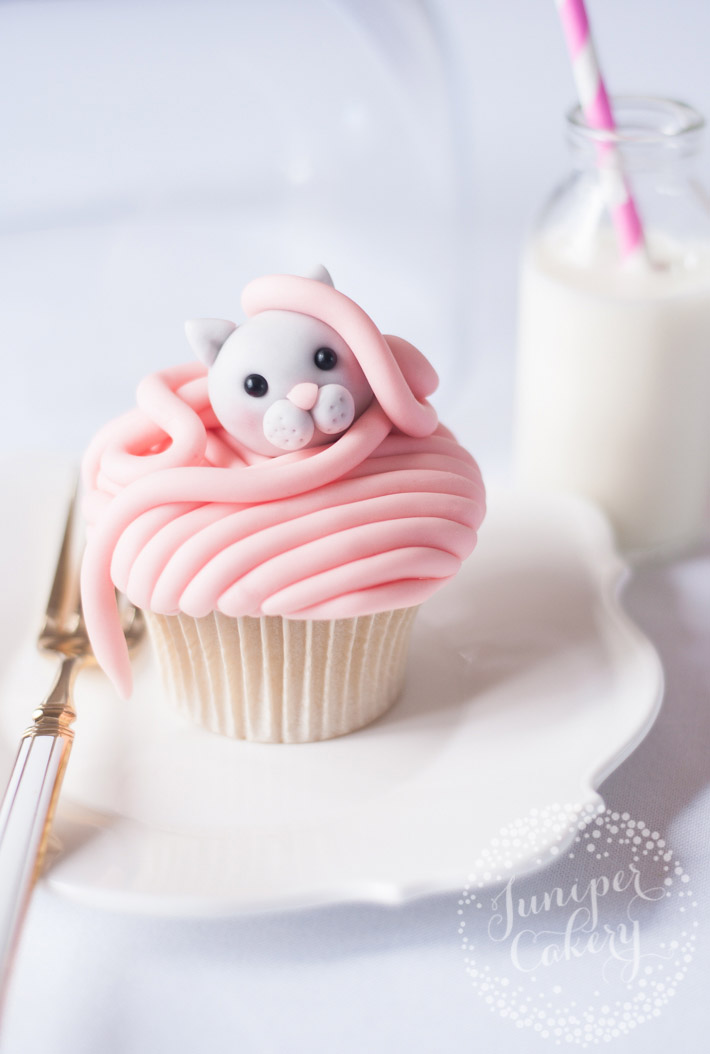 4. Fondant figures and characters
Adding handmade fondant figures and characters to top off your cupcakes is a such a fun decoration idea. It's absolutely perfect for kids, gifts and themed parties.
Tip: Fondant figures and characters can be difficult, depending on your design, so never leave making them until the very last minute. Always sketch, plan and prep in advance – you'll be happy you did.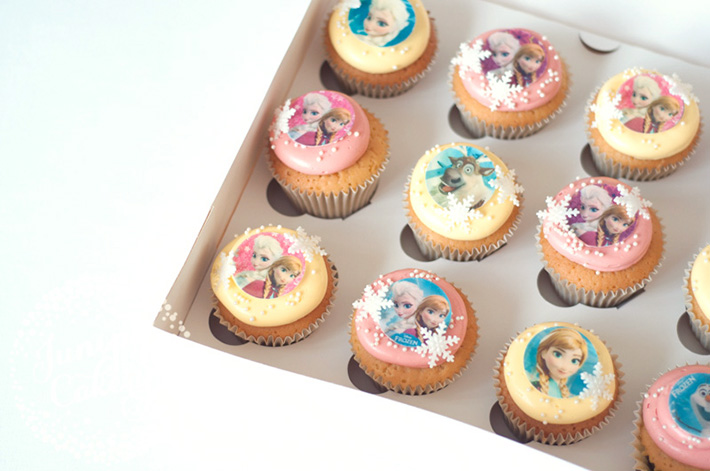 5. Edible printing
Another simple cupcake icing idea is to finish your bakes with edible printed toppers made from sugar icing sheets or wafer paper. If you don't have an edible printer yourself, you can easily buy character printed discs (like the Frozen ones above) from craft shops. You can even order personalized toppers online for special events. They're fun, perfect for kids' birthdays and corporate events, and they're easy to adorn the tops of buttercreamed cupcakes.
Tip: Adding edible image toppers to cupcakes can look a little too simple. We'd recommend adding extra details to them with royal icing borders, themed sprinkles or even candy. For the fun Disney themed birthday cupcakes above, we added extra decoration with fondant snowflakes and pretty sugar pearls.