Cupcakes never fail to make a wonderful treat at any fun celebration. But, while piping generous buttercream swirls atop each little cake is sure to be a crowd-pleaser, sometimes you might want to go all out to impress  client and guests! Thinking about different and charming ways to decorate cupcakes with fondant will instantly reveal some rather exciting ideas and techniques. From hand painting and embossing smooth fondant tops to creating eye-catching miniature toppers, there are so many decoration possibilities beyond delicious buttercream and sprinkles!
Here are some inspiring designs, ideas and tips on cupcake decorating with fondant!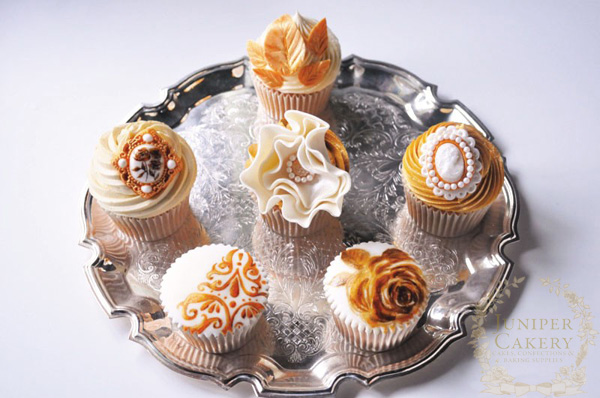 Photos via Juniper Cakery
Golden anniversary cupcakes
This collection of cupcakes features a variety or decorating ideas for incorporate fondant including working with ornate silicone molds, creating a fantasy flower and adding hand-painted designs. When creating a collection of bespoke cupcakes, why not play with different elements from your initial design inspiration? The cupcakes above were centered around a golden anniversary and a special family heirloom — specifically handed-down antique jewels!
Tip #1: Mix and match!
To create a great collection of fondant adorned cupcake designs our top tip is to mix and match ideas, colors and designs. Take your central theme or source of inspiration and pull smaller design elements for single cupcakes. The addition of fondant in a collection shouldn't limit your imagination! Sketch out your ideas no matter how outlandish — a simple yet quirky and unique design usually comes from thinking a little outside the box.
Put together lots of ideas related to your theme. If you're making baby shower cupcakes centered around buttons, try stitching work, mimicking the heads of dressmaker pins with sugar pearls. Then try making your own knit texture mould, creating patchwork quilt textures and incorporating buttons into any text or cartoon faces in the design!
Add some sparkle to your next batch of cupcakes and enroll in Marina Sousa's Jeweled Wedding Cake class for lots of glimmering inspiration and glamorous techniques!
Pink hydrangea cupcakes
If you love the look of buttercream swirls, but need more scope for design adding fondant is still a great idea. These cupcakes are simply adorned with bright fondant elements that help customize them for a birthday gift! Working with fondant doesn't have to be laborious so long as you plan and design your cupcakes well.
Tip #2: Get to know your materials
Lots of people tend to buy fondant when its readily available, but remember that every brand varies and so does the recipe! The only way past this is to test different fondant products or recipes to find your perfect match and stick to it. Sometimes it can't be helped and in an emergency, you'll have no other option than to settle for your less than ideal recipe or brand. To avoid this dilemma why not make your preferred fondant, like this marshmallow fondant recipe, and keeping it in your stockpile. Most fondants last a long time, so there's no need to stray from what you know.
Beth Somers' class The Wilton Method®: Decorating with Fondant is perfect for getting to grips with using and understanding some fabulous fondant techniques!
Unicorn cupcake
Fondant is perfect for making some pretty statement cupcakes for any event, but for children's parties it's always fun to present some adorable character topped creations if not just for the collective gasps from the guests. The cupcake above features a ridiculously cute little unicorn sat amongst a vanilla buttercream covered in fun rainbow sprinkles; quite the way to liven up a kids' birthday party!
Tip #3: Prepare in advance!
Creating fondant cupcake toppers takes a good amount of preparation, patience and playfulness. A lot of cake decorator's are big kids at heart. Despite the long hours, hard work and likelihood of weak ankles from being on our feet non-stop, we deal with looking at stuffed toys and cartoons as research for kids' cakes or wrangling in some fun (and at times odd) personalized details into cakes for grown-ups.
Good preparation is the building block of cake decorating, be it staring for hours at a dinosaur toy to make sure the proportions are just so to sketching out a flower arrangement multiple times so we know how much gum paste, wire, stamens etc. we need. Make sure that you are never caught out! Sketching your characters out and studying how you'd like them to look helps you know what supplies you need or what color you need to tint your fondant before you begin working!
We adore Sharon Wee's Cake Topper Techniques: Fondant Animals class. Enroll today to discover how to create your own irresistible cake and cupcake characters!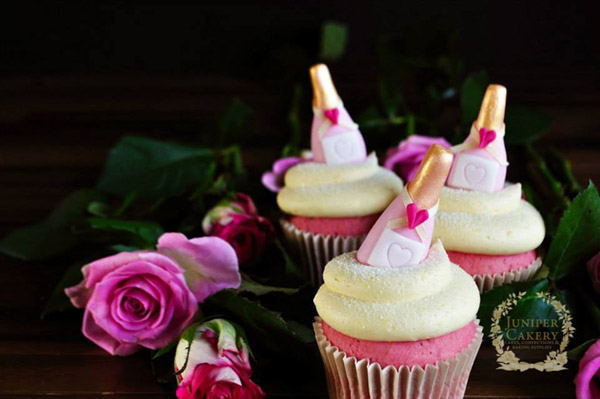 Pink champagne cupcakes
Adding fondant toppers doesn't have to just be for kids as these lovely pink champagne cupcakes clearly show. We love the idea of adding a little extra whimsy and fun to grown-up, alcohol-inspired cupcakes. Why not add fondant whiskey or rum bottles nestled into liqueur-infused buttercream? We kept our fondant champagne labels plain with embossed hearts, but we adore the idea of hand painted gold initials inside of each one.
Tip #4: Think of fondant as a tiny blank canvas.
If you're creating cupcakes for a specific event, such as a birthday or wedding, fondant provides a wonderful blank canvas for adding some thoughtful personal touches. If whipping up some boozy cupcakes you can impress the lucky recipient(s) with personalized fondant bottles hand painted with their name. We also love the idea of tiny fondant Champagne or Prosecco bottles emblazoned with elegantly swirled fondant monograms!
Join Nicholas Lodge for his class Do you have any handy tips of your own for working with fondant cupcake decorating?