If you've been looking for a way to enjoy delicious Mexican comfort food in your own home, these slow cooker vegetarian enchiladas will be your new favorite recipe. Stuffed with hearty black beans, whole grain barley, golden corn and a medley of cheese and southwestern spices… you won't even miss the meat!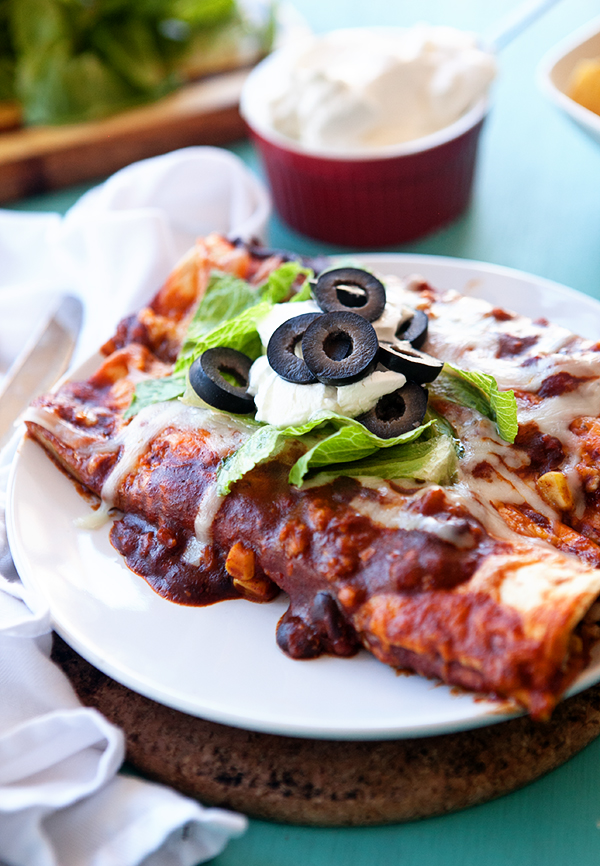 Photos via Some the Wiser
At the end of a long day, which is every day lately with kids and an infant in the house, the last thing I want to do is make dinner. Since packing everyone into the car and heading to our favorite Mexican food joint isn't really a viable option every day, I've been turning to the crock pot. The crock pot is my best friend in the kitchen.
These hearty crock pot vegetarian enchiladas make a delicious and filling meal that can be prepped earlier in the day so at dinner time, all you have to do is serve them up and enjoy!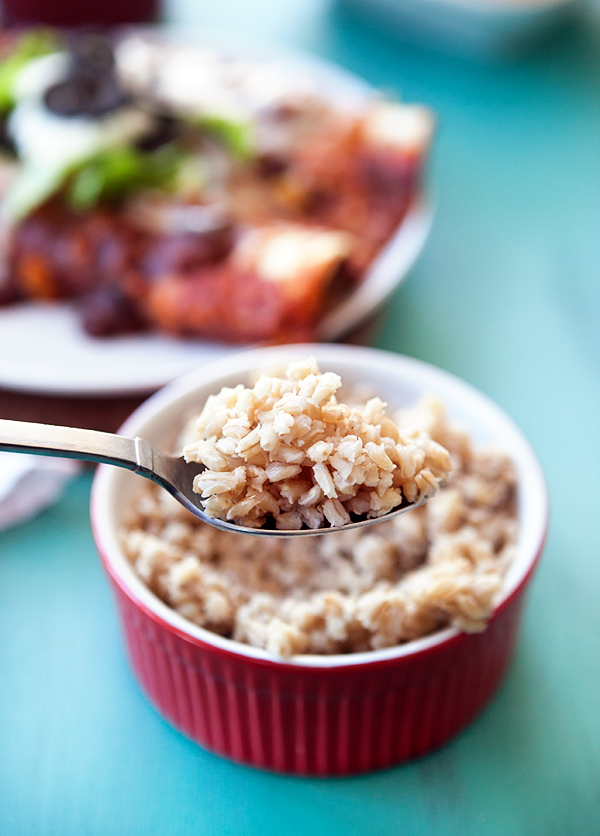 These enchiladas may be meatless, but they are so packed with tasty goodness, you won't even notice. Whole grain Barley is the secret ingredient in this recipe. It's full of nutritional value and it's got a chewy texture that adds a meatiness to the meal without actually adding any meat. Paired with black beans, corn, tomatoes, and green chile, the barley is a healthy substitute for the meat often found in enchiladas, and it's so delicious, no one will even notice the swap.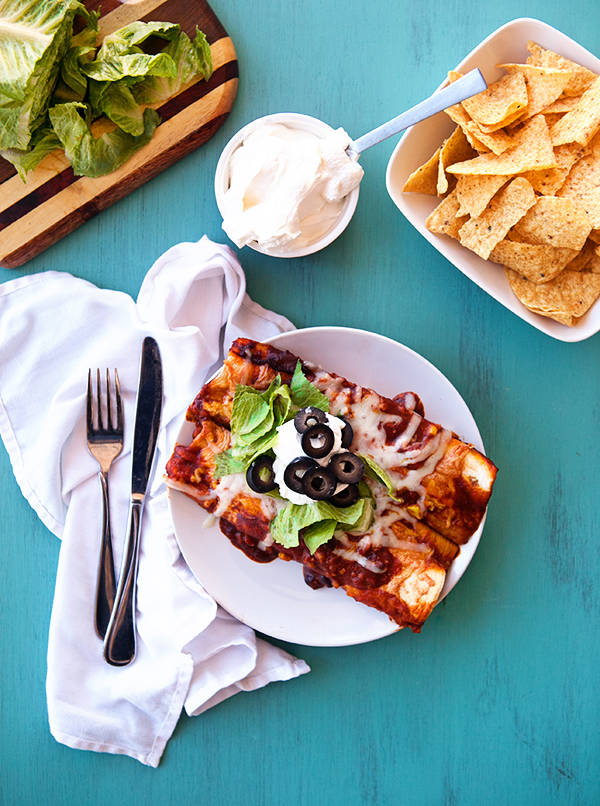 If you have kids to feed, this vegetarian meal is a really good one because it involves a lot of tasty toppings. If your dinner table is anything like mine, a tray of toppings is cause for excitement, especially among the younger crowd. Choose from chopped fresh cilantro, sliced green onions, sour cream, diced avocado, guacamole, lettuce, and more to make these enchiladas your own. At my house, the more toppings the merrier!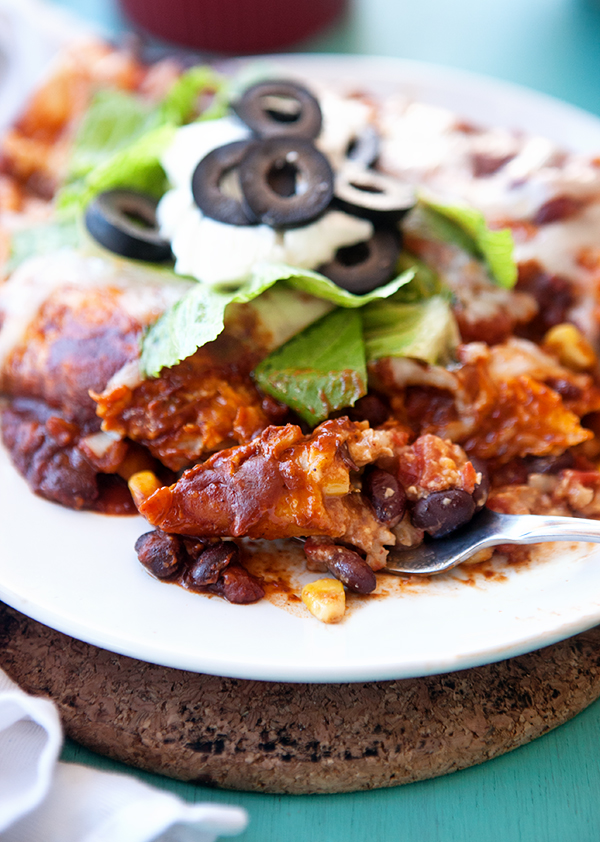 Before you get started making your own crock pot enchiladas, there is one notable difference between enchiladas in the oven and enchiladas in the crock pot.
The tortillas you choose will make a big difference. Traditional enchiladas are made with corn tortillas fried in oil, but those don't work quite as well in the crock pot. To keep the enchiladas from turning into mush, use thick flour tortillas instead and skip the frying.
I can't make any claims to the authenticity of this Tex-Mex slow cooker dish, but I'll vouch for it as a delicious vegetarian meal! Enjoy!
Recipe for Crock-Pot enchiladas, vegetarian-style
Ingredients
1 1/2 cups cooked barley
1 (16 oz) can black beans
1/2 cup frozen corn
1 (10 oz) can diced tomatoes with green chilies (I like Ro*Tel brand)
1 teaspoon ground cumin
1 teaspoon chile powder
1 tablespoon fresh squeezed lime juice
1/4 cup fresh cilantro, chopped
1/4 teaspoon salt
1/2 cup shredded cheddar cheese
12 (6 inch) flour tortillas
1 (28 oz) can of red chile enchilada sauce, divided
1 1/2 cups shredded monterey jack cheese, divided
Toppings
Sliced olives
Sour cream
Guacamole
Fresh cilantro
Green onions
Lettuce
Diced avocado
Directions
In a large bowl, combine the cooked barley, black beans, corn, and tomatoes. Stir in the spices, salt, lime juice, cilantro, and cheddar cheese. Set aside.
Lightly coat the bottom of a 4 to 6 quart oval electric crock pot with cooking spray. Pour 2/3 cup enchilada sauce into the crock pot and spread it evenly over the bottom of the pot.
Scoop about 1/3 cup of the barley mixture into a tortilla, roll it up and place it seam side down in the crock pot. Repeat with the remaining tortillas, squeezing them tightly in rows. Pour in remaining enchilada sauce then sprinkle with 1 cup of Monterey Jack.
Cook on HIGH for 2 to 4 hours. In the last 15 minutes of cooking, sprinkle on the remaining Monterey Jack. Serve with toppings and spoon additional sauce from the bottom of the crock pot over each enchilada.
Looking to spice up mealtime every weeknight?
Make Mexican comfort food! From tempting salsas and fresh tortillas to stuffed chiles and tamale pie, discover the secrets to quick and easy meals with the online Craftsy class Mexican Comfort Food: Enchiladas, Tamales & Rellenos.
Sign me up! >>
What's your favorite slow cooker meal?