Last year I left a Christmas wreath on my door until April just because I didn't know what else to put in its place. I never even considered that yarn could be the solution!
If you're struggling with decor ideas, stitch a crochet wreath!
These crochet wreath patterns are divided into spring, summer, fall and winter themes, but a quick change of yarn color can turn many of them into evergreen wreaths that you can display year round. 
As for supplies? Use a cotton or acrylic yarn to ensure it can withstand outdoor elements.
Spring crochet wreaths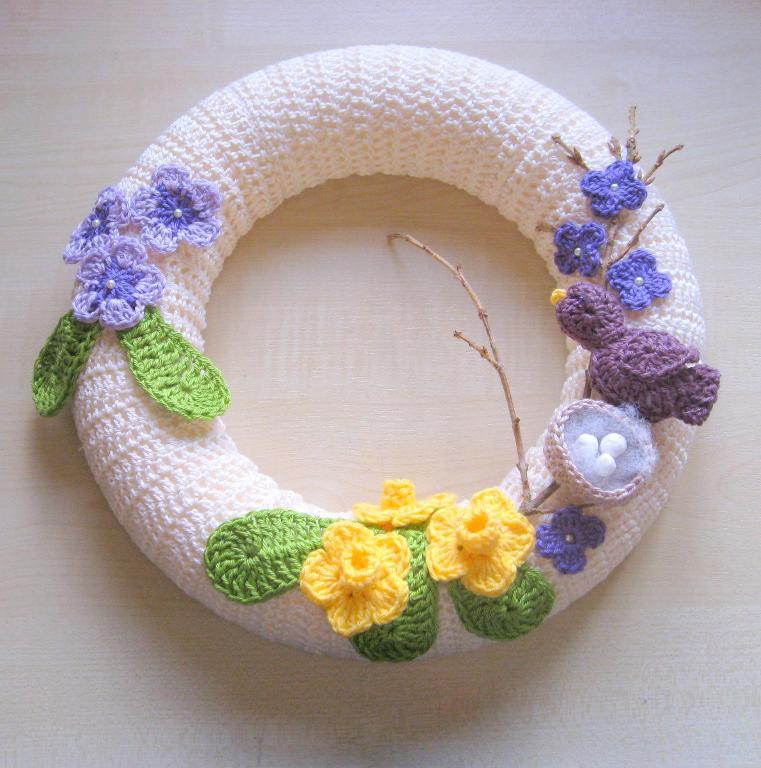 Photo via Craftsy member PollyKrafts
1. Crochet Spring Wreath
Welcome spring to your home with this beautiful wreath. The pattern includes 27 full-color photographs to guide you along the way. You could even add more flowers if you like lots of color.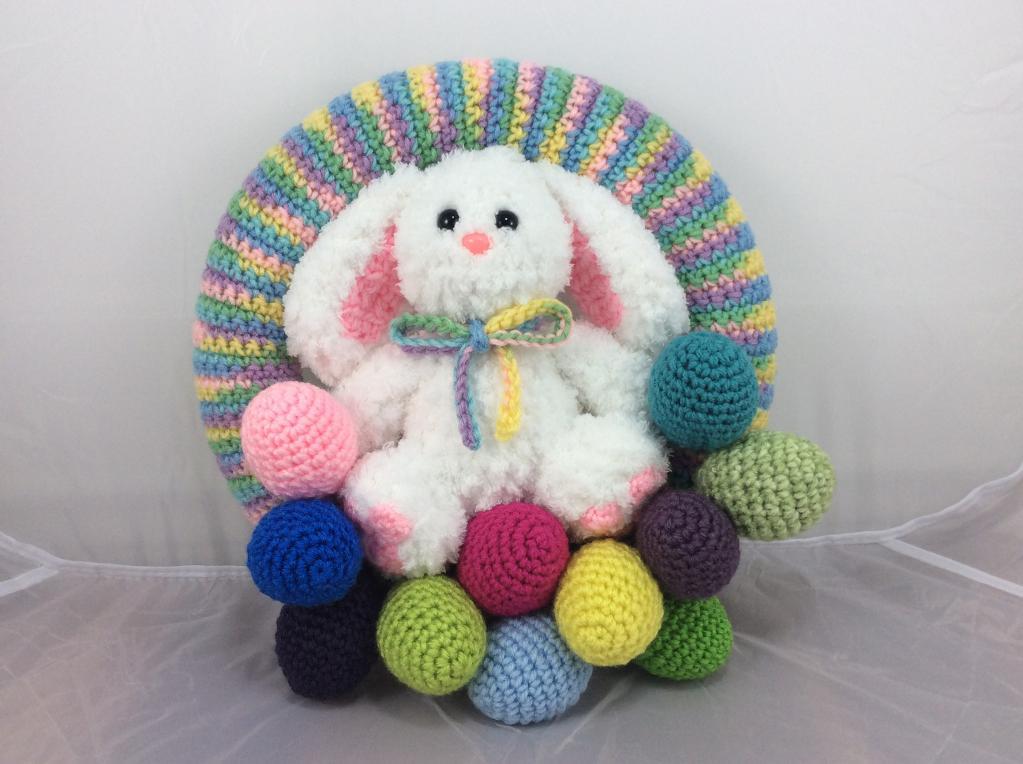 Photo via Craftsy member Lisa Kingsley
2. Easter Bunny Wreath
You'll hold two strands of yarn together to stitch this wreath, which means it's a super quick project! The colorful Easter eggs are also a great opportunity to use up your scrap yarn.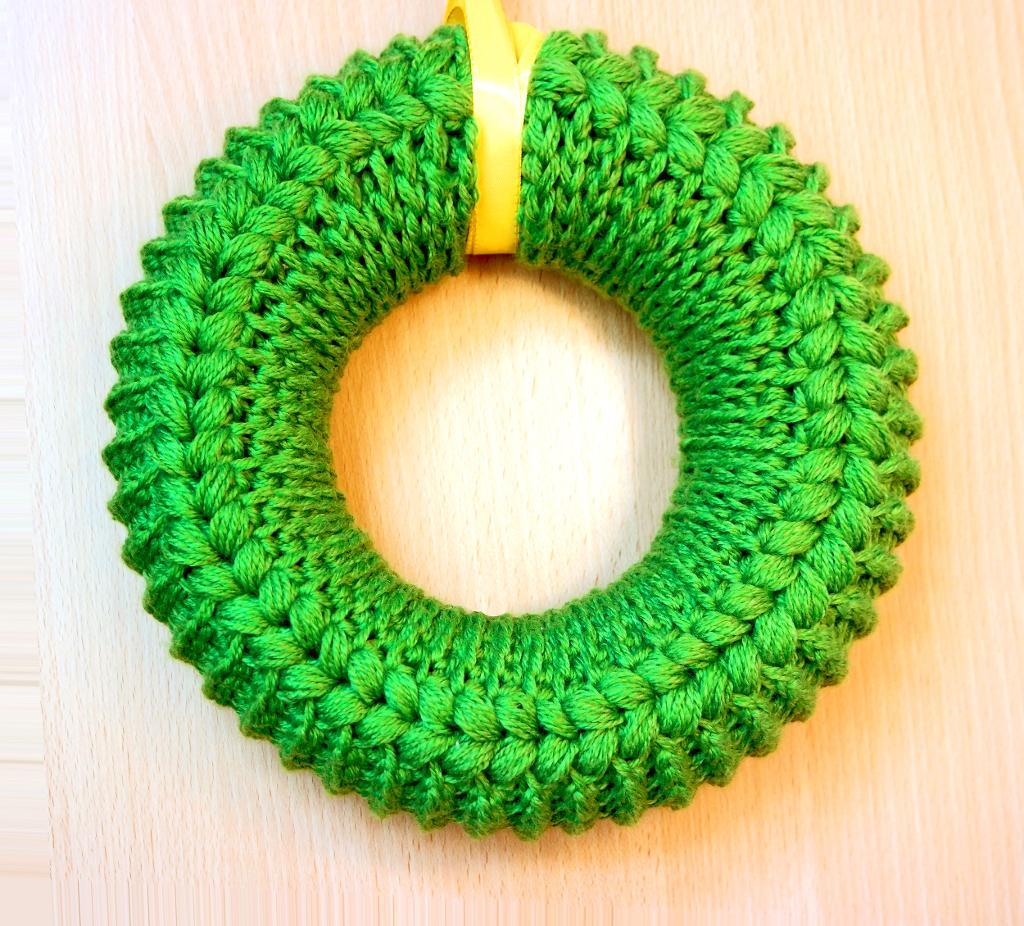 Photo via Craftsy member Oksik
3. Wreath Crochet Pattern
This is a pretty yet basic wreath that you could leave up year round, if you'd like. Use a light-colored yarn if you really want the texture of the stitches to stand out!
Summer crochet wreaths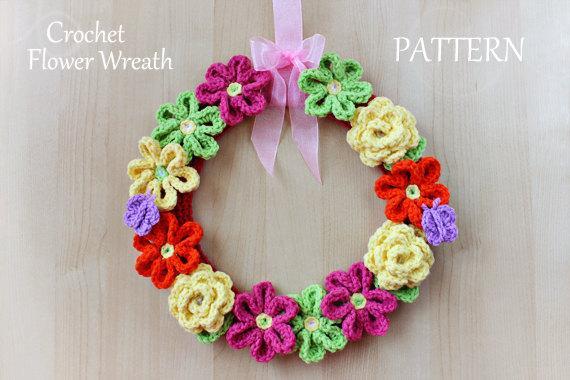 Photo via Craftsy member Zoom Yummy
4. Crochet Flower Wreath
This pattern is perfect crocheters who want to try trickier stitching. The pattern comes with 53 photos to help you through everything from stitching to assembling the wreath.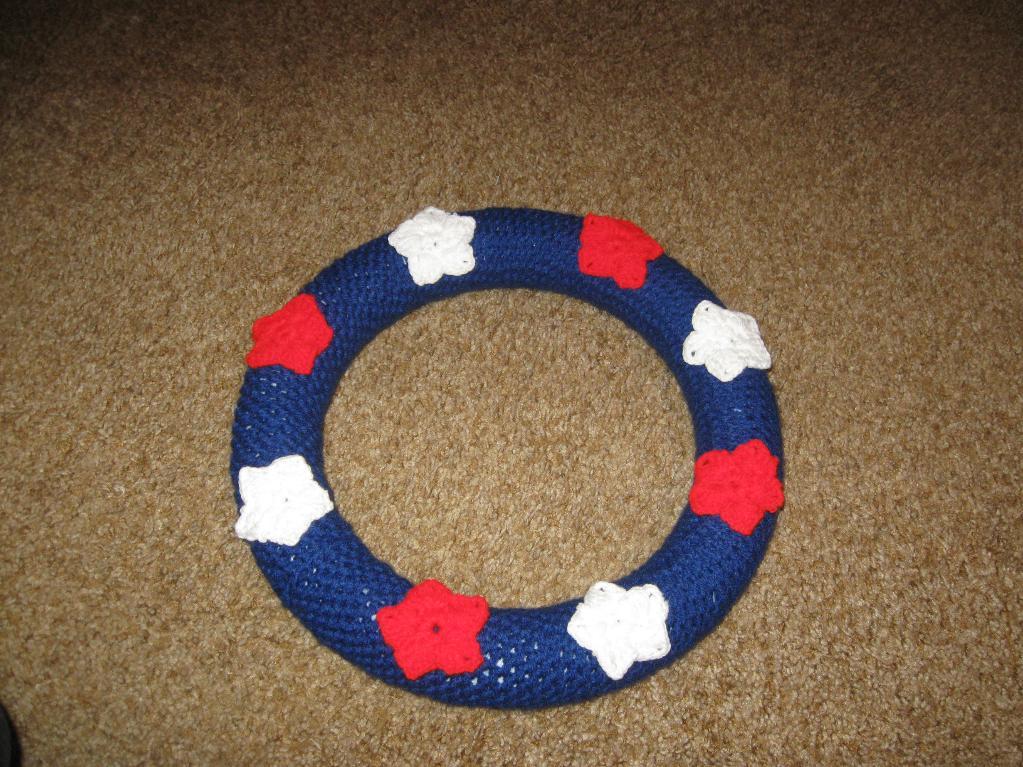 Photo via Craftsy member Dawn Buckendahl
5. Star Wreath
Celebrate Independence Day with this red, white and blue wreath that features stitched stars. If you like the design, you could even stitch it in different colors and hang it on your door months after the Fourth has passed.
Photo via Craftsy member Yarn Twins
6. Summer Floral Wreath
Grab your yarn stash and use even your smallest amount of scraps for this colorful decoration. There are instructions for three different types of flowers, so you can add even more to your wreath.
Fall crochet wreaths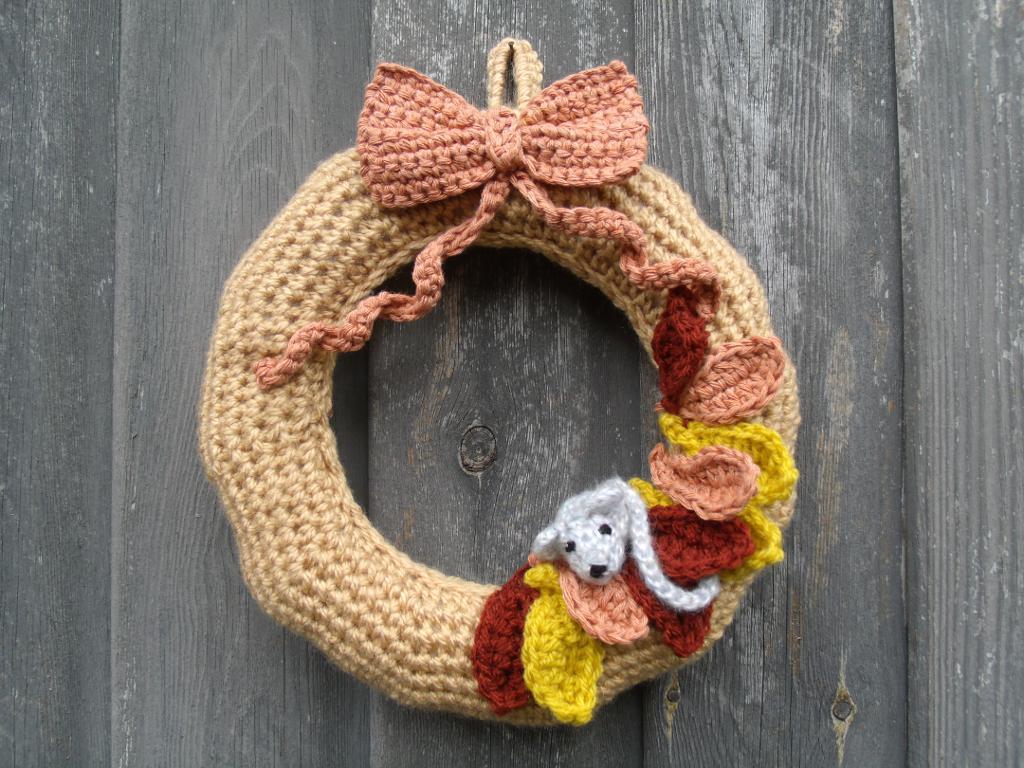 Photo via Craftsy member TCDesignsUK
7. Autumn Wreath
The designer recommends adding berries, beads and as many other embellishments as you'd like to this fall-friendly wreath. Yarn in any autumn shade will look great, so you can also include greens, reds and oranges in the mix.
Photo via Craftsy member BrownieKnits
8. Sunflower Wreath
Not ready to say goodbye to flowers at the end of summer? Add some pretty blooms to your decor with this autumn-hued wreath that features sunflowers. As a bonus, there's a video link included to show you how to seam the flowers.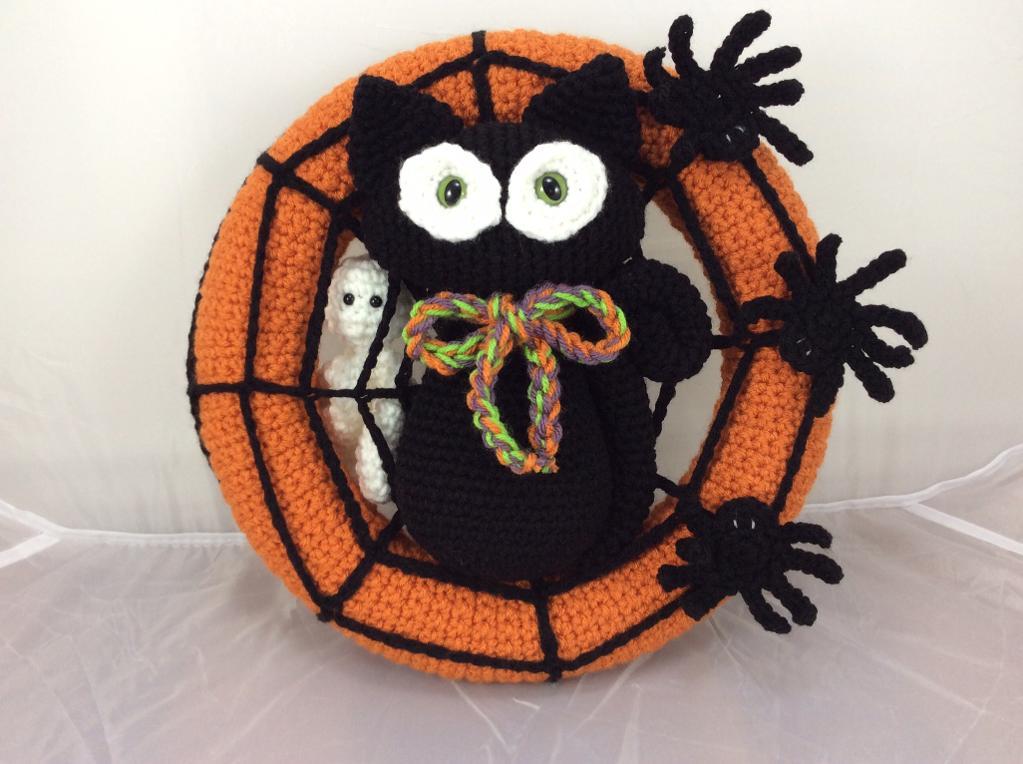 Photo via Craftsy member Lisa Kingsley
9. Spooktacular Halloween Wreath
Ghosts, cats, spiders — if you're seriously into Halloween, impress your trick-or-treaters with the ultimate spooky wreath. If you can work in the round and are familiar with seaming amigurumi pieces together, then this wreath will be a breeze to stitch.
Winter crochet wreath patterns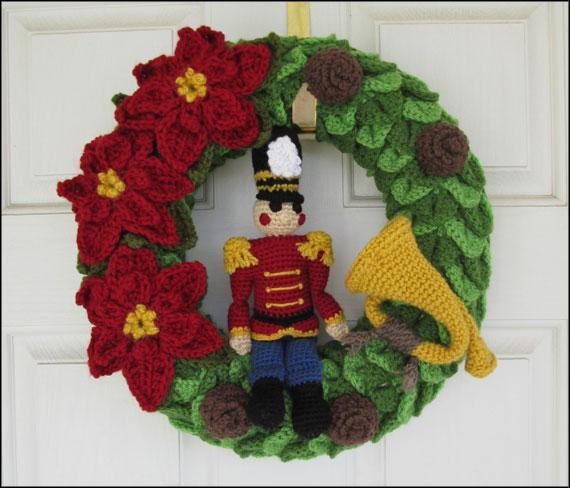 Photo via Craftsy member Yarn Twins
10. Nutcracker Toy Soldier Christmas Wreath
Start the holiday season off with true signs of the season, including a poinsettia and a nutcracker. Those gorgeous leaves on the wreath are created using crocodile stitch, so it's a great chance to experiment with that fun stitch!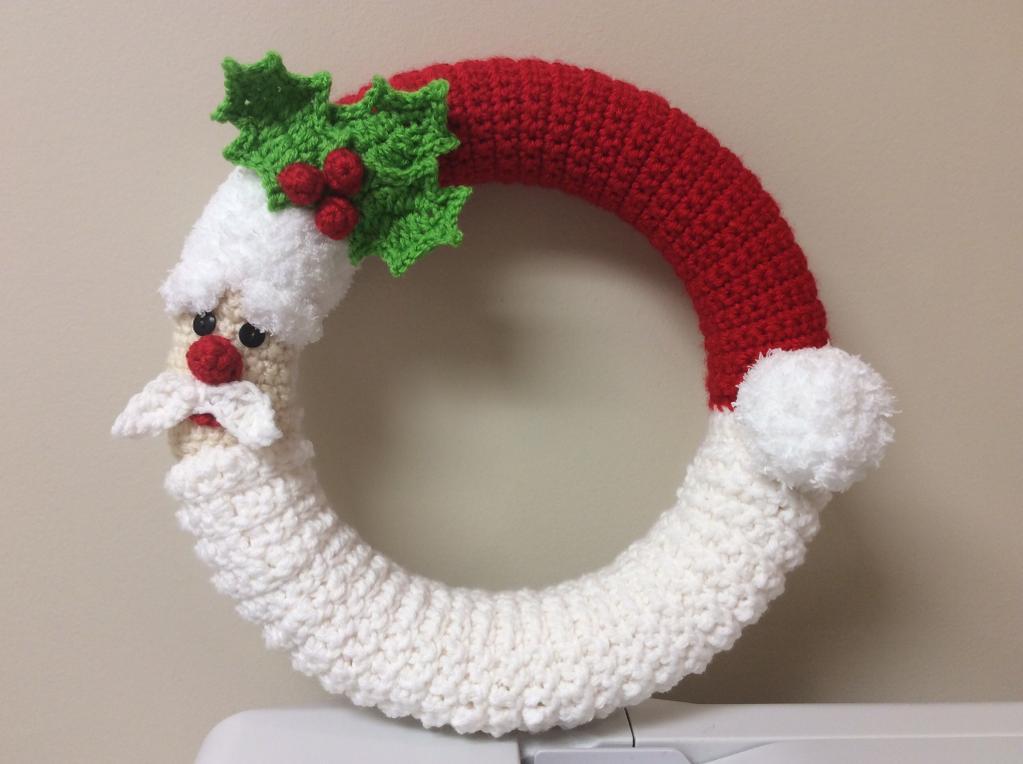 Photo via Craftsy member Lisa Kingsley
11. Santa Wreath
The designer points out that this wreath pattern can double as your home decor and a holiday gift for a friend or family member. You may as well stitch a few extra, since all your guests will be begging for one after they see your door.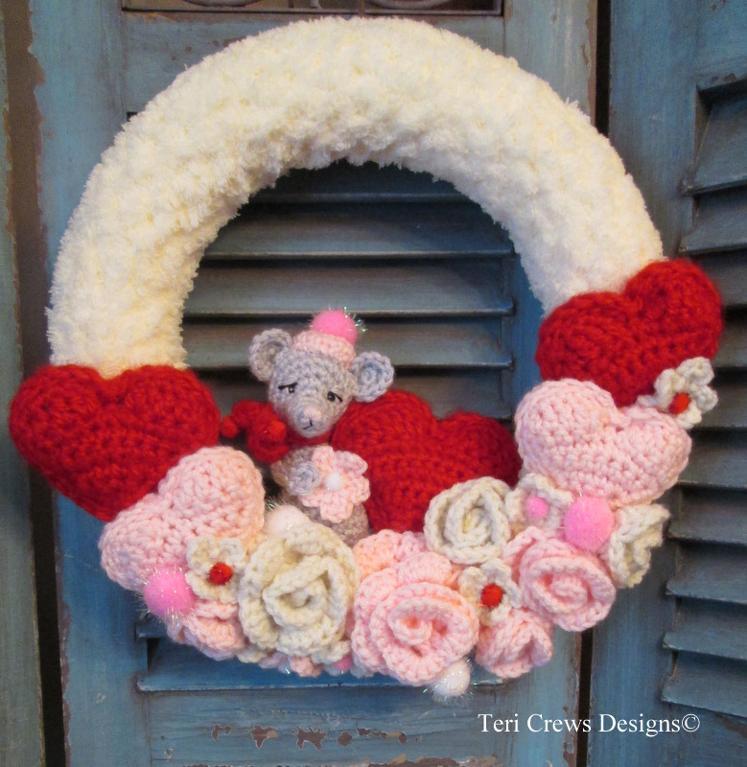 Photo via Craftsy member Crews
12. Valentine Wreath
After all the holiday fanfare, finish off your winter with this cute Valentine's Day wreath. The designer recommends using it as either a wreath or a wall hanging on interior walls.