When I first started to crochet with wire and beads, I went a little crazy. I bought wire in five or six different colors, stocked up on beads and made jewelry for everyone I knew.
But soon crochet with wire and beads started to take a toll on me. My fingers and wrists were weak and sore, and my crochet hooks went from shiny to scratched up.
Before you go crazy crocheting with wire and beads like I did, check out these simple tips to keep your hands, supplies and projects in tip-top shape.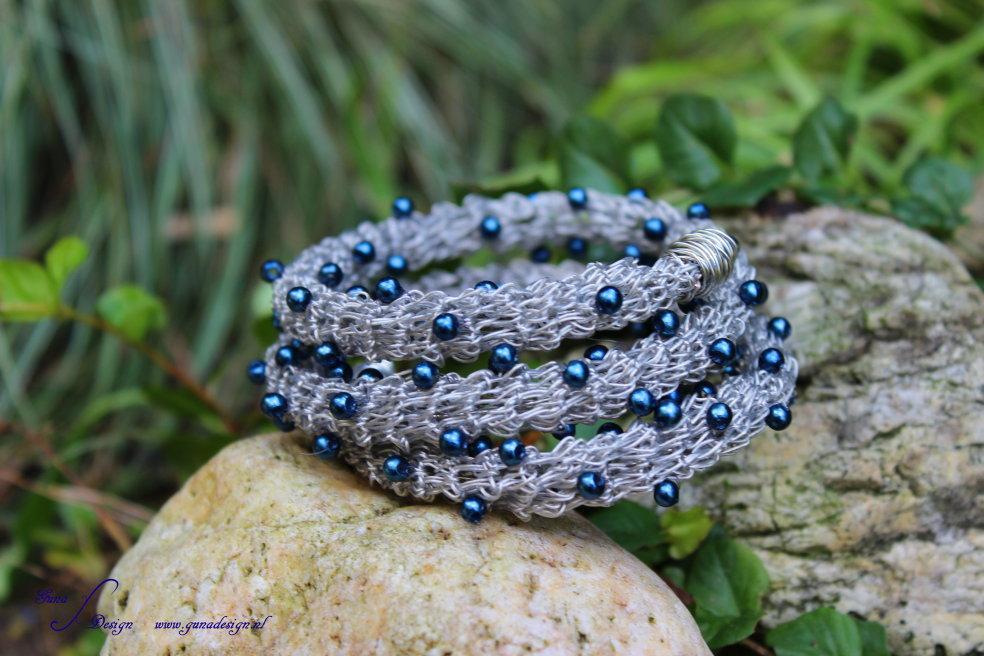 Photo via Craftsy member gunadesign
1. Thread some extra beads on the wire.
The first step to any crochet wire project with beads is to thread the beads onto the wire. No matter how many times I count my beads as I thread them, I always seem to be missing a few near the end of the project. When you thread your beads onto the wire at the beginning of the project, thread a few extra just in case something happens. You never know when a bead might break or mysteriously disappear!
2. Test the flexibility of the wire.
A 28-gauge wire is one of the most popular sizes for crocheting because it's flexible. The smaller the gauge, the thicker the wire. Choose a gauge that's flexible and around the 28-gauge size, otherwise, you'll find yourself with a lot of pain in your hands and wrists from wielding that crochet hook.
3. Plan your bead distribution.
If you're not using a pattern, plan the distribution of your beads ahead of time and write it down so you don't forget. I can't tell you how many times I've designed bead patterns in my head, only to forget them when I actually begin threading the beads onto the wire.
4. Use a thimble.
Crocheting with wire can be painful. Wire certainly isn't as nice to our hands as yarn or other fibers! If my fingers are feeling particularly sensitive or painful, I use a sewing thimble to pad the space between my skin and the wire.
5. Don't use your best crochet hooks.
Wire can scratch and scrape your crochet hook. If you're working with wire, avoid using your favorite hooks, especially if they're bamboo. The wire can scratch out little dents in the bamboo.
6. Crochet slowly.
Ripping out crochet stitches in wire is a real pain. It's also a pain to try and crochet that same wire again after you've already shaped it. The more you rip out the stitches and rework them, the more difficult it is to work with. Crochet slowly to try and avoid going back and ripping out stitches. Ripping out the stitches too many times might even cause the wire to break. Yikes!
7. Give the work a little pull.
Wire is unpredictable and difficult to control, especially when it comes to gauge. When you finish your project, give it a little pull vertically and horizontally to try and even out the stitches.
Itching to crochet your own wire jewelry but not sure where to start? Check out Beading with Wire, Chain & Leather with Candie Cooper. You'll learn about all kinds of cool jewelry supplies, and Candie will show you how to crochet your very own wire and bead necklace. She'll even show you the important task of adding a clasp.
What gauges of wire and types of beads would you recommend to other jewelry makers?