Ready to get hooked on crochet? You're in luck! The best thing about crocheting is that it's a beginner's game. Once you learn a few simple motions and stitches, you can easily build on those skills. If you're ready to pick up this fun, rewarding craft, let our FREE downloadable Beginner's Guide to Crochet bundle be your one-stop-shop to all the tips and tricks you need to make mastering crochet a snap!
We all know how relaxing and fulfilling our favorite crafts can be. This crochet tutorial for beginners is a great tool to keep in your back pocket whenever you're trying a new stitch or sharing your new skills with someone else!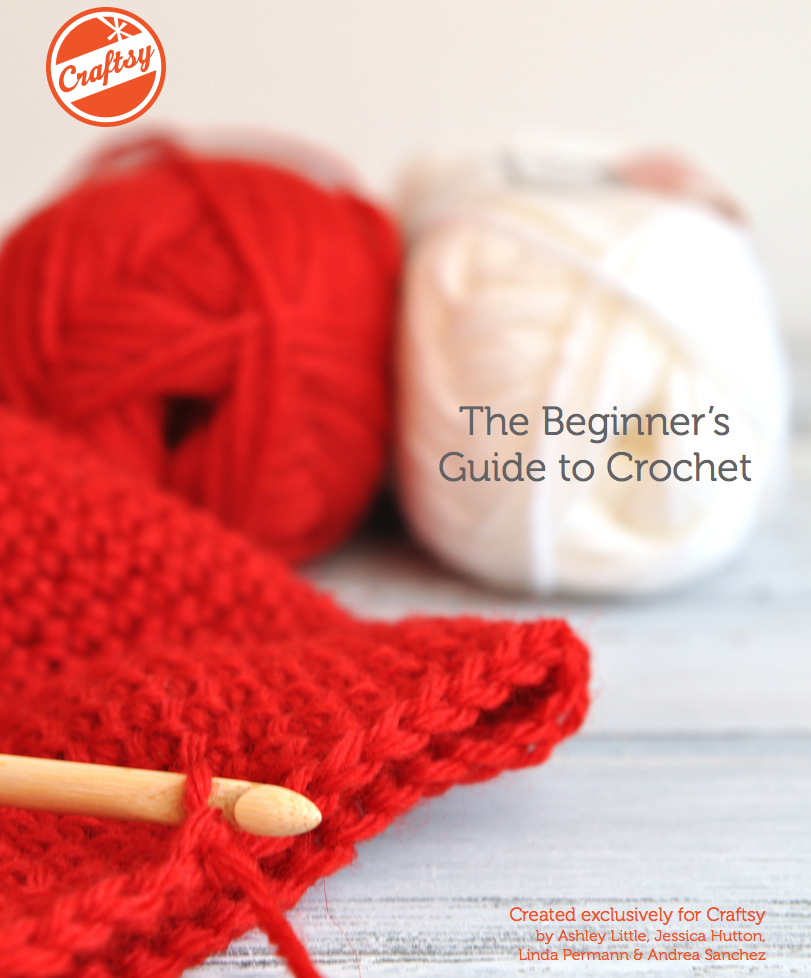 This bundle was created with the user-friendly instruction of Linda Permann, Bluprint's own in-house Crochet instructor (she teaches Crochet Embellishments and Crochet: Beyond Rectangles), and crochet experts Ashley Little and Andrea Sanchez (with the liaising help of our lovely Instructor Liaison, Jessica Hutton).
This step-by-step guide walks through crocheting a chain, as well as single and double crochet, and includes a handy guide to crochet abbreviations and fabulous photography to give your new crocheter visual pointers along the way.
You'll get these crochet tutorials for beginners:
A reference guid for crochet abbreviations
A tutorial for how to crochet a chain
Instructions for how to single crochet
Clear explanations for how to double crochet
It is perfect introduction to this beautiful art. Plus, when you learn these three stitches, you'll be ready to start your first crochet project!
Even Bluprint employees have gotten down to the business of learning how to crochet!
While our Bluprint employees are generally crafty, not everyone here at home base is familiar with the art of crochet. So, Linda Permann recently led a workshop at Bluprint headquarters and taught a group of enthusiastic Bluprint employees the wonderful and addicting activity of crocheting a chain. The Beginner's Guide to Crochet starts with crocheting a chain. Remember, even though the chain is just the starting point of crocheting, don't underestimate it! You can crochet a chain to use as a bow on gifts, hair tie, or keep going and wrap several layers to make a necklace. The possibilities are endless!
The workshop drew people from all areas of the company (even Bluprint founder Josh Scott learned something new!), and everyone enjoyed picking up this new skill.
Bluprint employees: beginners learning to crochet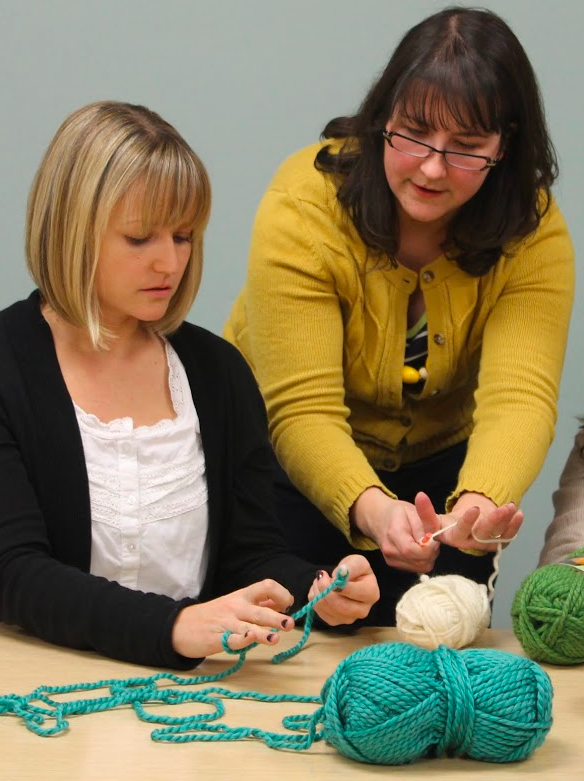 Linda demonstrates wrapping the yarn to Business Development Manager Rachel Kiriakos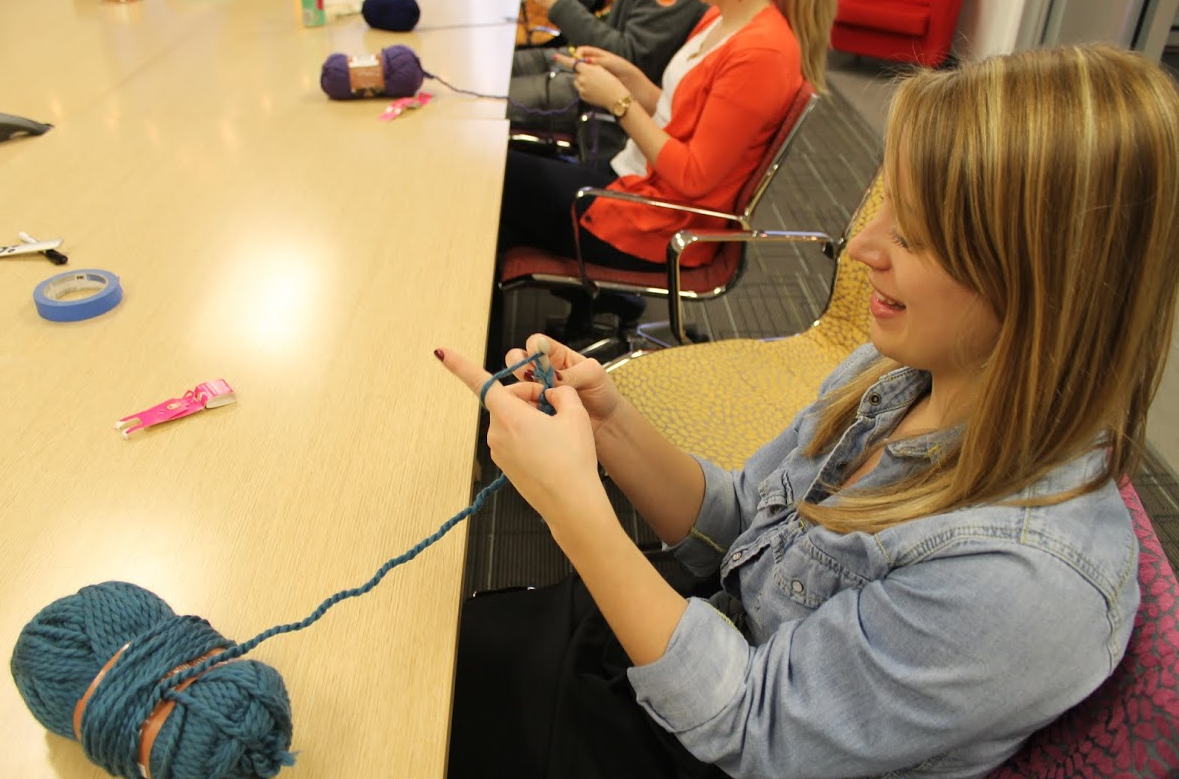 Bluprint's receptionist, Rebekah Weidner, practicing her chain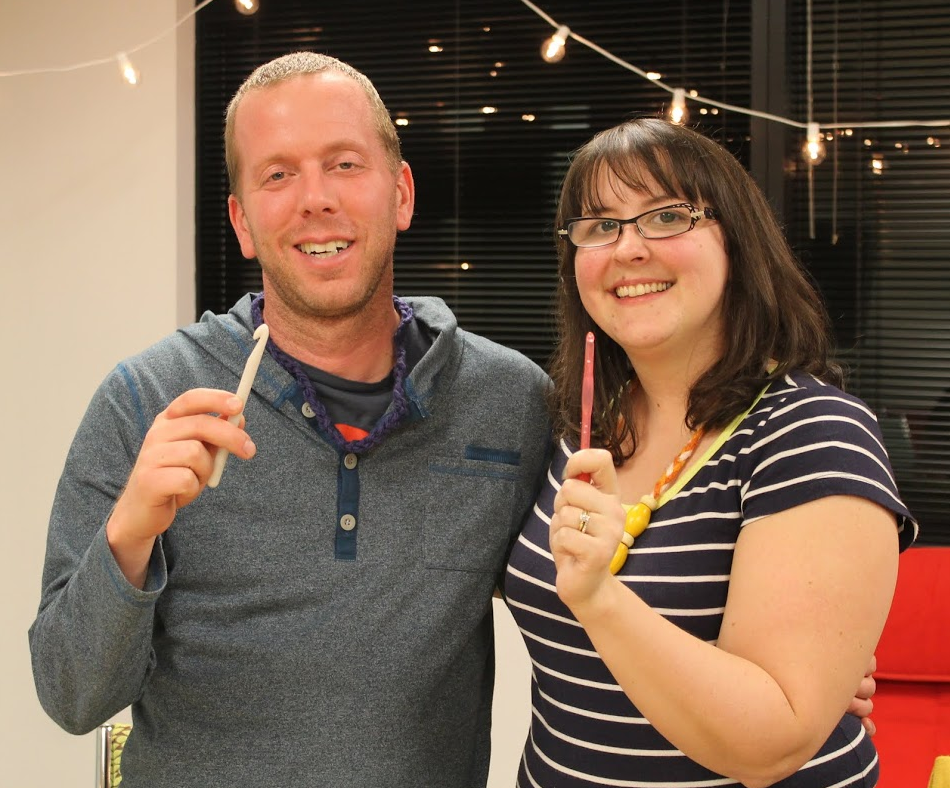 Founder Josh Scott and instructor Linda Permann showing off their hooks!