Turkey Day is just a week away, so why not whip up some crochet turkey patterns this weekend in anticipation of the big day? I like crochet turkeys because you can customize them to match your Thanksgiving decor — even if you're not very traditional. Crocheting your turkey means you can make it as big or small as you'd like. You can make your turkey in realistic colors, or go nuts and give it a rainbow of feathers. Store your turkey away and bring it back year after year, maybe even alongside some new turkey buddies.
These crochet turkeys are meant for home decor, but we wouldn't say no to making them centerpieces and toys. (Kids need something to keep them busy at the table, right?)
No matter how you plan on showing off your turkey — on the table, in the windowsill, or on your clothing — Bluprint's crochet patterns have you covered.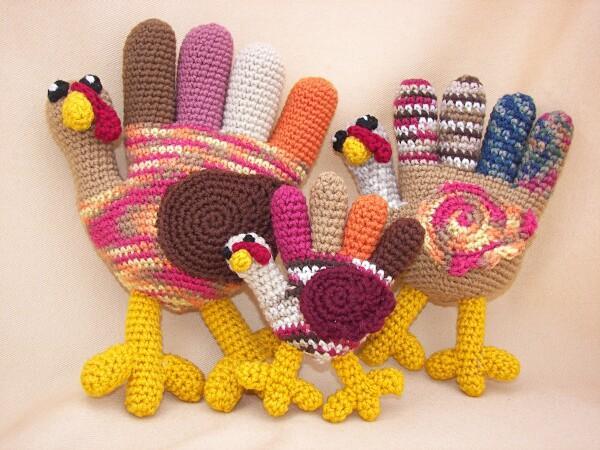 Photo via Bluprint member CraftyDebDesign
Hand Turkey Trio
This crochet pattern gives a nod to the turkey-handprint drawings and paintings you did as a child. This pattern is scrap-friendly, too, so if you're making it for kids, CraftyDebDesign suggests letting the kids help choose the yarn colors. You can even model them after a turkey-handprint drawing your little one already created!
Get the Hand Turkey Trio pattern.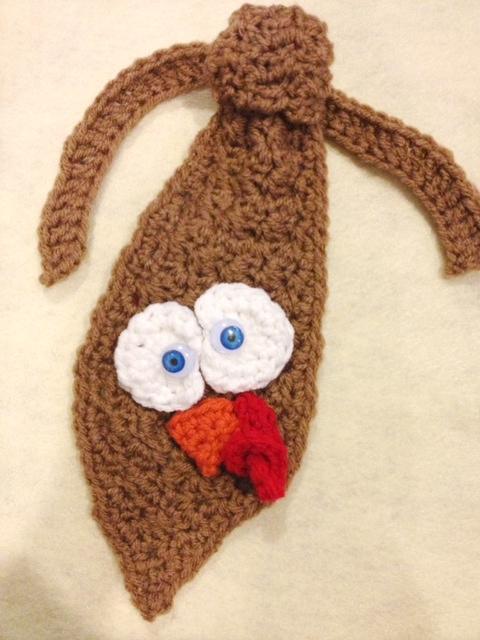 Photo via Bluprint member KhysCloset
Gobble Gobble Turkey Tie
There's always a chance you'll end up with turkey on your shirt at some point, so why not face the inevitable and wear this crocheted tie to Thanksgiving dinner? Change the placement of the eyes to give your turkey any expression you'd like, from clueless to blissfully happy.
Get the Gobble Gobble Turkey Tie pattern.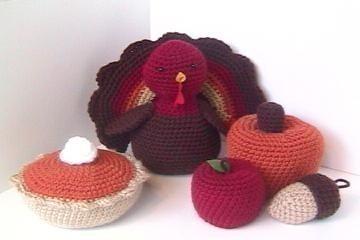 Photo via Bluprint member Amy Gaines 
Autumn Crochet Pattern Set
This turkey's heading to the dinner table, and he's taking all his friends with him. This set of adorable autumn amigurumi patterns comes with a turkey, pumpkin pie, pumpkin, apple and acorn. All the patterns are worked in the round in a spiral, making them super easy and fun.
Get the Autumn Crochet Pattern Set.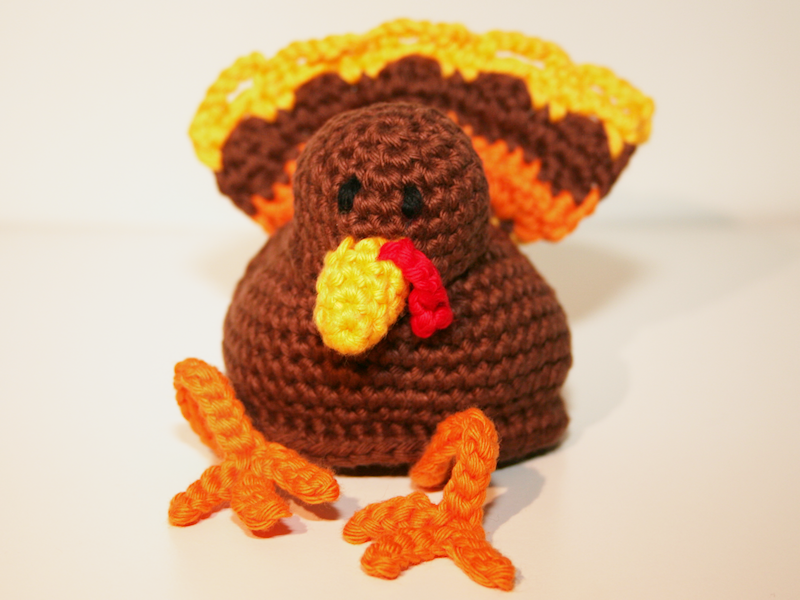 Photo via Bluprint member Stephanie
Turkey Shelf Sitter
Designer Stephanie suggests making a whole flock of these to hang out on the shelf — though you should be warned that kids love to get their hands on these. You should be familiar with basic crochet skills like increasing and decreasing, but there are also instructions provided for skills like changing colors.
Get the Turkey Shelf Sitter pattern.
Photo via Bluprint member vjf25
Turkey Doily
Spread this colorful guy on your Thanksgiving table and wait for the "oohs" and "ahhs" from guests. The doily is made with crochet thread, and you can substitute any colors you'd like for the beautiful feathers that make up the border.
Get the Turkey Doily pattern.
A lot of these turkey projects require basic crochet skills. Are you ready? Before you get started, check out Crochet Lab with Vickie Howell to brush up on basic skills you'll need to make your turkey, like single crochet and checking your gauge.

Want to crochet more animals to give your turkey some company? Stacey Trock's Amigurumi: Woodland Animals class offers plenty of cute friends, including a bear, deer, raccoon and bluebird.
Be sure to come back to the Bluprint blog tomorrow for another fresh installment of Free Pattern Friday!
Do you celebrate Thanksgiving? Share some of your Thanksgiving traditions with us — even if they don't include crochet turkeys on the table!