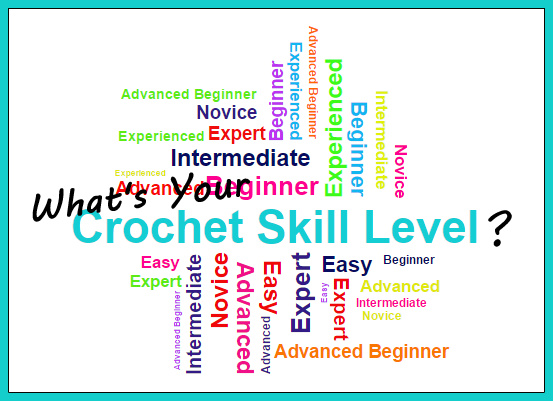 Do you know your skill level?
Lots of us struggle with this question. If you started crocheting last week – that's easy – you are a beginner. If you are proficient with a variety of stitches, using multiple techniques and following complex patterns, I'd call you an expert. But what about the rest of us? Where do we belong, and does it really matter?
The label is not important, but understanding your ability is and it will help you to be a more confident crocheter. There is no reason to be limited by the difficulty rating or skill level assigned by the designer or editor. Having a clear picture of what you know and what you are willing to learn for a project will allow you to choose a pattern based on your abilities.
For a long time I considered myself a beginner and avoided patterns labeled intermediate and advanced. Eventually, I realized the vague definitions offered by books and web sites left me wondering what skills I was expected to know in order to successfully complete a more difficult project.
Here are three definitions taken from different sources for the skill level Beginner.
Projects for first time crocheters. These projects use single crochet (the most basic stitch) and require minimum finishing skills.
Ideal first project.
Basic stitches including increasing, decreasing and finishing off.
Pretty confusing, and not a lot of detailed information. Additionally, depending on the source, you are likely to encounter various names for the skill levels. You might see: Beginner, Beginner +, Advanced Beginner, Confident Beginner, Novice, Easy, Intermediate, Intermediate +, Challenging, Advanced, Experienced and/or Expert!
So what does it really mean to be a beginner and when should you attempt an intermediate pattern? I have put together a look at each skill level with the hopes of helping you identify what you know and encouraging you to have faith in your abilities when choosing your next pattern.
Skill levels defined
Beginner (Novice)
These are patterns that make good first projects for crocheters who are just starting out. A beginner should be able to understand stitch abbreviations and read/follow a pattern using symbols. You should be able to make basic stitches such as a starting chain, slip stitch, single crochet, half double crochet and double crochet. You should know how to fasten off and weave in ends.

Easy
In this category I would also include: Beginner +, Advanced Beginner and Confident Beginner. To complete an easy pattern you should be comfortable with all the basic stitches and be able to put them together in a repetitive pattern.
Other stitches like the treble crochet, fan stitch and bobble stitch are often used in easy patterns. There may be minimal shaping using increases and decreases. You should be able to change colors and attach a new ball of yarn. Easy patterns may be worked in the round (to make a motif or granny square or to make a tube or cylinder for hats/wrist warmers). You should be able to sew/attach pieces together.
Intermediate (Challenging)
At the intermediate level the patterns assume that you are comfortable with the fundamentals of crochet and are able to put stitches together in many ways. You should be able to read/follow instructions with multiple steps and repeats.
Stitch combinations are more complex and introduce new techniques (like cables, entralac and hairpin lace). You should have consistent tension and stitch size.
Lace patterns, items with more detailed shaping, and intricate edging and trims are found at the intermediate level. You should have general knowledge of garment construction and be able to join and finish pieces using different techniques.
Advanced (Expert or Experienced)
Patterns that have an advanced difficulty rating are for the crocheter who is capable and confident. At this level you should be able to execute a variety of stitches and techniques with proficiency.
You should be comfortable working with different yarn types and weights as well as different hook sizes. You should be able to follow elaborate instructions, and work multiple colorwork techniques.
Advanced patterns may include complex garment construction, shaping and sizing, and utilize multiple finishing techniques.
Choosing the right pattern
Since there are no universal pattern writing standards, determining the skill level is up to the individual designer. With all of these variables, how do you know if a pattern is right for you? I recommend using the designated skill level as a suggestion.
Before deciding, read through the pattern and see what stitches are used:
Are you familiar with them?
If not, are you willing to learn?
What techniques are used?
Is it something you've never tried?
If it is a project that you are really in love with, this might be the perfect opportunity to introduce a new skill. Do not let the suggestion of a skill level stop you from making that special project. Be confident in what you already know and courageous enough to explore the exciting world of crochet!