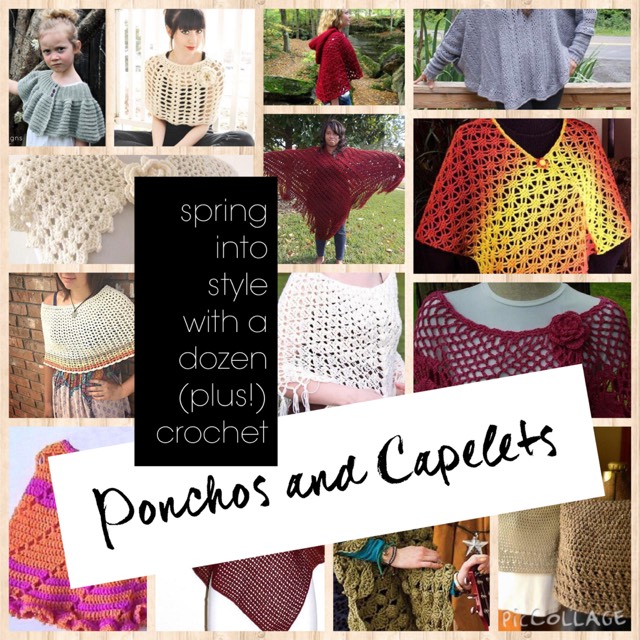 What do you think of when I say "poncho"?
Clint Eastwood and his cowboy pals riding the range?
A field full of hippies swaying to the groovy music with flowers in their hair?
Or maybe you picture that famous fisherman in yellow from the grocery store?
It's time to cast aside those old ideas and get ready for a new era of fashion! According to trend reports, the poncho is back! Open any magazine and you are sure to see one. From the runway to Hollywood, college campuses to the beach, ponchos are everywhere! Women, children and yes, even men will be wearing them this year.
The poncho is often considered a transition piece that moves us into the cold weather. With spring approaching and summer not far behind, it is time to explore warm weather options.
Ponchos: Cover up in style
Once upon a time, as early as 500 B.C., the poncho was a wardrobe staple. A simple rectangle made from woven fabric with a hole or slit for the head in the center. Look how far we have come! What was once worn only for function is now fashionable.
The collection I've put together for you today shows just how versatile this humble garment is. When choosing a pattern for warm weather wear, consider using a cotton, linen or bamboo yarn. These will produce a fabric more suited to the temperatures.
1) Sweater Poncho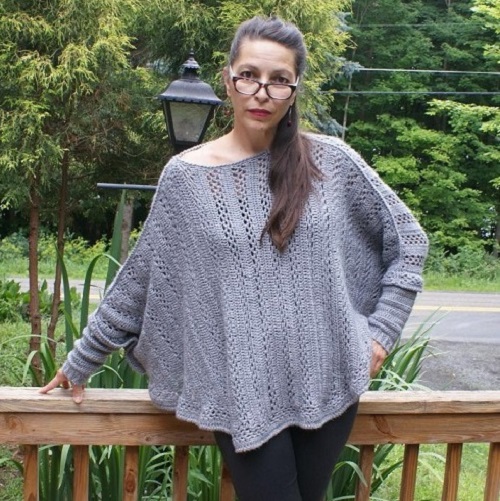 Sweater Poncho via margaret.landis
2) Swirly Twirly Poncho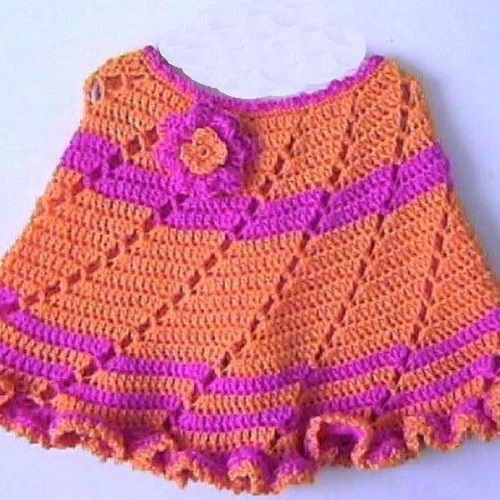 Swirly Twirly Poncho via Tiggztoo
3) Crochet Bulky Poncho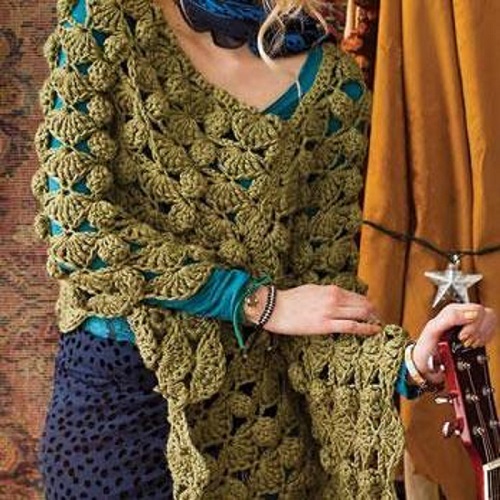 Crocheted Bulky Poncho via Vogue Knitting
4) Poncho Poncho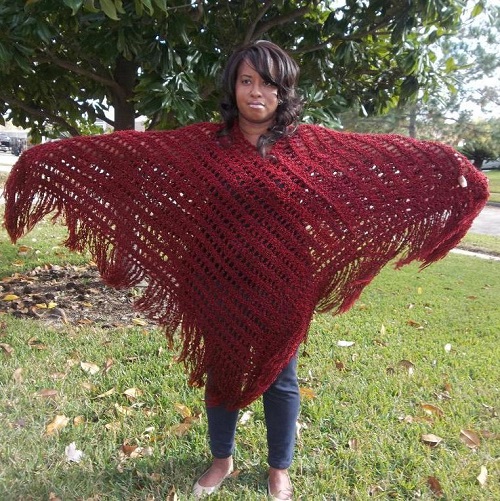 Poncho Poncho via Harrietta
5) Fairy Lace Poncho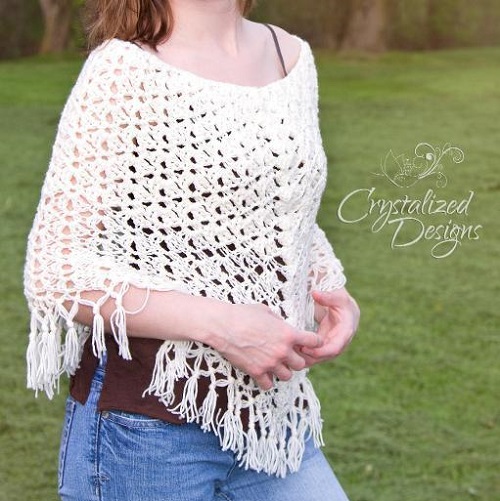 Fairy Lace Poncho via Crystalized
6) Poncho
Poncho via Yolanda M
7) Kauni Poncho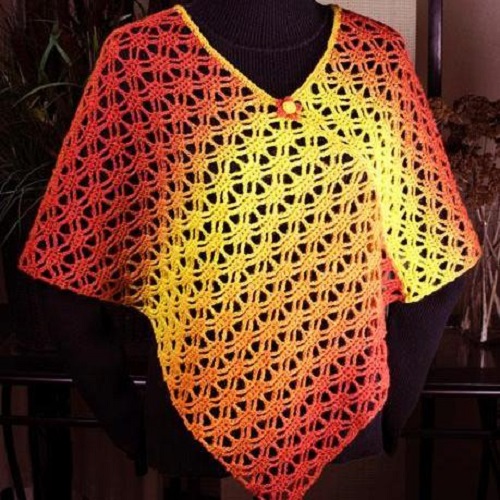 Kauni Poncho via Crochet Editor
Capelets: The petite cover up
The Capelet (also the caplet or capelette) is the petite little sister of the poncho. Similar in construction it offers versatile, easy to wear style. Because it has less bulk than a poncho it is a great option to chase the chill of the air conditioner at the office or the grocery store.
It is also time to start thinking about prom and wedding season. A capelet is the perfect formal wear accessory. The fixed shaping is convenient and will keep hands free and shoulders covered. It can be made to coordinate with any gown style, in colors that subtly compliment or pop with contrast.
Here are a few patterns that can be worn for a day at the park or the biggest day of ever!
8) Wildwood Capelet Cape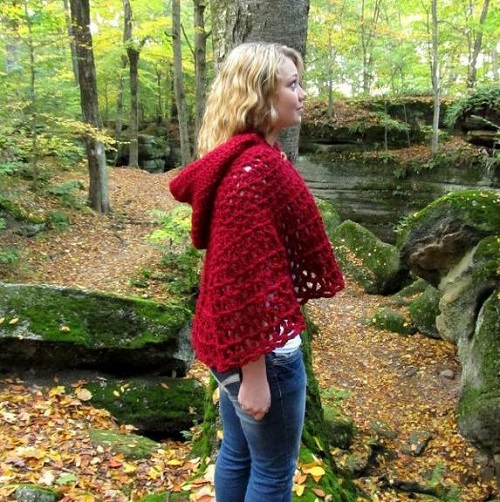 Wildwood Capelet Cape via LazyTcrochet
9) Summer (or Winter) Cape Capelet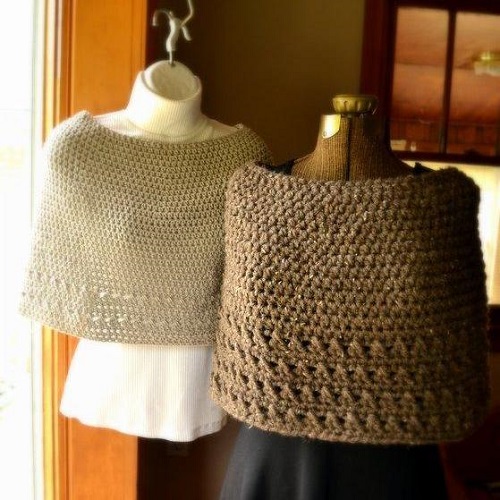 Summer or Winter Cape Capelet via LazyTcrochet
10) Paisley Capelet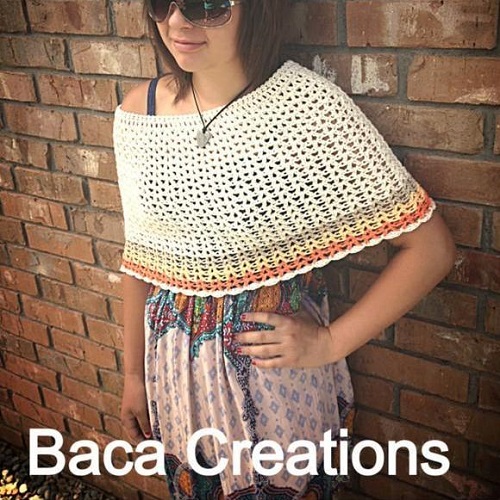 Paisley Capelet via SalenaBaca
11) Cottage Caplet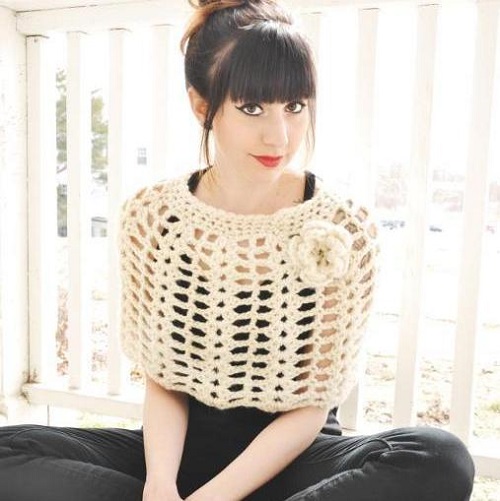 Cottage Caplet via Mitten Made
12) Austen Capelet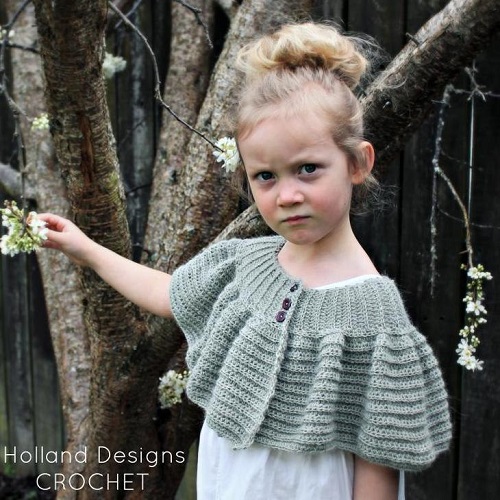 Austen Capelet via Holland Designs
13) Victoria Capelette
Victorian Capelette via CityStyle
14) Pineapples Capelet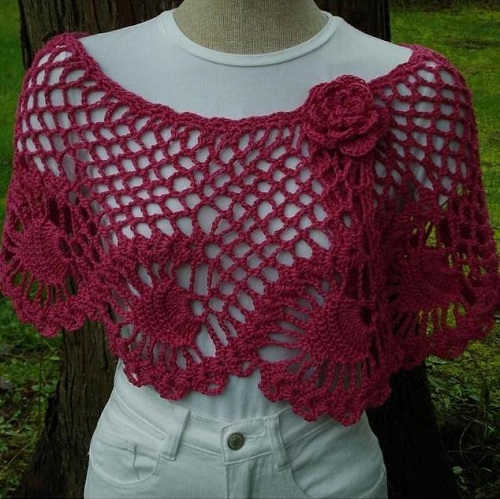 Pineapples Capelet via Nancy Brown-Designer