So you have yards and yards of tiny scrap yarn that you've saved. It's unlikely that you'll ever be able to crochet a scarf or even a hat out of those tiny yardages, but you might just be able to stitch up a cool fiber necklace.
I'm a big fan of crochet necklaces, especially in winter when the idea of cold metal jewelry against my skin makes me shiver. They make great gifts, too, because you can crochet one in just a few hours.
Go for a range of styles from delicate to bold with this selection of crochet necklace patterns that are ideal for busting that out-of-control stash!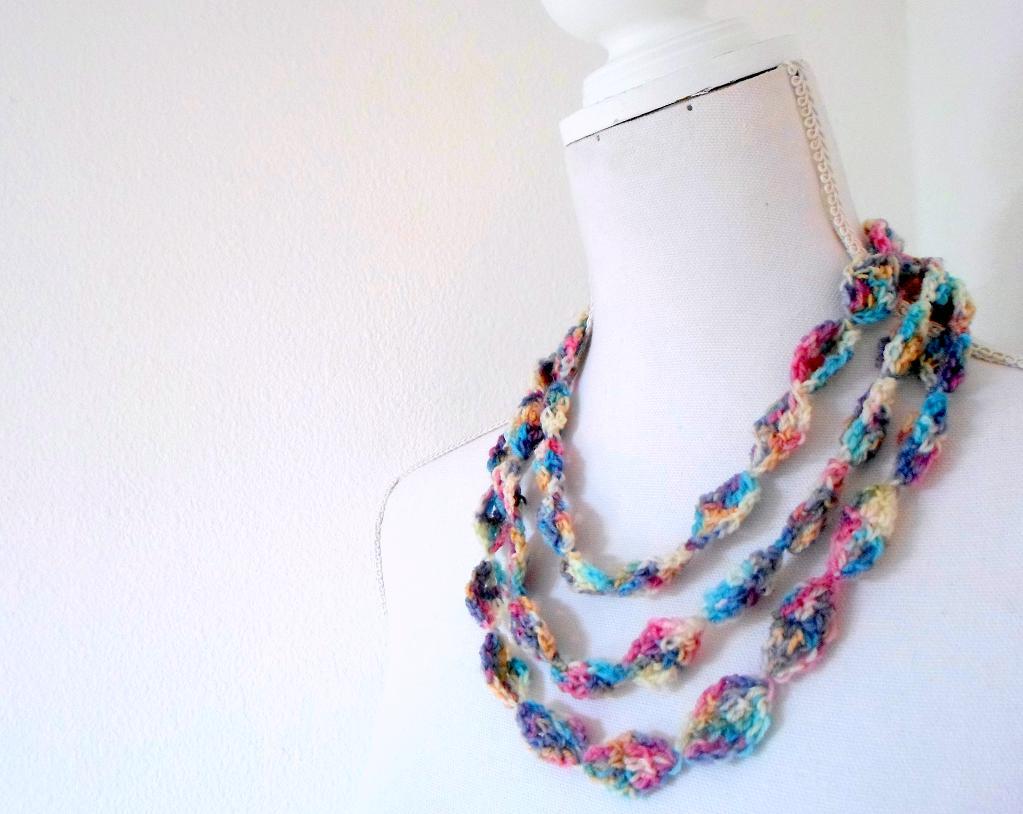 Photo via Craftsy member A la Sascha
1. Endless Ways Necklace
This necklace has a few possibilities depending on the way you style it. Make multiple necklaces and layer them, as seen in the photo above, or use a heavier yarn and layer the necklaces as a cowl. This would be a great opportunity to use some of that T-shirt yarn you've been hanging onto.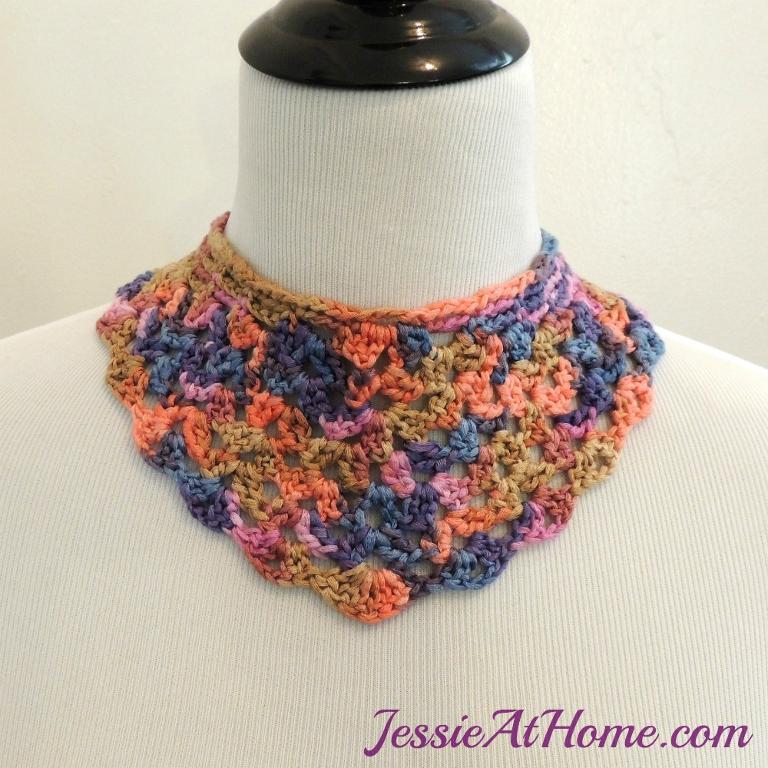 Photo via Craftsy member JessieAtHome
2. Shelly
Go bold with a bib necklace that's named for the shell stitch. I love it worked up in a variegated yarn, but a solid color would work just as well. Experiment with even the wackiest yarn in your stash and see how many variations you can come up with. Instructions to adjust the size of the necklace are also included.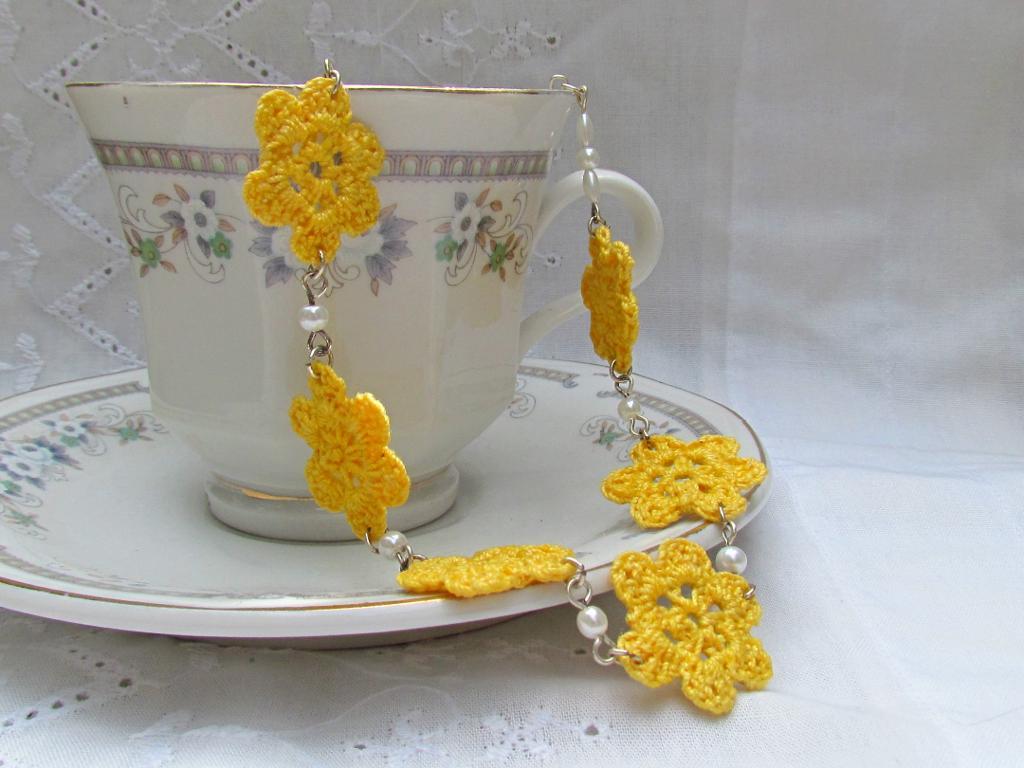 Photo via Craftsy member Melmaria
3. Jonquil Necklace
If elegant and dainty is your thing, this is the perfect pattern for you. You'll crochet in the round using a thread instead of your usual yarn. You'll need a bit of jewelry knowledge to connect the flowers; check out "Working with Wire in Jewelry: A Quick Primer" if you're new to wire.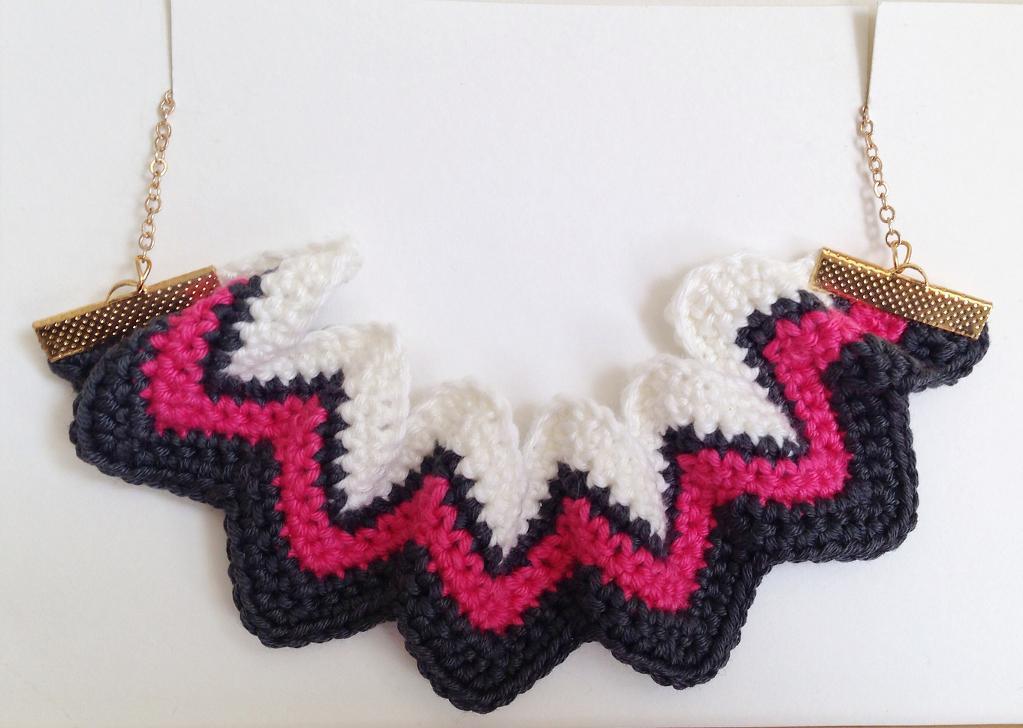 Photo via Craftsy member supercutestore3
4. Chevron Zig Zag Necklace
Grab those scrap yarns and pull a few colors together to create a cute chevron color palette for your statement necklace. Go for neutrals if you want the necklace to match several different outfits. You'll need a couple of simple jewelry supplies to complete the look.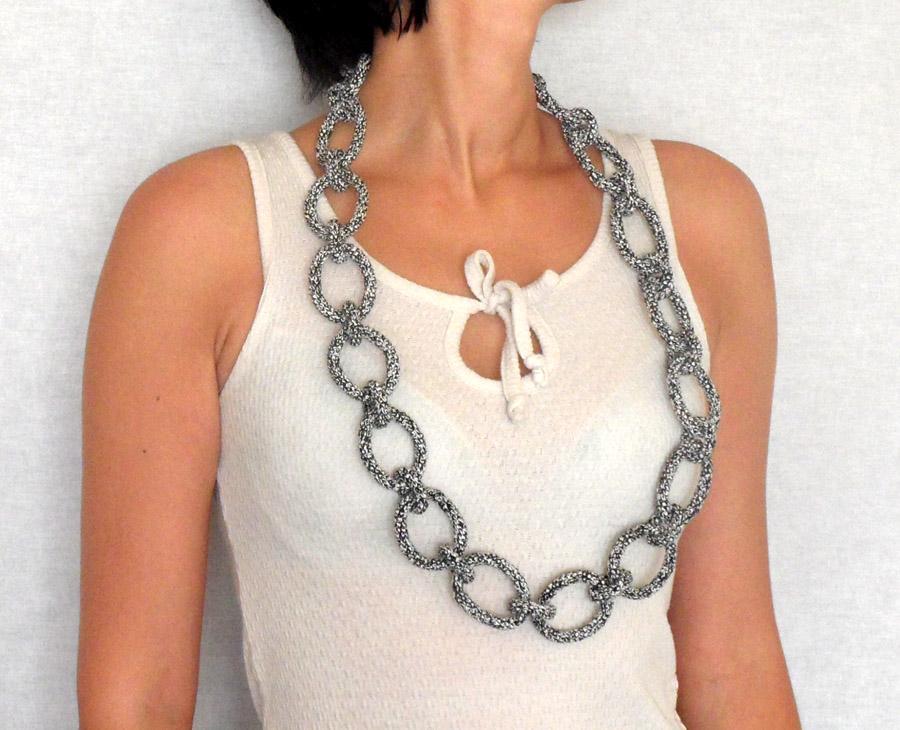 Photo via Craftsy member AimarroPatterns
5. Chain Necklace
If you know how to chain stitch and single crochet, this necklace will be a breeze. This necklace was stitched using a cotton thread, but it's also a good excuse to get out those ridiculously sparkly yarns and see how they work up.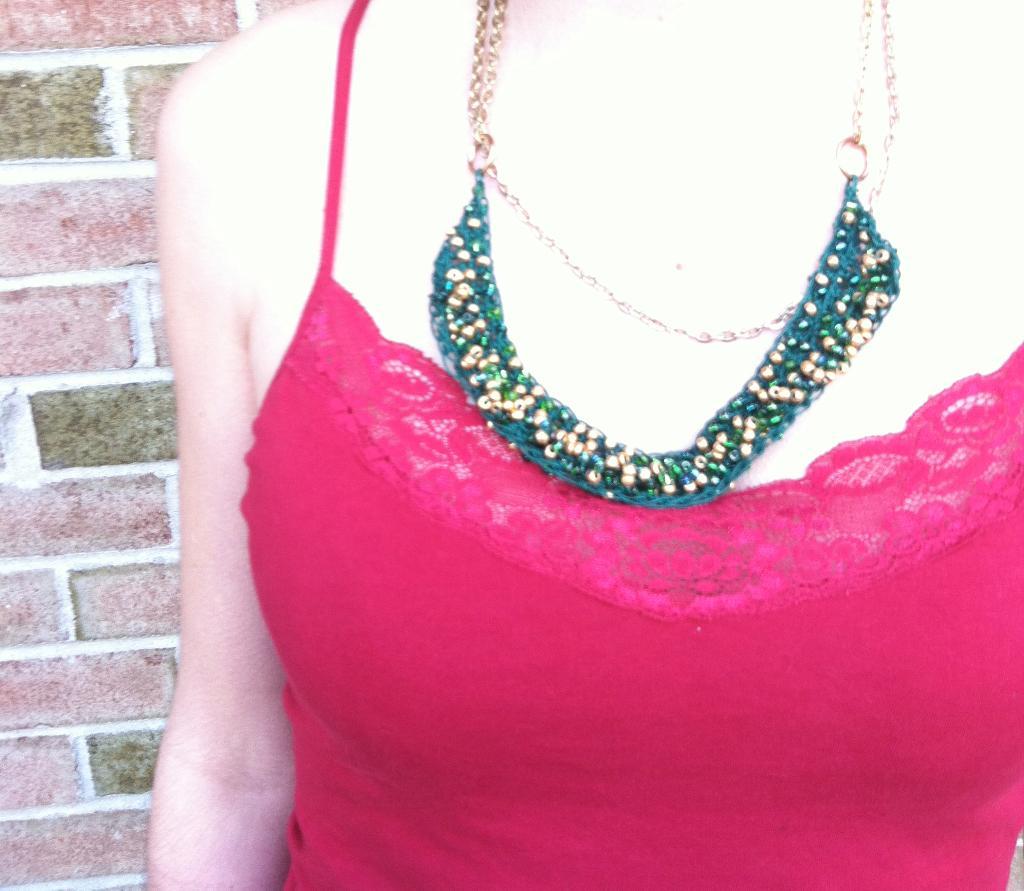 Photo via Craftsy member Abigail Haze
6. Summer Internship Beaded Necklace
Serious sparkle alert! Add beads to this already-adorable necklace that can be worn in many different lengths. It works just as well with jeans as it does your little black dress. Never crocheted with beads before? These tips for crocheting with beads will get you going.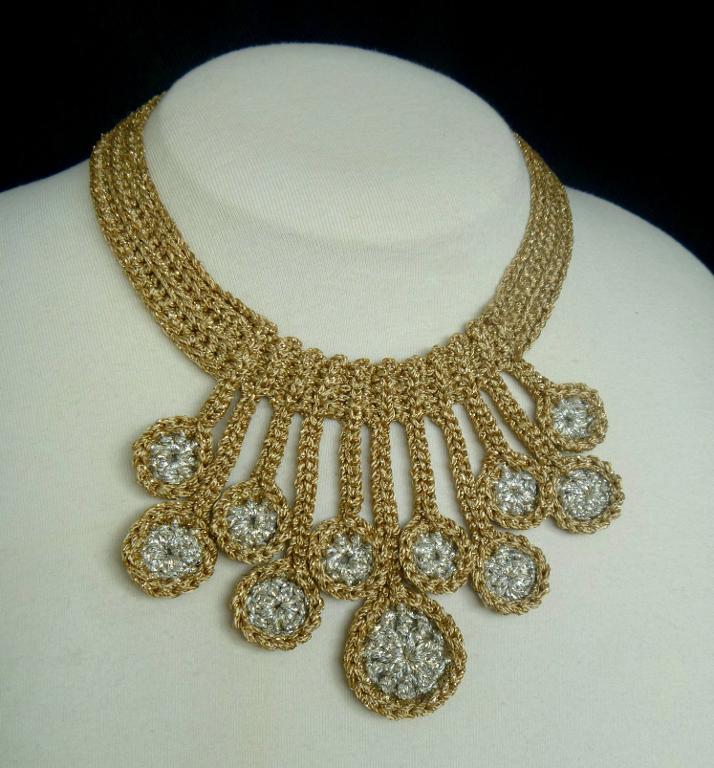 Photo via Craftsy member Shelby Allaho
7. Raindrops Necklace
Necklace or work of art? This museum-worthy necklace uses metallic yarn to crochet droplets of varying sizes. It's ideal for strapless and scoop-neck styles since the drops rest against your collarbone beautifully.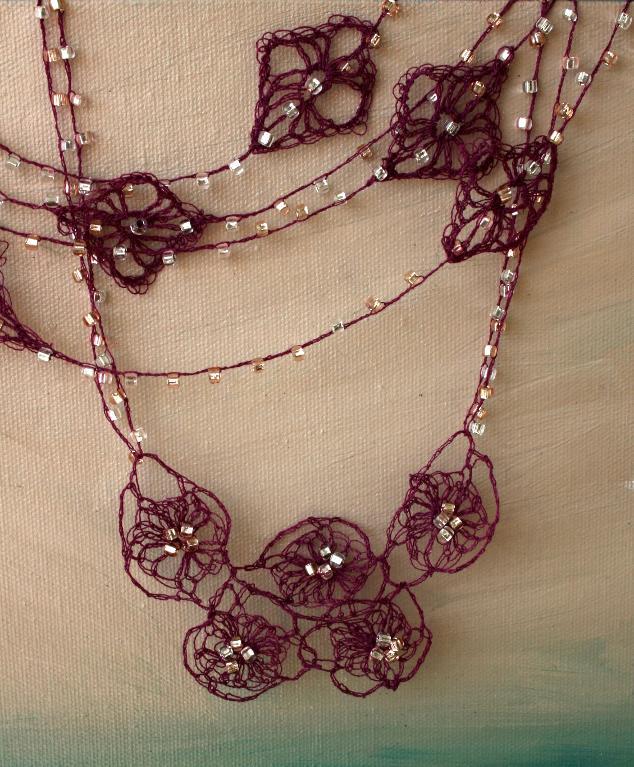 Photo via Craftsy member Voie de Vie
8. Channeling Gabrielle Necklaces
Wear these delicate necklaces solo or layered on top of each other at different lengths. You can even crochet the necklaces in different colors, if you'd like. The design pays tribute to Coco Chanel, a known fan of beads.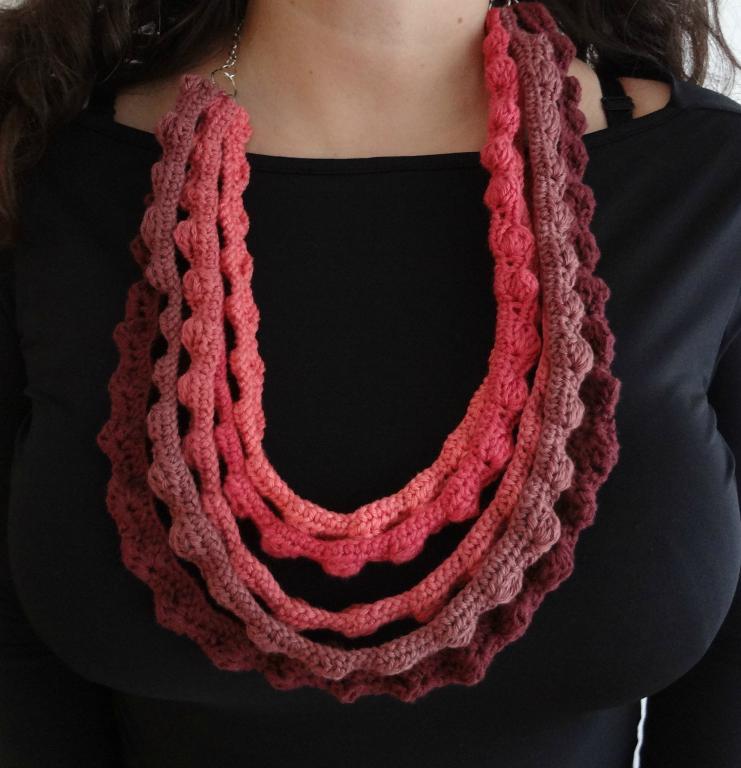 Photo via Craftsy member Maya Kuzman
9. Crochet Puff Stitch Necklaces
Can you tell we're crazy about layering around here? Use this pattern to whip up necklaces, bracelets, anklets — whatever piece of jewelry you'd like. This sample uses a sport weight yarn, but the necklaces would also look cool in other weights. How about a fun chunky weight or delicate fingering weight? Or a combination of several weights?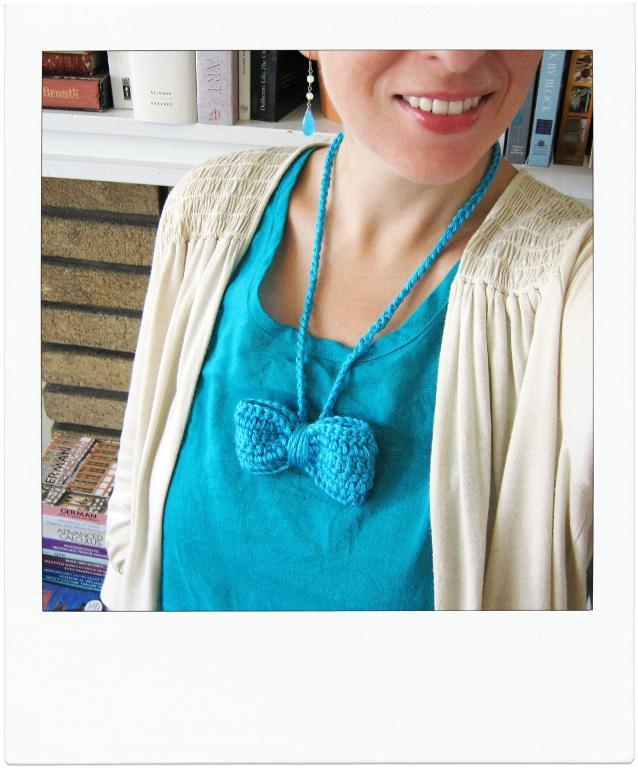 Photo via Craftsy member FlowerMoon
10. Crochet Bow Necklace
Bows aren't just for your hair! Once you finish this necklace, though, you could use the bow pattern to make a matching hair clip. Just stitch up a bow and glue a hairpin right to the back of it. Photos are included, so beginners shouldn't be afraid to give this one a try.