If you browse crochet blogs, you've probably noticed the trending crochet mermaid tail blankets — and we're guessing you want to stitch one up! Good news: Plenty of Craftsy designers have created mermaid tail patterns that fit adults as well as kiddos.
These crochet mermaid tails span plenty of different skill levels. Beginner crocheters can stick with more basic tails, while experienced crocheters might want to try a more textured blanket that involves an advanced stitch.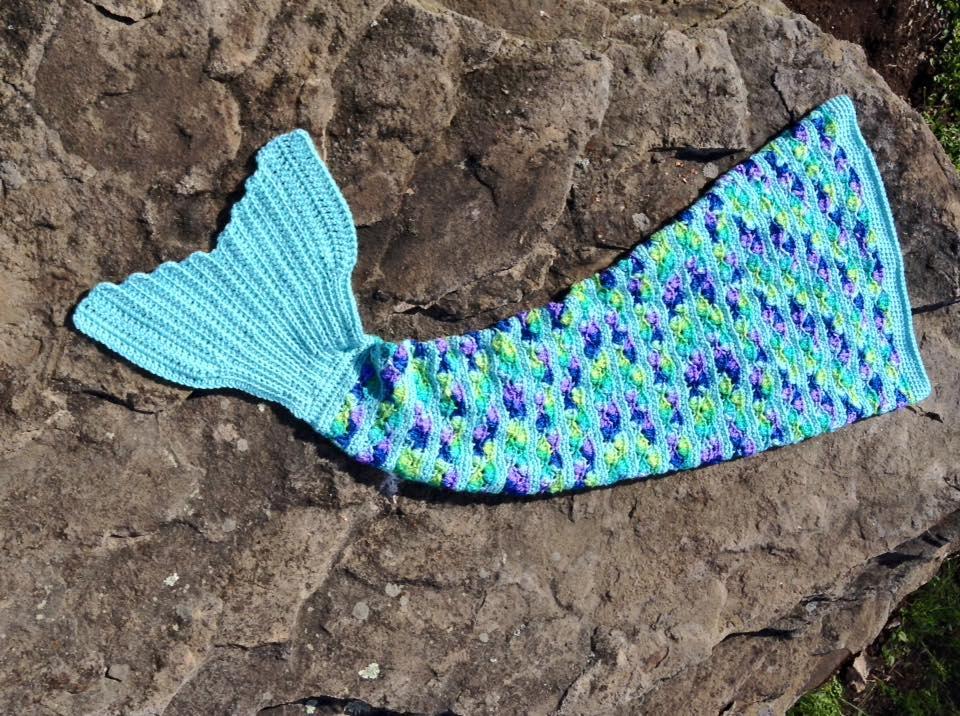 Photo via Craftsy member The Purple Egg
1. Be a Mermaid Blanket
You can make this blanket for anyone who wants to be a mermaid! The sizes range from baby/toddler all the way up to a plus-size adult. Take a peek at the designer's other photos to get ideas for using any type of yarn, from variegated to your scrap yarn.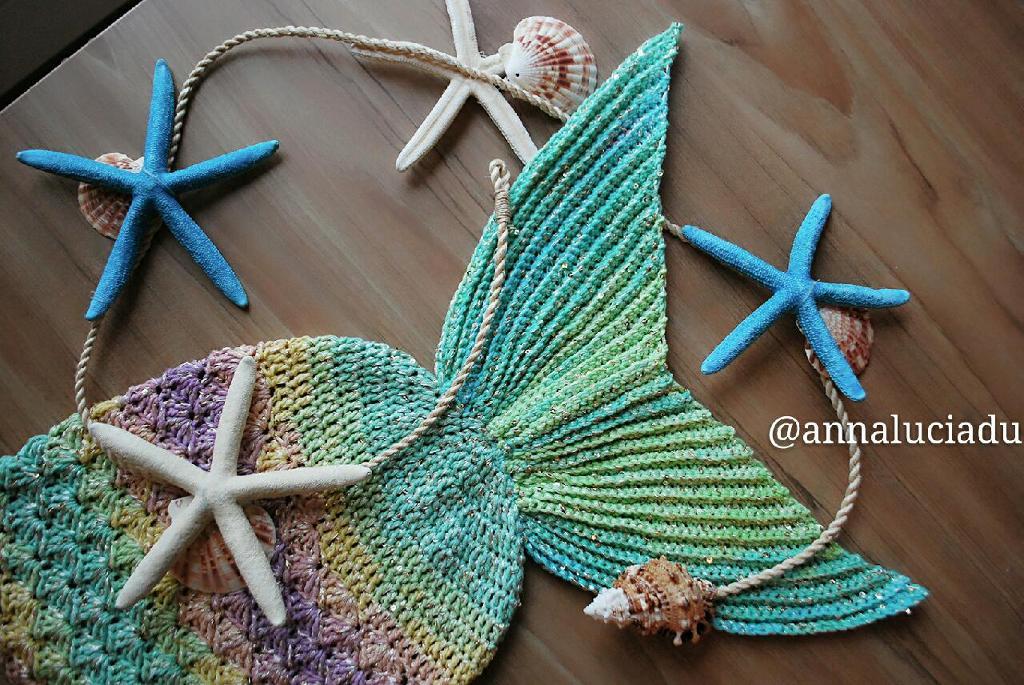 Photo via Craftsy member Emma Du
2. Crochet Mermaid Blanket
This particular blanket is a cocoon-style that wraps all way around. If you'd like a version with an opening in the back, you can check out the designer's open-back mermaid tail pattern. Both patterns include sizes to fit babies, kids and adults.
Photo via Craftsy member Sugar Threadz
3. Easy Mermaid Tail Blanket
Check out this pattern if you want a super-quick turnaround on your project. The tail uses bulky yarn paired with a Q hook, so you can stitch it in just a few hours! It's perfect for a last-minute handmade birthday gift.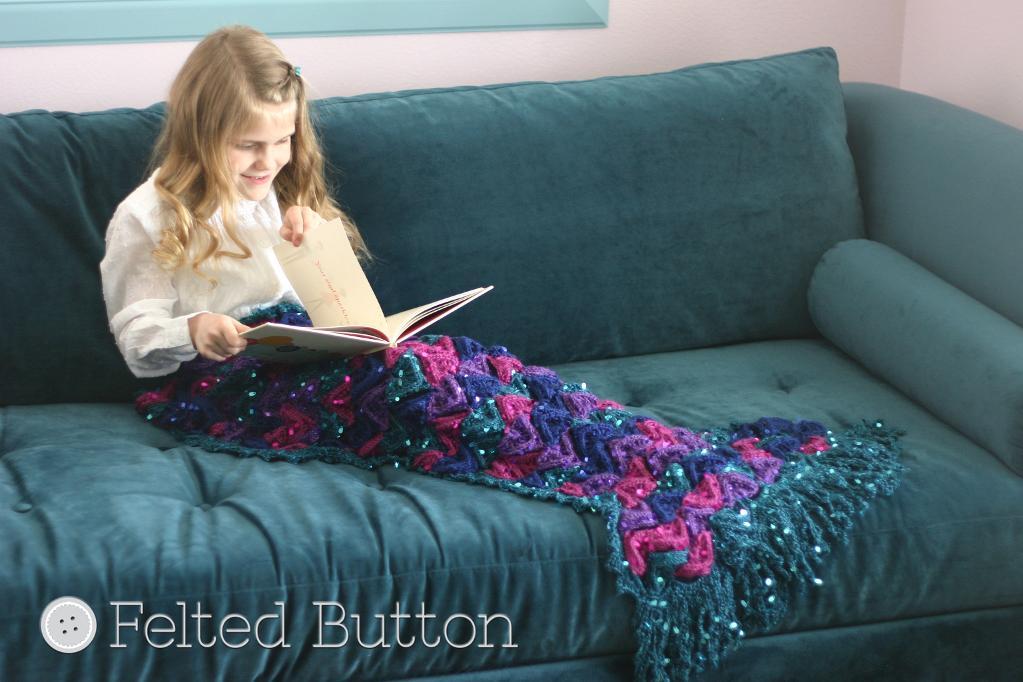 Photo via Craftsy member FeltedButton
4. Mermaid Me Blanket
Unlike the cocoon-style blankets that wrap completely around the body, this blanket is designed to drape over you. The pattern comes with instructions for the size pictured here on a 7-year-old, but confident crocheters could easily add or subtract stitches and rows to alter the size.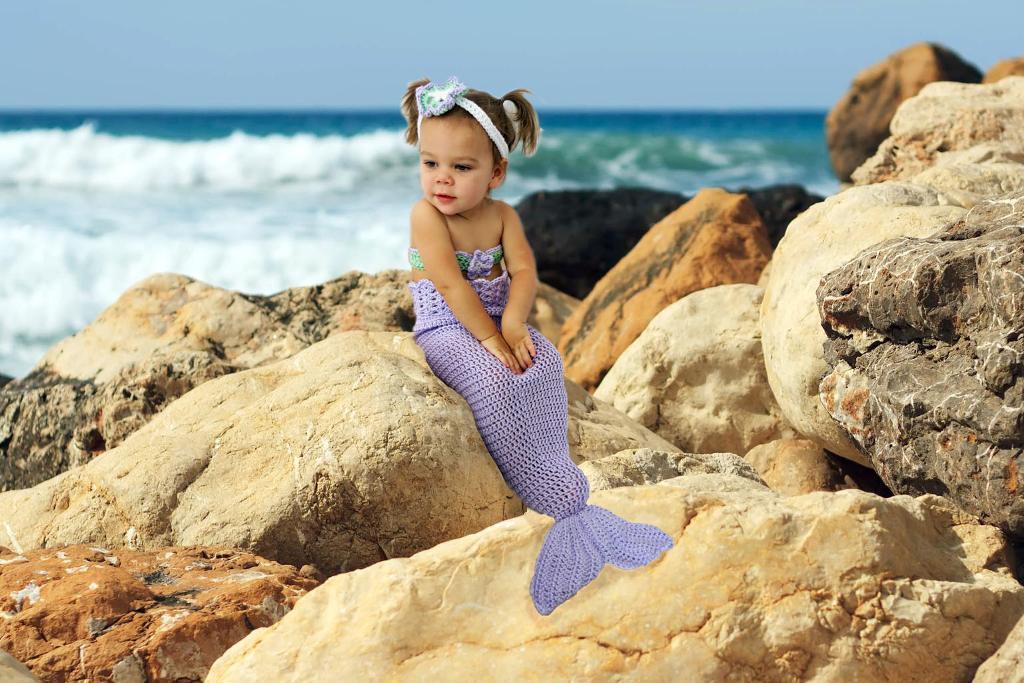 Photo via Craftsy member Deborah O'Leary
5. Mermaid Tail
This pattern isn't just for a mermaid tail. It also comes with instructions for a bandeau bikini top and a headband. The pattern comes with eight sizes that range from newborn to 5T, and you can use different sizes for each piece to get the perfect fit for your kiddo.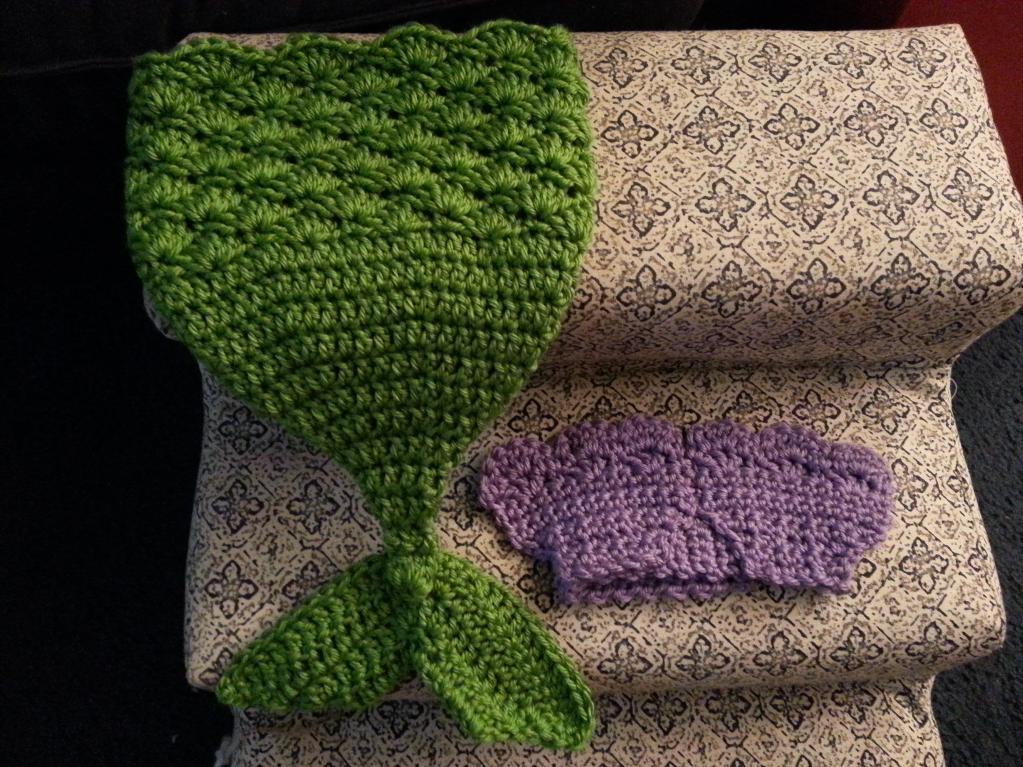 Photo via Craftsy member Addicted ToYarn
6. Mermaid Tail Cocoon
This free pattern features a shell stitch that resembles scales at the top. There's also a pattern for a matching bikini top included, in case you want to make the entire set.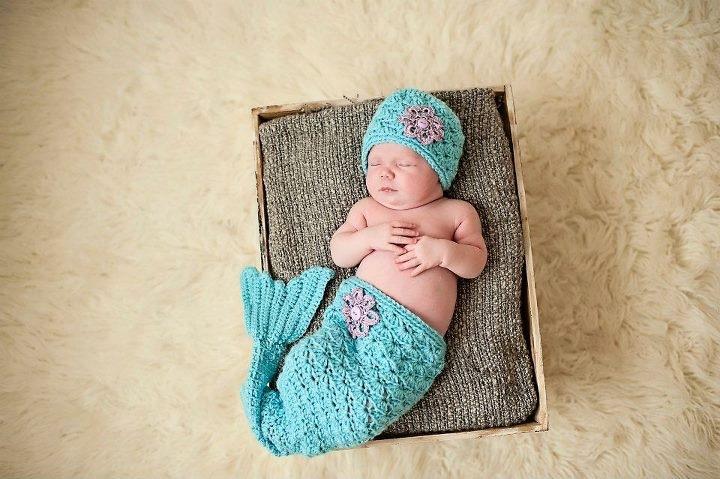 Photo via Craftsy member panellejonte
7. Molly Mermaid
This little mermaid is designed for babies 0-6 months old. There are two sizes available, and the designer suggests using it as a photo prop for baby's first photo. The small flowers on the hat and tail are stitched using crochet thread instead of yarn.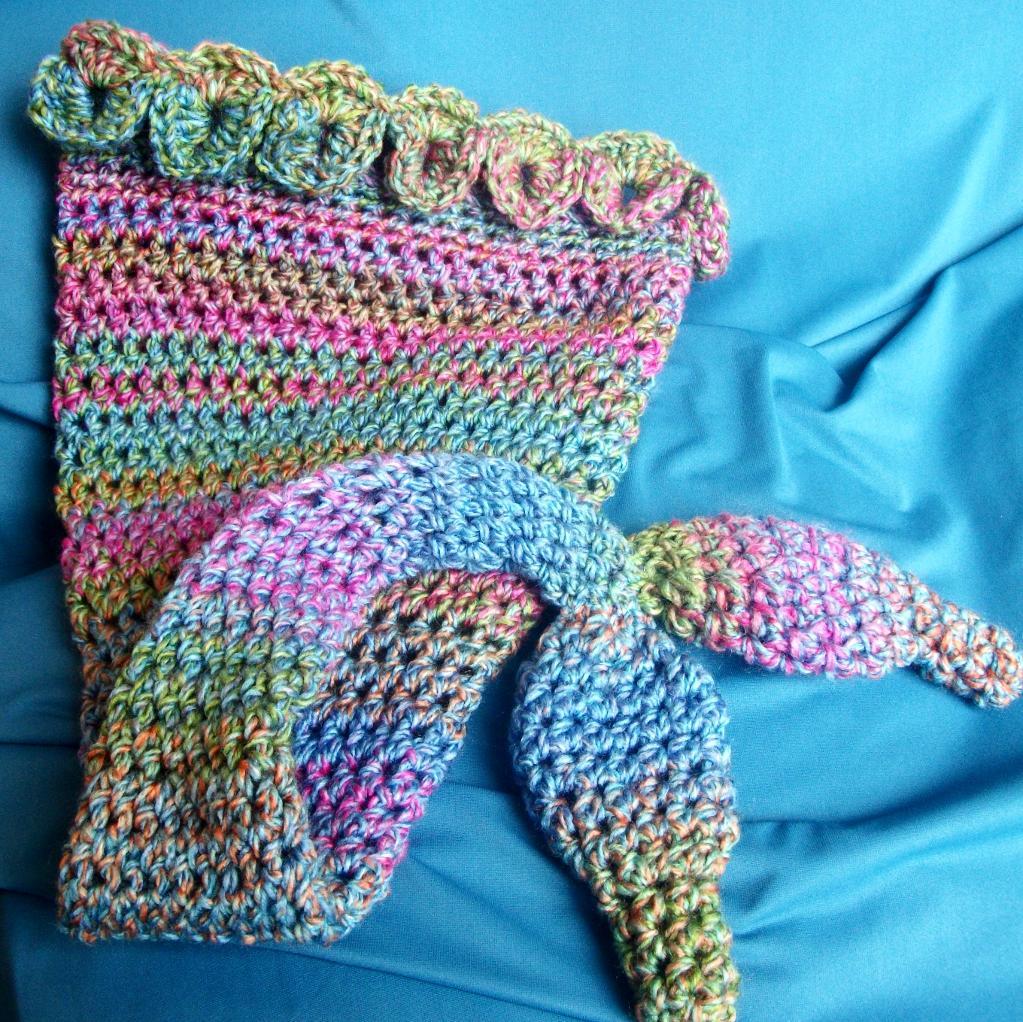 Photo via Craftsy member SewMuchLove
8. Mermaid Tail
This mermaid tail comes in just one size, as it's meant for a newborn photo prop. I love the border at the top that resembles swirling seashells!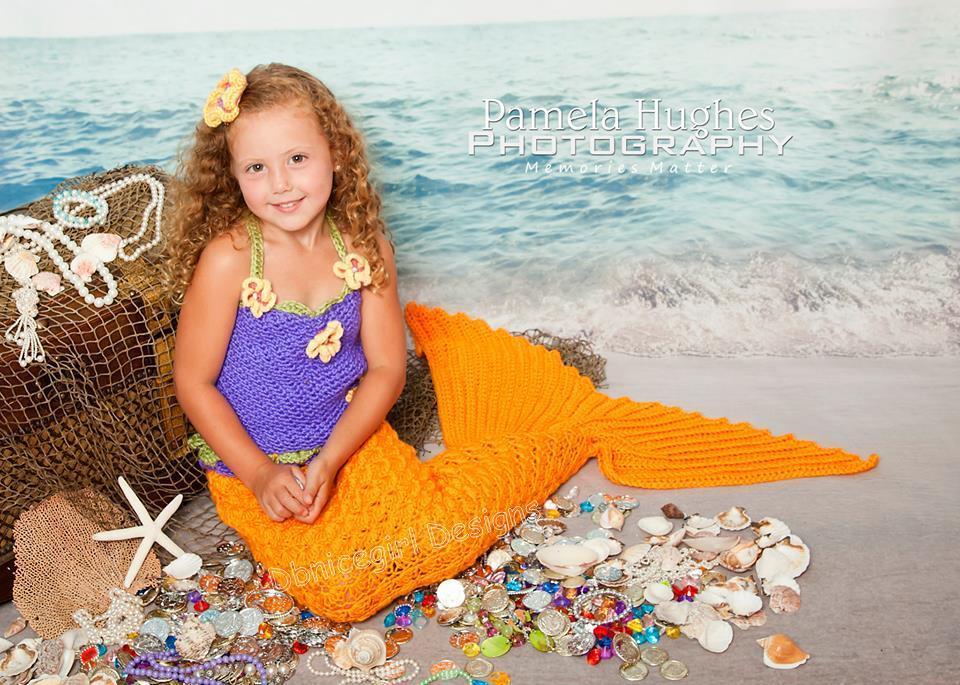 Photo via Craftsy member dbnicegirl
9. Mermaid Tail
This pattern has a special feature: It includes instructions for making an adjustable pull-string waist. The tail can be stitched for anyone from a baby to an adult thanks to 12 different size options. The rows at the top of the tail use crocodile stitch to mimic the mermaid's fins.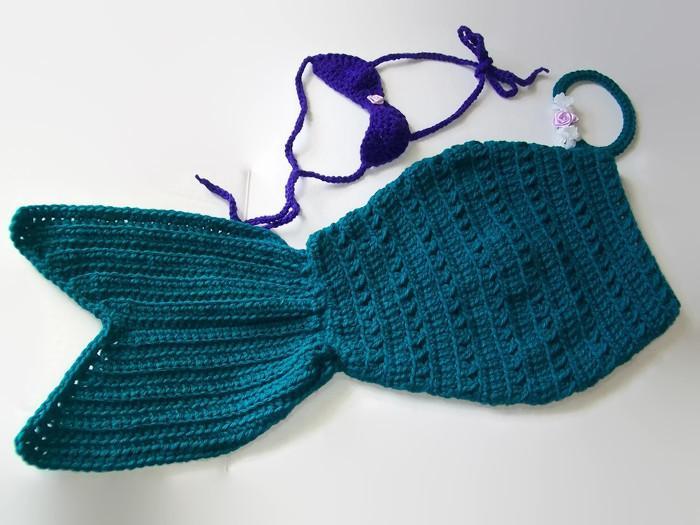 Photo via Craftsy member cavanaugh
10. Baby Mermaid Pattern
If you want your mermaid's tail to have a bit of wavy texture, give this pattern a try. There are two sizes included: one for 0-3 months and another for 3-6 months. The pattern also comes with instructions for a bikini top and matching headband.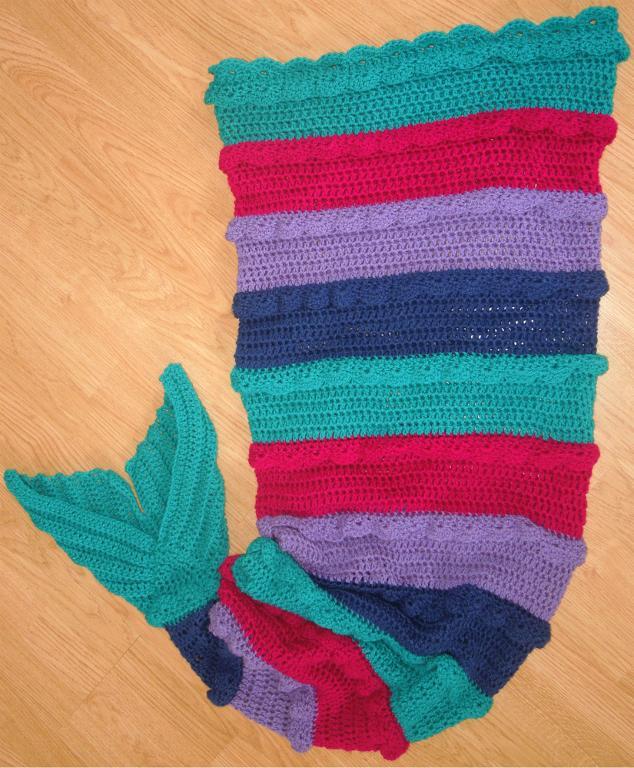 Photo via Craftsy member Sarah Taylor x
11. Mermaid Tail Blanket
If you have scrap yarns in the same weight, you can bust your stash with this colorful mermaid tail. This cocoon-style blanket works just as well as a costume as it does a cozy blanket for chilly nights.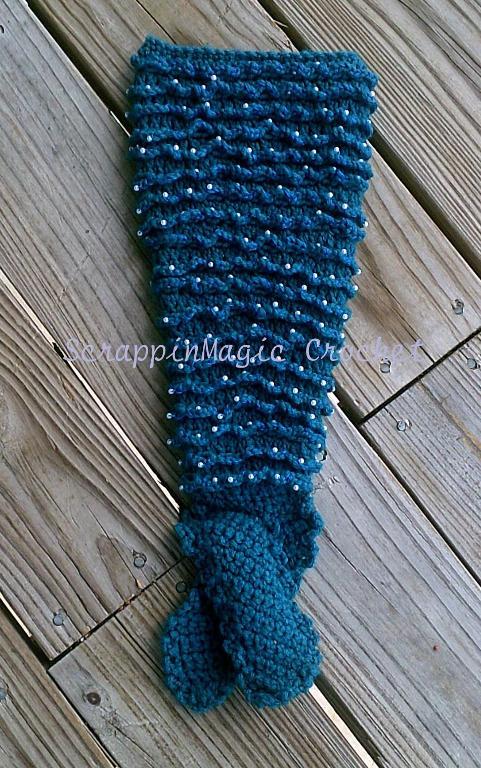 Photo via Craftsy member scrappinmagic
12. Beaded Beauty – A Mermaid Tale
Like many great ideas, designer scrappinmagic's idea for this pretty tail came late at night. This super-textured tail can be stitched with or without beads. The instructions are written for newborns up to 3 months, but you could easily increase the number of stitches to make a larger tail.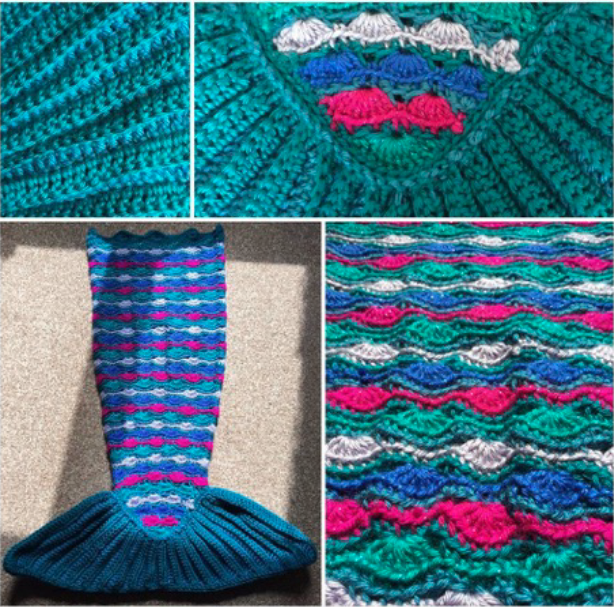 Photo via Craftsy member wide_eyed_mummy
13. Mermaid's Tail Cocoon
This tail is designed for little mermaids on the move. There's extra room included in the bottom for little feet to move around. There are written instructions included, plus charts for crocheters who prefer a visual.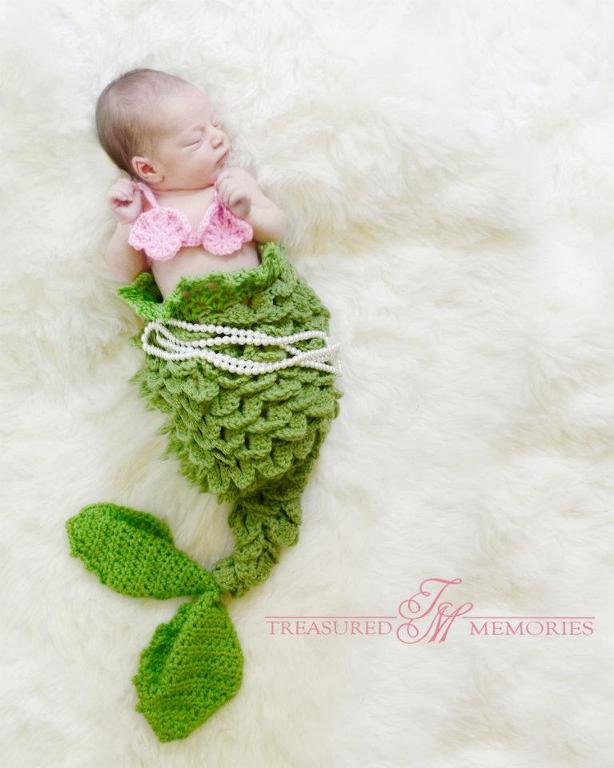 Photo via Craftsy member lpp_croch678558
14. Textured Mermaid Tail
The texture of this mermaid tail is very realistic. If you haven't yet tried the crocodile stitch, this is the perfect opportunity. You'll probably become addicted to the fun stitch. Don't say we didn't warn you!