Whether you're a beginner crocheter or a seasoned one, there are plenty of lessons to be learned along the way in your crochet journey. Some mistakes might be small, like skipping a stitch. Others might be downright tearful, like machine washing wool only to have it shrink up and felt.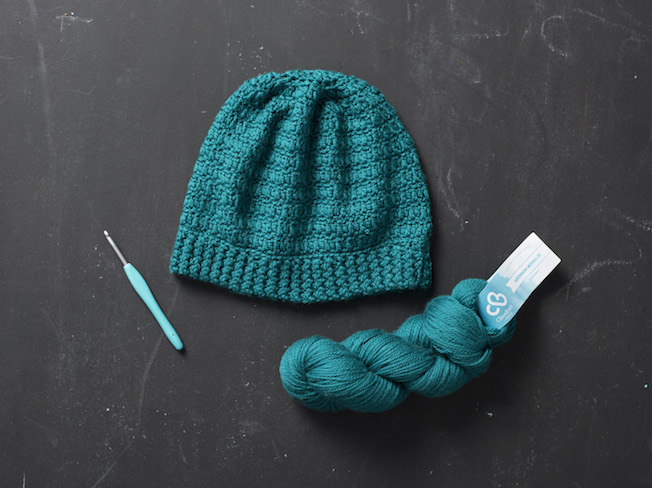 No matter what your crochet level, we hope you'll be able to avoid some of these disasters after reading our list of crochet lessons learned the hard way. 
Be sure to leave us a comment and tell us what crochet lessons you've learned, too!
1. Not all crochet hooks are alike.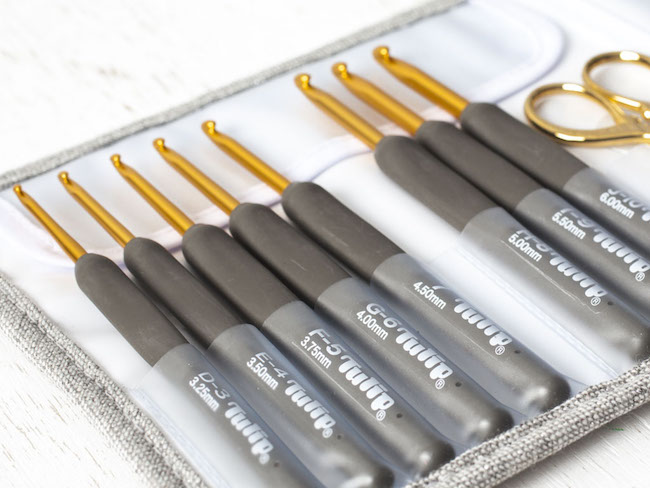 If you don't like the crochet hook you're using, you can certainly find an alternative! If you're a beginner, try out a couple of different hooks — plastic, aluminum, bamboo. You may find aluminum too slippery, while bamboo works perfectly. Your hook should be comfortable to hold and leave you free of hand or wrist pain. (There are plenty of crochet hooks to choose from right here on Craftsy.)
2. The two numbers on a crochet hook aren't interchangeable.
This is one for all our beginner crocheters. You'll see two different numbers on each crochet hook: One number represents the hook size in millimeters, while the other is often attached to a letter.
For example, an H-8 hook is 5 millimeters. Often one side of the hook has the letter and number (like H-8), while the other side has the millimeters (5mm). Don't confuse the millimeters with the number attached to the letter! If you grabbed your 8mm hook instead of your H-8 hook, your gauge would be way off.
3. Not all yarn is alike.

If you worked with one fiber and don't like it, that's OK! There are hundreds of fiber combinations out there. Each one has its advantages and disadvantages. Even if you don't like wool, for example, you might really love a blend of wool and alpaca.
Experiment with different weights, too. Some crocheters prefer bulky yarns while others go for lace weights. You won't know until you try.
4. Store projects carefully.
I once stored a crochet project in a basket and placed it on a high shelf. "The cat will never be able to get to that," I said. The cat did, indeed, get to the project. And she unraveled about a quarter of it during her yarn-filled romp. 
If you have pets around, make sure you store your projects in a place where they can't get to them. Zip-top fabric containers are my favorite.
5. You can design your own pattern — even if you're a beginner.
Most of us look at talented designers and think, "I could never do that." But guess what? You totally can! We all have to start somewhere. Before you know it, you could be selling your patterns, too. Need more tips? Try Kathryn Vercillo's advice on How to Create Your Own Crochet Pattern.
6. Keep notes on all your projects.
Note come in handy in multiple situations:
When you're not sure whether you can throw a sweater in the washing machine or if you need to hand wash it
When you can't remember what size you made and you want to make another
When you're planning to put an in-progress pattern aside for a while
Otherwise, you'll be making lots of guesswork — and possibly ripping out a lot of stitches.
7. Swatch, swatch, swatch!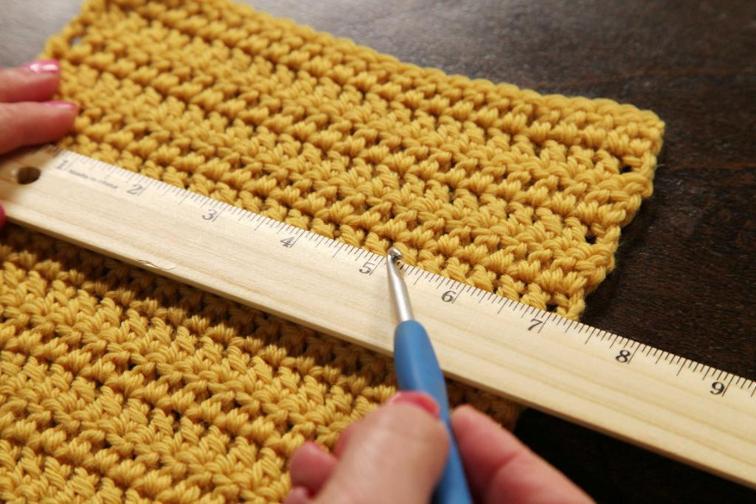 Did we mention that you should swatch? The swatch tells you what your gauge is, which lets you know if you'll have enough yarn for the project and if the finished item will be the size the designer intended.
Gauge can tell you about fiber itself, too. Does it drape? Is it stiff? Will it stretch? A swatch can answer all of this for you before you commit to using it for a project. Check out Marly Bird's video Using Swatches To Test Stretching and Gauge for Crochet Garments for more tips on what you can learn from your swatch.
8. Research your yarn carefully.
Don't just reach for any skein for your new project — plan your fiber choice ahead of time. Read over your pattern and think carefully about the yarn you want to use. Research the yarn online to see what other crocheters have made with it. If you want to use it for a sweater but can't find anyone else who's made a garment with the yarn, you might think twice.
9. Some patterns are just easier to follow than others.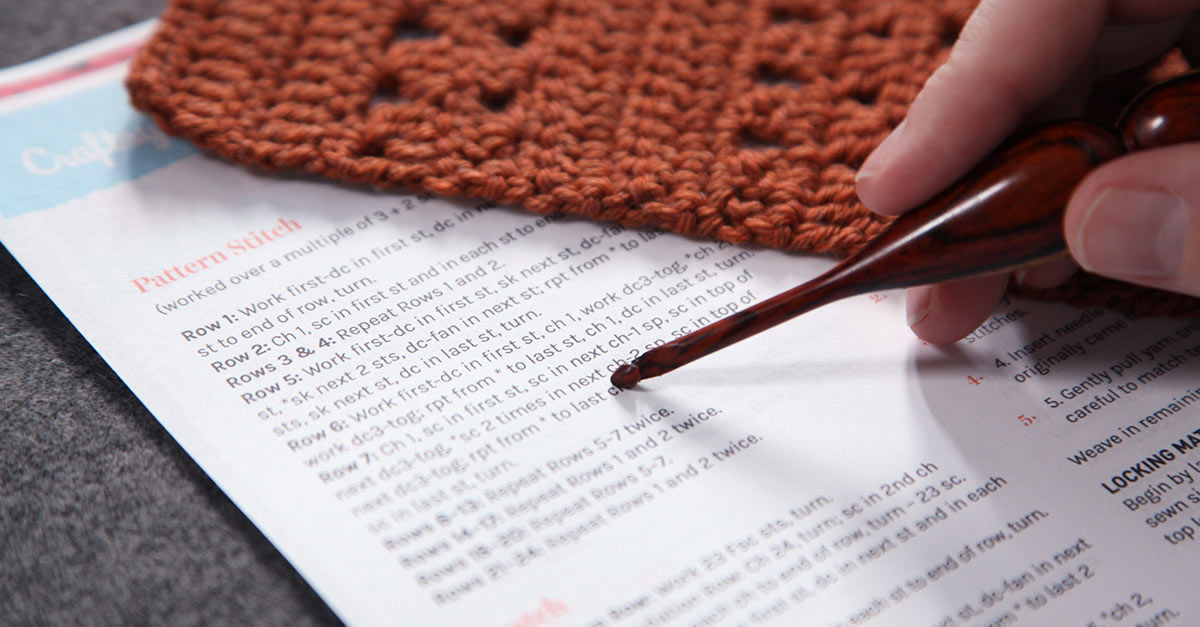 It's not always your fault if a project doesn't turn out the way it's supposed to. There are a few precautions you can take to make sure you're using a high-quality pattern before you even start your foundation chain. Check out How to Choose an Easy-to-Follow Crochet Pattern for more tips.
10. Not all yarns are meant for the washing machine.
We've all been there. If you haven't been there, take heed: Check the yarn label to find out if your yarn is machine washable. If it's not, hand wash it. Otherwise you could be left with a shrunken, felted lump that looks nothing at all like your project! If you're not sure where to look, get more info on deciphering yarn labels.
11. If it looks hard, try it anyway!
The best projects are the challenging ones, aren't they? It feels so good to finish something that you thought you couldn't do. Even if a pattern looks too complicated for you, give it a try! You can always enlist help from other crocheters, or just put the pattern aside until you feel more comfortable with the techniques.
12. Make crochet friends.
Hold onto your fiber friends. Fiber friends are there to support you, whether they're online or local. They're especially valuable when it's time to find a new home for some of the yarn in your stash!
Don't forget to leave a comment and let us know a crochet lesson you've learned the hard way!