What's better than a blanket? A blanket with added charm, coziness and cuteness! That's what you get with these crochet hooded blanket patterns. Though they're popular with kids thanks to the imaginative animals details, adults may like how they add a whimsical sense of humor to their home decor. 
These 10 crochet hooded blanket patterns will make everyone smile.
Photo via Lakeside Loops
1. Jensen Hooded Blanket
A classic herringbone stitch is textured for warmth and is beautiful to crochet. The animal hood is simple to make, and it can be accented with either the bear ears or bunny ears (you get instructions for both). It comes in three sizes and with instructions for right- and left-handed crocheters.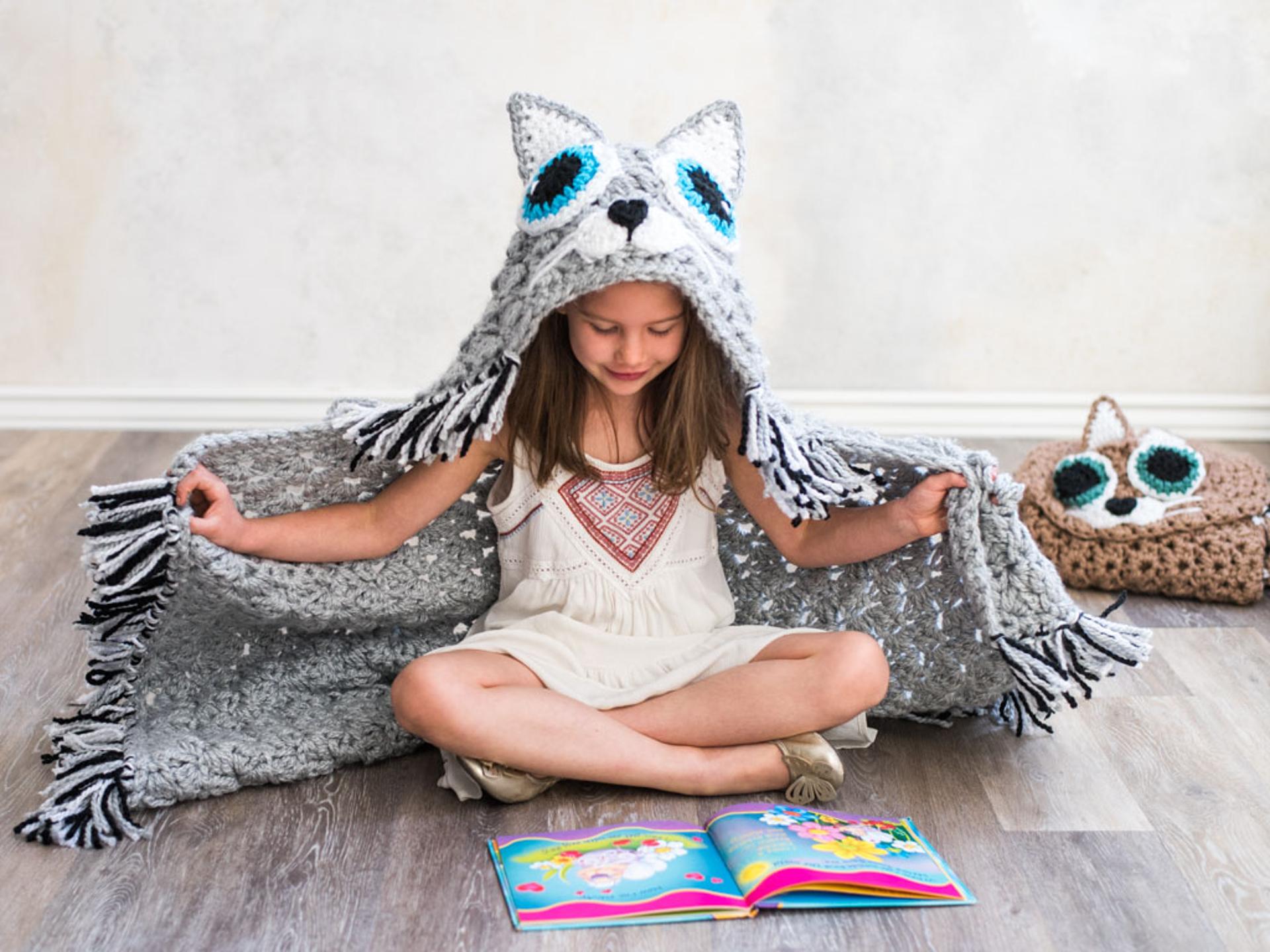 Photo via MJ's Off The Hook Designs
2. Quick & Bulky Cat Blanket
Get everything you need in one package when you purchase this popular cat blanket kit. Made with super bulky yarn and worked with two strands held together, it works up super fast, whether you make the child size, the adult size or the "adult plus" size of the blanket. Perfect for cat lovers, it has the cute pointy ears, wide eyes and little whiskers that make kittens so adorable.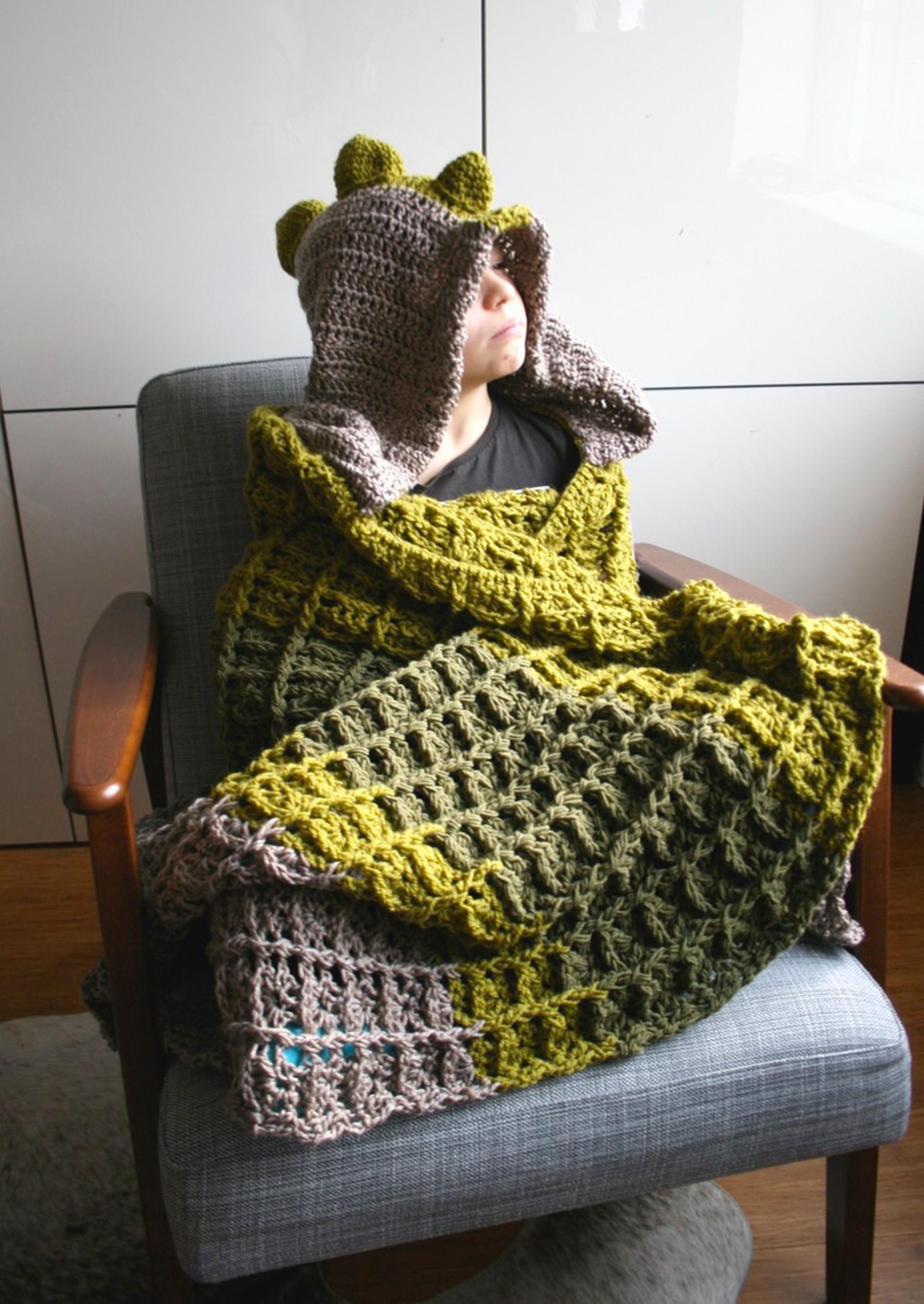 Photo via Luz Patterns
3. Dinosaur Hooded Blanket
Embrace the imagination and create a dino-inspired crochet hooded blanket! Dinosaurs are always a popular choice with kids, and this unisex green-and-brown textured blanket is a fun one to create. The pattern comes in sizes for toddlers, older children and adults. Worked with bulky yarn and a large size K crochet hook, you'll find the design to be extra snuggly.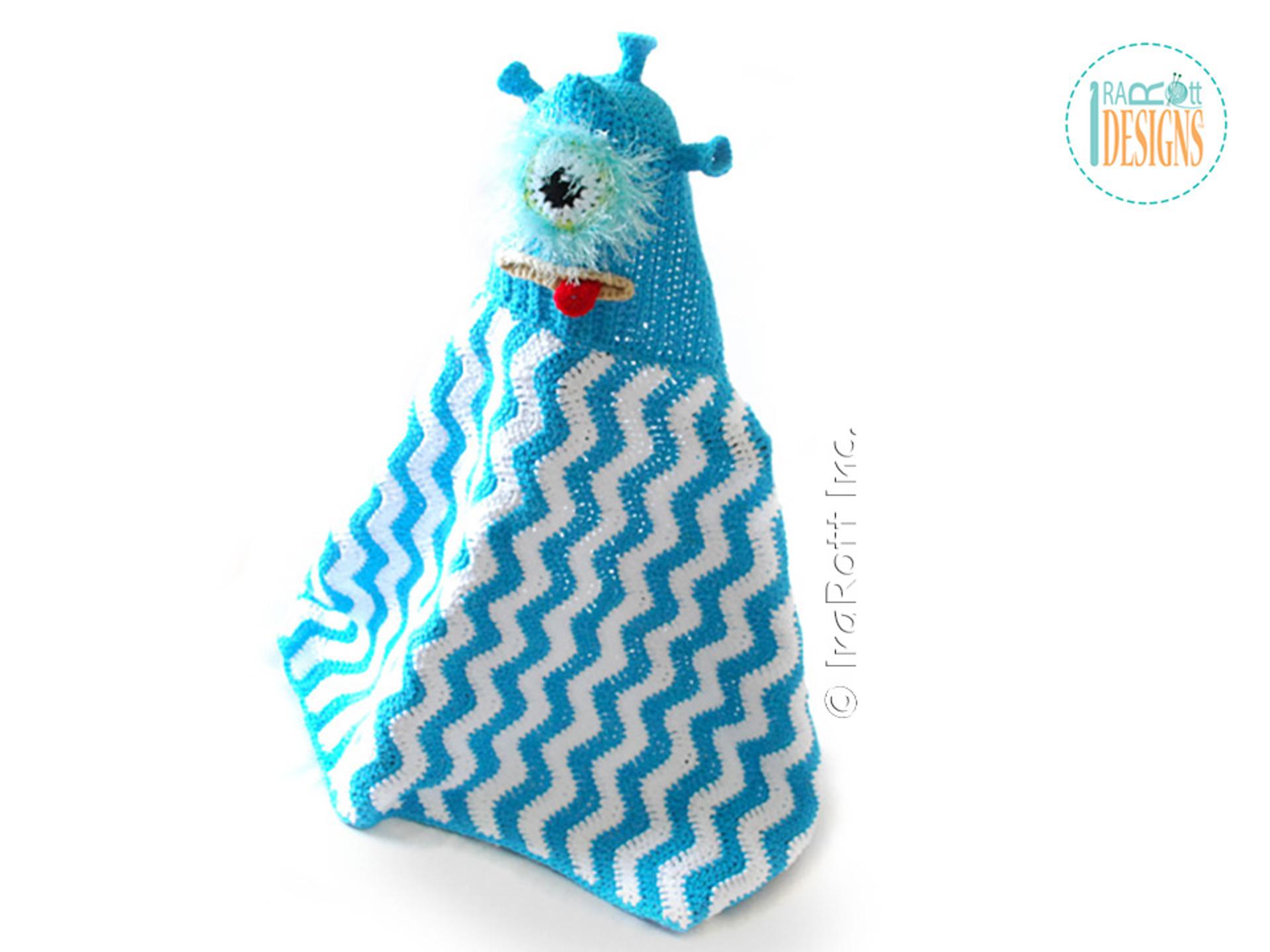 Photo via Ira Rott Designs
4. Alien Monster Hooded Blanket
This cotton blanket may feature an "alien monster," but the details on the face are so comical and cartoonish, it couldn't frightening anyone. The chevron stitch adds color pop to this hooded blanket.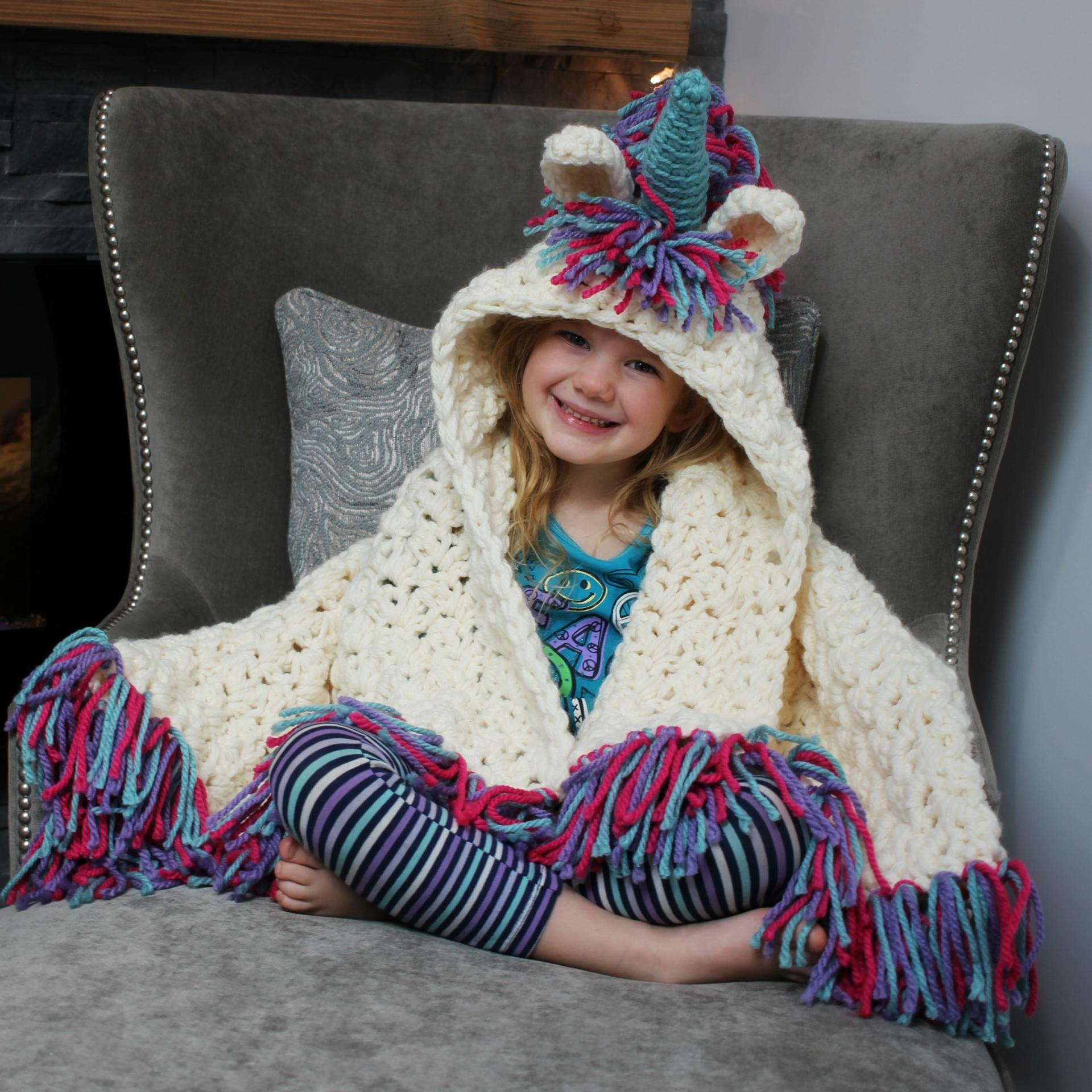 Photo via MJ's Off The Hook Designs
5. Unicorn Blanket / Cowl
In case the cute horn wasn't enough, the colorful fringe on this extra bulky blanket is a great touch, brining additional whimsy. But what makes this pattern really special is that it comes with instructions to alter the basic blanket design to create an amazing hooded cowl instead. This could be great for a costume!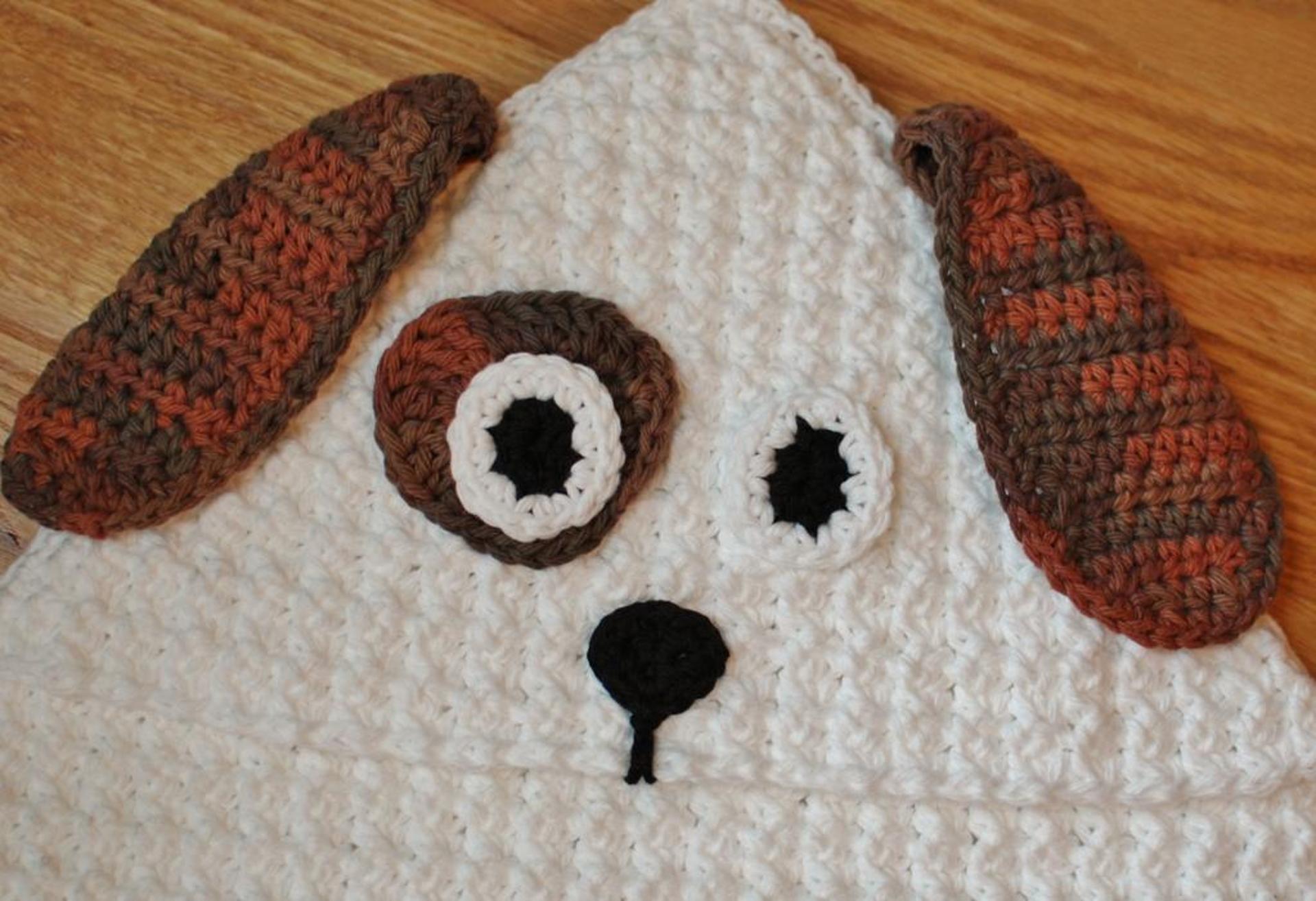 Photo via Petals to Picots<
6. Dog Hooded Baby Towel / Blanket
Blankets may be trending, but hooded towels for babies and little kids have made bath time more fun for years. That's what inspired this dog crochet pattern, which is worked in cotton with a textured stitch that makes it functional as a towel or a blanket. Kids will love this one (as well as the similar lion hooded towel pattern from the same designer)!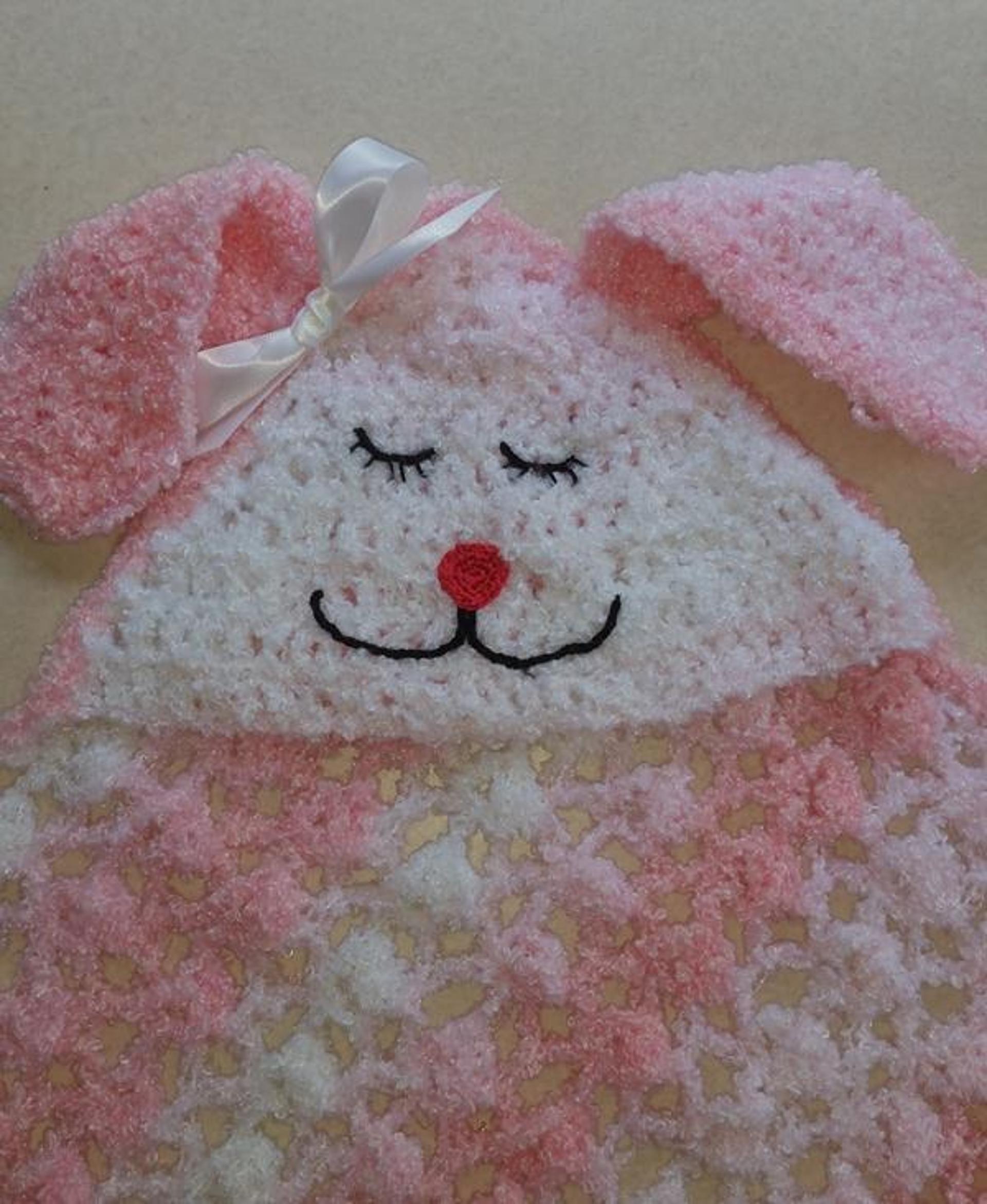 Photo via Creeks End Crochet
7. Hooded Bunny Blanket
This baby-size blanket has an adorable hood and floppy bunny ears to make your little one look especially cute. The super-soft yarn is perfect for babies. In fact, this blanket would be perfect for everyday use or as a photo prop.