There are few things cuter a parade of crochet elephants! Put your amigurumi crochet skills to work with these adorable crochet elephant patterns that look just as sweet on the bedroom shelf as they do in the arms of a lucky little one.
The best part? Some of the patterns are free, making your little crochet elephant parade budget-friendly!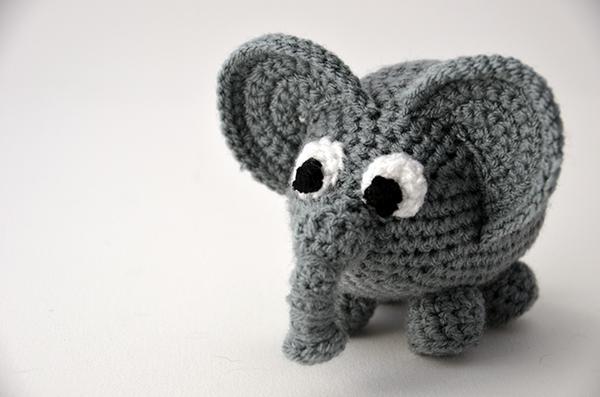 Photo via Bluprint member FlyingDutchman
1. Elephant
This wide-eyed elephant would be the perfect addition to any curious kid's bedroom or toy box. The eyes are crocheted, so they're safe for kids of any age.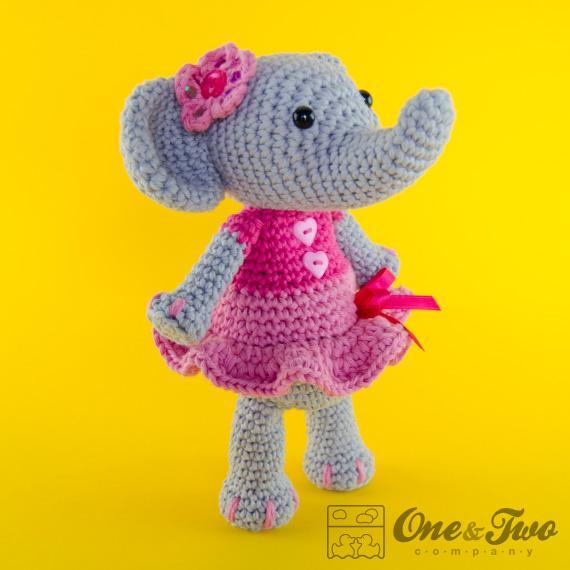 Photo via Bluprint member oneandtwoco
2. Elephant Amigurumi
Dress up your amigurumi elephant with a fun dress and embellishments to match. The color block dress is perfect for using up scrap yarn. Check your stash for buttons and ribbons that you can add to the elephant's outfit.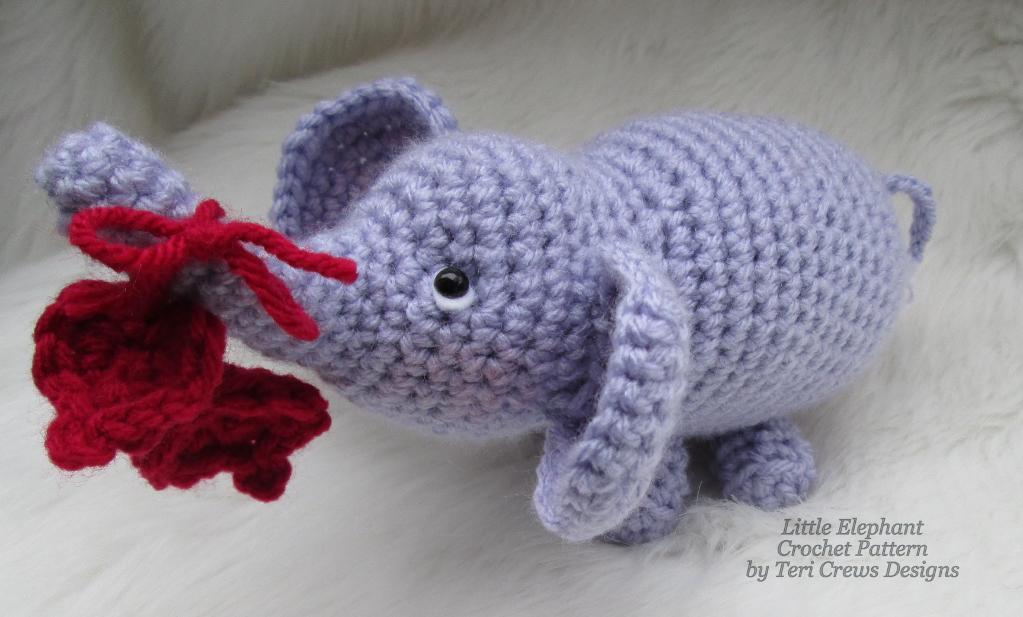 Photo via Bluprint member Crews
3. Little Elephant
This crochet elephant shows his sweetness with a string of tiny hearts that he holds in his trunk. If you want even more hearts as part of your decor, you can crochet more individual hearts and string them together as a garland.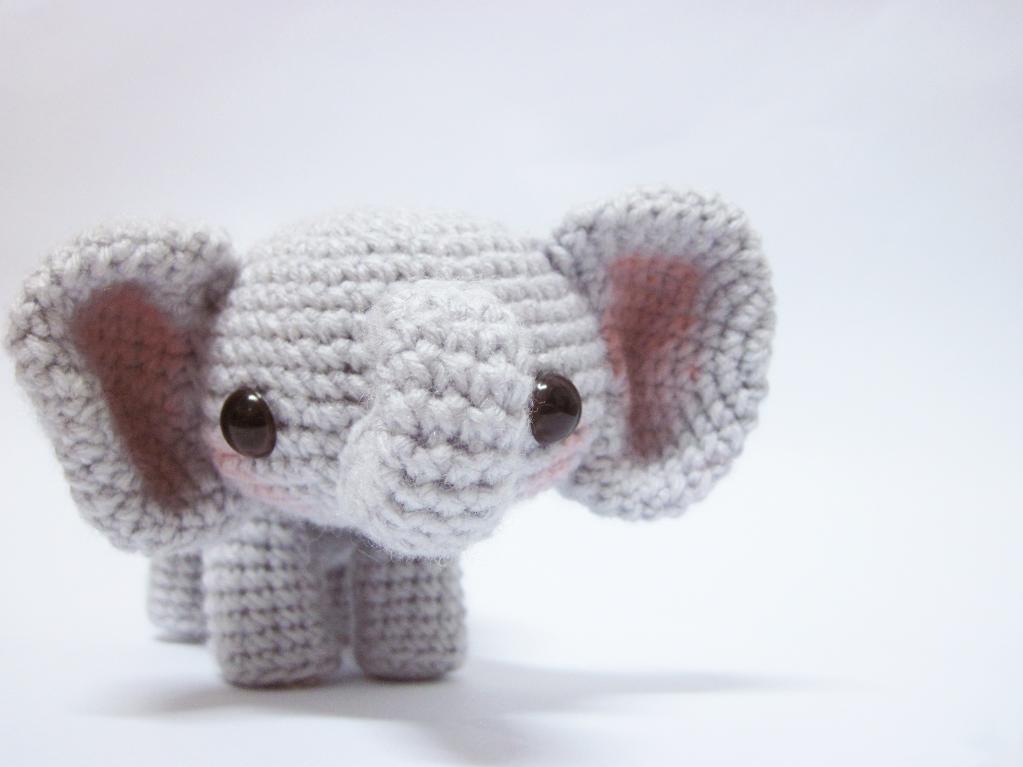 Photo via Bluprint member Shannen Nicole
4. Sadie the Elephant
Sadie is ready to hang out on a shelf, in a crib or any other place where cute elephants go. If you're making Sadie for a baby or toddler, you'll need to find an alternative to safety eyes. Check out our "5 Simple Ways to Give Amigurumi Eyes" for more ideas.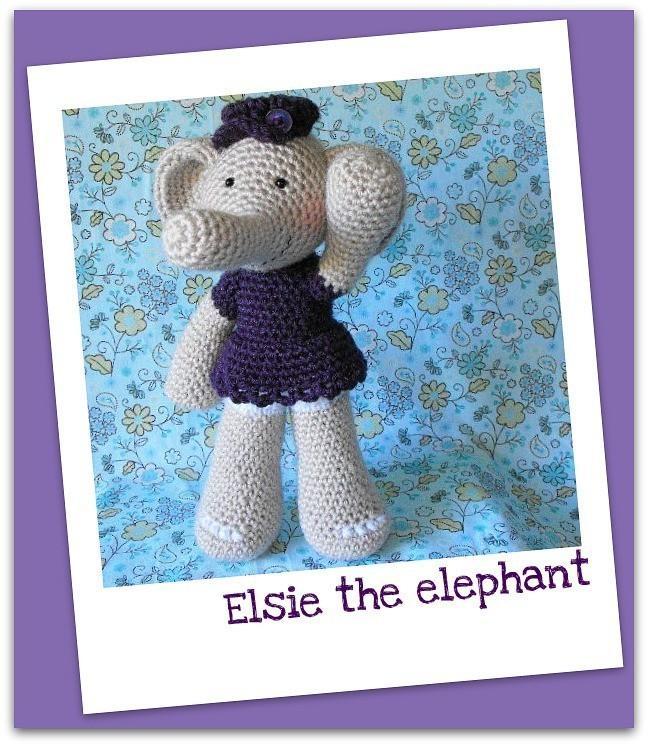 Photo via Bluprint member MadisonsCraftNook
5. Elsie the Elephant
Elsie is about 12″ tall, so she's perfect for both display and playtime. This is the ideal pattern for kids who like to dress their toys. You can even make a few accessories — scarves, leggings, bows — to go along with the elephant.
Photo via Bluprint member YouCute
6. Amigurumi "Painted" Elephant
This adorned amigurumi is an Indian Elephant celebrating the arrival of spring and the Holi Festival in Jaipur, India. Use the decorations in the sample as inspiration, or experiment using sequins, buttons and other colorful sparkly details from your own collection. Just be sure the embellishments are age-appropriate for the lucky recipient.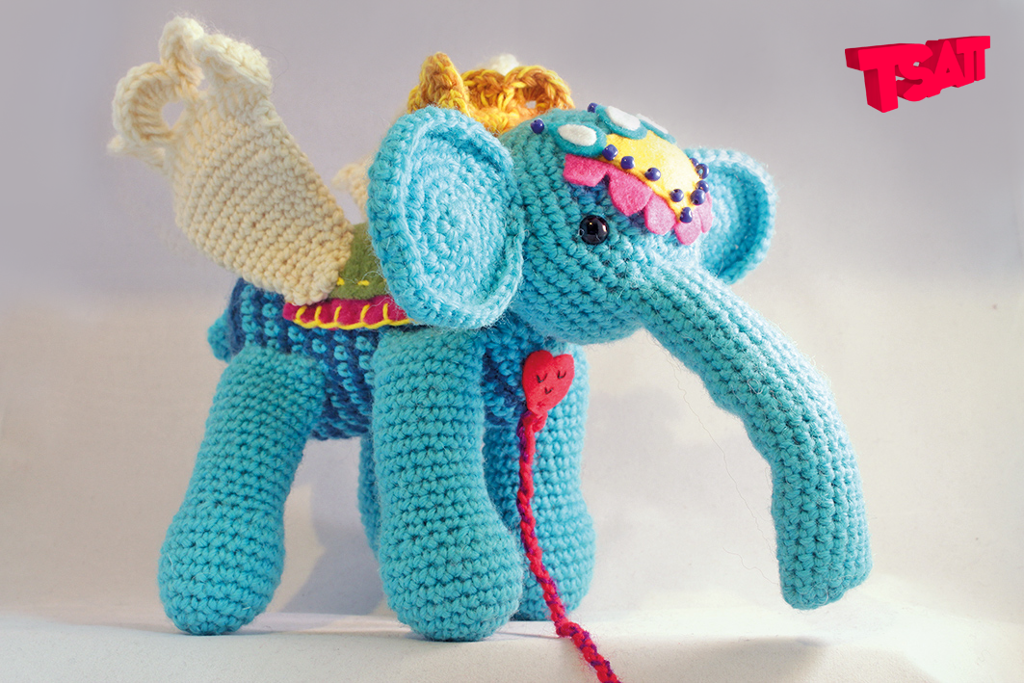 Photo via Bluprint member SunandTurtle
7. Amigurumi Winged Elephant
Thanks to all the beautiful details, this crochet elephant is one of a kind! You can make your elephant to look exactly like this one, or use the supplies you have to put your own spin on it.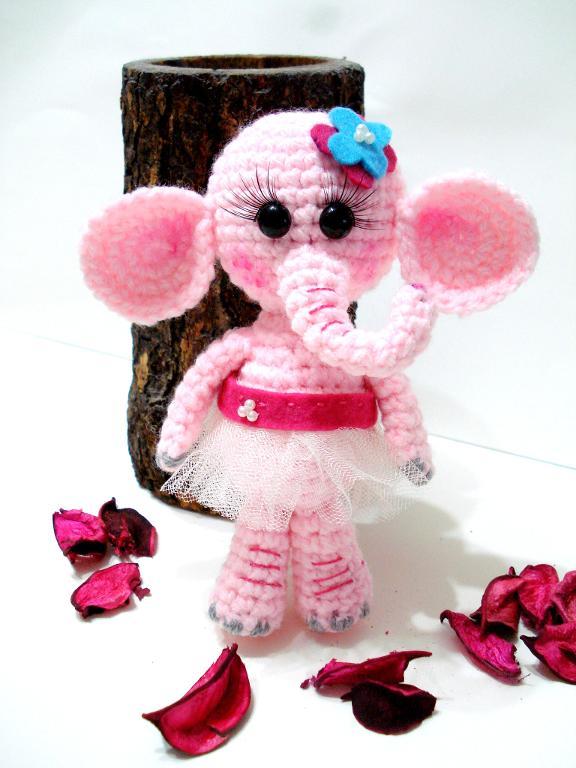 Photo via Bluprint member AllSoCute
8. Crochet Elephant
This little elephant is only about 6″ tall, but you could change the yarn weight and increase the hook size for a larger toy. You can also make additional clothing and accessories if you're stitching this elephant as a toy.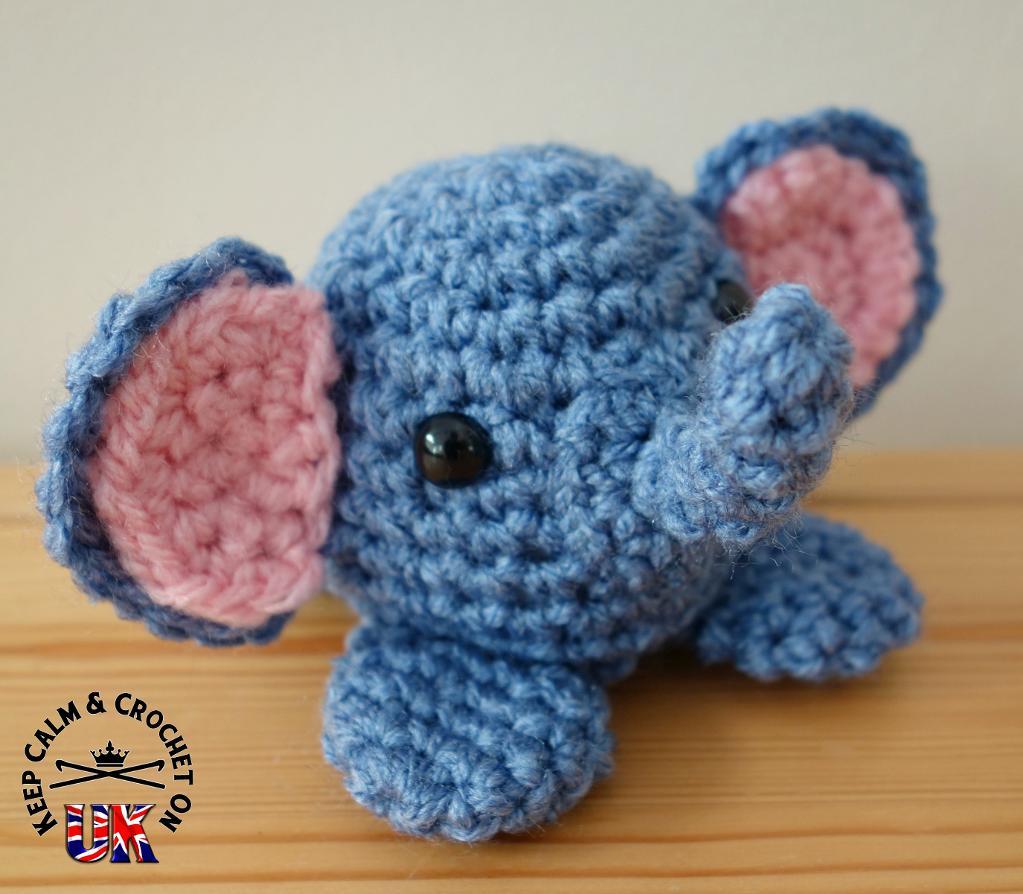 Photo via Bluprint member KCAC ON U.K.
9. Ezra the Elephant
This pattern is from the designer's Doodle Zoo collection. Stitch this little guy up with a host of other animals, such as lions and koalas. Embroidered or crocheted eyes can work in place of the safety eyes if you are concerned about choking hazards.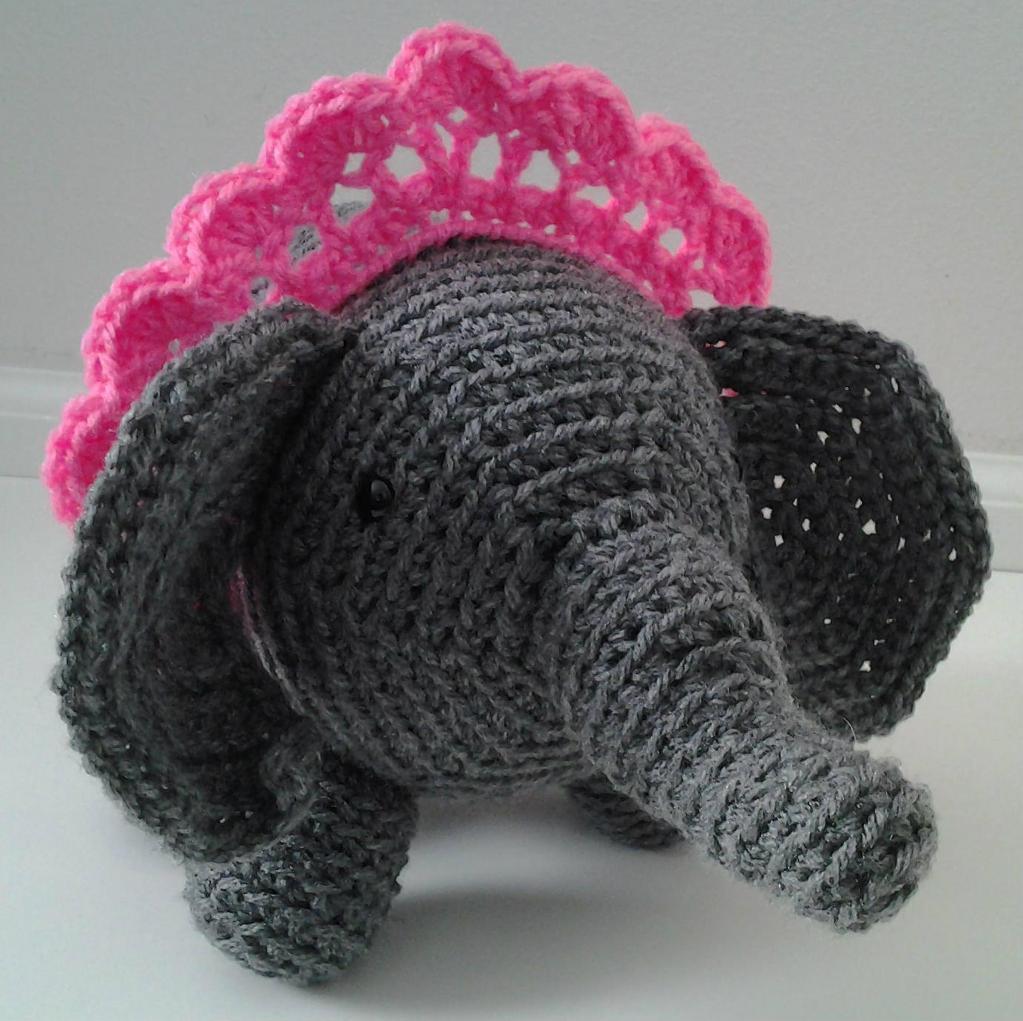 Photo via Bluprint member Stitchfixer
10. Amigurumi Elephant
The designer recommends customizing this elephant by changing the length of the legs, ears and trunk. Add the optional tiara to make this crochet elephant royal, or add other accessories to give your elephant a unique personality.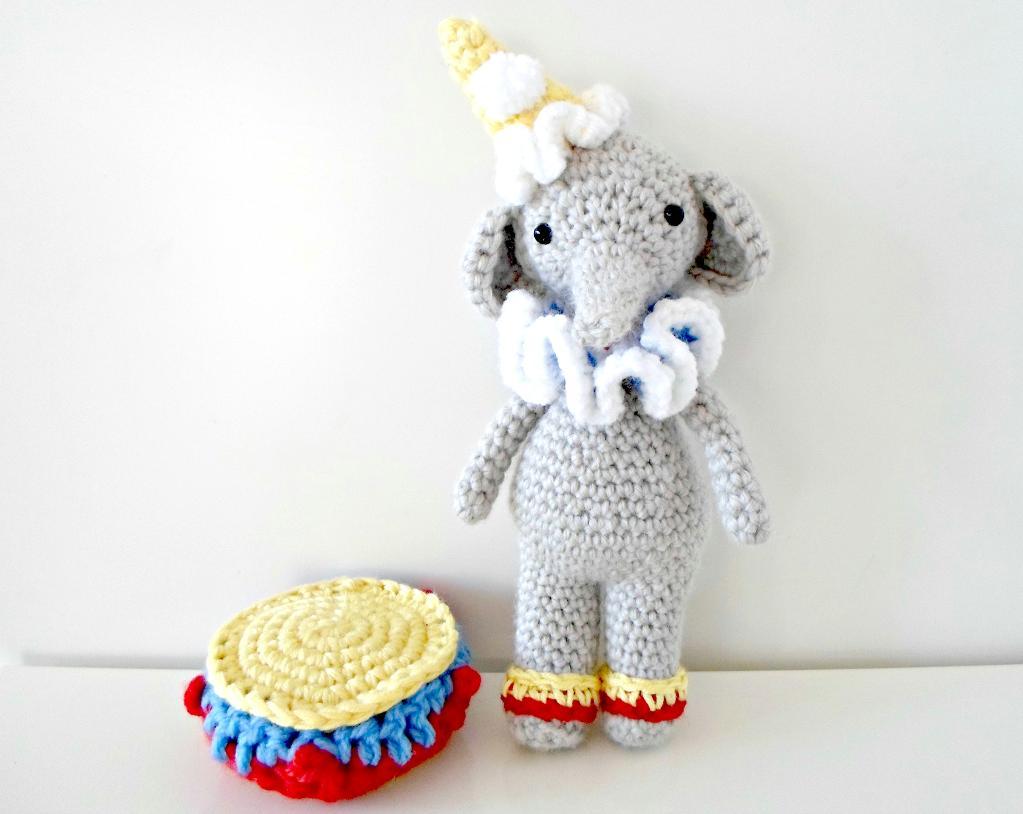 Photo via Bluprint member A la Sascha
11. Mr. Elephant
Meet the star of the circus! The pattern includes instructions for the elephant, of course, but you'll also get a tutorial for the stage, the decorative ruffles and the hat. I love how the designer used primary colors for the accessories, but you can also substitute whatever you have in your stash.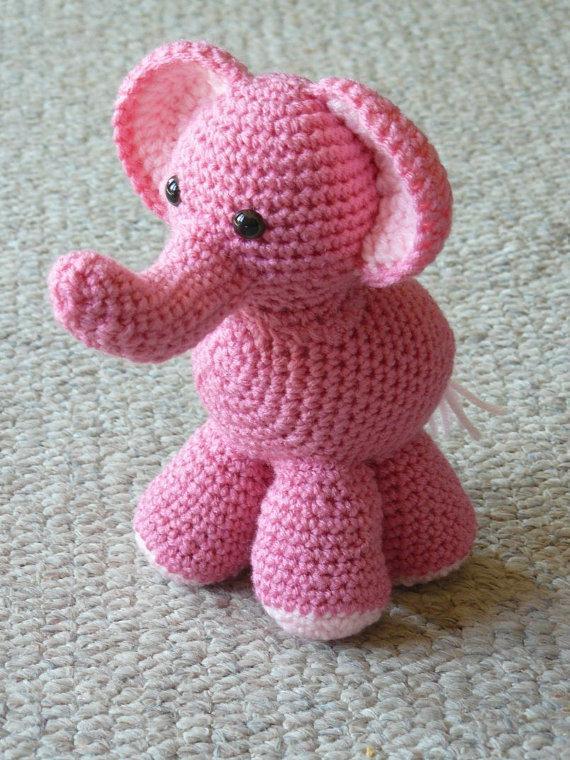 Photo via Bluprint member I'm in Stitches
12. Daniella Elephant
Daniella is a quick and simple project that would work well as a last-minute gift. You can even stitch her up and attach her to a wrapped gift as a decoration and a little bonus gift.
FREE Guide: Crochet Cute Amigurumi Critters
Crochet your own adorable fluffy friends with essential tips and techniques. Get my FREE guide »