Changing colors in crochet is a basic technique that every crocheter should learn to do correctly. It's a foundational skill of advanced niches of crochet colorwork, including intarsia crochet, Fair Isle crochet and tapestry crochet. It's also just a useful skill to have for any type of crochet project. 
There is a small learning curve as you adjust to the different options for changing yarn, but there is a huge payoff when you realize all that you can do with this new world of color that opens up to you!
Here are seven tips to help you perfect the skill of changing colors in crochet.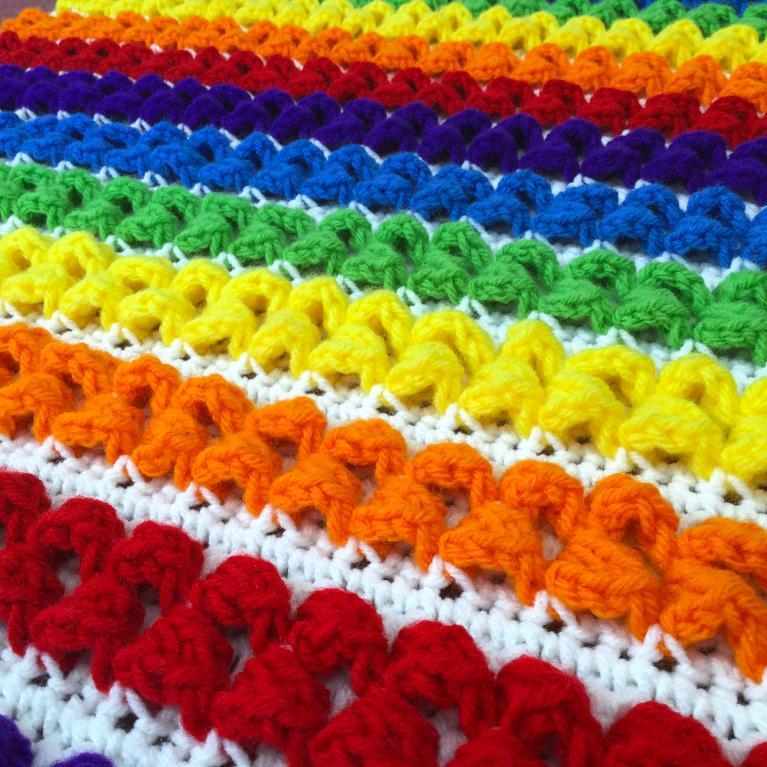 Via Craftsy member Deja Jetmir
1. Know that there are different ways to change colors in crochet.
You will find a variety of tutorials for changing colors in crochet. What's most important is to realize that there are several different techniques for changing yarn colors. For example, if you are going to use the first color again shortly, you can either cut the yarn and weave in the ends and re-join when it's time to use it again or alternatively you can just carry the yarn. 
It's smart to play around with different options and see what works for you. Different types of projects can benefit from different techniques. One method to know is the interlocking loop join, which you can learn in our post on minimizing yarn ends.
2. Practice twisting the yarn in striping.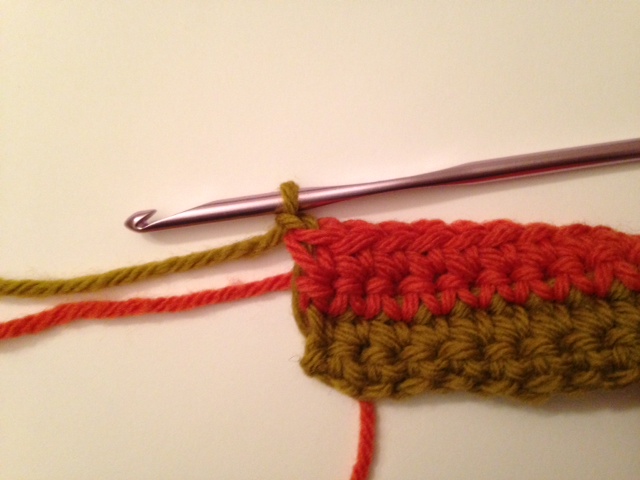 Photo via Andrea Sanchez
If you are making color changes to create crochet stripes, you will twist the yarn on all color change rows. The reason is to maintain a consistent color along the edge of the project.
Learn this technique in our tutorial on how to crochet stripes.
3. Weave in ends as you go.
If you are cutting your ends to change color, then you'll have a number of ends to weave in at the end of your project. Some people enjoy the finishing process of weaving in ends all at once but others tend to dislike this part of crochet. If you dread the weaving in of ends then you should weave in your ends as you go to avoid having a pile of them waiting for you!
If you need help learning to weave in ends, check out our post on 3 ways to weave in ends.
4. Maintain gauge when crocheting over ends.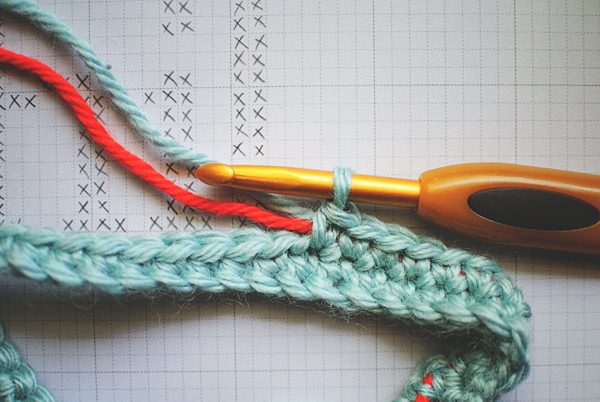 Photo via Lisa Gutierrez
You can get rid of those pesky ends as you go by crocheting over them with the new color. However, you might find that this alters the thickness of the project and affects your gauge. This is something to be aware of if you're working on a crochet garment or other item that relies on precise gauge.
Learn more about this issue from in our post on changing color in crochet.
5. Prevent tangles when carrying yarn.
If you're carrying the yarn from one color change to the next, instead of cutting it, then you'll be working with two or more balls of yarn at once.This can cause tangles if you aren't careful.
Here are some tips for preventing those tangles:
Keep one ball of yarn on your left and one on your right.
Be consistent in how you pick up the yarn. For example, if you always bring Color A over Color B then you'll have less twisting than if you sometimes bring Color A under Color B.
Use yarn bowls. This helps keep each yarn in its place.
6. Brush up on crochet vocabulary.
There are certain colorwork terms that you'll see in crochet patterns and it helps a lot if you understand how they are used. For example, the term "float" is a common word that is used to describe how one yarn is carried behind the back of the piece (instead of cutting it or crocheting over it).
7. Try out specific colorwork techniques.
The more that you practice changing yarn colors in crochet, the easier it will get. You'll pick up new tips and tricks along the way and figure out which techniques are best for you. Here are some of the Craftsy classes that are ideal for practicing crochet colorwork:
What's your best tip for changing color in crochet?