It can be hard to choose between crocheting and reading! When you pick your book over your hook, having a hand crochet book cover is a real treat. I've found some wonderful patterns for beginners and more advanced crocheters. All make great gifts and use very little yarn!
The best crochet book cover patterns on Craftsy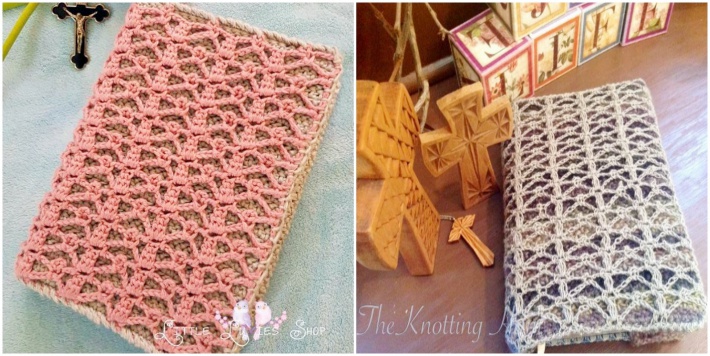 Photo via Jenn Prekopa
1. Serenity Book/Tablet Cover
This beautiful, stylish book cover uses two layers of crochet. The lower layer, a solid cover for any size book, is overlaid by a lacy outer cover made using the serenity stitch. Originally designed as a Bible cover, this can be made for any book. The designer does recommend cotton, as it provides a firm cover that will not stretch over time.

Photo via Julie Oparka
2. Paperback Book Covers
This crochet cover for a paperback is ideal if you want to read without questions about your choice of reading material! The sturdy cover protects your book and the pockets inside provide a handy place for notes. The pattern contains two options for the pockets — a crocheted version and a clear vinyl version, which is less bulky and allows you to see your notes. The bookmark keeps your place and the button closure keeps your book neat and tidy once it's tucked away in your bag.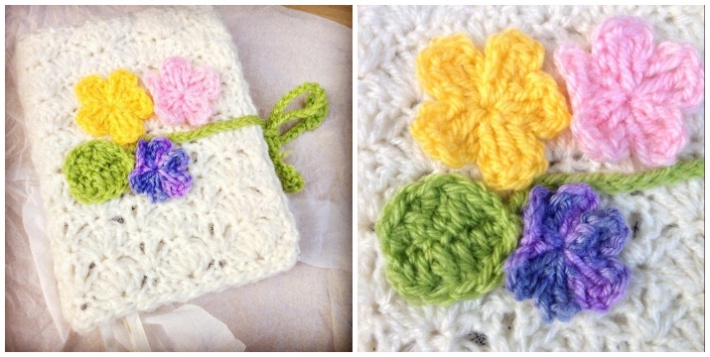 Photo via Soo Fen of Little Precious Stitch
3. Shell Stitch / V-Stitch Book Cover
Here's a lovely book cover that's embellished with flowers and a tie to keep the book closed when you're not reading. This cover can be made in any yarn and any color, and it's a great way to use up small leftover yarn from other projects.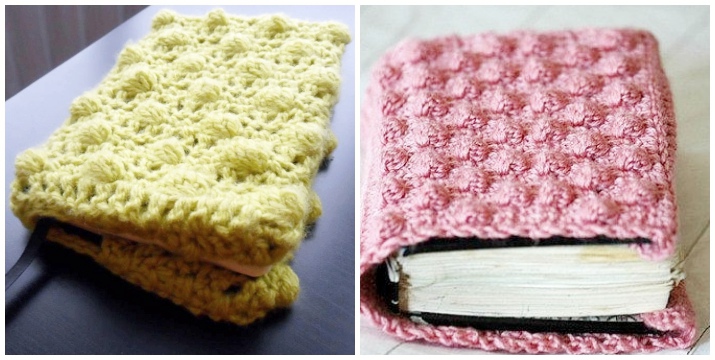 Photo via Minishu Boutique
4. Book or Notebook Crochet Cover
This is a cover for a smaller book or treasured notes. It uses a deeply textured stitch for a vintage effect. This can be made in a thicker yarn or in finer cotton — either way, the stitches show up beautifully every time.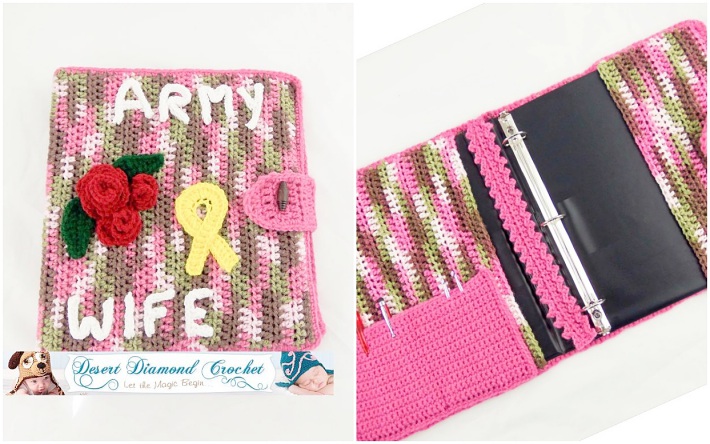 Photo via Desert Diamond Crochet
5. Three-Ring Binder or Book Cover
It's not just hardbacks and paperback books that can be protected with a crochet cover. This fabulous pattern shows you how to make your three-ring-binder stand out in a crowd! The pattern has practical features, too, with a place to store pens (or crochet hooks).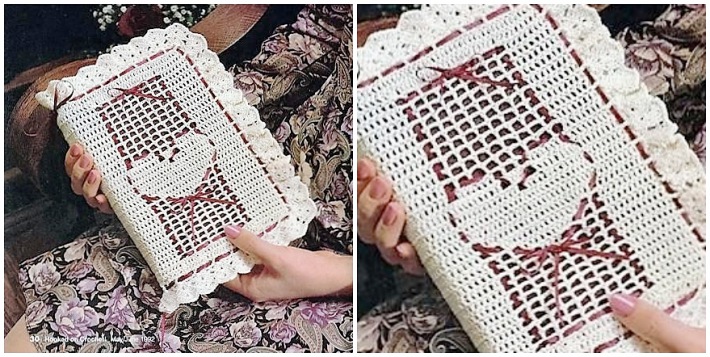 Photo via Sassy Love Crochet
6. Crochet Bible Cover Pattern
This cover is designed as a Bible cover, but could be used for any book that is in constant use. The pattern shows how to use the filet crochet technique to create the heart motif and how to create the lacy edge and ribbon insert detail. It's a real heirloom piece that could be handed down the generations.

Photo via Nell
7. E-Book Sleeve
These days, we are just as likely to read books on an electronic device as a on the printed page. Why not use this pattern to crochet an e-book cover that's a bit more interesting? This lovely crocheted sleeve will fit a Kindle and other popular types of e-book readers.

Photo via Mon Petit Violon designs
8. Kindle Cover
Another practical yet beautiful cover to keep your electronic book reader safe, this pattern features a lattice surface stitch and is for more advanced, confident crocheters. The finished result looks great and would be perfect in a high-sheen cotton or a linen blend. The best news of all? It's a free pattern!