You might think that you've crocheted every item out there, but there's always something more to make by hand. Have you ever made a crochet backpack? You can crochet a practical backpack for school, a fun animal-shaped children's backpack or a fashionable backpack purse. Each project offers its own fun challenges that are inspiring for the creative crafter.
Here are seven crochet backpack patterns along with some tips for how to make a crochet backpack.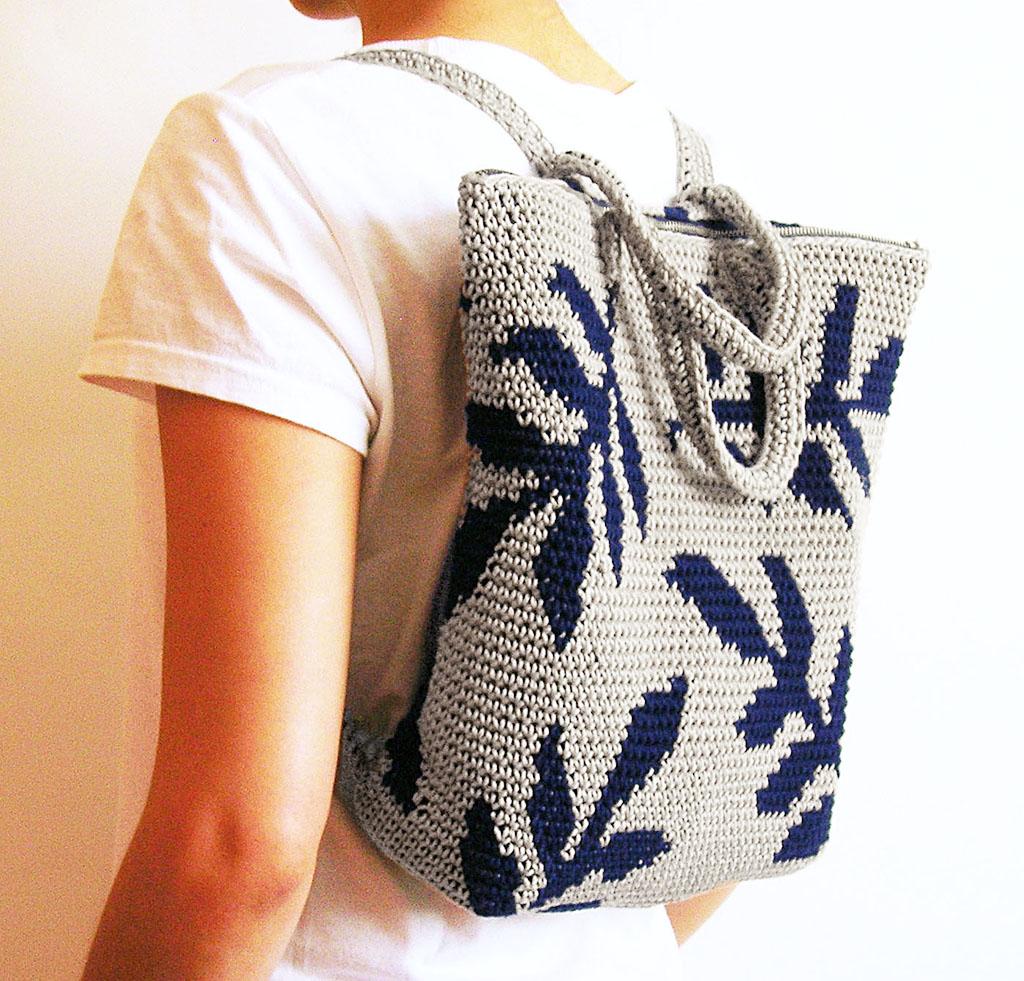 1. Leaves Backpack Kit
This is a high-fashion crochet backpack also doubles as a standard purse, giving you a lot of wear out of a single item. The leaf motif has a modern graphic appeal that is highly wearable and also fun to crochet. This crochet pattern is sold as a full kit, so it comes with the pattern and the yarn together. Choose from the color palette above or a "suede/juniper" option with green leaves. Either way, you've got a small pop of color on a neutral crochet backpack for a fabulous finished look.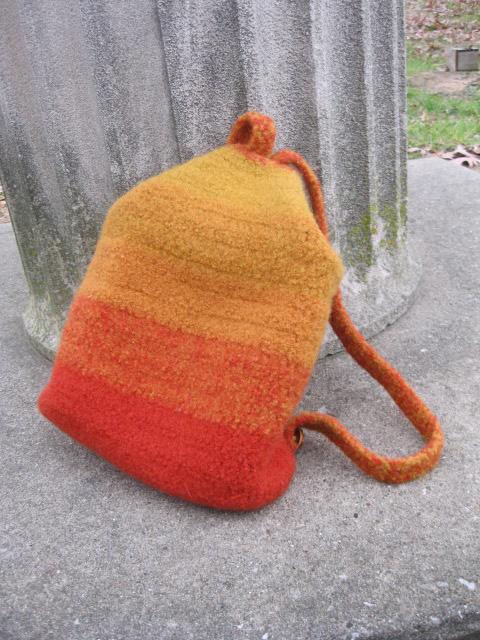 Photo via Craftsy member Black Dog Fiber Studio
2. Knockabout Backpack
This is another great option for a fashionable crochet backpack for anyone to wear. It is designed using simple crochet stitches, which are then felted into a finished item. However, if you don't like the felted look (or don't want to go through felting process), you can still make the backpack, and you'll find that the ombré coloring makes it look fabulous either way.
Tip: Learn more about felting from Andrea Sanchez's article "Getting The Feel For Yarn Felting."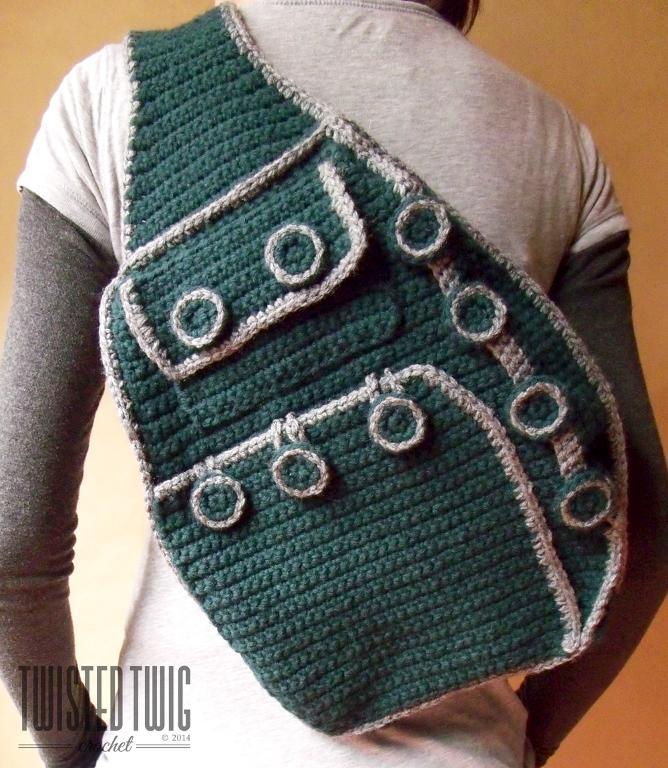 Photo via Craftsy member Twisted Twig Crochet
3. Shoulder Backpack
The shoulder backpack is a terrific unisex style that makes a great gift item for any student in your life. In fact, in this era when we all carry electronics with us, it can be a great gift item for just about anyone! This crochet backpack is worked using really simple stitches but the big crochet buttons give it a striking sense of style.
Tip: This pattern comes with instructions for making crochet buttons, and Kathryn Senior has some great tips in her article "How to Crochet Buttons in Minutes." You could also use other buttons if you desired. Check out Ashley Little's "7 Tips for Choosing and Adding Buttons to Crochet."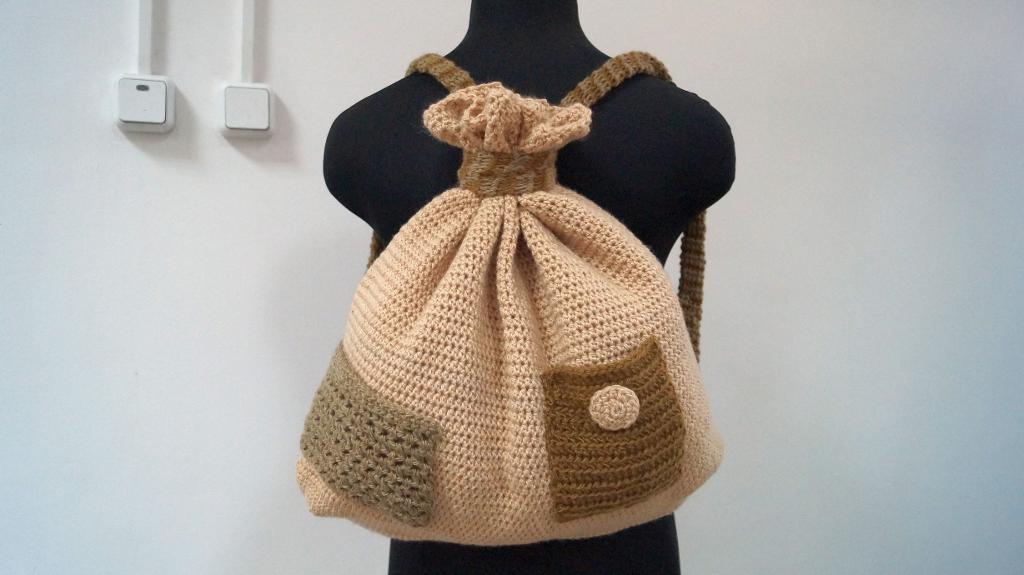 Photo via Craftsy member Paula Tant
4. Crochet Beige Sackpack
The designer shares the inspiration behind this crochet backpack:
"For all those who were born in the Soviet Union, this backpack is a very special childhood memory, as it was one of most special relics that our fathers brought us. In use since the WWII, it has been used for camping and traveling by at least three generations Soviet/Russian adventurers."
It's a great contemporary take on a vintage item that has meaning for many people. And it's also just super cute. The straps themselves come together at the top and help secure the top of the backpack closed, which is a fun variation on a drawstring sack backpack.
Tip: If vintage crochet inspires you, you might want to give crochet lace a try. See our FREE guide, "Lovely Lacy Crochet: 4 Classic Lace Stitches to Master."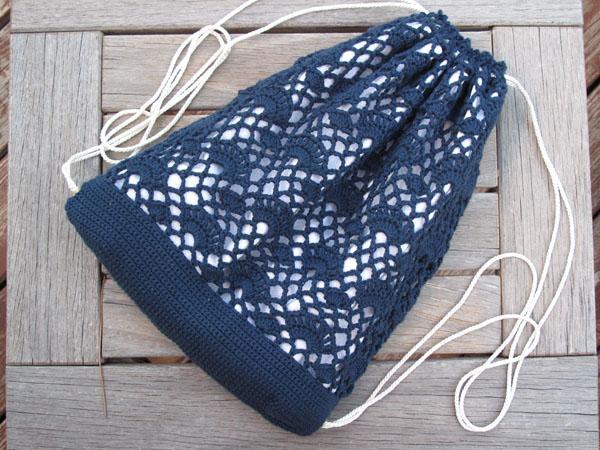 Photo via Craftsy member SSKnits
5. Mill Stream Backpack
Speaking of drawstring backpacks and crochet lace, the Mill Stream Backpack offers both. It uses really basic crochet stitches that are worked in an interesting way, so it's a great crochet pattern for someone who is making a crochet backpack for the first time. Work it in the navy color shown here for a grown-up sense of style or change up the colors if you're making it for a younger student.
Tip: Learn more about lining your crochet backpack from Ashley Little's "Lining a Crochet Bag to Make it Sturdier — and Prettier!"
Photo via Craftsy member Cute Crochet
6. Teddy Bear Backpack
If you're making a crochet backpack for a young one, then turn your eye towards the adorable animal crochet backpack patterns out there. This teddy bear backpack is made using really simple stitches, with a closure flap for the face of the teddy bear. It's easy to make and will be immediately loved by so many kids.
Tip: This crochet pattern is accessorized with a fabric bow, but it would fun to make your own crochet bow instead! Craftsy member The Perfect Knot offers a free crochet bow pattern.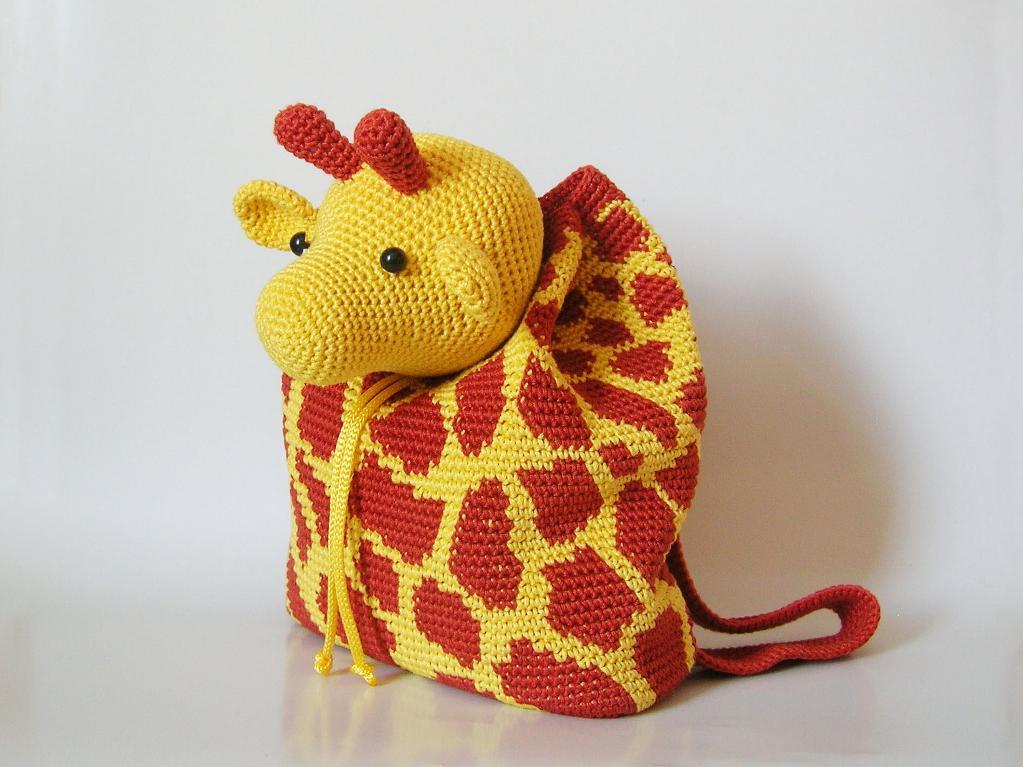 Photo via Craftsy member chabepatterns
7. Giraffe Crochet Backpack
This animal crochet backpack is a bit more complex than the teddy bear. The head is 3-D, using some amigurumi skills. And the spots of the giraffe pattern are made using tapestry crochet, so you'll need to have at least some working knowledge of this crochet technique to be able to make this crochet backpack. It's totally worth the effort, though, when you end up with a backpack that's so precious!
Tip: If you want to learn more about tapestry crochet and other similar techniques, take Karen Whooley's class "Fair Isle Crochet: Demystifying Colorwork."
Some additional tips and resources:
Not ready to crochet a full backpack? Crochet a brooch or any appliqué to add to a backpack you already own!
Most crochet purse patterns can be adapted into crochet backpacks. Practice with these patterns to gain an understanding of the way the straps work and then play with some ideas of your own!
Need more information on lining your crochet backpack? Visit "The Best Ways to Attach Fabric to Knits" by Ashley Little (the tips and techniques work for crochet, too!).
If you are multicraft-ual, you might also like "Back to School Basics: 7 Backpack Sewing Patterns" by Lindsay Connor.