If you need a handmade baby gift — pronto — crochet baby booties are a great option.
Crochet baby booties are one of those quick essentials that can be any style from classic to funky. Not only can you make them in a snap, but you also don't have to spend a lot of money on them. (Just be sure to use washable yarn. Parents don't have time to hand wash!)
This collection of crochet baby booties features adorable patterns (some free!), and you probably have the yarn you need in your stash.
Get ready to walk into the baby shower with the most adorable handmade gift ever thanks to this collection of (mostly free!) crochet baby booties.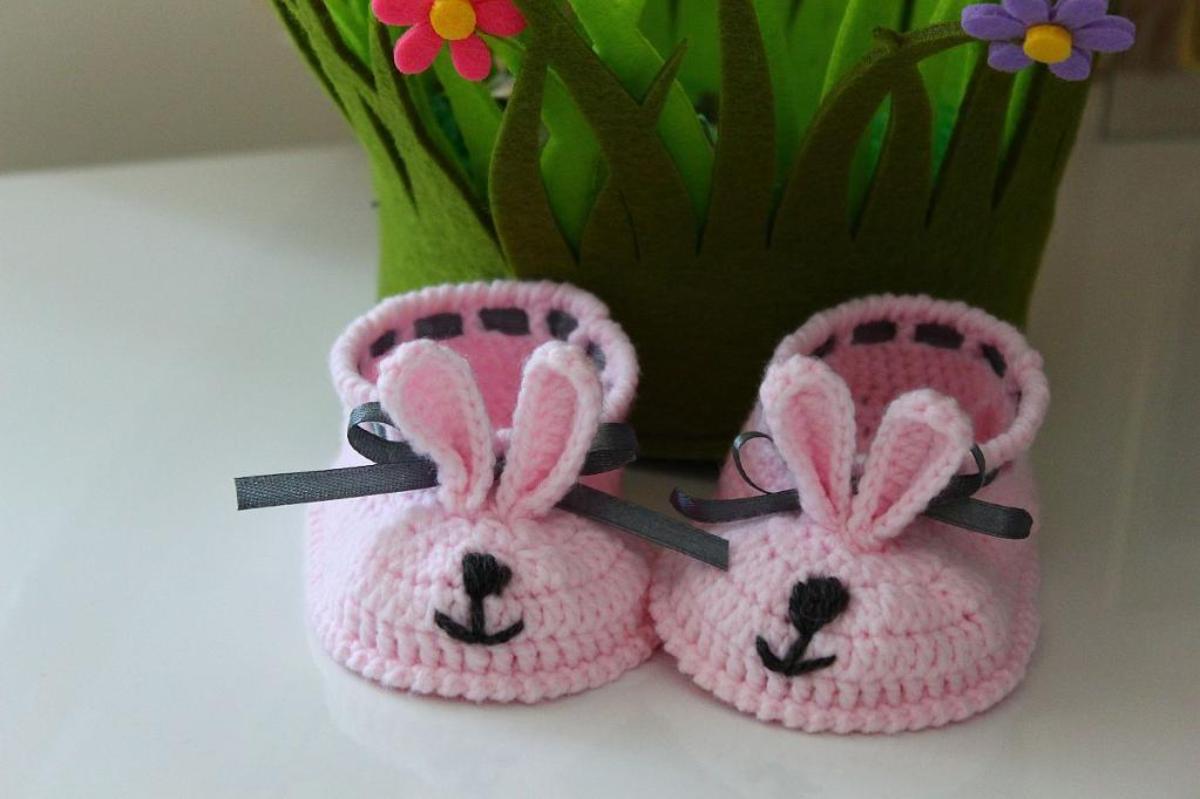 Photo via MyBabyDesigns
1. Bunny Baby Booties
This detailed pattern comes with plenty of photos to make sure you get all the little details just right, including the adorable embroidery on the rabbit's face. These could work for both baby boys and girls, so consider them for your next baby shower gift.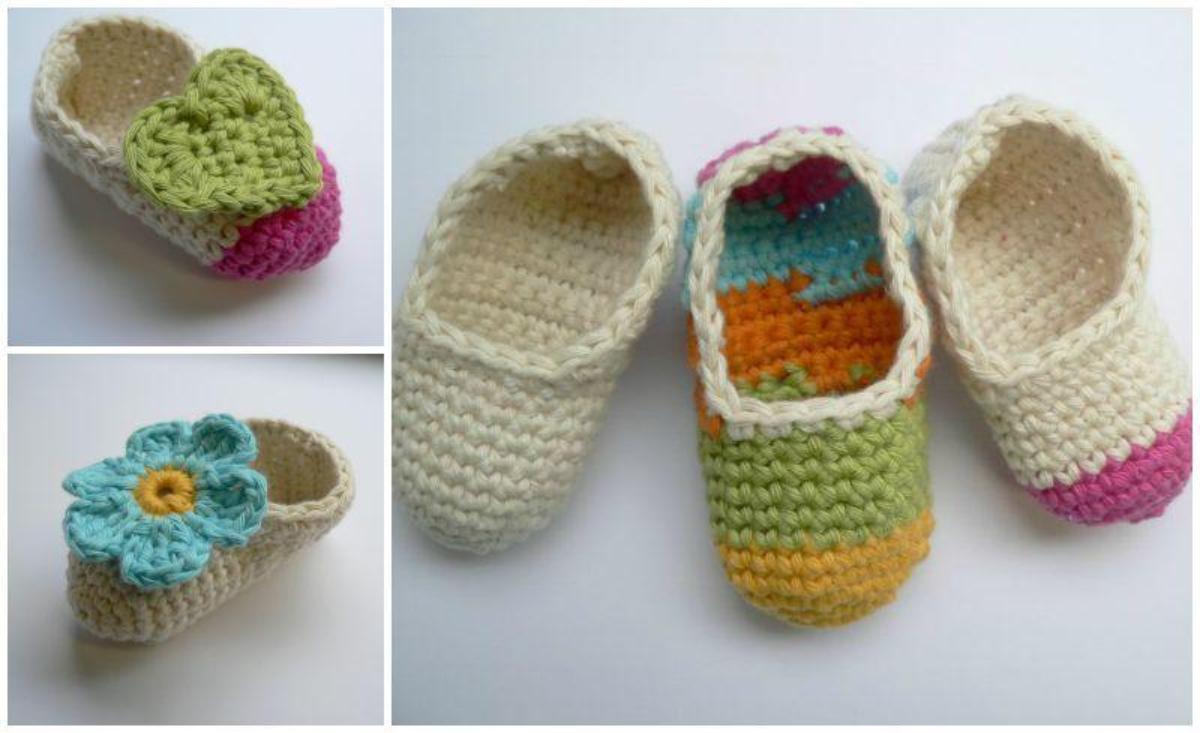 2. Crochet Baby Booties
Are you a beginner looking for a super simple bootie pattern? Or maybe you're a seasoned crocheter looking for a basic pattern that you can play around with and customize. This free pattern is begging for embellishments, faux dip-dyed toes and more!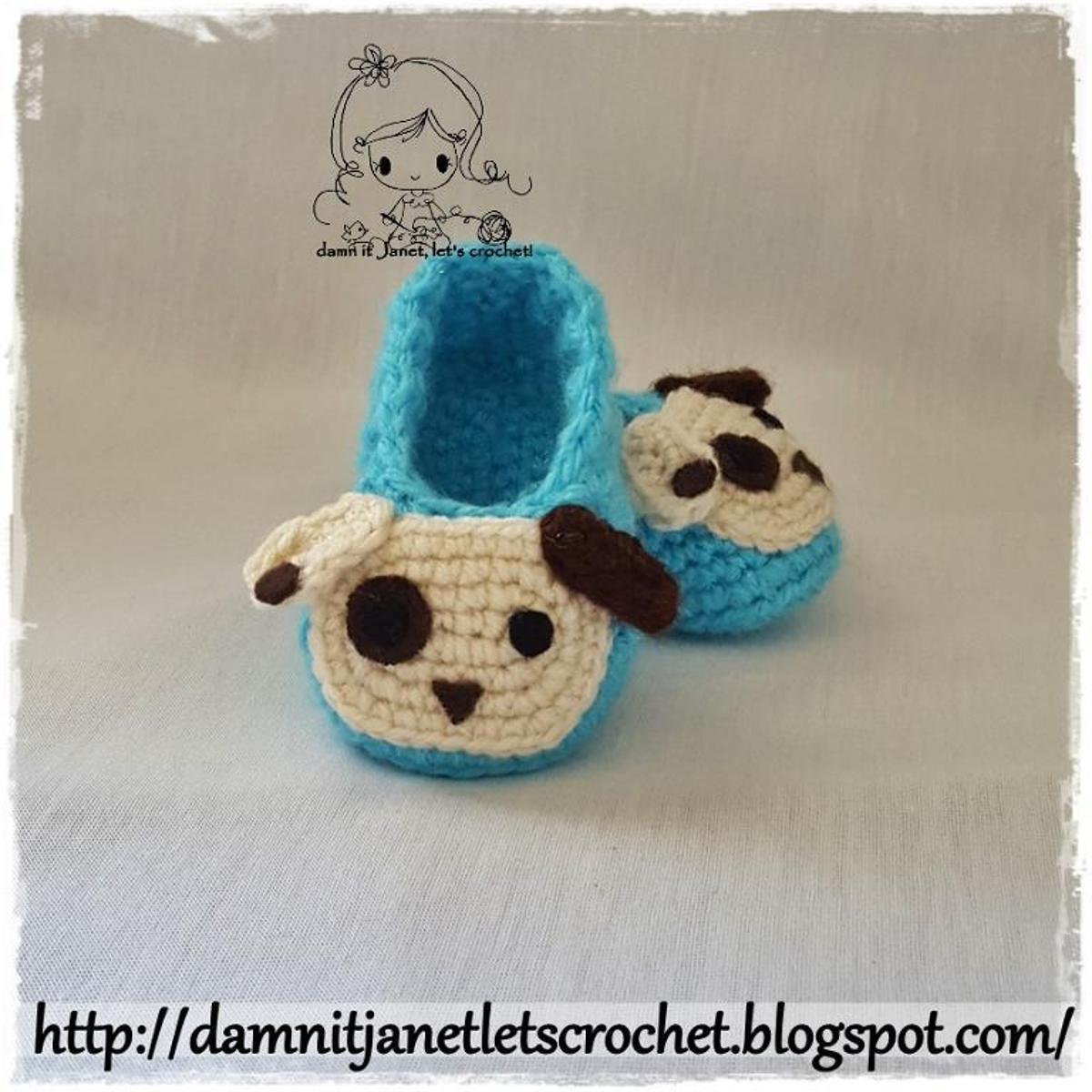 Photo via damn it, Janet, let's crochet!
3. Doggy Baby Booties 0-12 months
Each part of these booties is stitched separately, then assembled. Don't worry; the instructions come with photos to make sure your cute booties come together perfectly! Some of the features, like the dog's eyes and nose, are made with felt so they're totally safe for baby.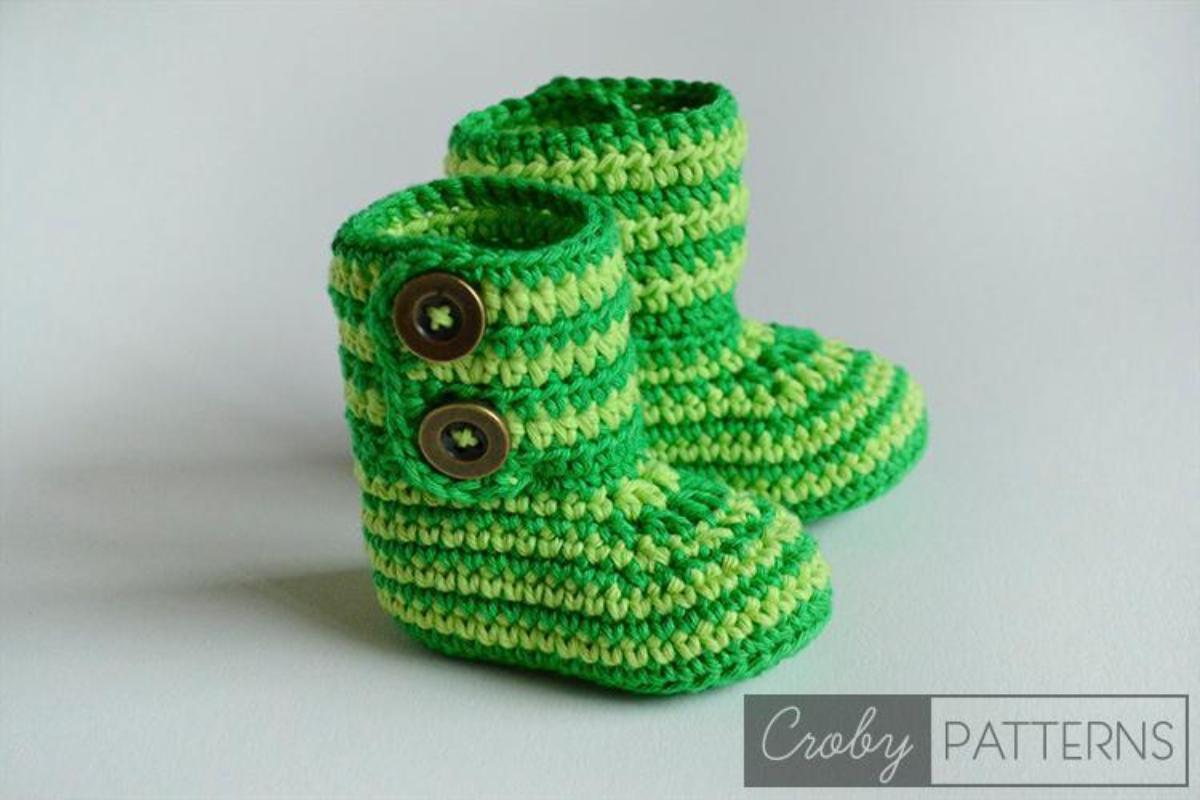 Photo via Croby Patterns
4. Crochet Baby Booties/Green Zebra
This pattern comes with instructions for three different sizes. These booties are perfect for winter babies, since there's plenty of ankle coverage to block the chilly temperatures and they can be layered on top of pants.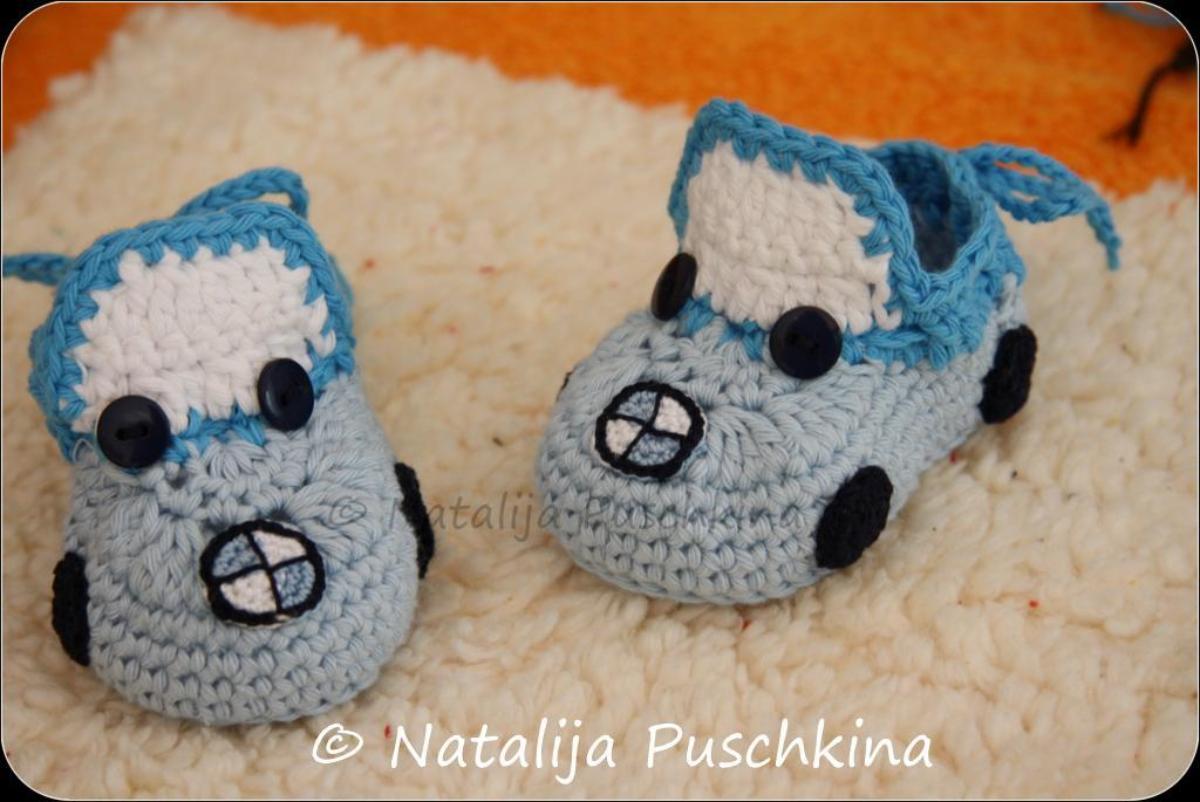 Photo via Natalija Puschkina
5. Crochet Baby Booties or Sock BMW Cars
You'll need some basic embroidery skills to create the BMW logo on these adorable car booties — or you can skip the logo entirely. For babies, we suggest replacing buttons eyes with something more baby-safe like felt or embroidery.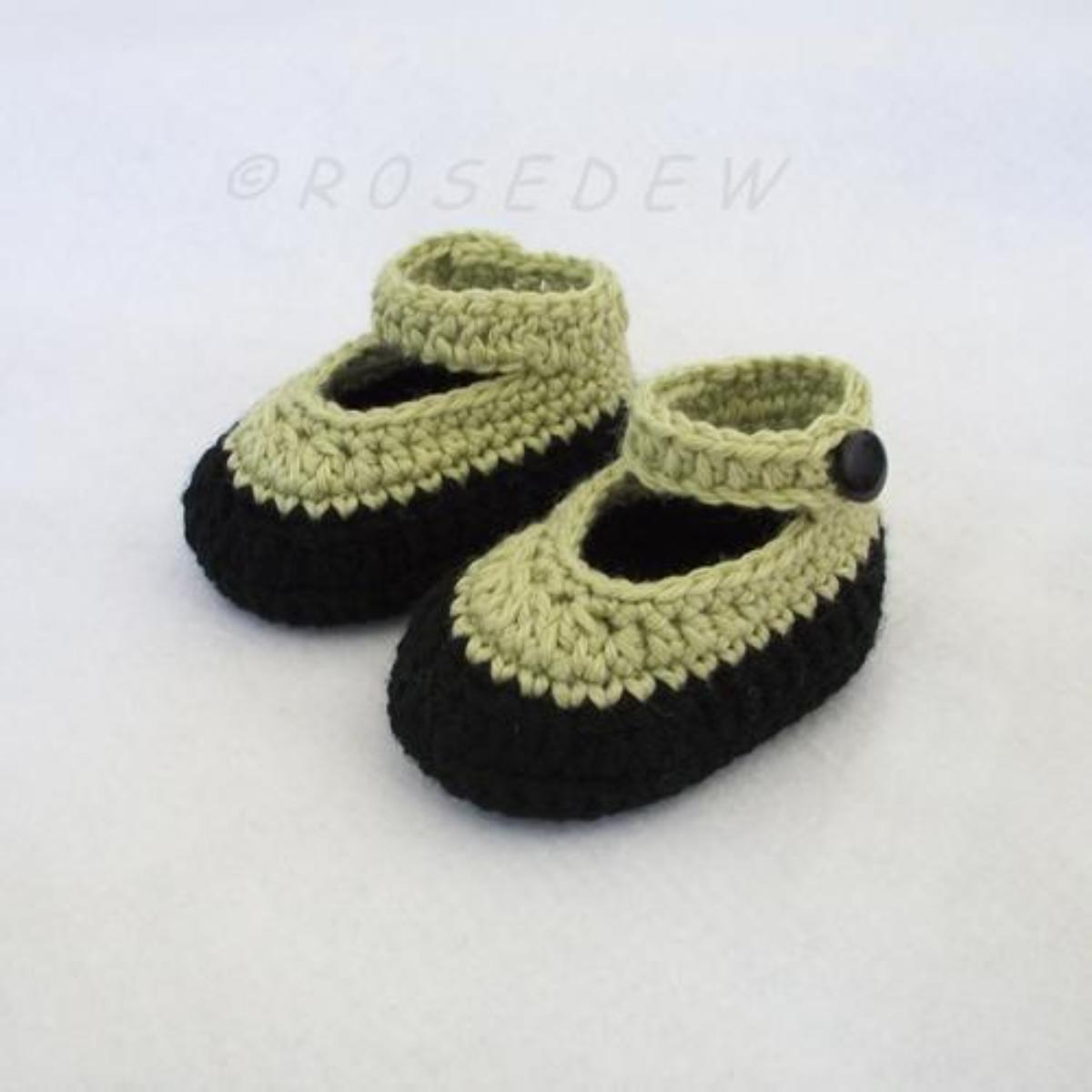 Photo via Rosedew Creations
6. Crochet Baby Booties with Ankle Strap
Mary Jane–style booties are perfect for stylish babies who don't need as much warmth. Stitch these up for spring and summer babies who can go sockless underneath the stitches. This is also a great pattern when worked up in cotton.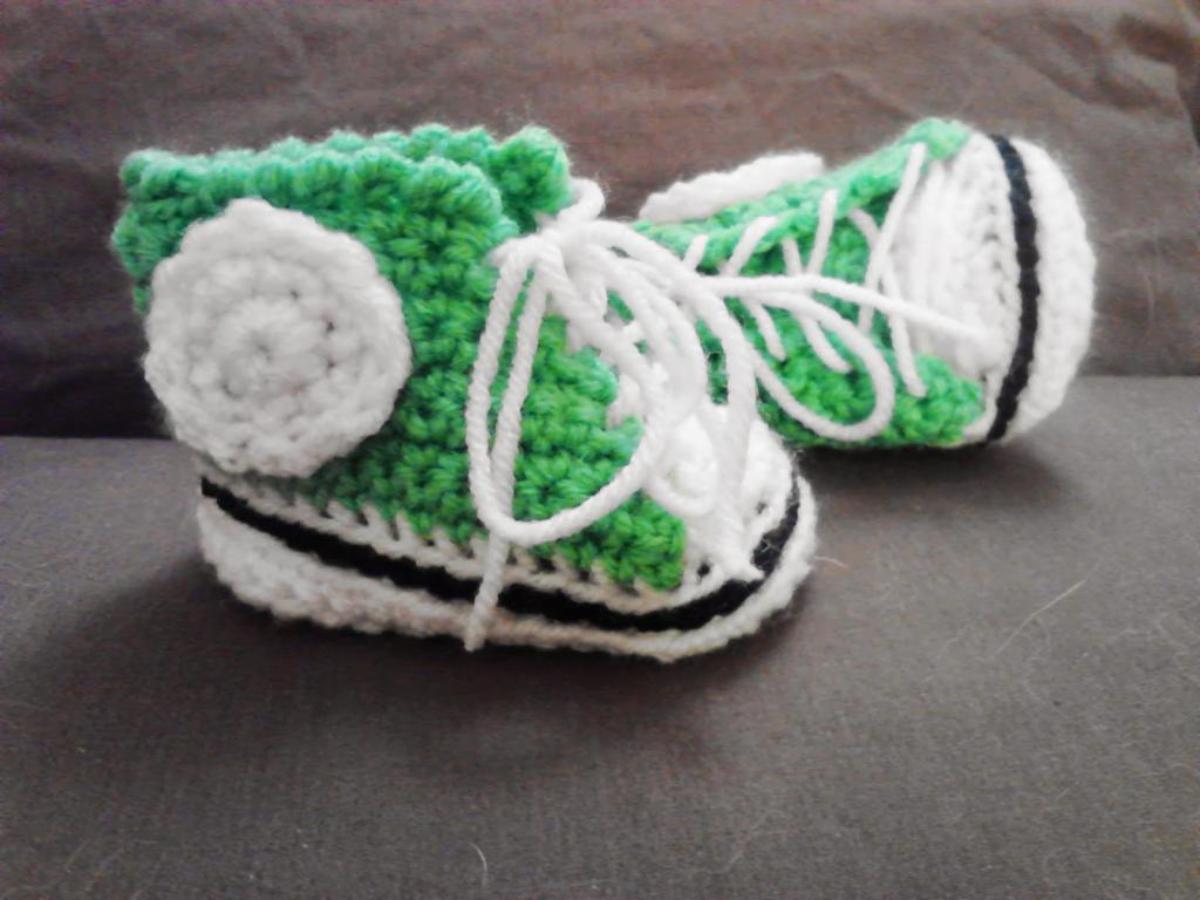 Photo via Farm Girl Teacher
7. Basketball Baby Booties
These booties are designed to look like high-top sneakers — perfect for babies whose parents are sports fans. The designer points out that if you want to customize them, you can also add baby's initials in the white circle on the side of each booty.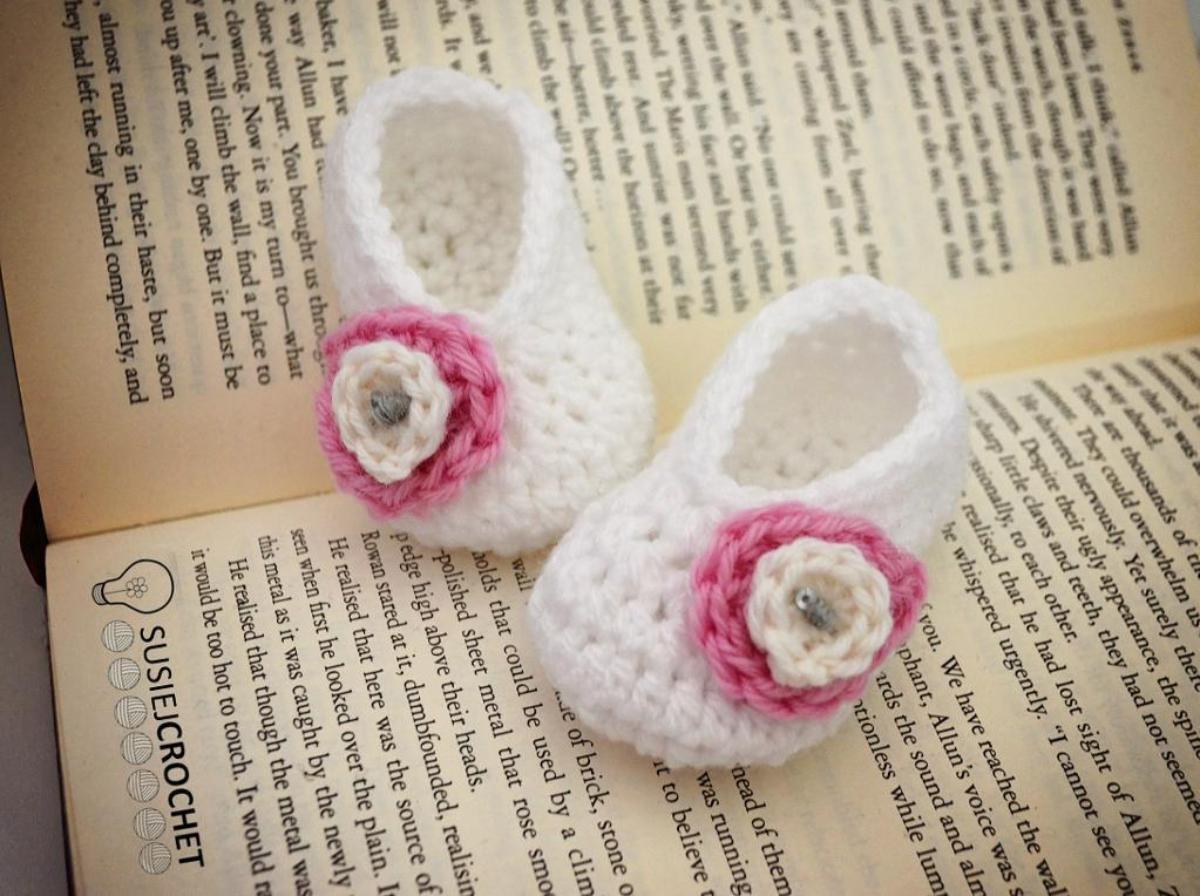 Photo via MellonyBe
8. Basic Baby Booties
This pattern is basic enough even for a beginner crocheter. Seasoned crocheters will like it, too. Not only is it a free pattern, but it also presents plenty of opportunities for adding special extras, like the flowers in the sample shown above.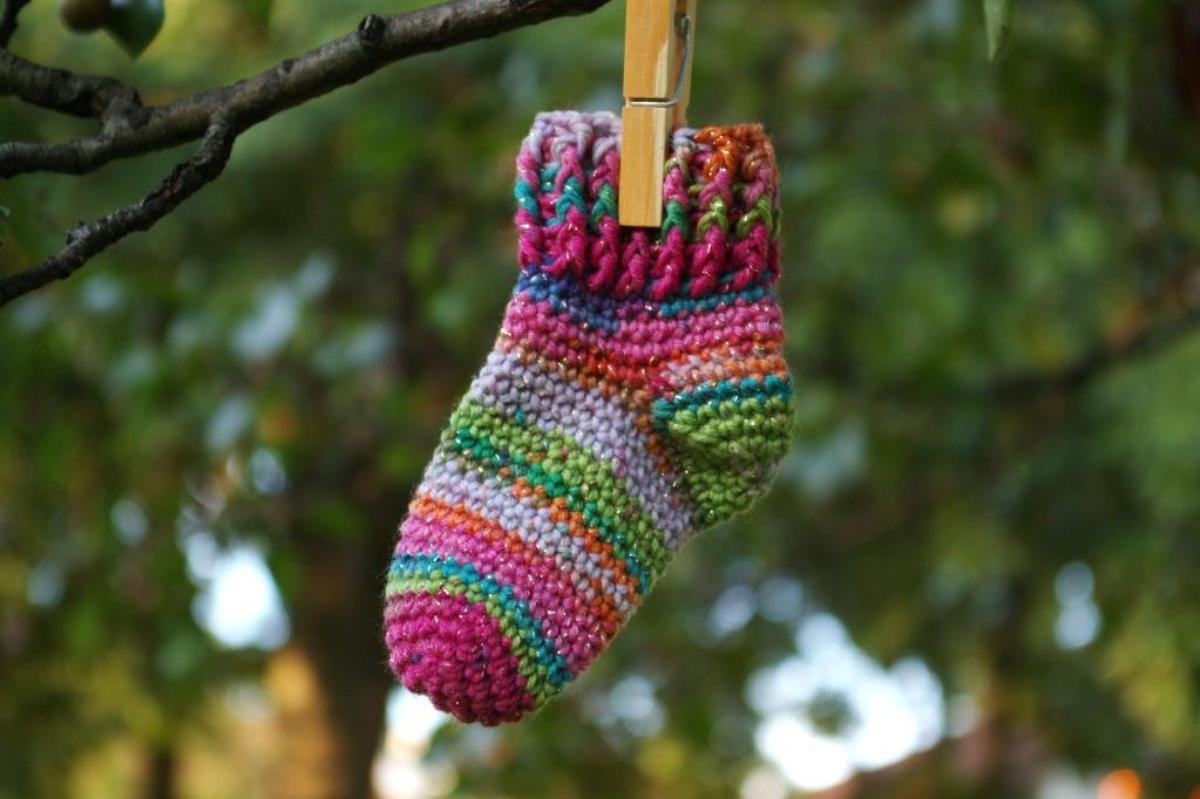 Photo via Anastasia Popova
9. Arianna Baby Socks
Booties are not the only option for keeping baby's feet toasty warm. If you want something a bit more casual, you can stitch up a pair of socks like these. This particular pair uses a small amount of sock yarn, so it's great for using leftovers from your adult sock projects.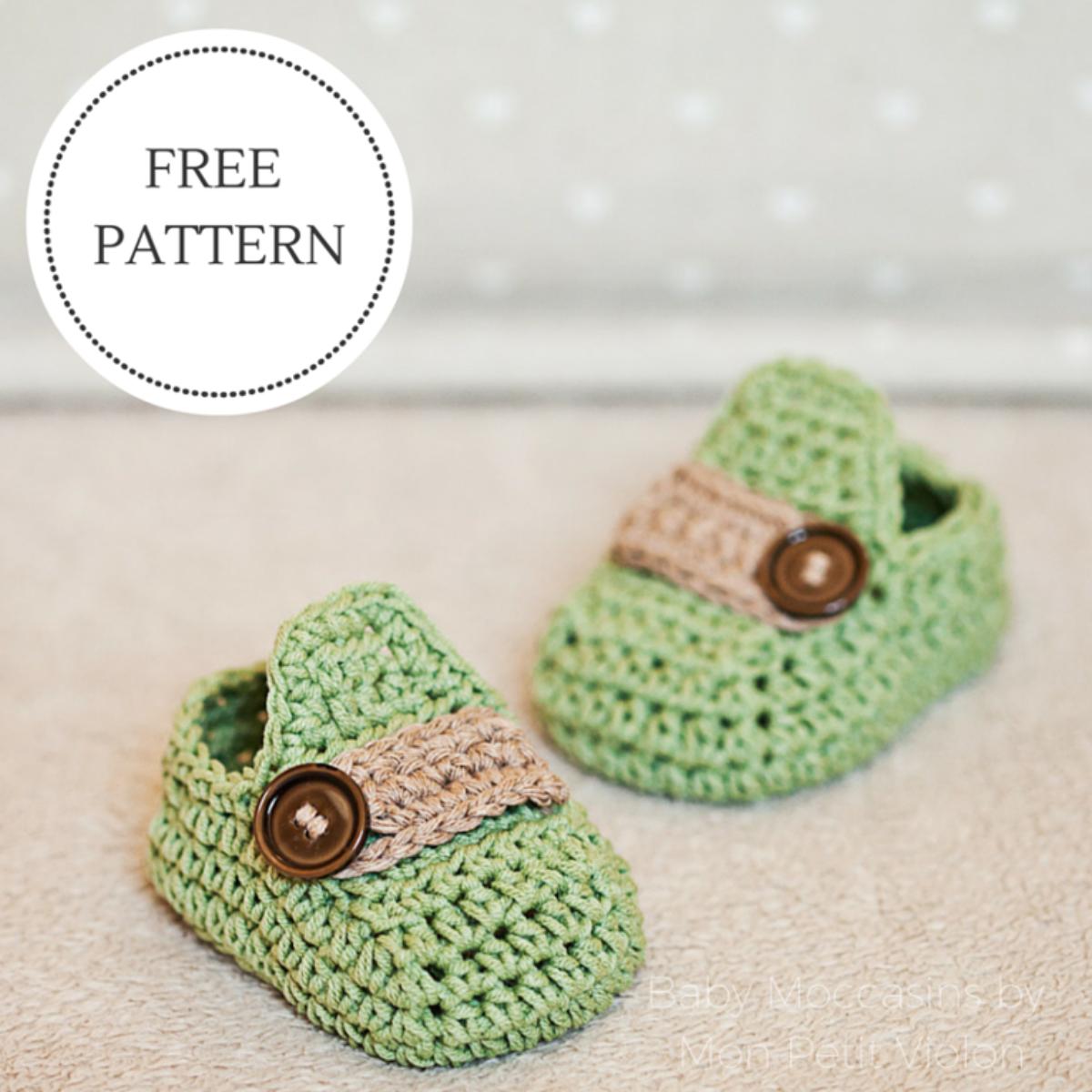 Photo via Mon Petit Violon
10. Baby Moccasins
This pair of booties looks classic and is oh-so comfortable. The designer suggests changing up the color palette and the button on the side to fit whatever style you want. You can replace the button with embroidery or omit it entirely to spotlight the colors you choose.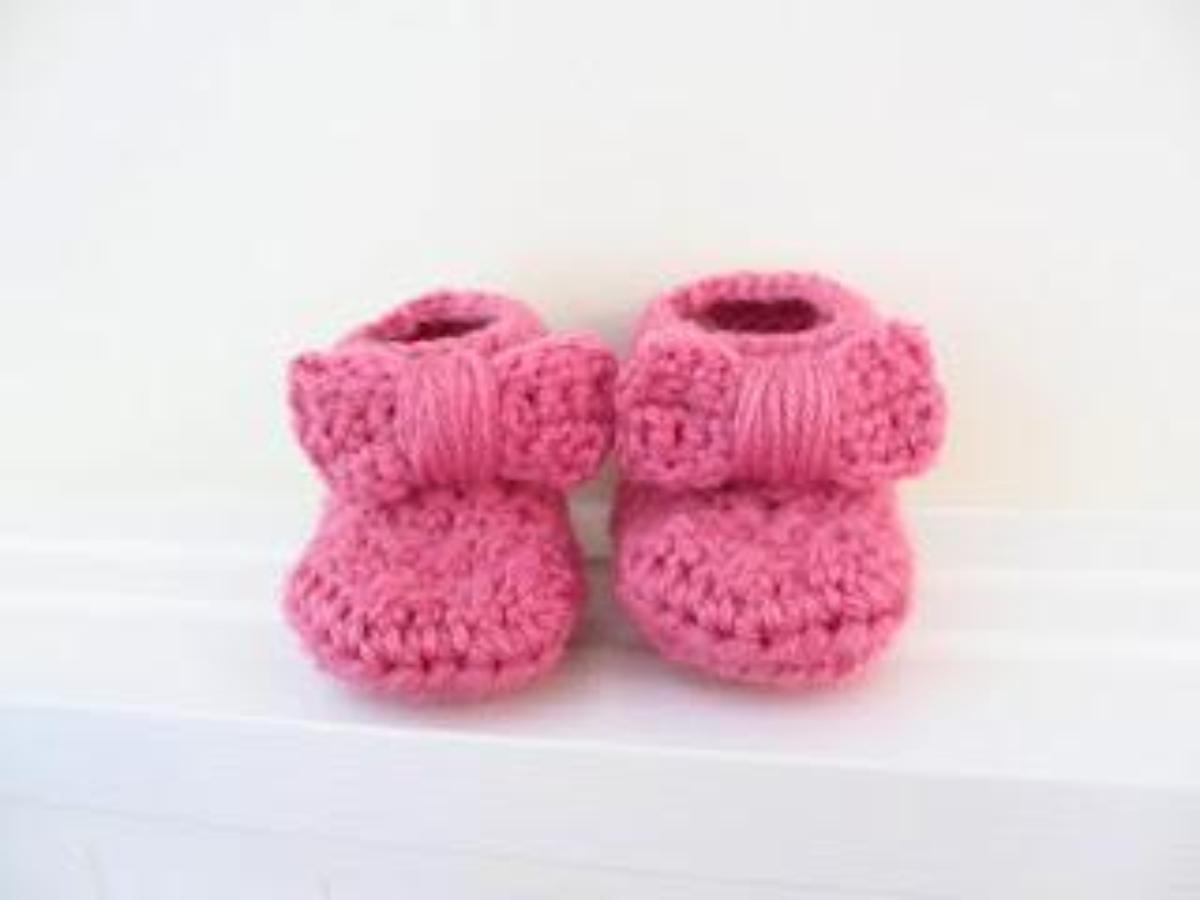 Photo via Jays Boutique
11. Bow Baby Booties
The bow is the main feature of these booties, but you can opt for other embellishments, too. Many of the stitches are explained in the pattern, so you don't need a lot of previous experience. The booties have a longer cuff on them, so they're ideal for winter babies.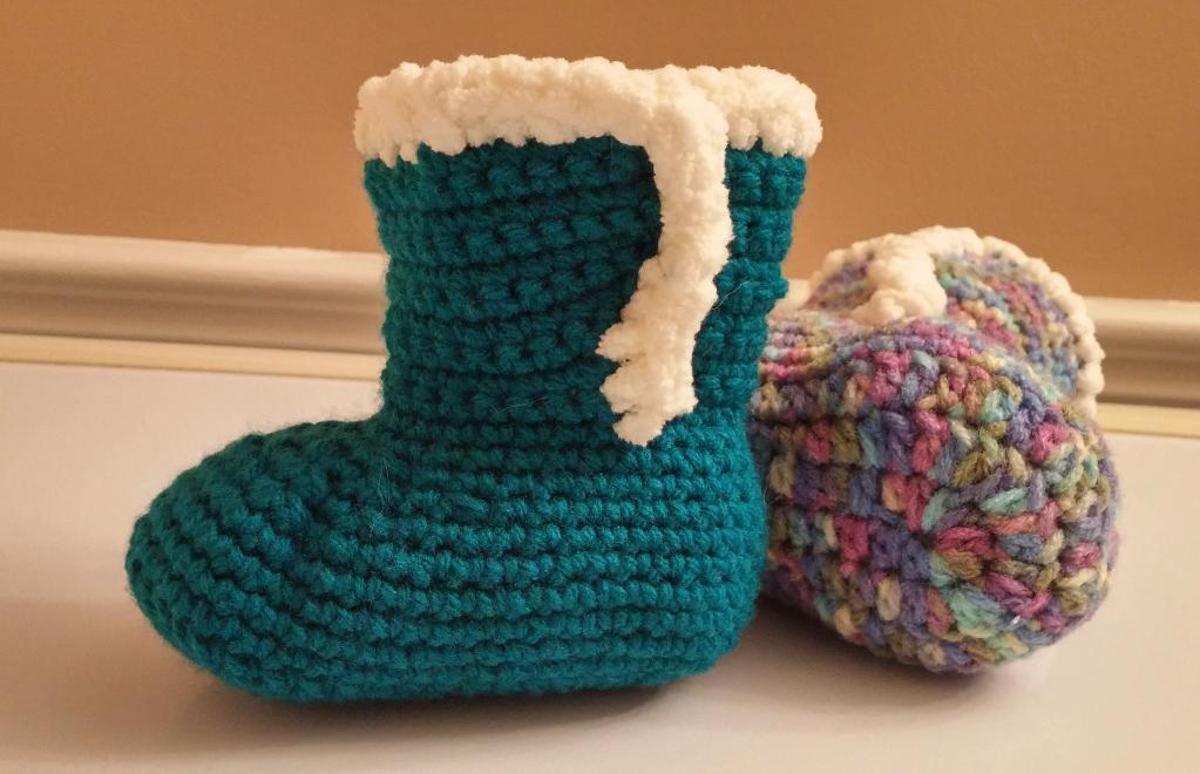 Photo via Tiggy Patterns
12. Baby Booties with Fur
We can all appreciate this designer's motto that "there's just no wrong way to make a bootie." This cute pair is designed to look like popular fur-lined adult boots. The pattern comes with three sizes, so you can make this for more than just baby showers.