My thoughts on knitting and crochet with T-shirt yarn: cutting up those T-shirts is a pain, but it's a fantastic way to recycle and totally worth it when you start the project! If you're into knitting and crochet with T-shirt yarn, you might feel the same way. But don't let all that tedious cutting ruin the fun. Here are a few handy tips and patterns for knitting and crochet with T-shirt yarn that won't leave you frustrated — or uninspired!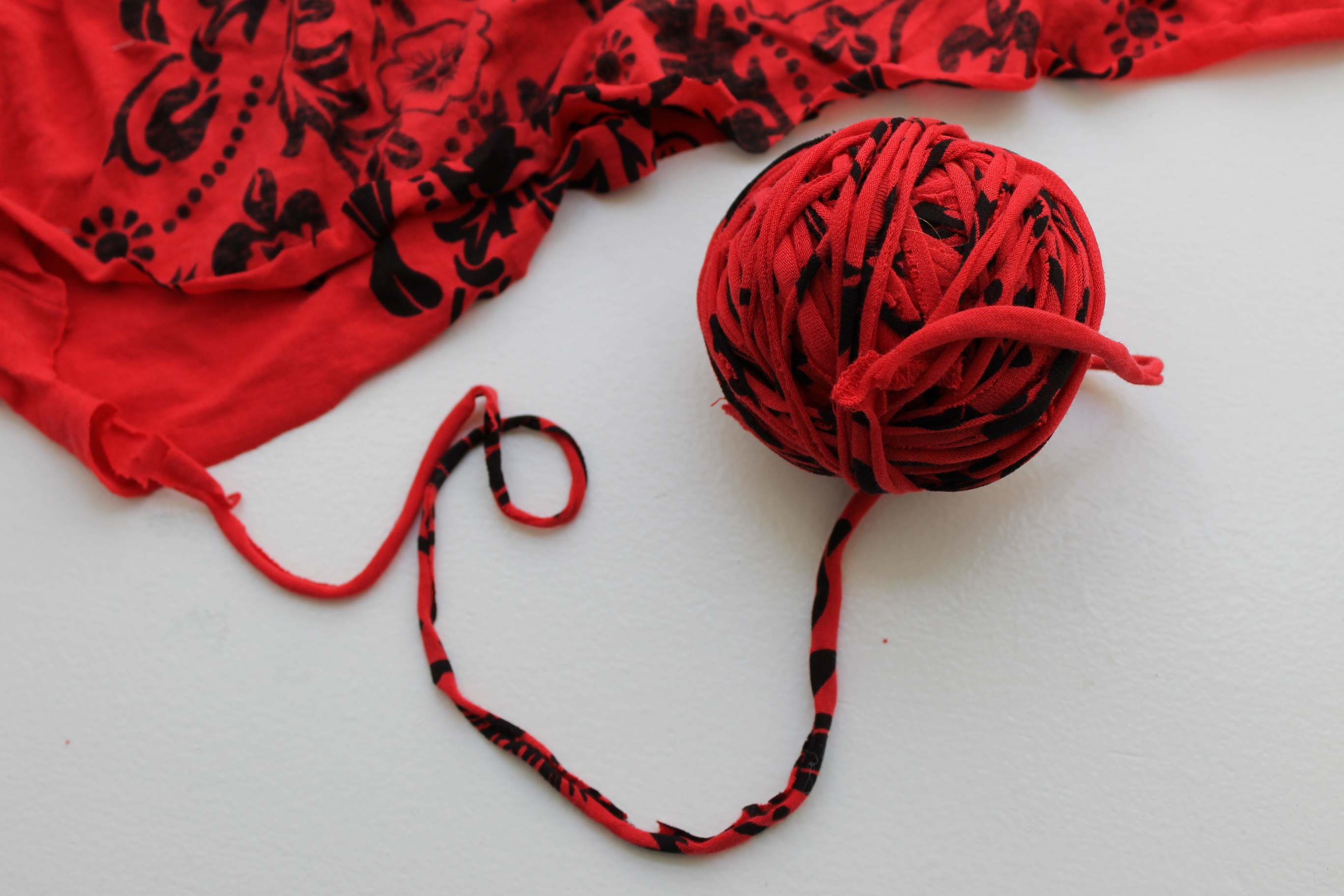 Photo via The Feisty Redhead
Tips for working with T-shirt yarn
Stack up those old T-shirts and get ready to build your stash without stepping foot in the yarn store. A few things to keep in mind as you begin your T-shirt yarn creations:
Don't be afraid of prints. A T-shirt that's not a solid color, like the one pictured above, can make for a really interesting yarn that's similar to a variegated colorway.
Experiment with width. Cut your yarn in 1-inch strands, then try another skein with 2-inch strands. You can even vary the strand width in one skein to imitate those cool thick-and-thin variations that a lot of indie yarn manufacturers produce.
Look for seamless T-shirts. This will make the cutting process much easier, plus avoid little bumps here and there in your finished projects. (But hey, if your T-shirts do have seams, don't sweat it. It will still look amazing.)
The yarn will stretch. Remember that your yarn is going to behave much in the same way as your T-shirt did. Those cut strips are not going to remain intact, so keep that in mind when choosing a project.
All T-shirt yarn is unique. If you start knitting or crocheting with a T-shirt yarn and it's not working for your pattern, don't give up on T-shirt yarn forever! Like T-shirts, each ball of T-shirt yarn is totally unique. After you work with several different types of T-shirt yarn, you'll get a feel for which types of T-shirts work best for different projects.
What to make with t-shirt yarn
There's no limit to what you can do with your unique yarn. Get inspired by these patterns from our very own Craftsy members and you'll be dreaming up a T-shirt yarn project in no time.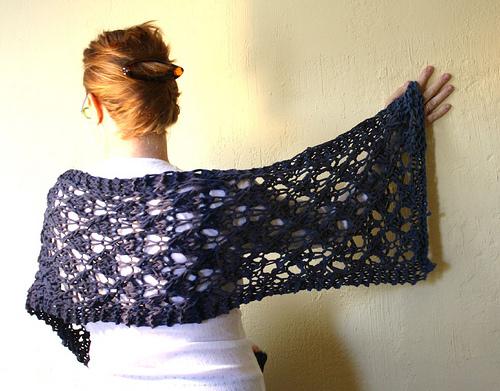 Photo via Craftsy instructor Stefanie Japel
Lacy knit wrap
It's a total misconception that T-shirt yarn can't be fancy. Need proof? This T-shirt yarn lace wrap from Craftsy instructor Stefanie Japel seriously surprised me. How can T-shirt yarn look so cool, you ask? Stefanie's lacy pattern seems to be the key. You can also think about cowls, scarves, and other accessories for your T-shirt yarn.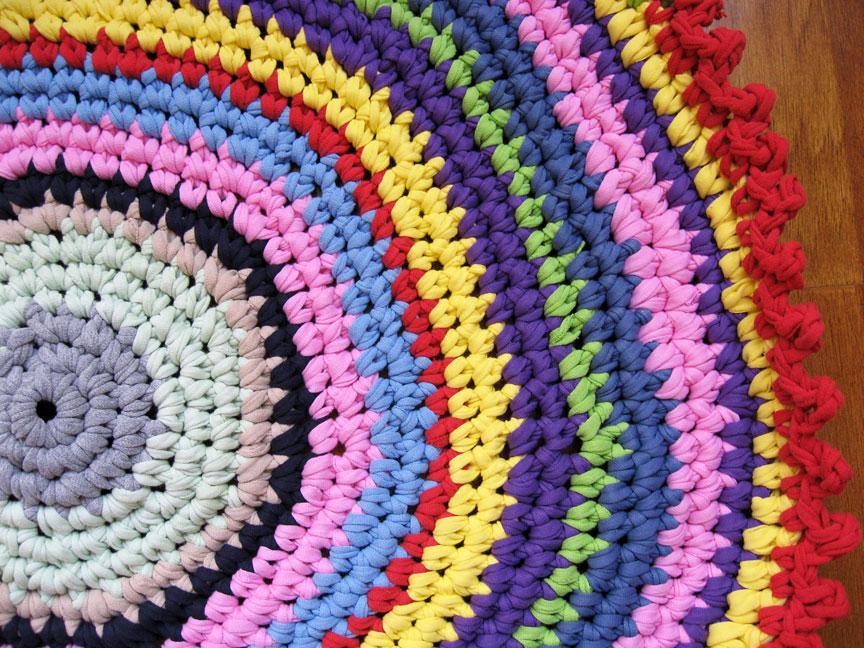 Photo via Craftsy member dmariemart
Crochet rug
This crochet technicolor T-shirt yarn rug made me squeal big time. Talk about a great way to use up tons of different unwanted T-shirts! Craftsy member dmariemart cut her yarn 1 inch wide to make this rug, but you could cut yours smaller or larger depending on how thick you'd like your rug to be. Wanna make your own? Follow the link that dmariemart kindly provided on the yarn rug project page for a free pattern and off you go!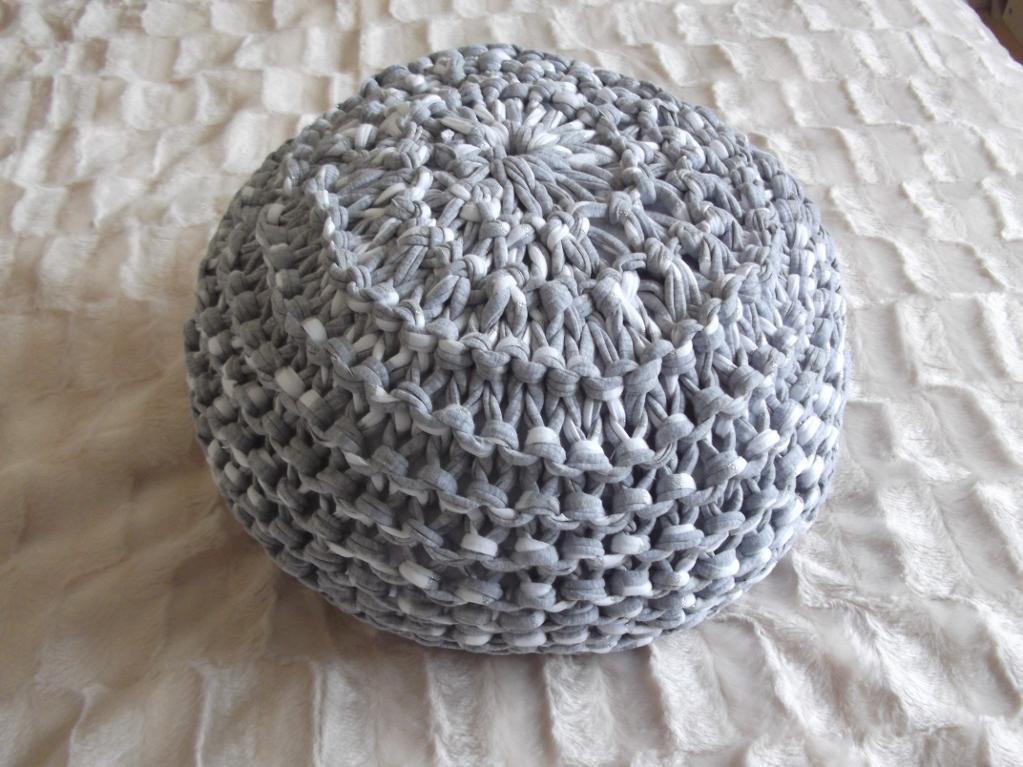 Photo via Craftsy member LoopsLavender
Knit poof
This knit T-shirt yarn pouf uses two strands of T-shirt yarn held together for an even bulkier effect. And the recycling doesn't end with the yarn. You can even use the T-shirts that you didn't cut up to stuff the pouf. Woo hoo!

Photo via Craftsy member BeSweet
Knit lei
You'll inevitably end up with a bunch of scrap T-shirt yarn, just like you do with your regular yarn. In that case, small projects like this knitted T-shirt yarn lei are ideal for using up scraps. Nab the FREE T-Shirt Lei pattern and be sure to whip up a couple for your friends while you're at it.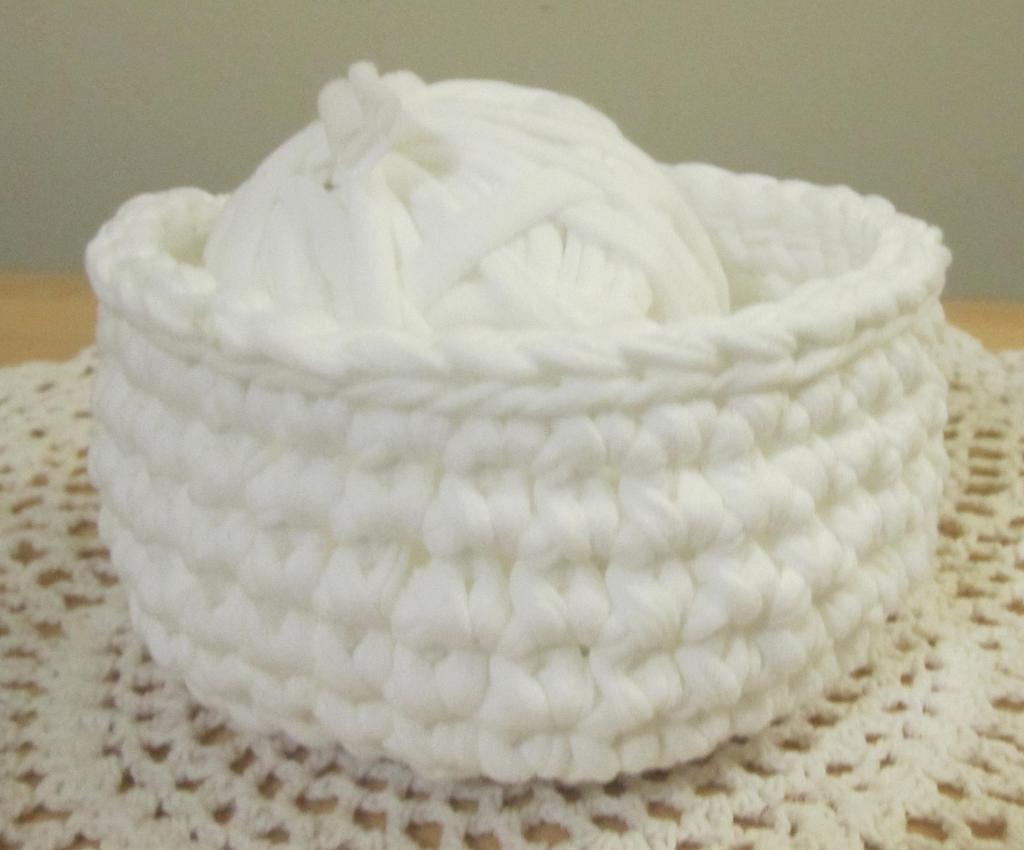 Photo via Craftsy member Deborah Waltz
Crochet basket
T-shirt yarn is pretty sturdy, especially when you knit or crochet it in a tighter gauge. This crochet t-shirt yarn basket is a beautiful example of that! These baskets aren't just for storing yarn, either. I'd use them for stashing keys, change, receipts — practically anything.
Ready to start knitting and crochet with T-shirt yarn? Start with this recycled T-shirt yarn tutorial and see where your awesome skein of yarn takes you.