When my cousin Robyn taught me to crochet, there was no Internet. If I had a question about a stitch, I had to either ask her or reference one of my crochet 101 for beginners books, (I'm sure many of you remember those days!). From swatching to storing my hooks and yarn, it took years for me to learn some lessons about crochet.
Today, though, crochet 101 for beginners is all over the Internet! There's no need to keep stacks of how-to books around. But even with the crazy amount of resources available, we here at Bluprint know that beginner crocheters still need a little help.
If you're a beginner crocheter, take a look at these tips to make every facet of crochet less stressful, from learning stitches to alleviating wrist pain!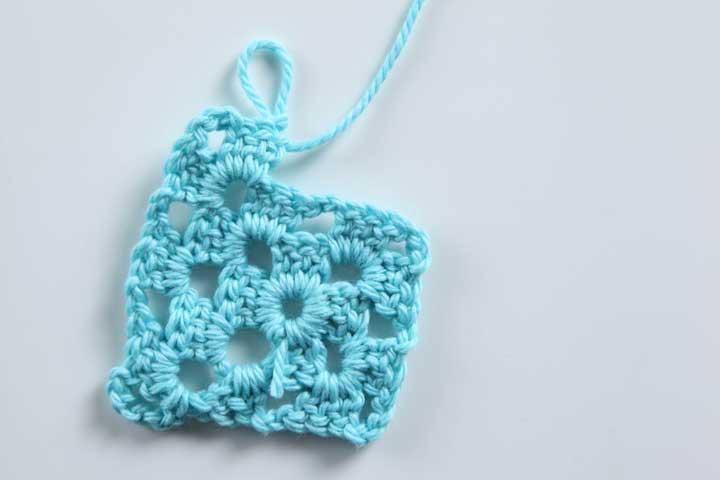 Granny square via Kim Werker in her online class Crochet: Basics & Beyond
1. Take breaks.
It's easy to get frustrated with a new stitch or to give up when things go wrong. Instead of wallowing in misery, step away for a few minutes. When you come back, your brain will feel refreshed and ready to tackle even the trickiest pattern.
2. Swatch, swatch, swatch.
This is a tip for any level of crocheter. When you start a new project, test it before you dive in. If you're working with a pattern, make sure your gauge matches the pattern's gauge. Swatching is also a great time to test out a new stitch. If you perfect it in the swatching stage, it will be absolutely perfect when you move on to the project.
3. Count those rows.
A row counter is helpful for counting rows and keeping up with where you are in your work. If you don't want to buy a counter, just use pencil and paper.
4. Count those stitches.
When I first learned to crochet, my biggest issue is that I kept gaining and losing stitches every row, causing all my scarves to turn out wavy and uneven. If you're a beginner, count the stitches in each row as you work. This can be a big pain, but it's totally worth the effort to keep everything even.
5. Join a stitch group.
Need inspiration or just a few yarn-fiend friends? Join a stitch group! Stitch groups always welcome newbie crocheters and love helping each other with tricky stitches and patterns. Plus, who doesn't need a friend to swap yarn with every now and then?
6. Take a class.
Sure, you could take a class in person. But why do that when you can take a class while wearing your pjs? (Heehee.)
If you're having issues with crochet and can't seem to get the hang of it, take a crochet class! Bluprint has great classes for beginner crocheters, including Crochet: Basics & Beyond with Kim Werker and Mastering Foundation Crochet Stitches with Marty Miller. In Kim's class, you'll learn all about the stitches and tools to get you started in crochet. You'll work in rows and eventually learn how to create cool Granny squares that you can sew together into a cozy blanket! In Marty's class, you'll learn increases, decreases, how to "read" your crochet stitches, and more.
7. Discover smarter storage.
If you're ready to take the plunge into crochet, your yarn and tool stash is going to grow exponentially. Plan ahead for those massive amounts of supplies with smart storage ideas now, before things get out of hand.
These tips for storing knitting supplies can work for crocheters, too! And while we're on the subject of yarn, check out these gorgeous yarn stashes for some inspiring eye candy.
8. Keep your posture in check.
One thing I hear a lot of needle crafters complain about is back and wrist pain. Make good posture a habit when you first learn to crochet and it will stick with you forever. Don't slouch (do I sound like your grandma there?), and be sure to take breaks if your hand starts to hurt.