One crêpe is good. Two crêpes are better. But a whole towering cake of layered crêpes? Now that's what we call breakfast heaven.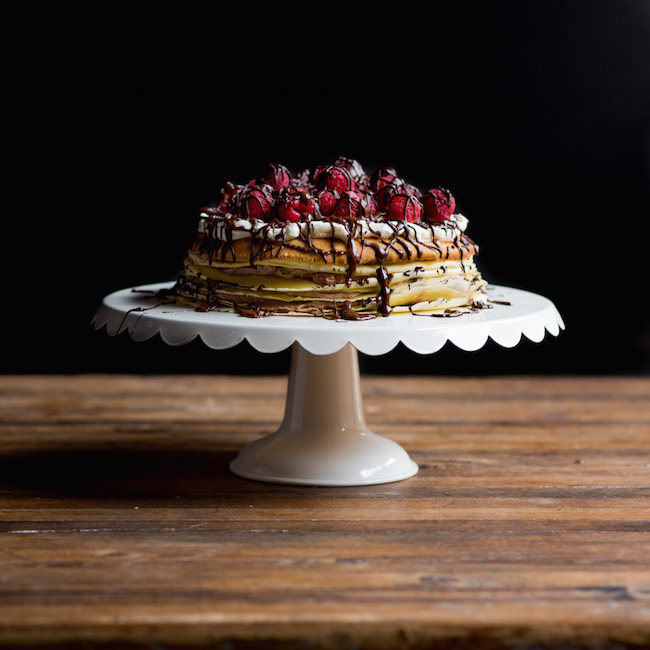 Crêpes, of course, are basically super thin pancake. They're made using a similar batter — though crêpe batter is slightly runnier — and cooked in a frying pan or skillet.
In America, crêpes are most often served at breakfast, but don't let their AM status fool you. This particular recipe takes crêpes to the next level — dessert. Standing at eleven layers high, and smothered in chocolate whipped cream sauce, the crêpe cake packs a formidable breakfast. Luckily, you can prepare it in advance for a holiday brunch, or freeze the leftovers for later.
This recipe comes from our friends at Bob's Red Mill. If you loved this recipe, we think you'll find more that you love in their new FREE class.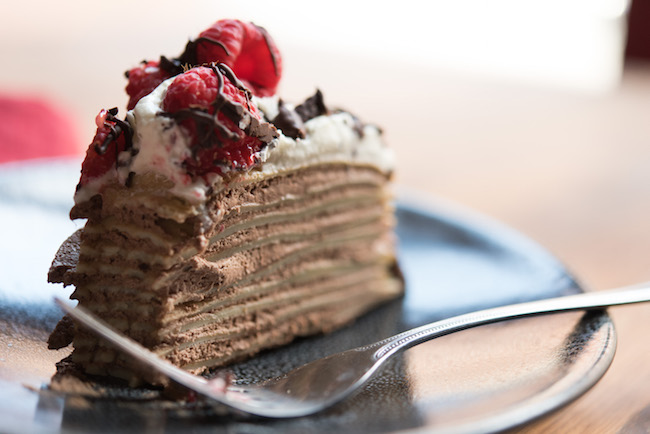 Crêpe cake with chocolate whipped cream
Serves 8 to 10
For the crêpes
6 large eggs
1 cup whole milk
½ cup heavy cream
¼ cup powdered sugar
¼ teaspoon fine sea salt
1 teaspoon pure vanilla extract
1 cup Bob's Red Mill Organic All-Purpose Baking Flour or 1 cup Bob's Red Mill Gluten-Free 1-to-1 Baking Flour
1 teaspoon vegetable oil
For the chocolate whipped cream topping
2½ cups cold heavy cream, divided
1⁄3 cup unsweetened cocoa powder
1⁄3 cup plus 1 tablespoon powdered sugar, divided
2 teaspoons pure vanilla extract, divided
1 tablespoon coffee liqueur (optional)
Fine grain sea salt
4 ounces bittersweet chocolate, finely chopped
6 ounces raspberries
Flaky sea salt, for serving
Making the crêpes
In a blender, combine the eggs, milk, heavy cream, powdered sugar, salt, and vanilla. Blend until smooth. Add the flour and blend again until smooth.
Pour the vegetable oil in a 10″ nonstick skillet over low heat. Let the pan preheat for 5-10 minutes.
Once the pan is preheated, increase the heat to medium and let it sit 1 minute longer. Wipe out the oil in the pan. Pour in ¼ cup of the batter and immediately swirl the pan to evenly coat the bottom.
Cook until the edges are browned and the bottom of the crêpe is golden, 30-60 seconds. Using a spatula, loosen the edge of the crêpe, then use your fingers to flip it over. Cook until golden on the other side, about 15 seconds.
Transfer the crêpe to a wire rack. Repeat with rest of batter, stacking the crêpes on top of one another as they're finished. Let the crêpes cool completely.
Make it ahead: The cooled crêpes can be transferred to a large zip-top freezer bag and refrigerated for up to 3 days or frozen for up to 1 month. Defrost the crêpes in the bag at room temperature.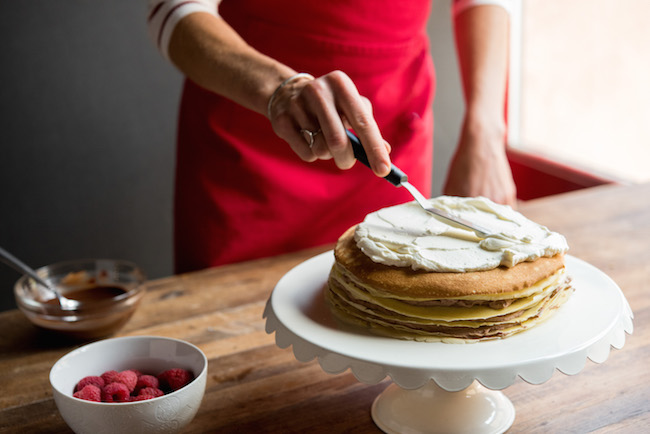 Making the chocolate whipped cream and assembling the cake
In the bowl of a stand mixer fitted with the whisk attachment (or using a handheld electric mixer), combine 2 cups of the heavy cream, the cocoa powder, 1⁄3 cup of the powdered sugar, 1½ teaspoons of the vanilla, coffee liqueur (if using), and a pinch of salt.
Starting at a low setting, beat on medium-high speed, stopping and scraping down the sides
occasionally, until stiff peaks form.
Place a crêpe in the center of a serving platter or plate, and spread it evenly with about 1⁄3 cup of the whipped cream. Continue stacking the crêpes and spreading them with the whipped cream, ending with a crêpe (I usually end up with a stack of about 11 crêpes, with 1 to 2 crêpes left over). Cover the cake with plastic wrap and refrigerate it for at least 4 hours, or up to 1 day.
Before you're ready to serve, place the chocolate in a microwave-safe bowl and microwave it in 30-second intervals, stirring between each, until melted and glossy (alternatively, the chocolate can be melted in a double boiler on the stovetop). Let cool slightly.
Beat the remaining ½ cup of heavy cream with the remaining 1 tablespoon of powdered sugar and ½ teaspoon of vanilla extract until medium peaks form. Scrape the whipped cream onto the cake and spread it gently over the top. Pile the raspberries in the center. Drizzle the melted chocolate over the cake and sprinkle it with flaky sea salt. Cut the cake into slices, and serve