There are many occasions in life that motivate us to show gratitude. Sending a handmade card lets the recipient know not only that you appreciate their gift, friendship or gesture, but also that you were touched enough to put forth extra effort to convey your thankfulness. I have created three creative Thank You cards to provide a bit of inspiration, each showcasing simple cardmaking techniques and details that are sure to be noticed.
#1 Thanks for Everything card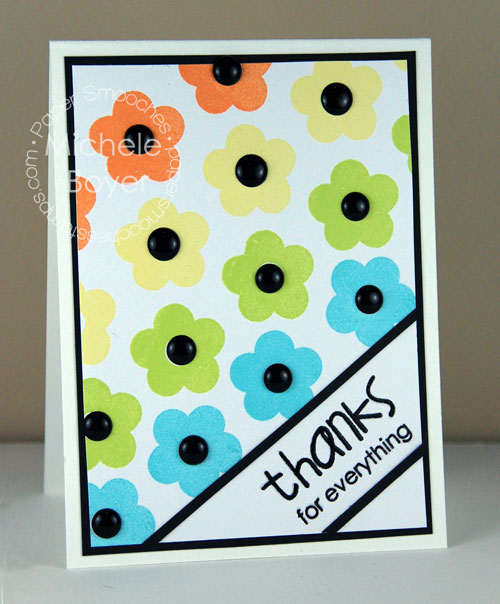 Rainbows of sentiments and images are trendy right now in cardmaking. It may seem difficult to align images or words repeatedly. However, with grid paper and a lined stamp press the task is actually quite easy.

Supplies you'll need:
Image stamp and sentiment (I used Denim & Daisies and Many Thanks by Paper Smooches)
Lined acrylic block or stamp press  (I used a Fiskars Stamp Press)
A rainbow assortment of inks plus black (I used Blu Raspberry, Limelight, Banana Split, Orange Fizz and Black Licorice by My Favorite Things)
White and black card stock
Enamel Dots
Clear embossing powder and heat gun
Adhesive
Step 1:
Determine the angle at which you want your images and/or sentiments. Using removable tape, secure card stock on grid paper at the desired angle. Adhere and ink stamp on press. While aligning the grid on the stamp press with the grid on the paper, stamp your first image. I have used the grid on the press also for spacing my images, leaving one block between each flower.
I consider a stamp press to be another "must-have" stamping tool. The sponge feet allow a bit of wiggle room for perfect alignment every time.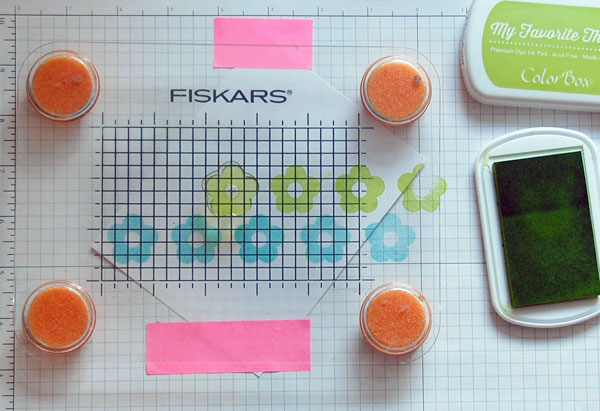 Step 2:
Repeat the process using the other chosen inks. Be sure to stamp images that fall off the edge of the paper as well to create a continuously uniform pattern.
Step 3:
To finish the card, stamp sentiment in lower right corner and clear emboss for a bolder appearance. Add a thin strip of black card stock above and below the sentiment. Mat assembled piece onto black card stock and adhere to a white card base. Add dimension by adhering a black enamel dot in the center of each flower.
#2 THANKS Much Appreciated card

Raising a die-cut element, leaving the colored card stock below to show, is an easy way to add interesting detail to your heartfelt message.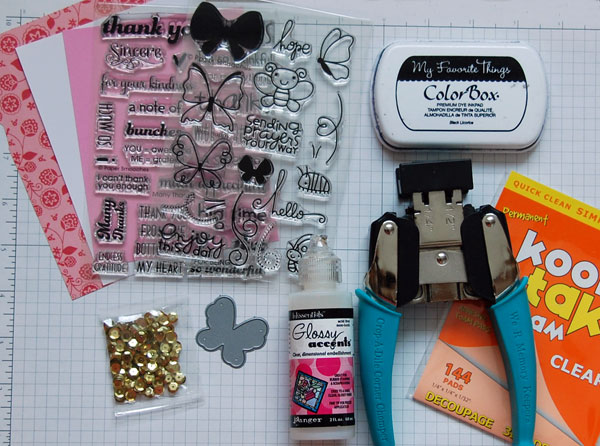 Supplies you'll need:
Image stamp with coordinating die and sentiment (I used Flap Happy and Many Thanks stamp sets as well as Butterflies 1 die by Paper Smooches)
Black ink
Pink and white card stock
Gold sequins
Foam squares
Corner rounder punch
Adhesive (I used Glossy Accents to adhere sequins)
Step 1:
Cut pink and white panels to size and round corners. Stamp one butterfly and sentiment. Secure die in desired location using removable tape and die-cut image.
Step 2:
Stamp image twice onto patterned paper. Cut out images, cutting as close to outer edges as possible.
Step 3:
Adhere one patterned butterfly to stamped image. Adhere second butterfly to white die-cut.
Step 4:
Adhere white panel to pink. Slightly fold up butterfly wings. Adhere two layers of foam squares to top and bottom edges of wings. Apply adhesive to center.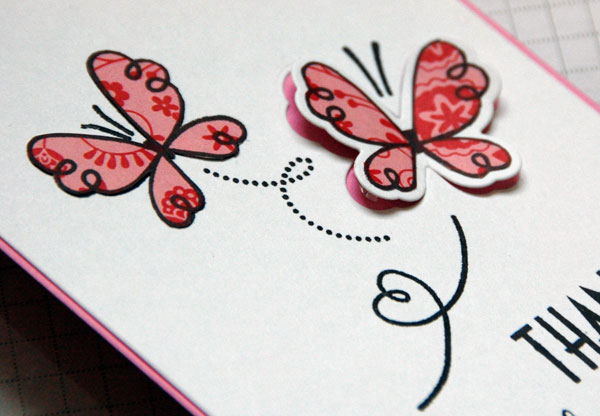 Step 5:
Adhere butterfly to open die-cut area, pressing firmly in the center and holding until glue adheres securely.
Step 6:
To finish the card, stamp antennae and flight trails. Adhere sequins using clear liquid glue. Adhere assembled panel to card base.
#3 Thank YOU card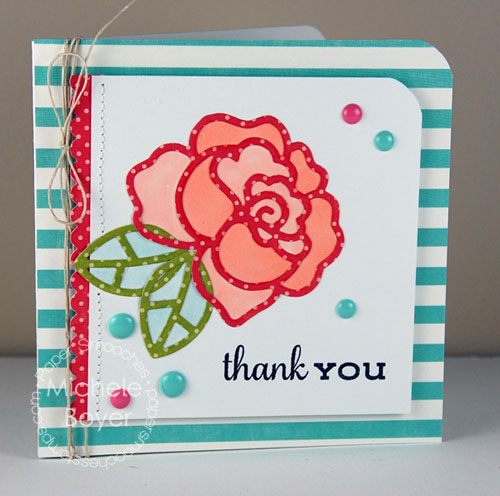 Create an appearance of multiple shades of color using only one marker.
Supplies you'll need:
Open flower and leaf dies, scallop border die (I used Roses and Borders 2 dies by Paper Smooches)
Sentiment stamp (I used Lovely Thoughts by Paper Smooches)
Black hybrid ink
White card stock
Patterned paper
Markers (I used Copic BG70 and R01)
Hemp cord
Enamel dots
Foam tape
Corner rounder
Adhesive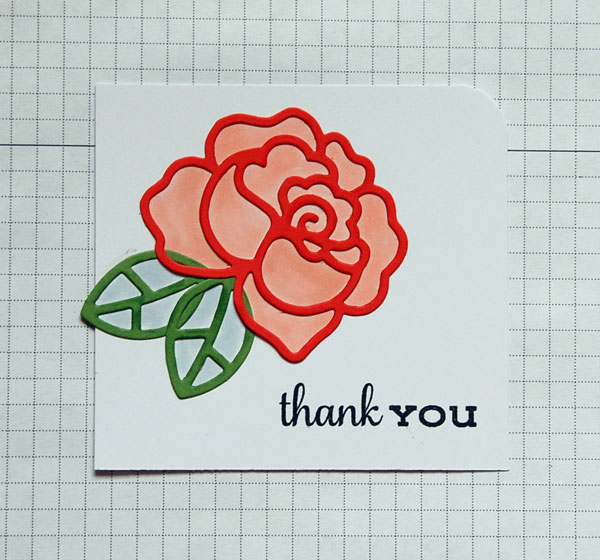 Step 1:
Cut white panel to size and round upper right corner. Stamp sentiment in lower right corner. Die-cut flower and leaves and adhere to panel. Color leaf openings with light blue/green marker and flower with coral marker.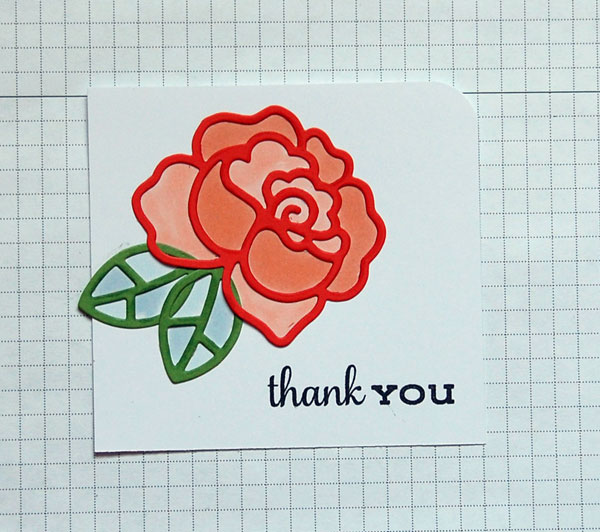 Step 2:
Continue to layer marker color over selected areas until desired shade is achieved. The difference in color will be more prominent with higher pigment colors.
Step 3:
To finish the card, add an extra touch of "handmade" by stitching a straight line along the left edge. Die-cut and adhere dotted scalloped border. Apply foam tape to back and adhere to striped panel. Tie hemp, attach enamel dots and adhere to card base, rounding upper right corner to finish.
Never give a boring Thank You card again!
Enjoy expert instruction from cardmaker Kimber McGray as you learn versatile techniques for unique cards in her online Craftsy class Cardmaking Essentials: Thank You Cards.
Sign Me Up!
What makes online Craftsy classes great?
Learn for life! With lifetime access to your classes, you can watch lessons at your preferred pace and easily revisit your favorite concepts with just a click.
Kick up your feet! Enjoy classes anytime from the convenience of your home or even on-the-go with our mobile apps.
Get personalized guidance! Ask your instructor questions to receive all the answers and feedback you need to succeed.
Love it! There's no risk in trying with our 100% money back guarantee.