Have you ever turned your well-loved tees into a memory quilt? In researching for my latest book, The T-Shirt Quilt Book, I came across lots of unique T-shirt quilt ideas, and several quilters contributed original patterns for the book. I found that making a T-shirt quilt is a labor of love, but anyone can do it — even if it is their first quilt! When choosing your pattern, inspiration is everywhere, including projects from these Craftsy members.
Looking for some great T-shirt quilt ideas? Check these out!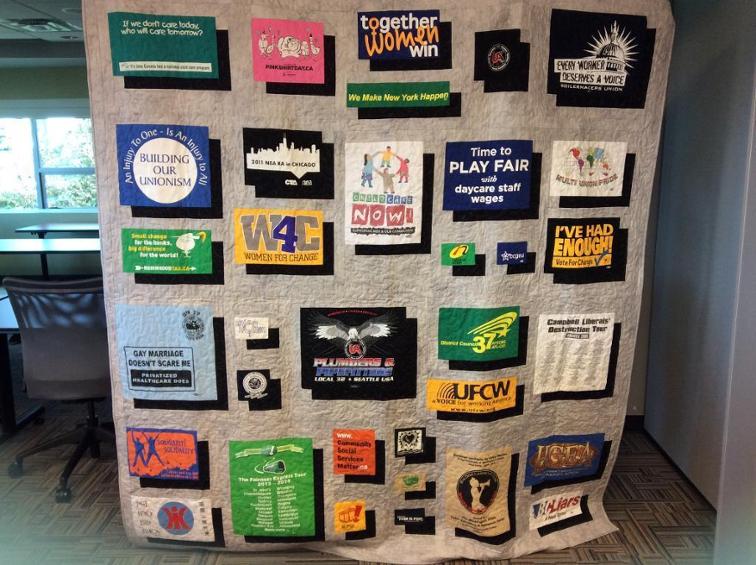 Photo via Craftsy member fabricstasher12
1. Use shadow boxes
With a contrasting black "shadow" sitting below bright colored T-shirt blocks, this quilt was pieced with help from Winnie Fleming's online class, The Ultimate T-Shirt Quilt. It takes a little bit of math work to get the squares to line up just right, but the payoff is huge!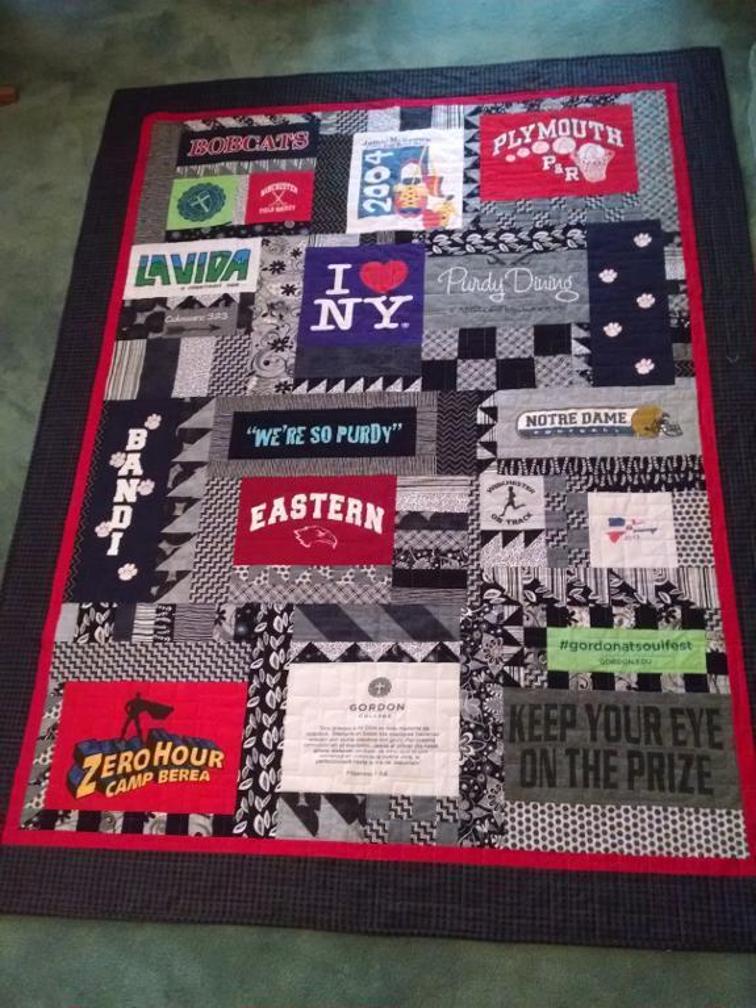 Photo via Craftsy member labandi8776914
2. Go crazy with patchwork
Who says that all the blocks have to be squares and rectangles? Take this T-shirt quilt idea for a spin, by piecing striped, checkered and zig-zag sashing to make your shirt blocks really pop!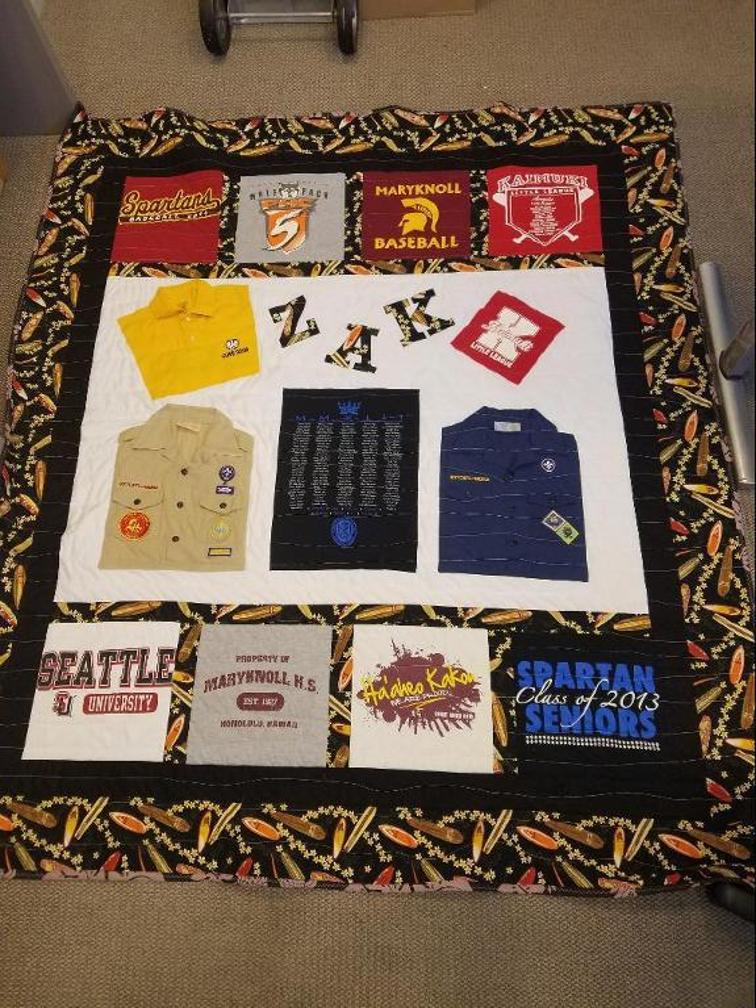 Photo via Craftsy member eoda1259
3. Keep shirt collars on
This graduation T-shirt quilt has some wow factor in the center, with several shirts retaining their original collars. To get this effect, trim the shirt as normal, except for the collared side. Piece the shirt into the background fabric, and baste the collar down on your background before quilting. Be sure to avoid any buttons with your free-motion foot!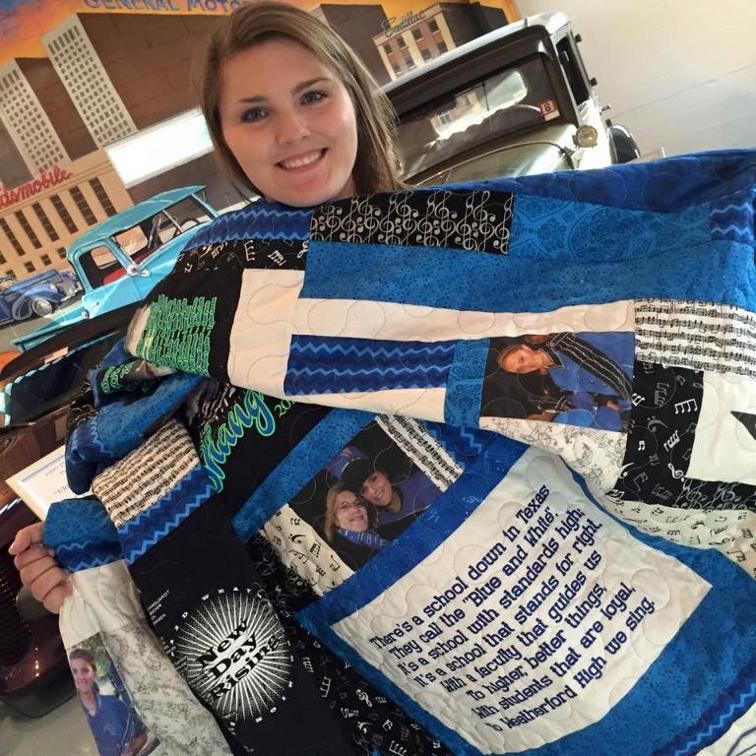 Photo via Craftsy member Cindy Ross
4. Incorporate photos on fabric
For her granddaughter's high school band T-shirt quilt, Cindy incorporated photos of treasured friends. Many products are available to help you transfer photos onto fabric, such as printable fabric sheets and iron-on transfers.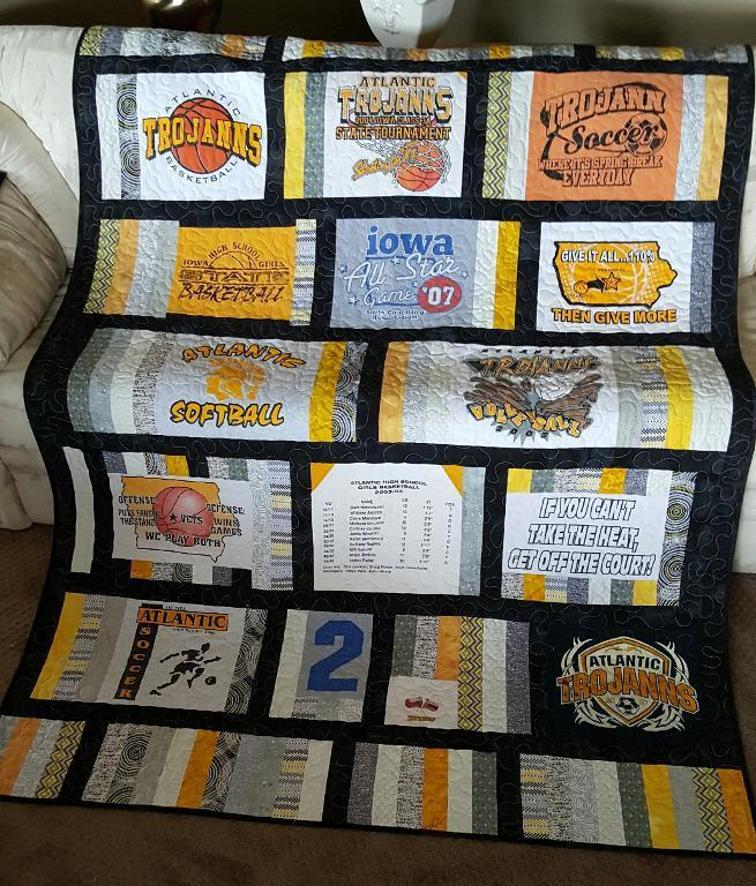 Photo via Craftsy member ncsouth760436
5. Extend shirt blocks with pieced strips
One neat way to get a uniform look in your T-shirt quilt is using two or three consistent colors across the board. This yellow, black and white quilt stands out thanks to its bold use of pieced strips to extend the shirt blocks horizontally. In this example, all of the quilt blocks are nearly the same height, but the strips help vary the widths.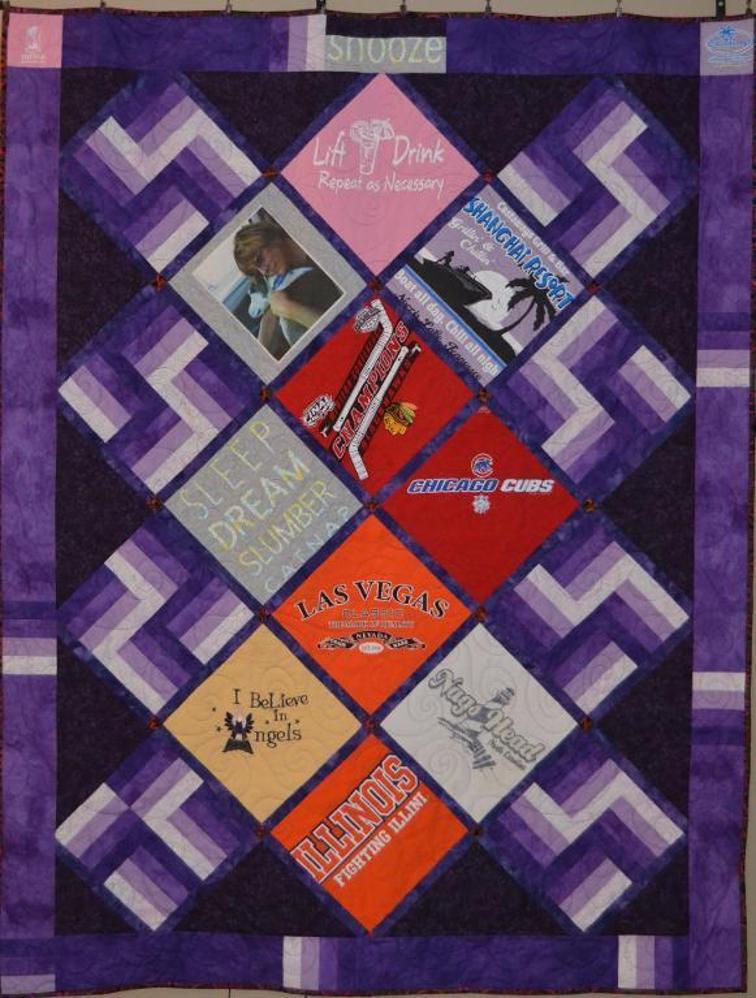 Photo via Craftsy member Adelines Quilts
6. Turn blocks on point
Get a change of perspective with these on-point quilt blocks, which guide your eye every direction around the quilt. Add an array of ombré solids, like these pretty purples, in a classic block like the rail fence to make a larger quilt from just a few special shirts.