Did you know August 10th is National S'mores Day? It's true. America's deep love of the campfire treat is official and on the record.
Nobody is quite sure how the campfire confections composed of melted marshmallow and chocolate sandwiched by graham crackers entered our orbit. It's mostly an anecdotal recipe, passed on by word of mouth, likely even before a recipe surfaced in the first publication of the Girl Scout handbook called Tramping and Trailing with the Girl Scout in 1927.
What is not in question, though, is that the concept of the s'more quickly transcended mere Girl or Boy Scout outings, becoming a treat enjoyed by all ages, at any time of the year, whether served at an outdoor cookout, or made in the microwave or toaster oven.
In celebration of National S'mores Day, here are several ideas for toasting (get it?) the treat by enjoying it in some creative and unexpected ways.

Get creative with the components
Think a s'more must be composed of marshmallow, chocolate and graham crackers? Think again. Here are some interesting ideas for mixing up your s'mores.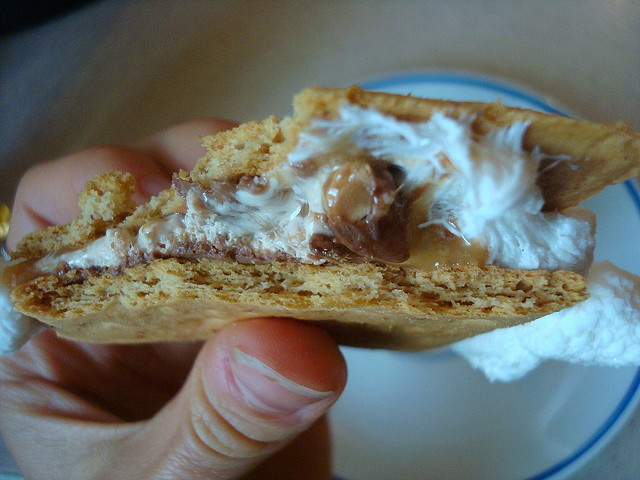 Fun-size candy bar s'mores:
Fun-size just got…well, a lot more fun. Using different flavors of small candy bars instead of the usual plain chocolate squares adds a decadent dimension to your s'mores. After taking a bite of a gooey caramel and nutty Snickers version, for instance, you might never turn back.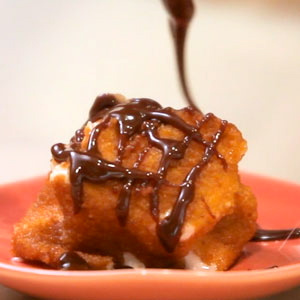 Photo via The Daily South
Deep-fried s'mores:
Instead of mixing up the ingredients of the s'more itself, you could just batter and fry the entire thing. Deep-frying a s'more could be either a big hit, or an "ooey gooey mess," according to writer Norman King. Judging by the indulgent-looking photo, a big hit is more likely. Recipe here.
Rainbow chip cake batter s'mores:
If you don't like marshmallows or don't have them on had, you might want to consider making s'mores with a cake batter dip instead. It might just revolutionize the way you look at s'mores. .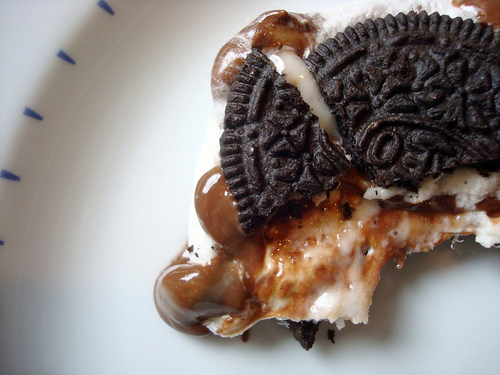 Photo via CakeSpy
S'mOreos:
Owing to the fact that it has the absolute catchiest name, S'mOreos are in a category of their own. Simply twist an Oreo open, and put the usual s'mores fixings in between the wafers (leave the cream on, of course!). The combination of crunchy wafers, creamy filling and melted marshmallows and chocolate simply cannot be beat. Although lacking the cleverness of the name, making s'mores with any number of other types of cookies is tasty, too: shortbread, chocolate chip cookies, sugar cookies, and so on.
Recipes with s'more-inspired flavors
Another way to pay homage to the s'more? Create a more involved recipe that treats the s'more as a flavor muse. Here are a few fine examples: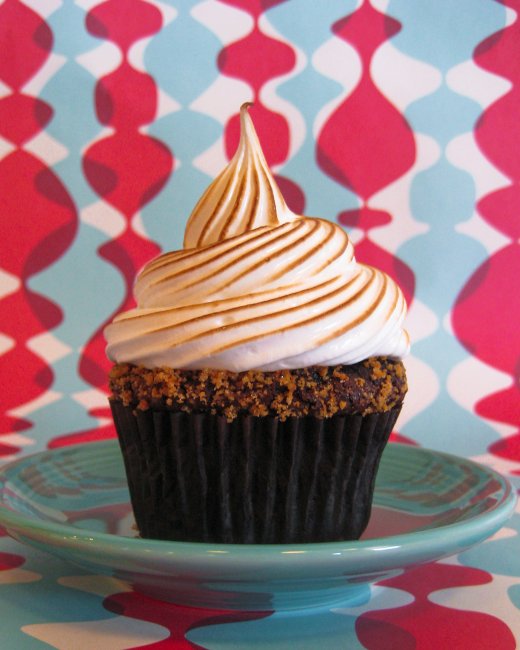 Photo via Trophy Cupcakes
S'more cupcakes:
Crushed graham crackers in the batter. Moist chocolate cake with extra chocolate chunks added. But the real crowning glory, and an oeuvre of cake decorating? A torched marshmallow meringue icing. Wow. Recipe here.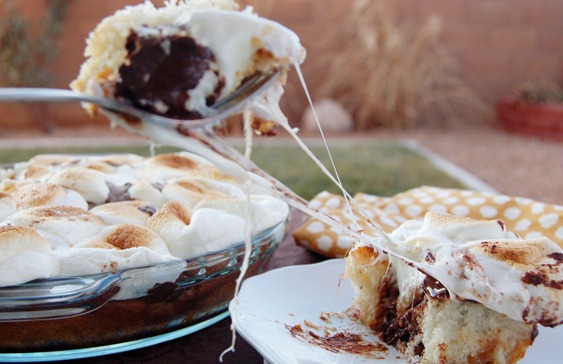 Photo via Steph's Bite by Bite
S'more cinnamon rolls:
These cinnamon rolls are rolled up with the makings of s'mores and then topped with a lightly browned marshmallow crust. The resulting dish is beyond gooey, and also beyond delicious. .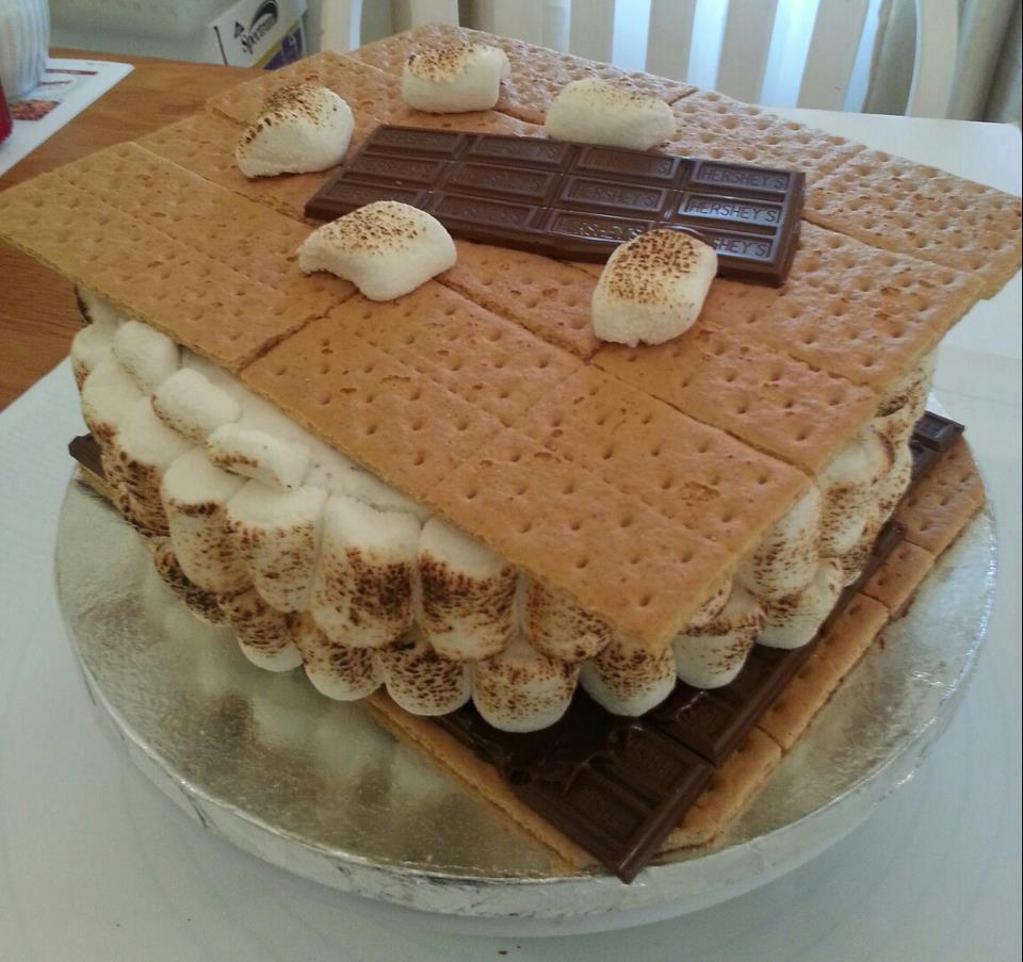 Photo via Craftsy member EthelRose
S'more cake:
If some is good, more is amazing. This cake serves as proof. It's so covered in the makings of s'mores that it's difficult to even see the cake, but it's in there, and it's glorious. .
S'more pie:
There are only five ingredients between you and this chilled, refreshing summer pie inspired by s'mores: a cookie-type graham cracker crust, marshmallows, chocolate pudding, milk and whipped topping. Although you must allow for a healthy amount of chilling time, the recipe itself is almost sinfully easy. Recipe here.
S'more whoopie pies:
Are they cake, cookie or sandwich? How about all three, at once? These whoopie pies will have you jumping for joy with graham-scented cakey cookies acting as bookends to a marshmallow and chocolate filling. Recipe here.
Revolutionize your s'mores by making them handmade
If it ain't broke, don't fix it — but why not try to improve it?
To the s'more purist, switching up ingredients or making something s'more flavored might not be as appealing as just indulging in the real thing.
Here's an idea of how you can celebrate the classic s'more but also make it a new experience entirely: Make the graham crackers and marshmallows by hand. And buy some good chocolate. You might just have a life-changing experience that will — yes — have you begging for s'more!
If this sounds right down your alley, come back to the Craftsy blog tomorrow. We'll be sharing a recipe for homemade graham crackers!
For more campfire cooking inspiration, see our post on getting gourmet around the campfire.
No doubt about it: s'mores are an American classic. Do you think they taste better when they're made by campfire?