What is more welcoming than a handmade gift? Make new neighbors and friends feel right at home by quilting them one of these creative housewarming gift ideas from the Craftsy community — the perfect quilted accessories for any new home!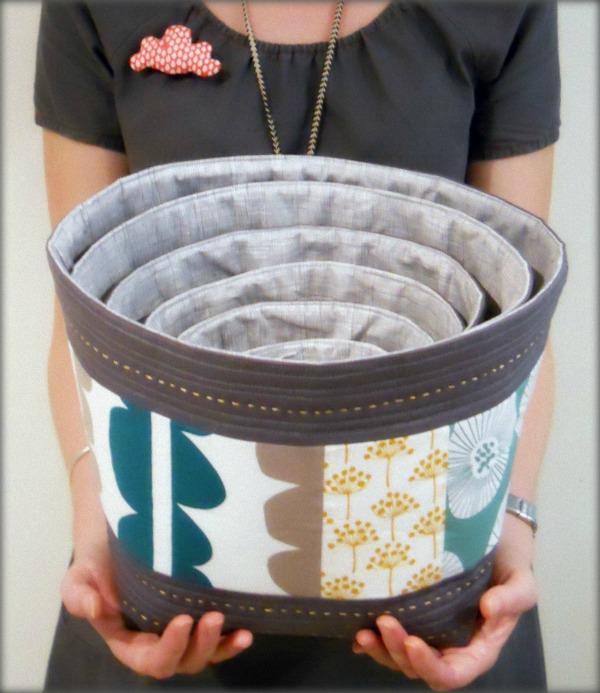 Photo via Nova Flitter
Nesting fabric bowls
Nesting fabrics bowls are ideal for storage. The possibilities are endless! Make a coordinating set out of your favorite fabrics for some storage on your bookshelves, some small ones for the bedside table, or a couple large ones with handles for the toy room. Inside the pattern are lots of ideas for customizing your bowls by adding a feature panel, handles, pockets and straight edges plus the simple-to-use formula to make your own size. Written for beginners and beyond, this is a small project you can truly personalize.
Photo via Modern Vintage
Potholders
Raid your fabric bin and create a beautiful stack of potholders. This PDF pattern is a tutorial that will take you from start to finish in creating your own quilted potholders. There are plenty of detailed pictures and instructions to guide you along.
Photo via aspoonfulofsugar

Decorative pillows
Use the traditional cathedral window design to make a jaw-dropping pillow. This pattern will show you how to make a contemporary pillow that is full of beautiful prints, clean white fabric, and a flange edging. The finished pillow measures 21" square.
Photo via Patchwork Posse
Hot pads
The beloved owl makes an adorable hot pad, doesn't it? The Owl hot pad pincher measures 6" by 6" and is filled with insulated batting, which provides just the right amount of protection from the heat of a pot or pan. Very basic beginner sewing skills are needed, and full-size templates are included for ease of use.
Photo via Saltwater Quilts
Table runners
Create a beautiful table runner for a new neighbor that offers two decor options in one. Simply flip the mini quilt over for a different look at any time! The echo quilting design works effectively with both sides and is simple and elegant. The finished quilt measures 16" by 18", just right for most tables.
Photo via Patchsmith
Mug rugs
Use a combination of patchwork and quick-fuse appliqué to create an adorable mug rug or snack mat for any coffee lover. This pattern is quick to put together and comes with easy-to-follow instructions, color diagrams and full-size appliqué sheet. Sew a couple in an afternoon and keep one for yourself!
Photo via Blissful Patterns
Fabric baskets
A handmade basket full of fruit or flowers would make a lovely gift for a new neighbor. These charming baskets sit flat even when empty and are easy to fill or carry around. Two convenient sizes are included!
Tomorrow on the Craftsy blog we'll share tips for finishing an antique quilt.
What is your favorite handmade housewarming gift? Please share!