You've finished the piecing on the front of your quilt, but what do you do for the back? You could just buy a 90″ or 108″ wide piece to put on the back, sandwich it with the batting and call it a day. And if you're in a hurry, that works! But if you have a bit more time, quilt backs can be another opportunity to let your creativity shine.
Maybe you have some leftover blocks from this project or another one in similar colors. Or maybe you have a yard or two of what I call "what was I thinking?!" fabric — you know, the one that looked so great in the store, but when you got it home, it wasn't quite right. Or perhaps you have some scraps that need a home. It can be great fun to take these otherwise unloved pieces and put them to good use!
Here are some tips and tricks for making creative quilt backs for a shining finished project!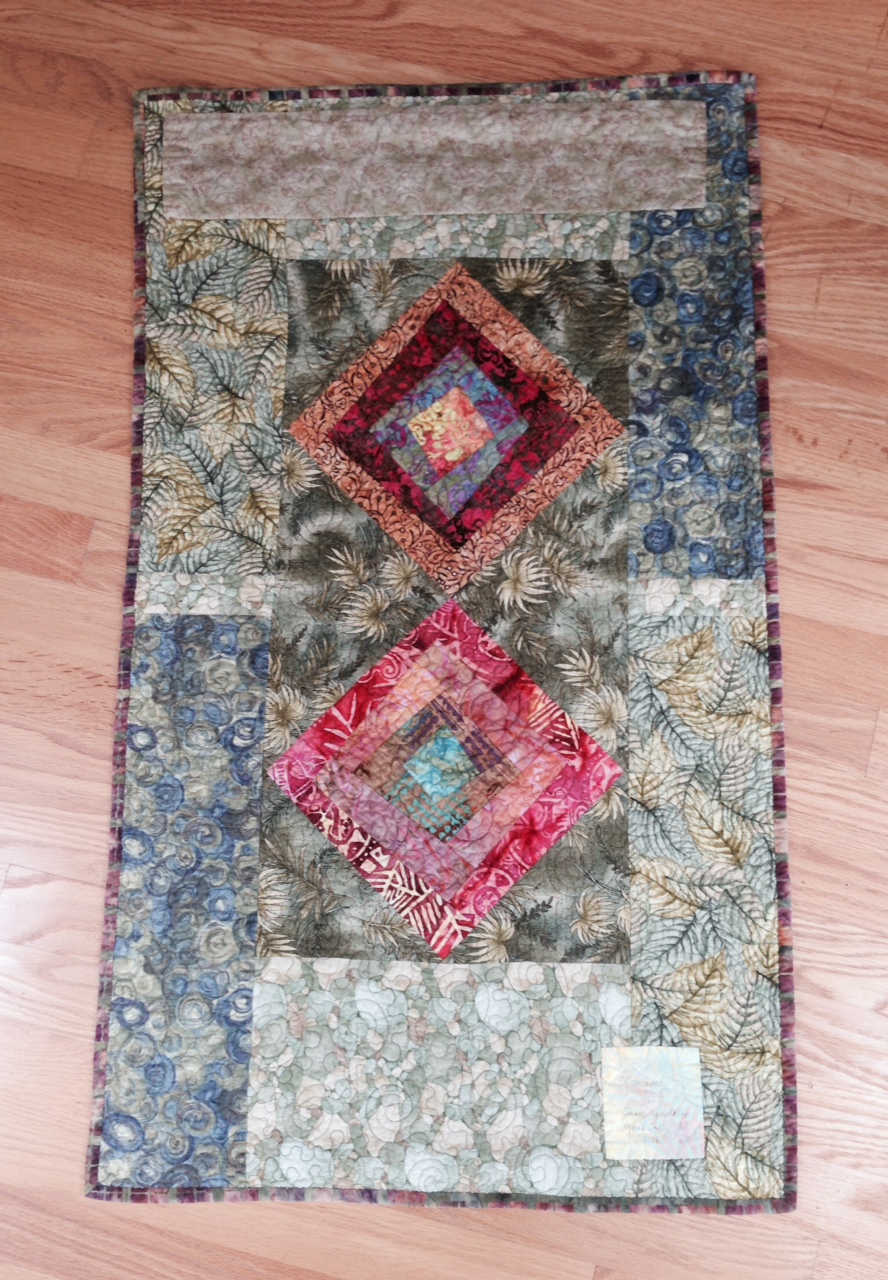 Use your leftovers.
In the quilt back above, I used two blocks leftover from another project that coordinated nicely with the fabrics on the front. Then I went to my stash of olive green fabrics and pulled out several that went well with what I had already, creating an improvisational composition bordering the featured blocks. This quilt was intended to hang in an office doorway with a glass panel, so it could be seen from both sides and the back needed to be something that was related to the front, but interesting in its own right.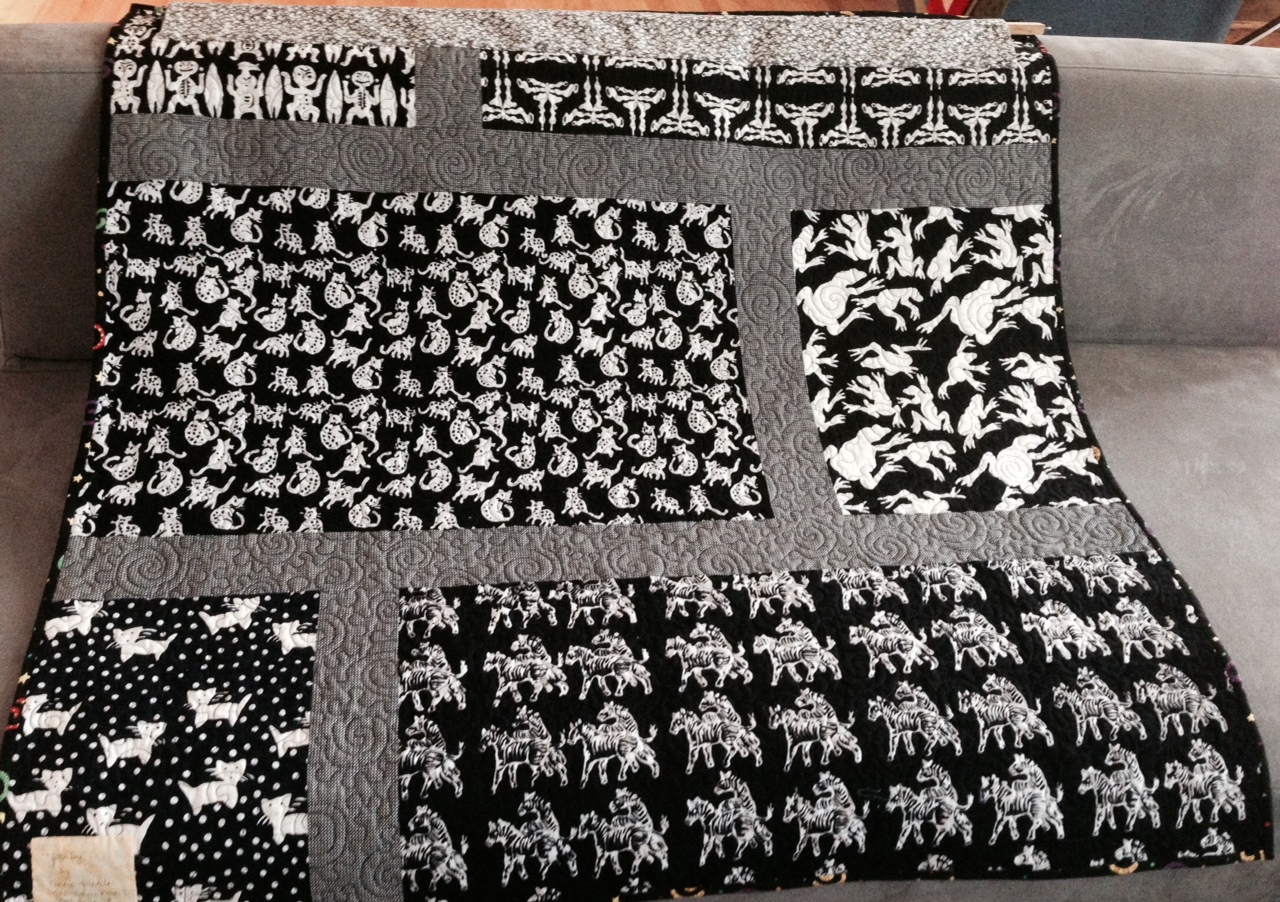 Try large graphic prints.
In the quilt back above, I made good use of a collection of black and white animal batiks I had been collecting without any clear idea what I would do with them. While they don't fall exactly into the "what was I thinking?!" category, they proved to be difficult to use on the front of a quilt. The front of this quilt is really wild, with lots of color and activity. So I wanted the back to be a little more controlled. I kept the pieces large, and separated them with a calming tiny black and white check. I've even had people tell me they like the back of this quilt better than the front!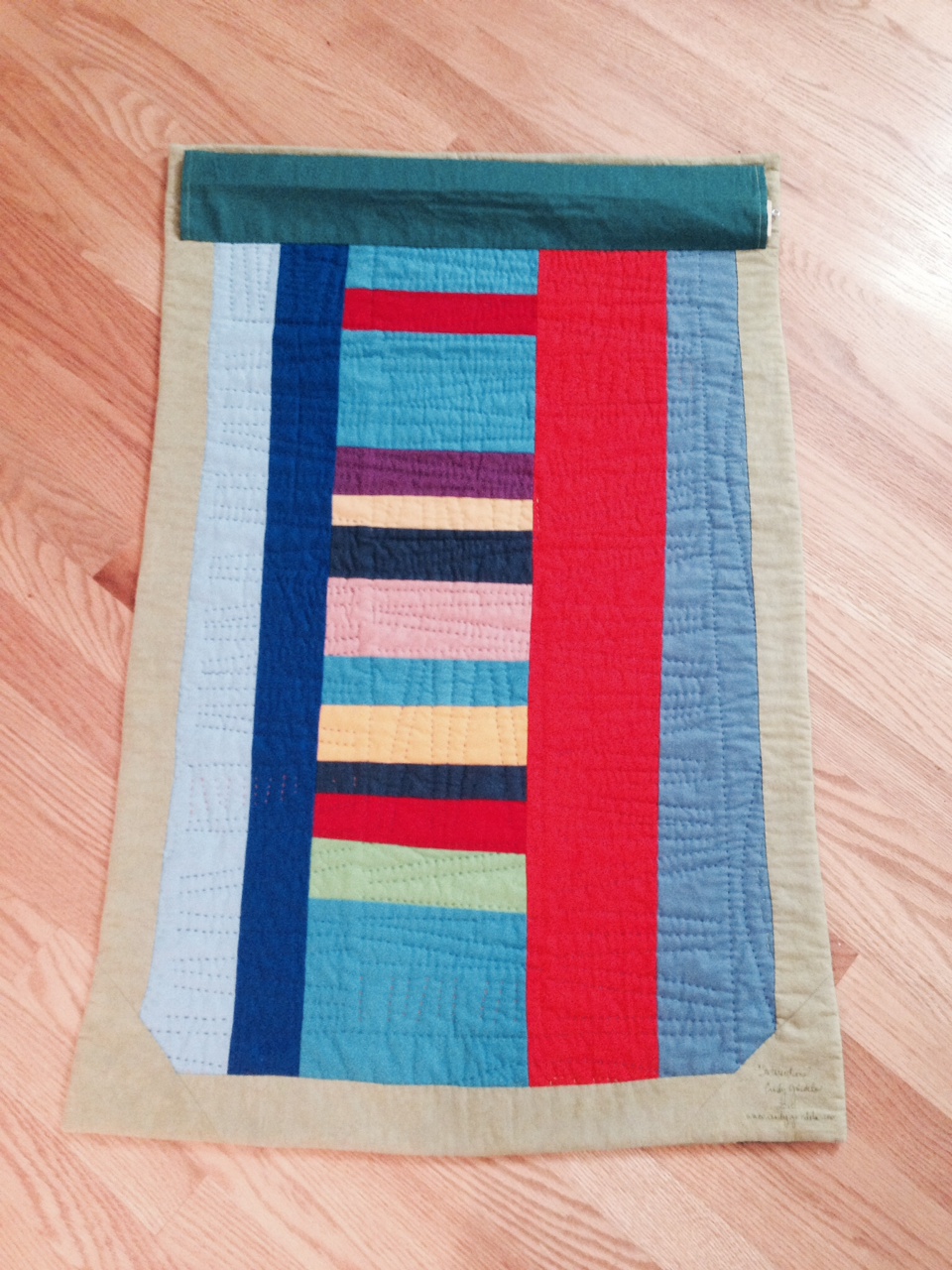 Make it scrappy
Using scraps from the front to make an improvisational backing is another option. This is a good way to experiment with different shapes and color combinations. It can be an "anything goes" type of improvisation or one that is more controlled, as my backing above uses different width stripes in horizontal and vertical lines to create interest.
[box type="shadow"]
Looking for more fun ways to make use of an overflowing fabric stash? Find fun scrap quilting ideas in our FREE PDF quilting eGuide, Save Those Scraps! Creative Uses for Scrap Fabric.
[/box]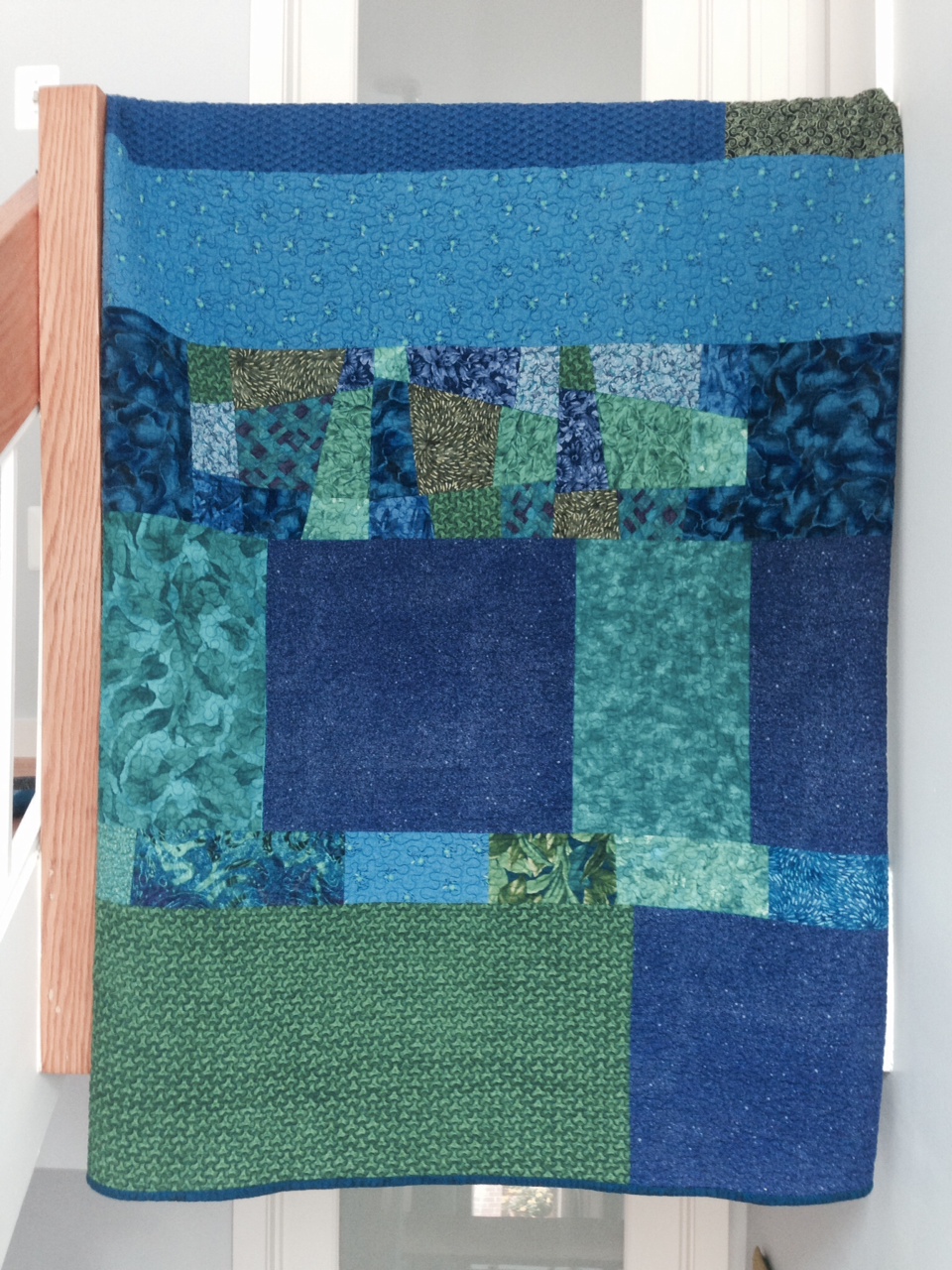 Go with something new.
Or you can create an entirely new composition with your scraps. The quilt back above uses some leftover blocks from the front, combined with chunks of coordinating fabrics to design a creative backing with energy and motion. This one went with my oldest son to college.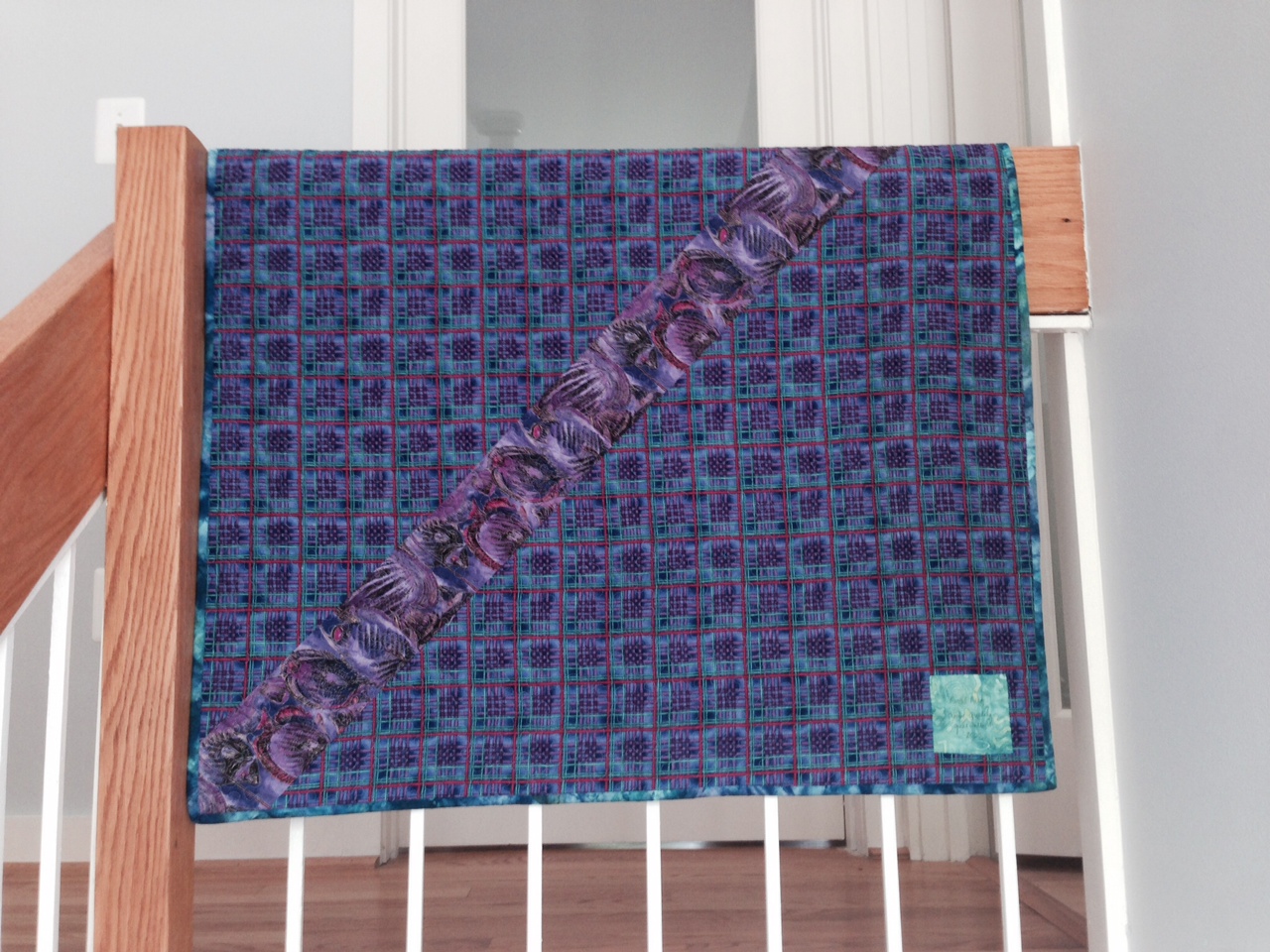 Add a diagonal.
The plaid fabric on this back does fall into the "what was I thinking?!" category. I didn't have quite enough of it to cover the entire back, so I enlarged it with a diagonal stripe of a coordinating fabric from the front. To use this trick, simply cut the larger piece on the diagonal from corner to corner, then insert a strip wide enough to make the backing as large as you need it to be.
Wait, what about the math?
How worried do you have to be about the math involved in making a creative quilt back? The answer is, not very. Unless of course, you enjoy math and you want to make a precise block, like an oversized star, for example.
I'm an improvisational designer, so I tend not to worry about the math too much. When I'm designing a creative quilt back, I usually mark out the size I want the back to be with tape or pins on my design wall. Then I lay the blocks and shapes out to fill that space. As I sew the pieces together, I continually recheck the size against the markings on the design wall to make sure I'm on the right track. If it's not large enough, I add another section.
Most backings should be up to 4″ larger than the finished top all the way around, depending on whether you're quilting it yourself or sending it out to be quilted. If you're sending it out, always check with the longarm quilter to see what size the backing should be so it can be loaded easily for quilting.
Remember, in most cases a creative back is just for fun. You'll know it's there, and it will give a nice surprise to anyone who sees it, so why not try something new? The process may give you an idea to use on the front next time!
Do you use creative backs on your quilts? What's your favorite way to do it?