Doughnut worry…be happy! It's certainly easy to keep smile on your face when you've got a doughnut in your hand. But what type of doughnut do you favor? In recent years, all sorts of creative interpretations of the doughnut have appeared in recipes in books, blogs, and in retail stores.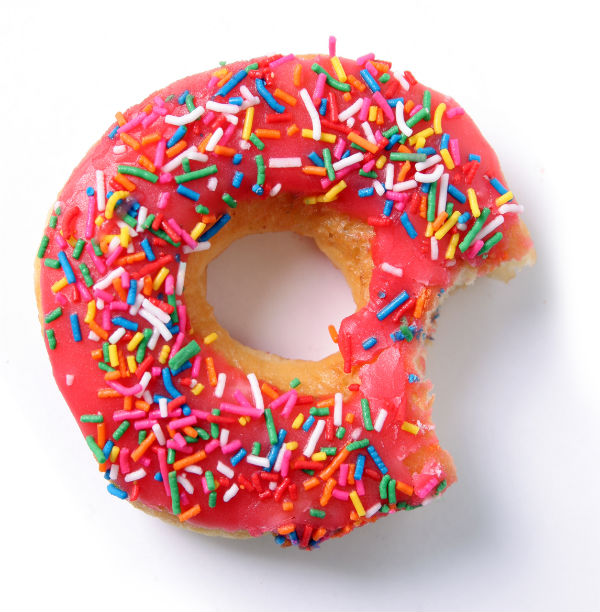 Gettin' Creative with the Dough
Ranging from the use of unusual flavors such as bacon or even spam in doughnuts, to interesting uses for the holey treats such as using them for French toast or even ice cream sandwiches, or making them from croissants, it seems that doughnuts are the medium of choice for creative fans of food and cooking.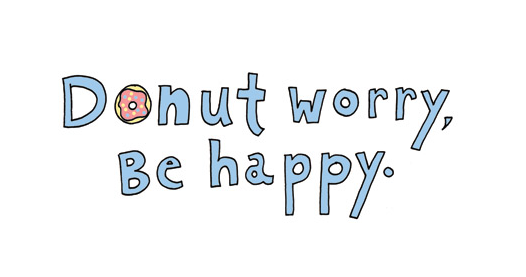 All photos via CakeSpy.com unless otherwise noted.
[box type="shadow"]
After reading this post, you may want to test your own doughnut creativity. Get started with this tutorial on how to make doughnuts at home, then set your imagination loose! Doughnut forget to share your projects on Bluprint![/box]
You doughnut have to worry about finding inspiration with creative doughnuts like these.
Bacon doughnuts:
Does bacon make everything better? In the case of doughnuts, the answer is yes based on the incredible newfound popularity of bacon doughnuts. Bacon paired with a maple glaze or icing in particular is a popular flavor profile, as it calls to mind that delicious bite of maple frosting that meets bacon on the breakfast plate.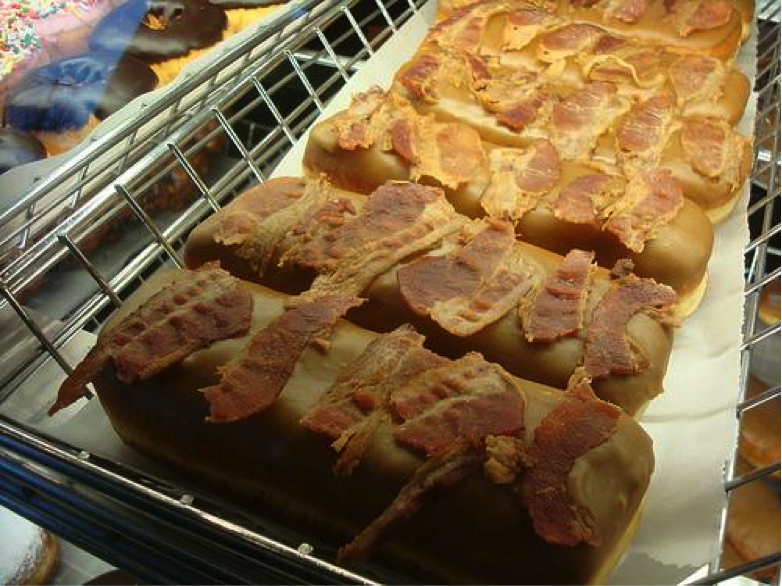 Bar snack doughnuts:
Start out with a chocolate doughnut, then coat it with caramel glaze. Then top it with an assemblage of snack foods inspired by bar snacks: pretzels, peanuts, M&Ms, and potato chips. This treat was dreamed up by Glazed and Infused in Chicago.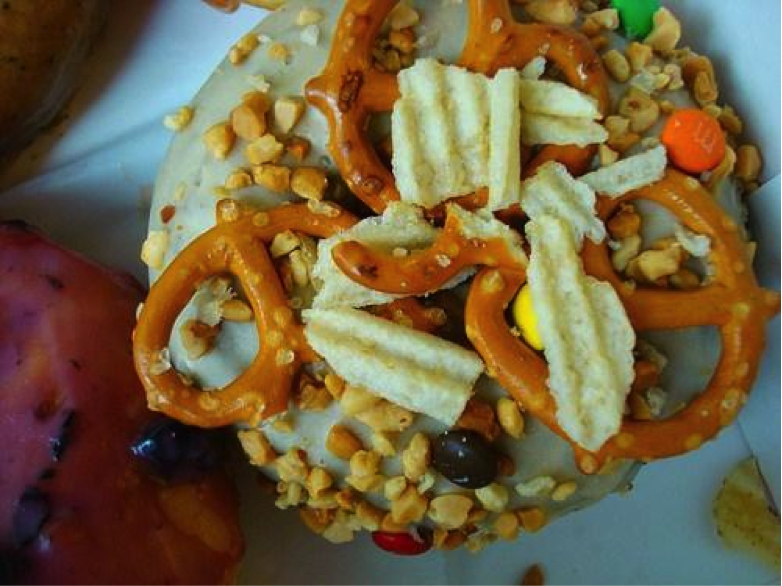 Biscuit doughnuts:
Go from zero to doughnuts in less than fifteen minutes–all you need is a tube of ready-made biscuits from the refrigerated section of your grocery store. As for the recipe? Cut a hole from the center, fry in hot oil, and voila–doughnuts! Top them with whatever your favorite flavors might be for a satisfying doughnut treat.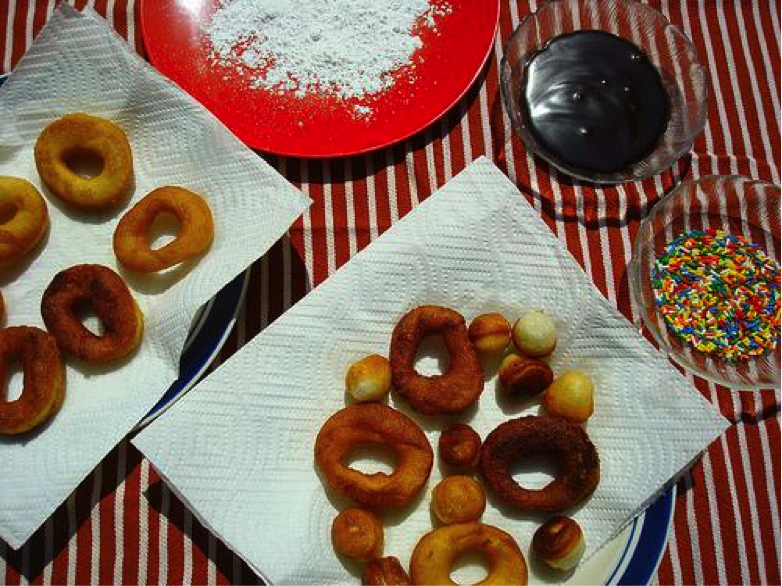 Cereal doughnuts:
Doughnuts and cereal are both popular morning sweets. So why not bring them together? That's the idea behind these cereal doughnuts, which are gaining in popularity at doughnut shops such as Voodoo Donut in Portland, Oregon. Some variations are even made with milk steeped with cereal and garnished with–you guessed it–cereal.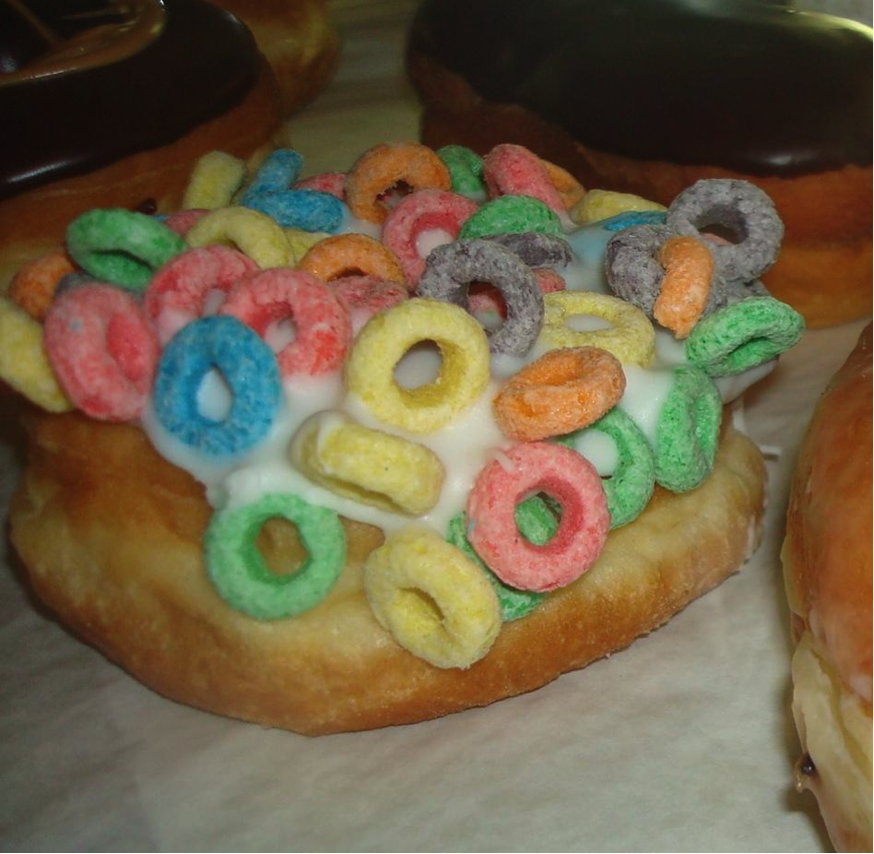 Doughnut French toast:
Two more breakfast classics get combined in one decadent dish. The idea is simple: take your favorite French toast recipe (overnight French toast works, too) but substitute doughnuts for the bread in the recipe. Deliciousness ensues.
Chocolate chip cookie dough glazed doughnuts:
It's a known fact that chocolate chip cookie dough makes just about everything better. Doughnuts are included, as evidenced by these doughnuts glazed with a last meal-worthy chocolate chip cookie dough glaze.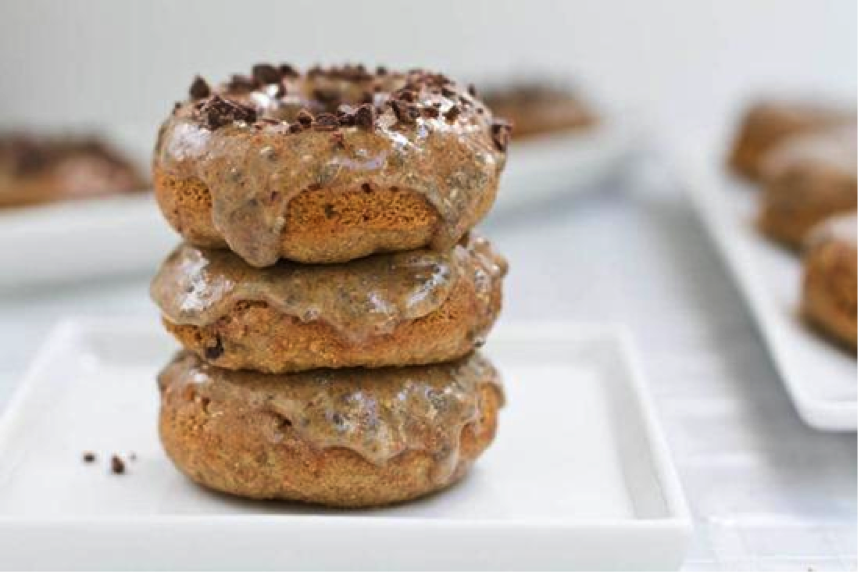 Photo via Oh She Glows
Cronut:
The latest star of the baked goods world? The cronut, which is the love child of doughnut and croissant. Flaky layers of croissant dough are fried and layered with cream for what promises to be a memorable, if not virtuous, treat. Learn to how to make a croissant that's oh-so delicious and buttery right at home, and then just imagine the taste when you turn it into a doughnut. Mmmmm mmmm….mouthwatering!
Doughnut bagel:
Bagels have been called "doughnuts with high self esteem". Well, this treat is extra highly esteemed. It looks like a bagel, but is actually a doughnut. The cream cheese is actually frosting, and those poppy seeds are adhered with melted butter. Oh, yum.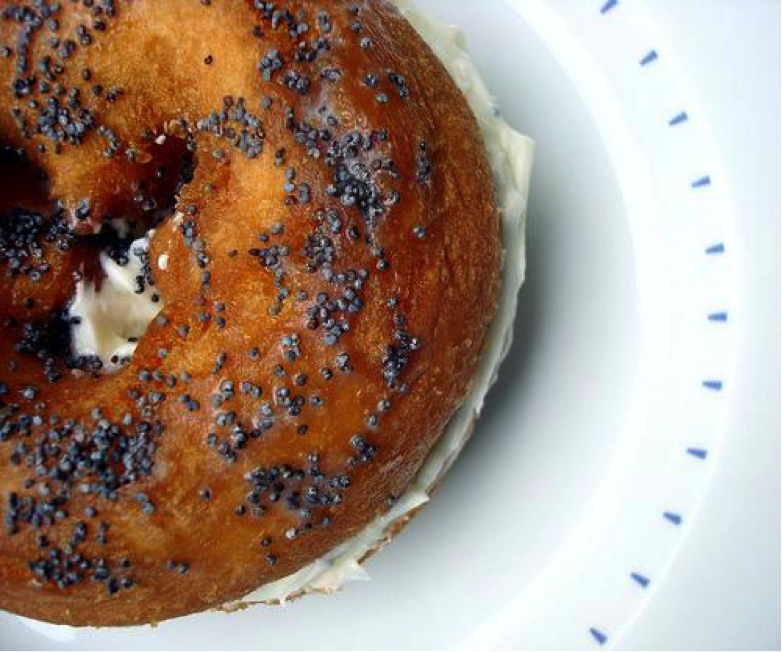 Doughnut burger:
In case the bacon topped doughnut wasn't extreme enough for you…try a doughnut burger. The idea is simple: make burgers. Assemble your toppings. Then put them between, instead of a bun, a doughnut. Salty, sweet, and pretty impressive. Related: the doughnut breakfast sandwich.
Doughnut cookies:
Technically, these are not doughnuts, but visually they'll pass for the real thing. Make doughnuts without frying by simply using a doughnut cutter or a doughnut pan to shape your favorite cutout cookie dough. Decorate with icing and sprinkles and you have a sweet that looks like a doughnut, but that is delicate enough to enjoy all day long.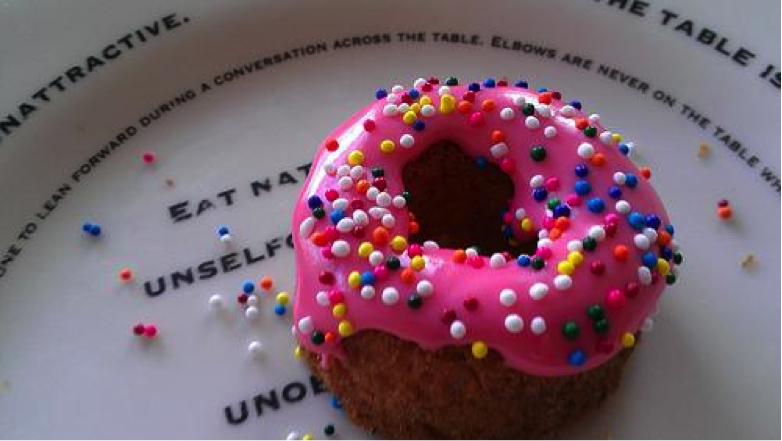 Doughnut hole croquembouche:
No more shall doughnut holes play second fiddle to the main event. In this centerpiece-worthy sweet, doughnut holes are the main event, assembled in rows and coated with glaze to form the most gorgeous (and sweet) croquembouche you've ever seen or tasted.
Doughnut ice cream sandwiches:
Doughnuts become hot weather-friendly with the addition of a little ice cream. It's a treat easily made at home by cutting a doughnut in half, inserting a scoop of ice cream, and either eating immediately or keeping in the freezer until a sweet craving hits.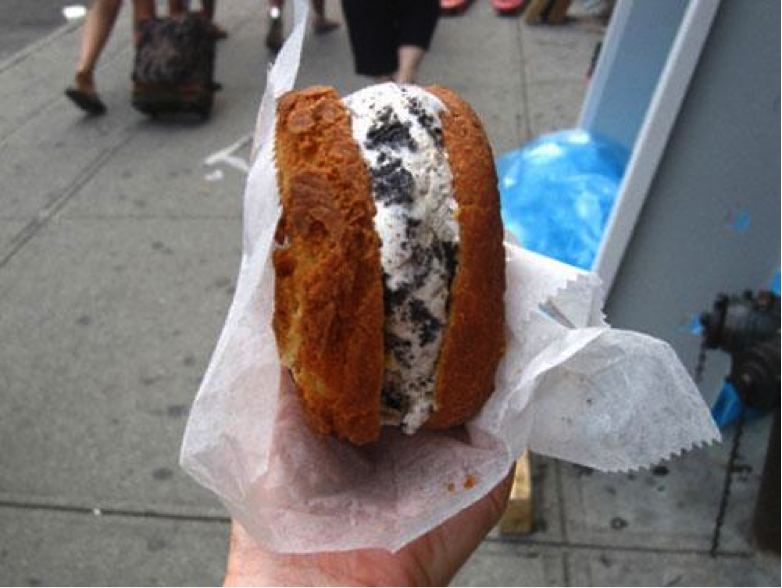 Photo via Robyn Lee
Doughnut pies:
Instead of dough…why not make doughnuts with pie crust? The recipe results in something very decadent and surprisingly delicious: flaky, buttery, and like hand pie meets doughnut.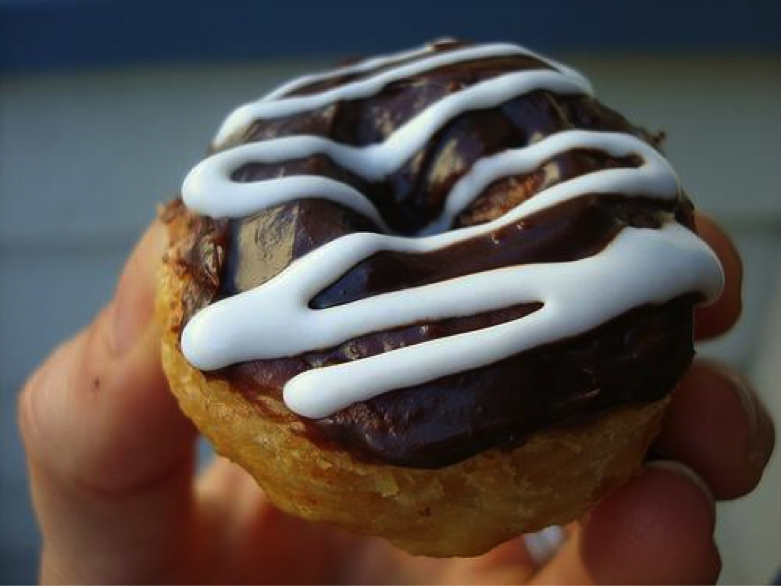 Doughnut shortcake:
Another delicious idea for filling your doughnuts? Prepare all of the fixings for strawberry shortcake, but sandwich them between doughnut halves instead of cake or biscuits. It's a beautiful way to have your cake and eat your doughnut, too.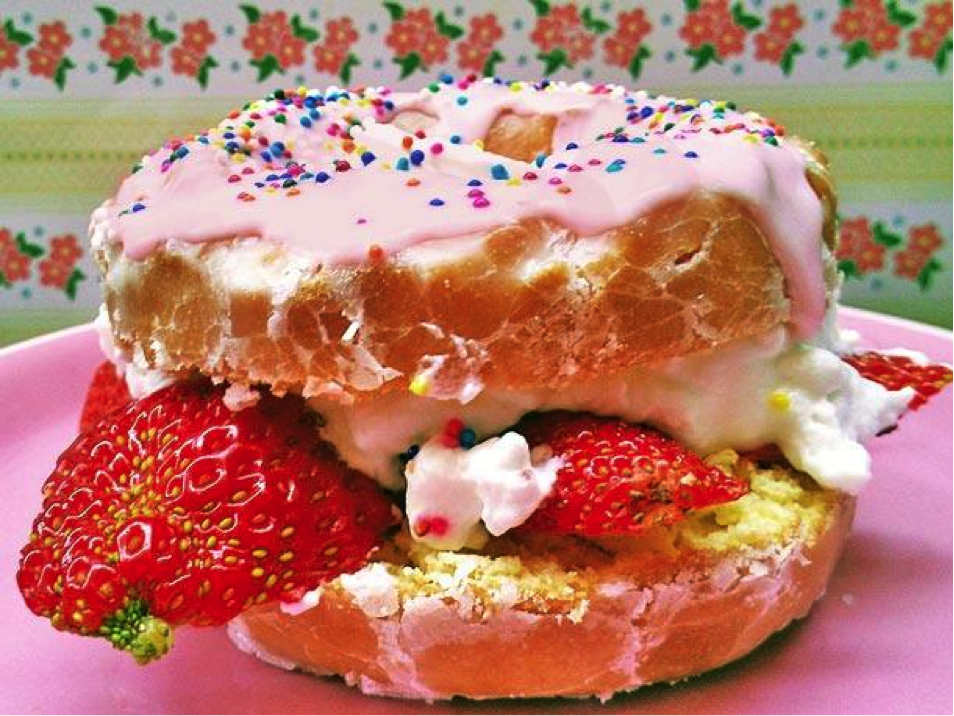 German chocolate doughnut:
Cake doughnut…or just cake? The line is blurred with this creative doughnut served at Rocket Donuts in Bellingham, Washington. It starts with a rich chocolate cake base, which is fried and glazed to perfection, but then topped with the fixings better known from German chocolate cake: a pecan coconut caramel topping, and of course a cherry on top.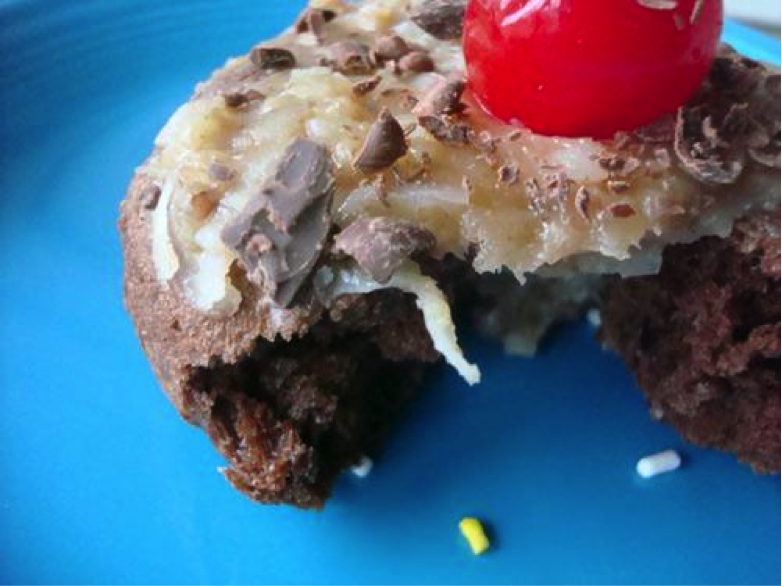 Maple Spam doughnuts:
Spam…and doughnuts? Believe it. This recipe was actually the prize winner at a state fair baking contest! The lightly crunchy, sweet doughnut exterior contrasts with the crisp, crackly fried pork. Finished with a creamy, maple-infused frosting and crunchy SPAM bits on top, it makes for a veritable sea of contrasting textures and sweet and salty flavors—and for an overall wholly enjoyable holey treat.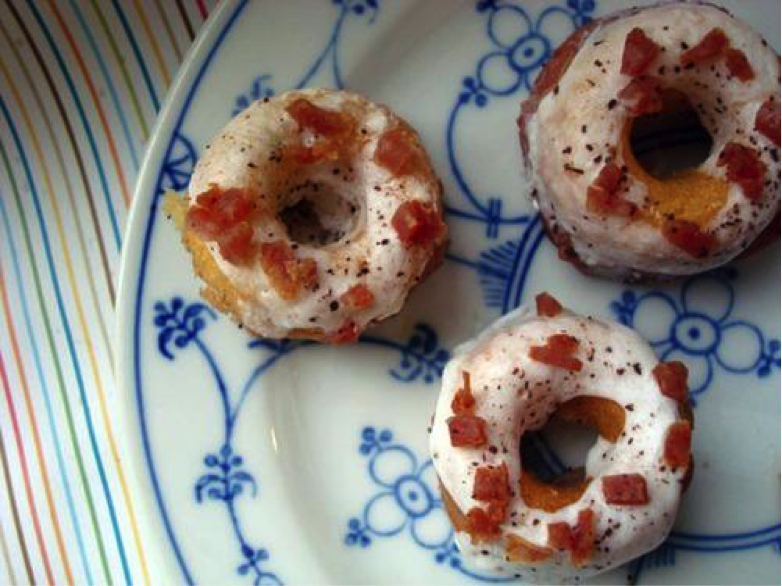 Potato doughnuts:
It used to be that mashed potatoes were added to the mix to "stretch" doughnut dough during times of shortage. But a happy effect is that it also lends a delicious moisture and tender texture to the fried rounds. An interesting recipe to try, and in good company with other unusual cakes.
Red velvet doughnut:
A classic layer cake translates well in doughnut form. Cocoa and plenty of red food coloring contribute to the success of this treat…but of course, a healthy dollop of cream cheese icing piped in the doughnut's holey midsection doesn't hurt.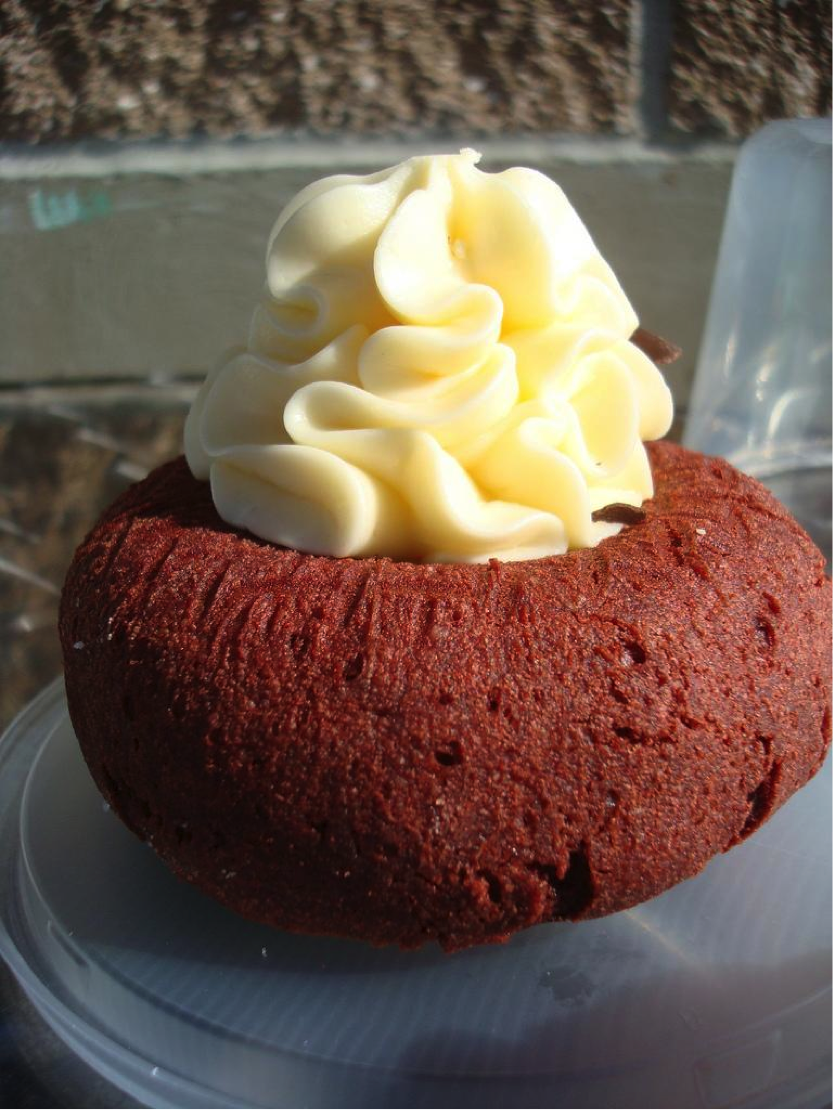 Savory sour cream and onion doughnuts:
Sour cream is a common ingredient in doughnuts. But onion? It sound more like a chip than a doughnut, but it works. As noted on The Kitchn, "The result was a barely sweet, cakey, light doughnut that I couldn't stop eating."
Texas size doughnuts:
Size matters, and in this case, it's very large. No, this doesn't necessarily change the taste of the doughnut, but it does change the experience–every now and again, it's fun to feel like Tom Thumb while holding up a doughnut that is supersized! Although it does beg the question…how big was the pot they used to fry this behemoth?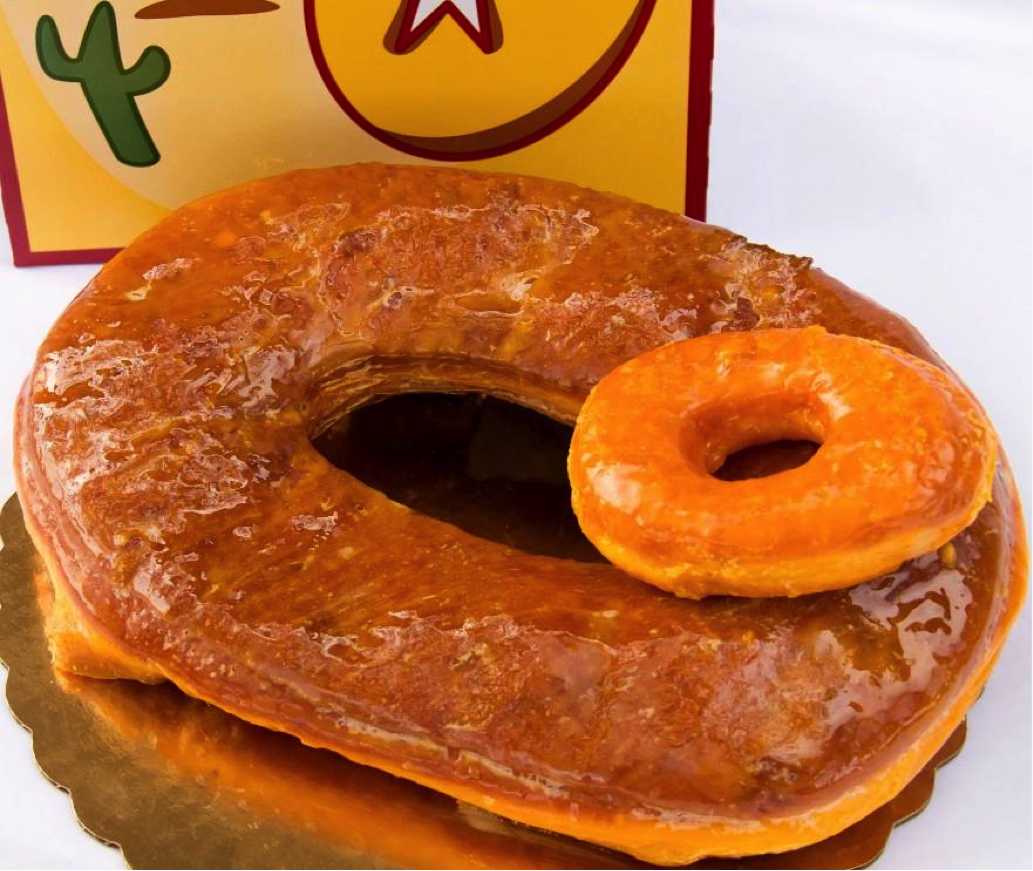 Photo via Round Rock Donuts
Unicorn doughnuts:
There's no hole, but these treats are plenty magical and sweet. Using a cookie cutter to cut doughnut dough before frying yields fun treats in any number of shapes. Naturally, unicorns are a fantastic shape choice. Rainbow themed decoration optional.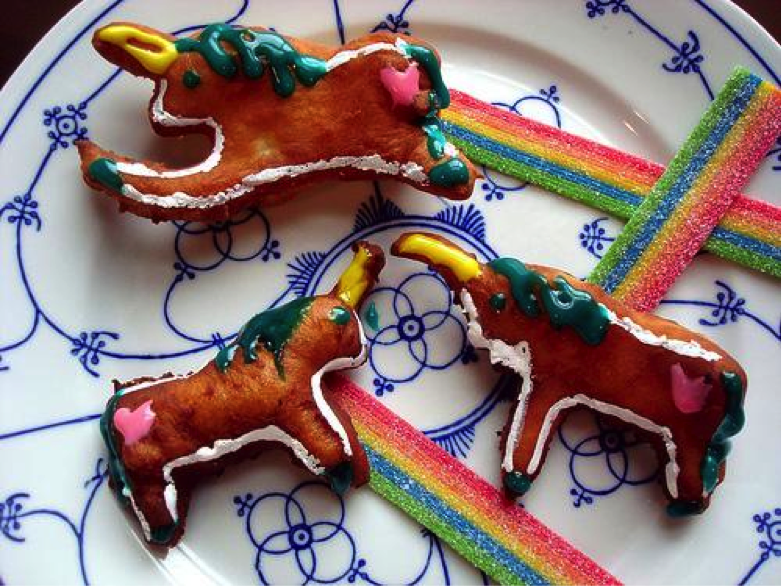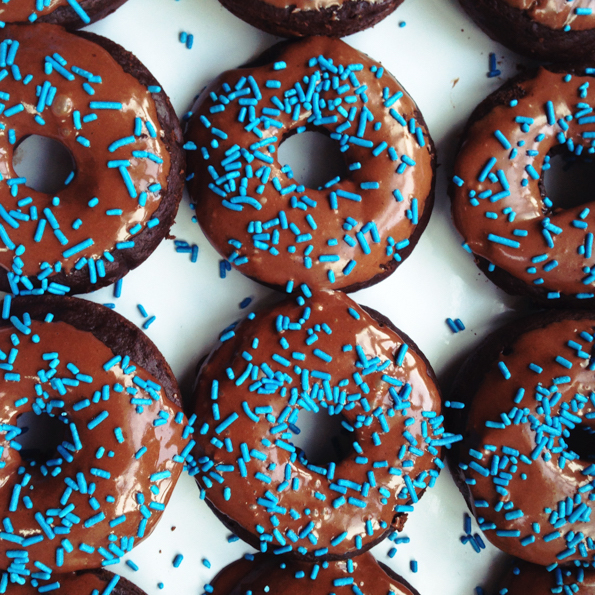 Free Donut Guide!
From decadent classic glazed to deliciously healthy baked, to chocolate, iced and sprinkled, you'll learn everything you need to master the ultimate breakfast pastry.Download Now!