Did you know today is National Doughnut Day in the U.S.? It seems like today and everyday, doughnuts have taken the place of cupcakes as the trendiest treat around. Whether stacked in beautiful, shimmery glazed piles on a tiered stand at an ultra fun wedding, or classically dumped into a hot cup of coffee as a morning pick-me-up, doughnuts are going everywhere, fast! And sometimes, a simple glaze just doughnut cut it…
Happy National Doughnut Day! Here are some pretty doughnut decorating ideas & creative glaze recipes perfect for celebrating this extra sweet day!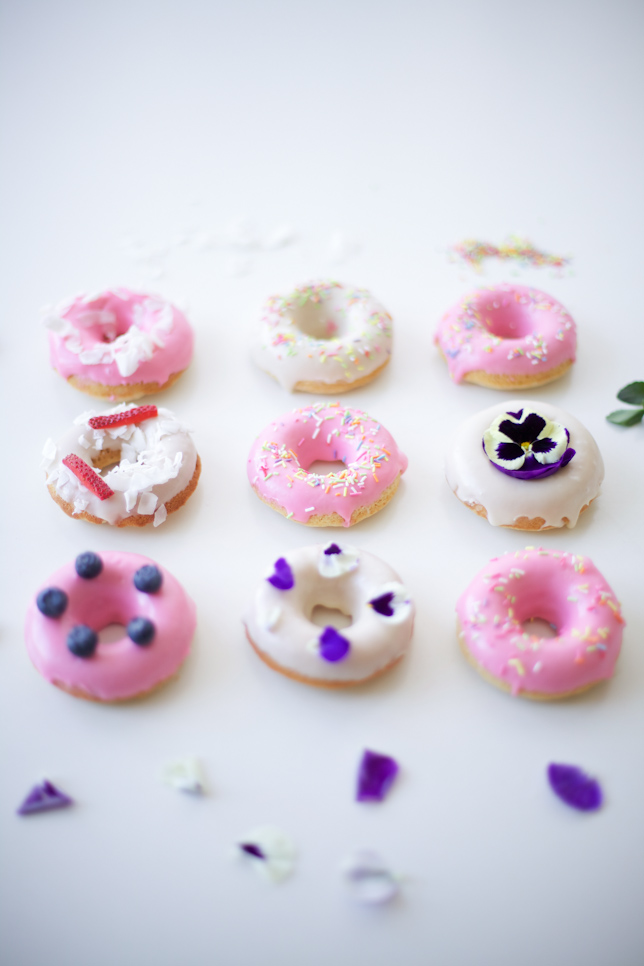 Photos by Lyndsay Sung of Coco Cake Land
You will need:
Fresh baked doughnuts or fried doughnuts
Vanilla milk glaze (recipe below)
Gel food coloring in pink
Bowls for the glaze
Sprinkles
Assorted fresh fruit, such as strawberries and blueberries
White coconut flakes
Fresh, unsprayed edible flowers, such as pansies
Idea #1: a classic glazed doughnut with sprinkles
I call this doughnut the "Homer Simpson" — lightly colored glaze tinted pink with a toothpick's tip worth of gel food coloring.
Simply dunk your cooled doughnuts into a bowl of glaze and before the glaze hardens, sprinkle lightly with rainbow sprinkles of your choice.
Tip: Make sure your bowl is deep enough for a good dipping.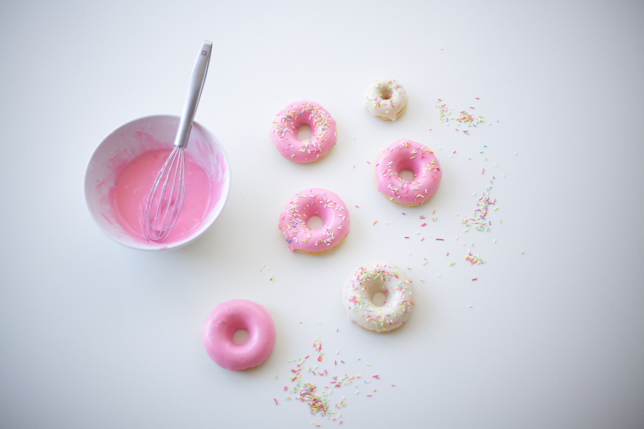 Vanilla cream glaze recipe:
1 cup of sifted icing sugar
5+ teaspoons of heavy cream (add more as needed to create desired consistency)
1 teaspoon pure vanilla extract
Combine all ingredients in a bowl and whisk until smooth. Add gel coloring to your liking — remember, a little gel coloring goes a long way!
Idea #2: fresh flower covered doughnuts
Spring and summer are the perfect seasons to utilize your own garden's bounty for simple yet beautiful doughnut decor! Pretty violet and white hued pansies get plucked and placed on top of just-dunked doughnuts. Make sure your flowers are organic and unsprayed (some specialty supermarkets carry them in the produce section). Of course, you could simply grow your own in your backyard, on a deck or along a windowsill.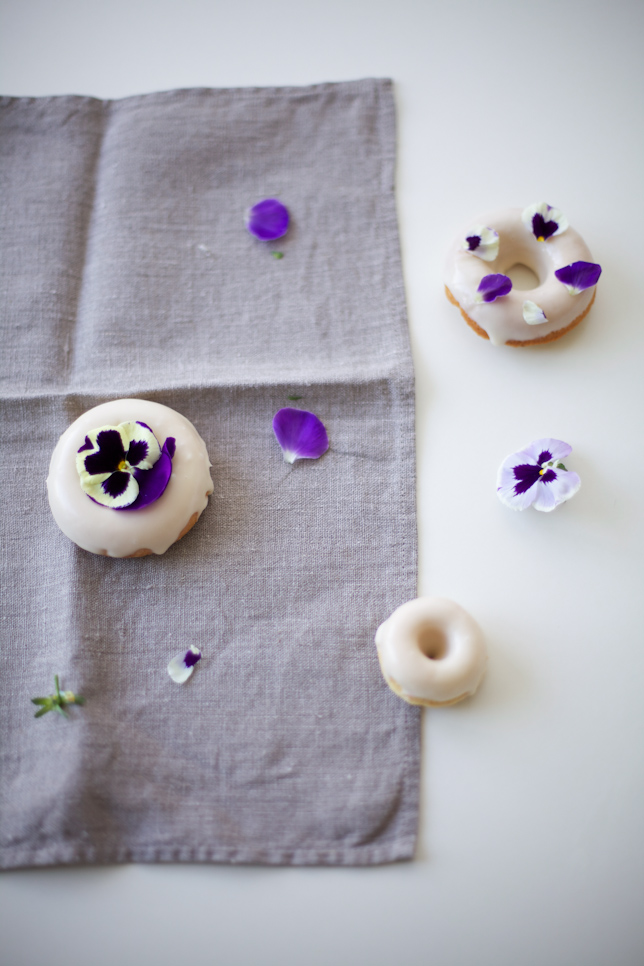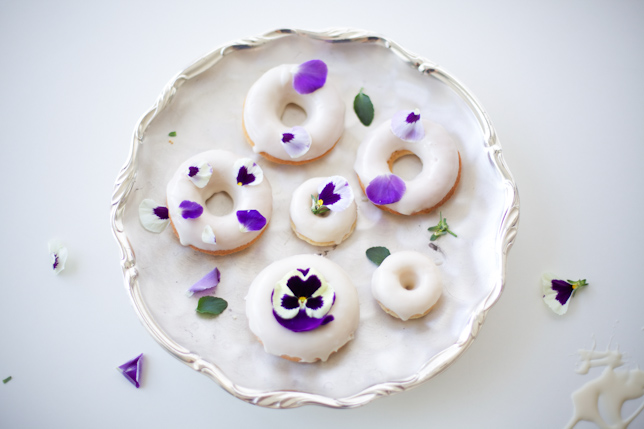 I used whole pansies as well as just the petals. Decorate a vintage plate with leaves and stems for an "au naturel" feel. These would be beautiful for a bridal shower or even a tea party!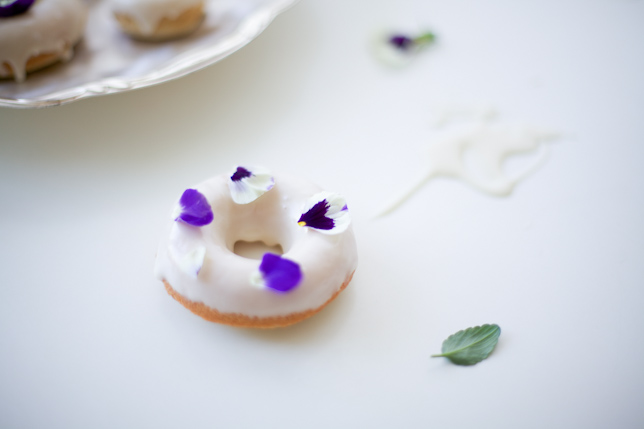 Prettiest doughnuts in town.
Idea #3: coffee glazed doughnuts
This simple coffee cream glaze will have you eating the glaze with a spoon! A snap to prepare, it's also perfect over vanilla pound cake for a tea-time treat.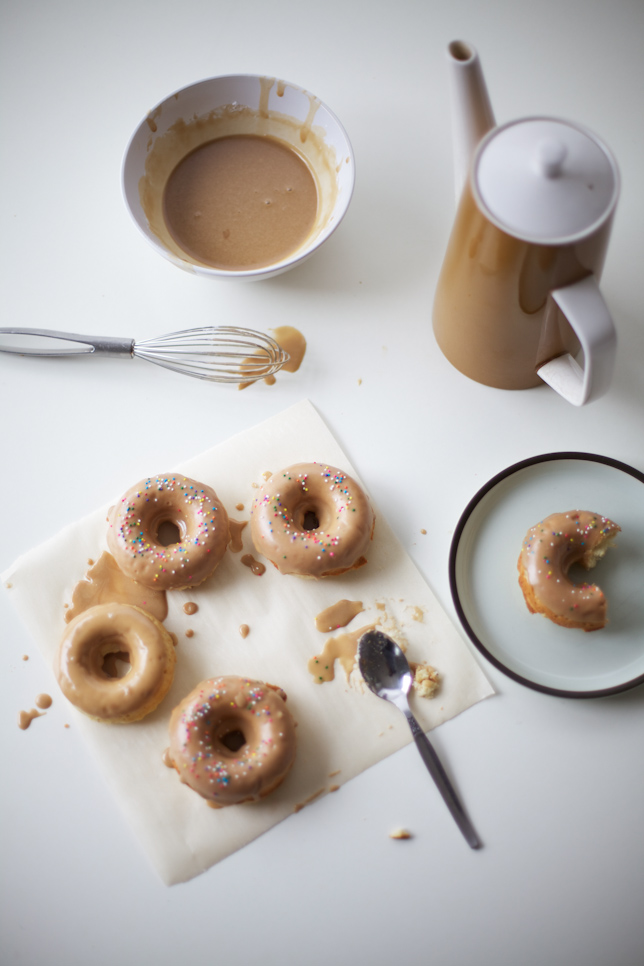 Coffee glaze recipe
1 cup of icing sugar
1 teaspoon coffee extract
5 teaspoons whole milk
Whisk all ingredients until smooth and combined. You can also use instant coffee granules to make a glaze: Simply dissolves 1 teaspoon of instant coffee into the 5 teaspoons of milk, then add to icing sugar.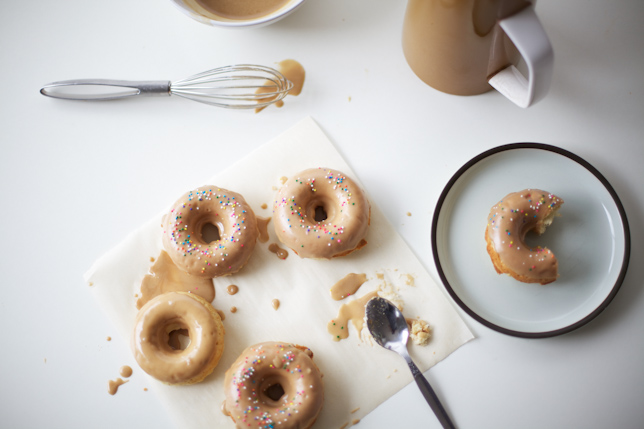 Idea #4: fruit & nut doughnuts
Fresh fruit makes such pretty decor with its naturally beautiful colors and great shapes. The eye is drawn to classic shapes, such as the perfect sphere of a blueberry. Yes, fruit and nuts — coconut, that is! I love the bright white organic look of flaky white coconut.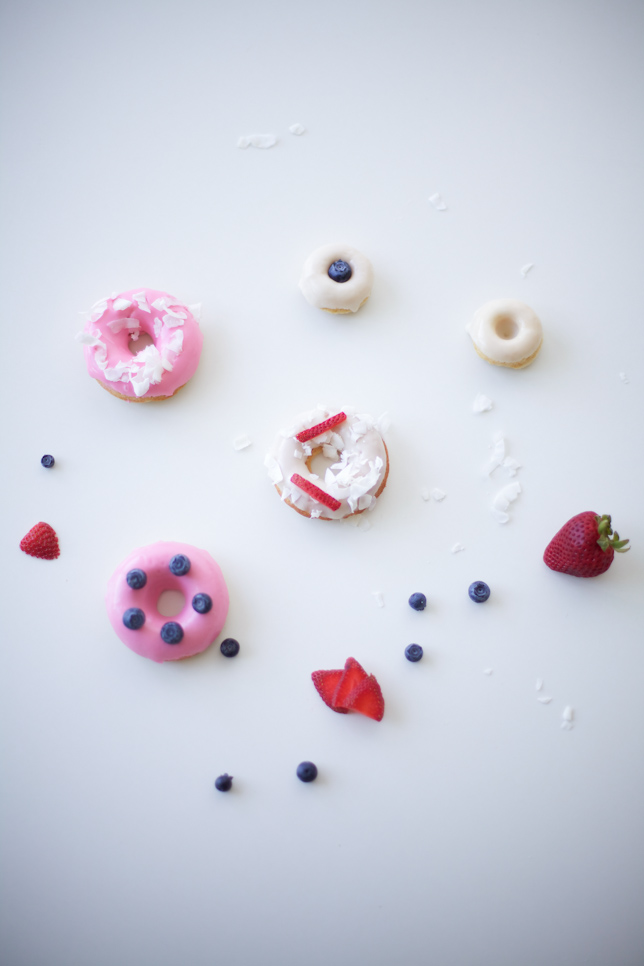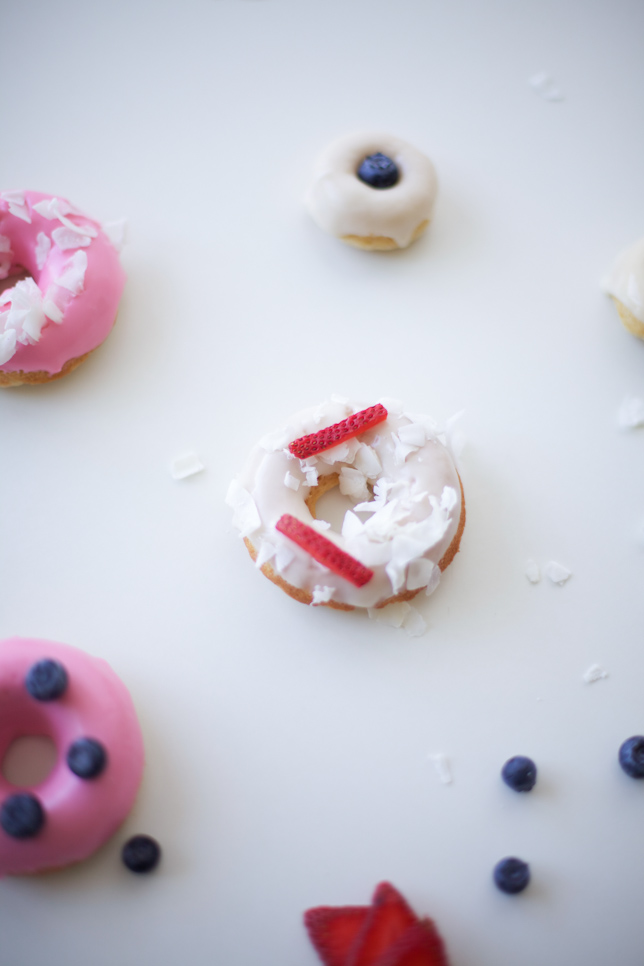 For a fun, modern feel, try slicing your strawberries into tiny rectangular matchstick shapes! It will keep your party goers guessing until they bite in.
Idea #5: matcha green tea glazed doughnuts
Try a different spin on the classic glaze with this matcha green tea glaze!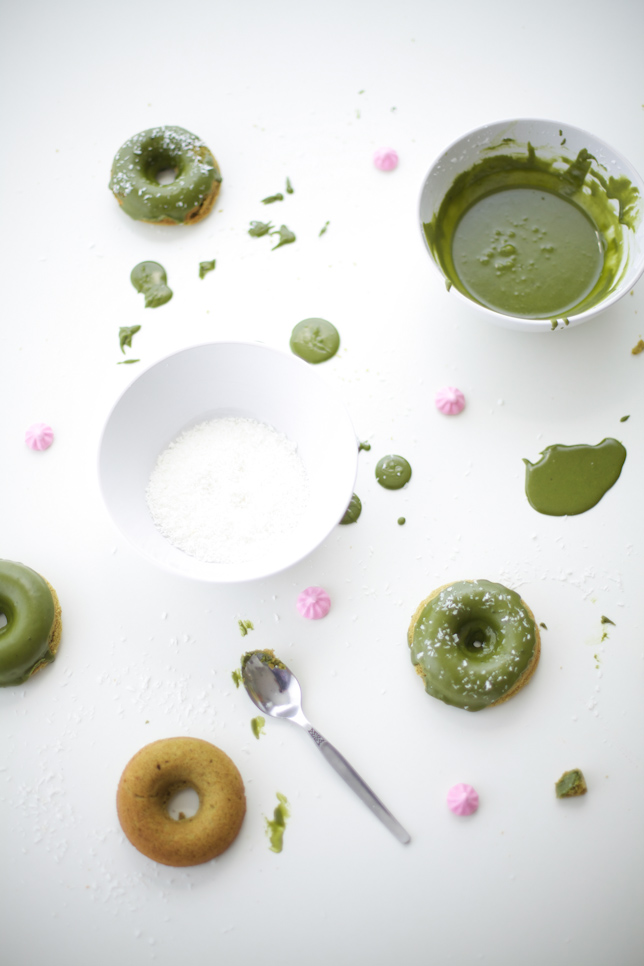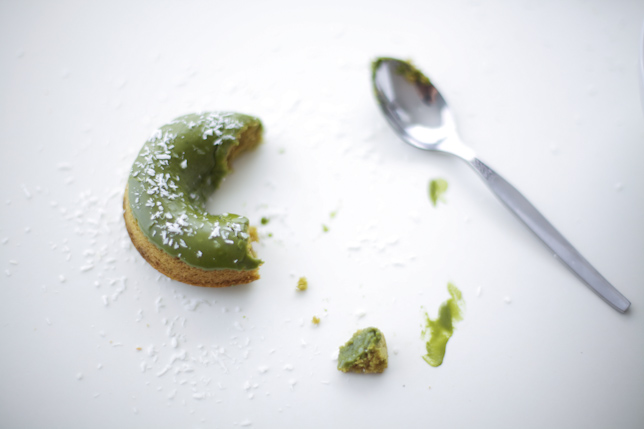 Matcha green tea glaze recipe:
1½ cups icing sugar
1 tablespoon matcha green tea powder (found in Asian supermarkets or online)
3 tablespoons boiling water
1 teaspoon whole milk
Boil water and whisk the tablespoon of matcha green tea powder into it until combined. Mix the rest of the ingredients all together and whisk until a smooth glaze forms.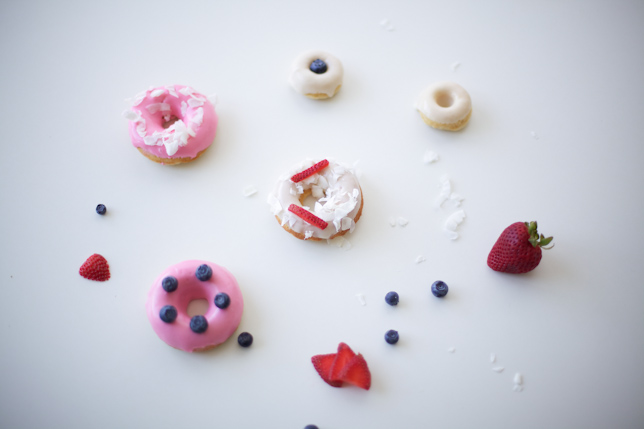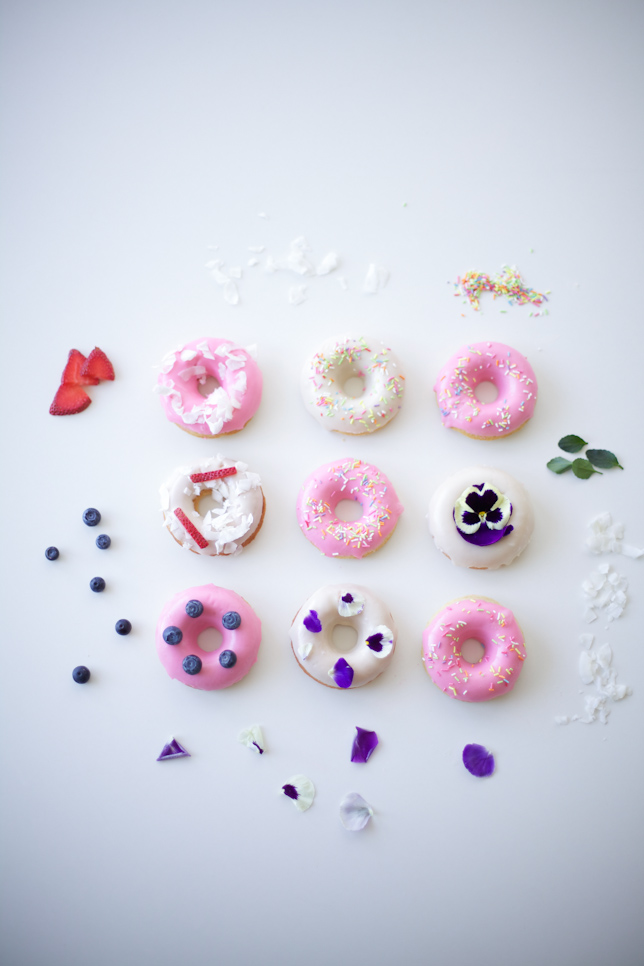 The fun thing about glazes is they're pretty much fail-proof when experimenting with flavors, so long as your glaze consistency ends up correctly. I like my glaze on the thicker side, so I tend to use less liquid when I can. If your glaze gets too liquid and won't stick to your doughnut when you dip it, simply add a little more icing sugar at a time and whisk until it thickens.
Once you're finished trying out a bunch of different doughnut decor, lay all of your doughnuts styles out together and watch as your guests dig in with delight!