What inspires you as a cake designer? Creative cake decorating ideas can come from anywhere. Cakes inspired by illustrations can mean many things, from hand-drawn cake toppers and hand-painted fondant to work inspired by an artist's drawings. Get your pencil (or edible marker!) ready, drawing-inspired cakes are making the rounds!
[box type="shadow"]Inspired to learn illustration techniques to incorporate into your own cakes? 
Check out Bluprint's FREE mini-class The Hand-Painted Cake with Erin Schaefgen to learn all you need to know about applying gel color paint to your own confectionery canvases.[/box]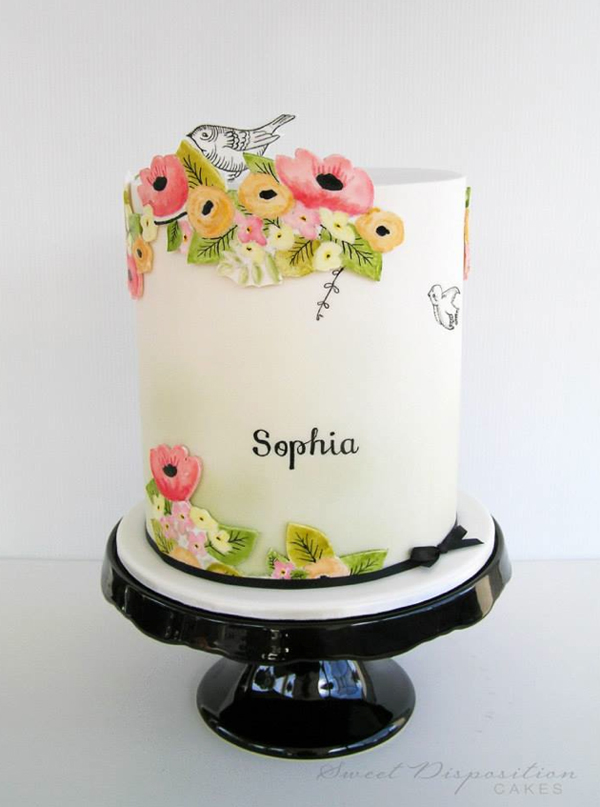 Photo via Sweet Disposition Cakes
Painterly illustration flowers cake:
This beautiful, sweetly designed cake features hand-painted flowers on fondant, cut out like a paper collage and applied to a simple white fondant cake. Black and white drawings of birds and branches sparingly pepper the cake for a simple minimalist-meets-craft design.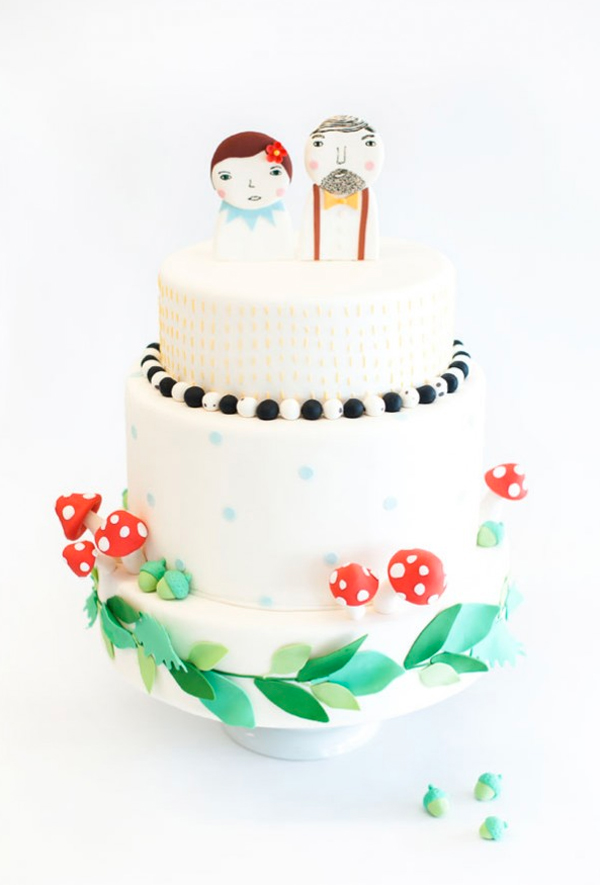 Photo via Brklyn View; cake by Nine Cakes for Brooklyn Bride
Donna Wilson art inspired cake:
Artist, crafter and designer Donna Wilson inspired this adorable, playful woodland-themed cake by Nine Cakes. I like the combination of hand-painted and 3-D elements, including the mini polka dot toadstool mushrooms and shades of green leaves like an olive branch crown. I especially adore the hand-painted cake topper of the bride and groom, all done in the style of Donna Wilson.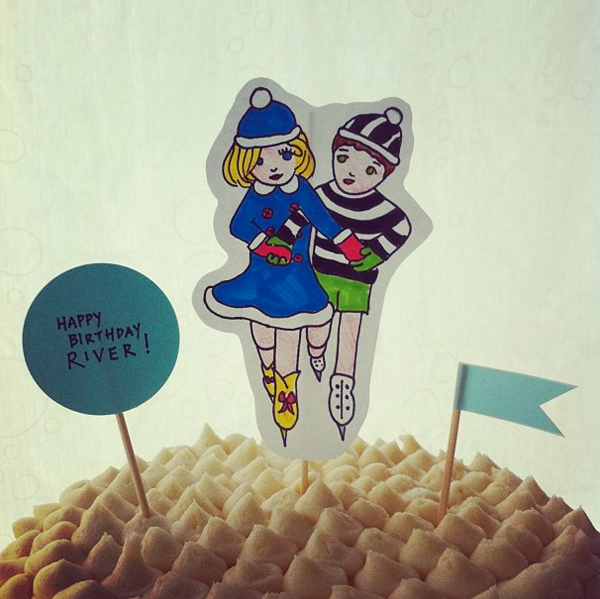 Photo via Coco Cake Land
Hand drawn cake topper:
These hand-drawn cake toppers are a sweet and simple way to add an illustrative addition to a buttercream iced cake. The cake topper was drawn on craft paper, cut out and adhered to a wooden stick.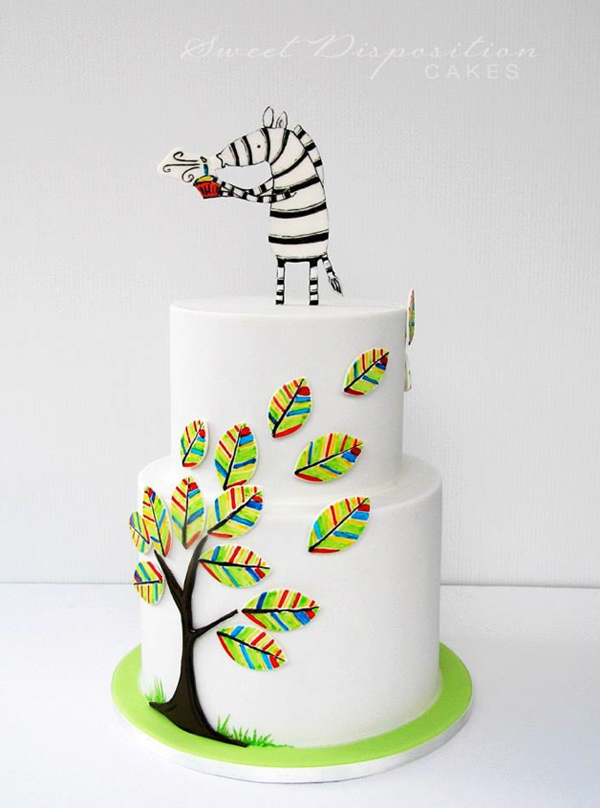 Photo via Sweet Disposition Cakes
Hand-painted children's illustration inspired cake:
This whimsical zebra and rainbow striped theme cake has a few ongoing motifs, namely, stripes and "wind." I like how the rainbow striped leaves are blowing up and around the fondant cake and how the zebra is blowing out his candle on his mini cupcake. Doesn't it look like the hand-painted fondant zebra was cut out straight from the page of a children's book?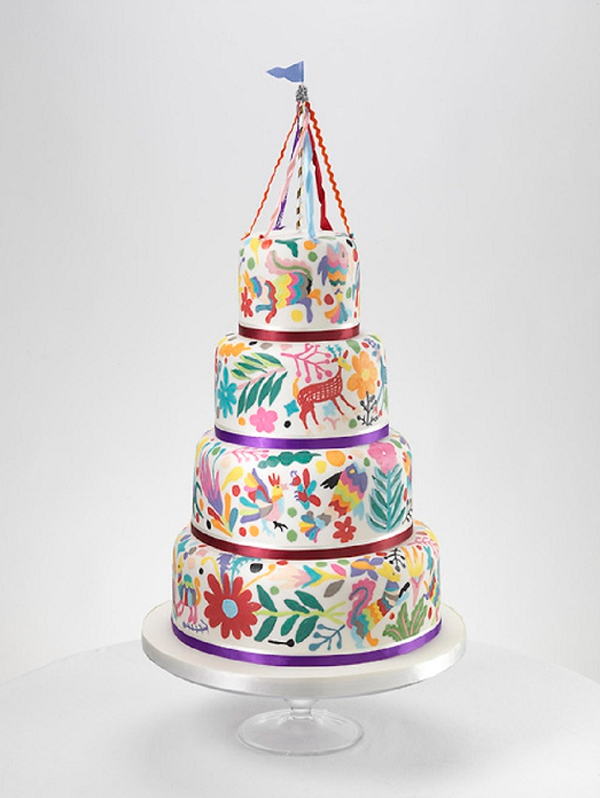 Photo via Tuck Box Cakes
San Cristobal inspired hand painted cake:
This incredible creation by cake artist Christopher Murphy positively bursts with bright gorgeous hand-painted color, playfulness and style, all inspired by the Mexican city it was named after. I love that twisty ribbon cake topper, too — reminds me of a summer carnival. The whole cake has such a unique and whimsical style, with the gaiety and fun of a child's eye. His blog is full of awesome behind-the-cake-scenes photos and tidbits – have a look here.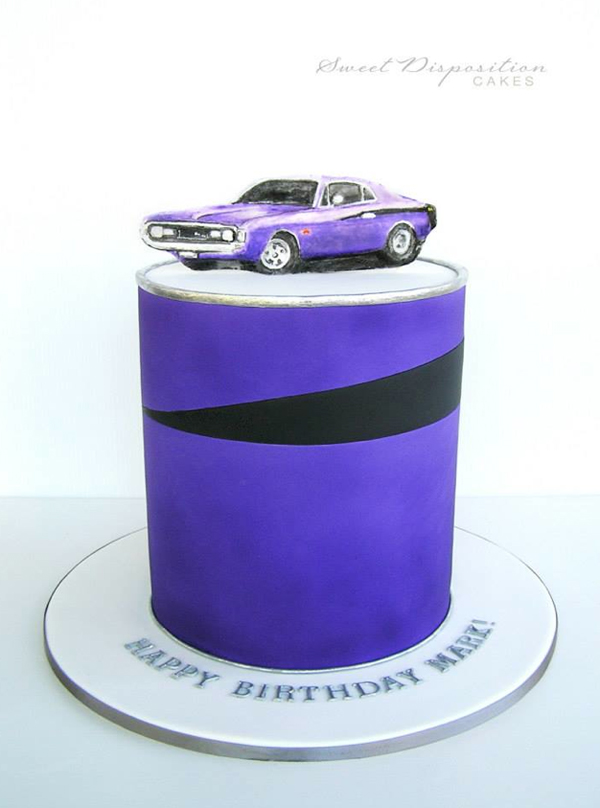 Photo via Sweet Disposition Cakes
Muscle car themed cake:
Cakes can't get much cooler than this 1980s muscle-car inspired illustrated car topper masterpiece! I love how the black triangular piece on the purple cake is a play on the black painted slash on the car itself. The cake topper looks like it has been torn from a faded old magazine found in a car lover's garage, and the artist used cake airbrush cake decorating to achieve a bright purple color that looks just as much home on this cake as it would a car body!
[box type="shadow"]You might also enjoy our roundup of car-themed cakes.
And check out Mike McCarey's class Classic Car, Timeless Techniques to learn how to sculpt your own car cake![/box]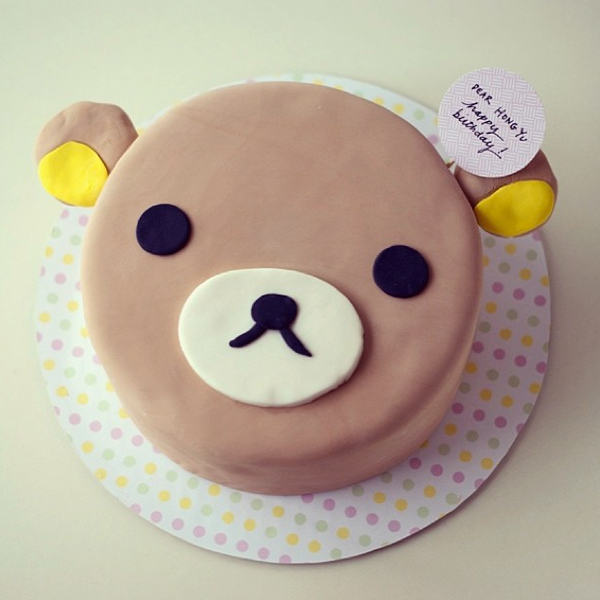 Photo via Coco Cake Land
Rilakkuma bear cake:
Here's a different type of a drawing-inspired cake — the hyper cute and simple Rilakkuma bear character is hugely popular in Asia and around the world. Here, he's created as a simple bear face cake made from fondant.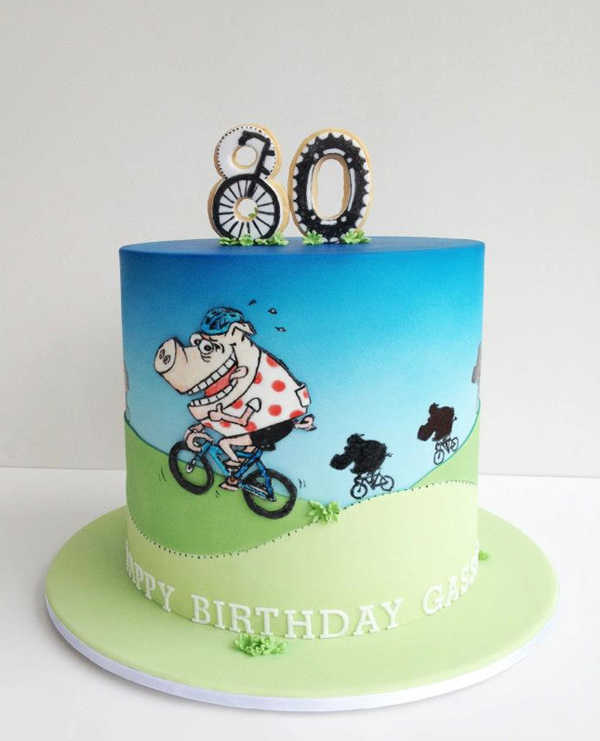 Photo via Sweet Disposition Cakes
Sweaty cycling pig drawing inspired cake:
Another fun creation from Sweet Disposition Cakes: a pig sweating it out going up and down hills! Check the cake topper — both the number 80 and part of a bicycle, too. Teensy piped details of grass add dimension to this cake, as does the airbrushed blue fondant "sky."
What kind of an illustrated cake would you create?