Creating quilt labels is one aspect of quiltmaking that many quilters forget about. It only takes a few hours looking at priceless antique heirloom quilts whose makers are unknown to realize how important it is to document this information for each quilt.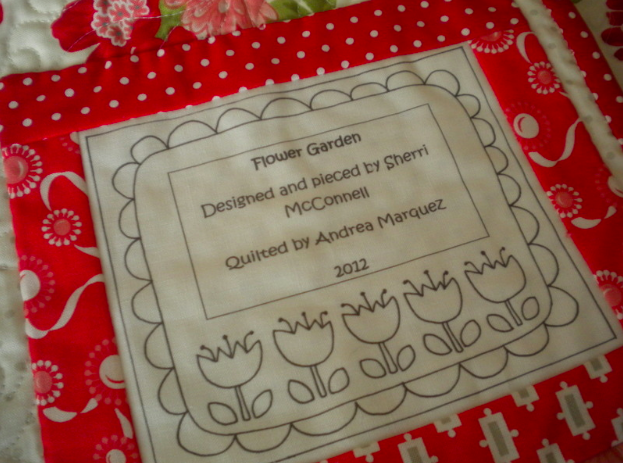 You can provide all different sorts of information on your quilt labels, but here are some starting points. You should include your name along with the name of the person who did the machine or hand quilting. Dates the quilt was started and finished and your residence are also often details that are included. Other items you can add are: the title (and designer of the quilt pattern if the quilt is not an original design), the names of the fabrics used in the quilt, the event for which the quilt was created if the quilt is a special occasion gift, and a quotation or thought that you have about the quilt.
There are also a variety of methods you can use when creating quilt labels. One option is to embroider the information on a piece of fabric which is then stitched or appliquéd to the back of the quilt. An embroidered quilt label is usually attached after the quilt is quilted so that the quilting doesn't run through the embroidery.
Another method of creating a quilt label is to purchase a pre-printed quilt label on which you print needed information using an archival pen. This hand-written quilt label can then be sewn or appliquéd to the back of the quilt.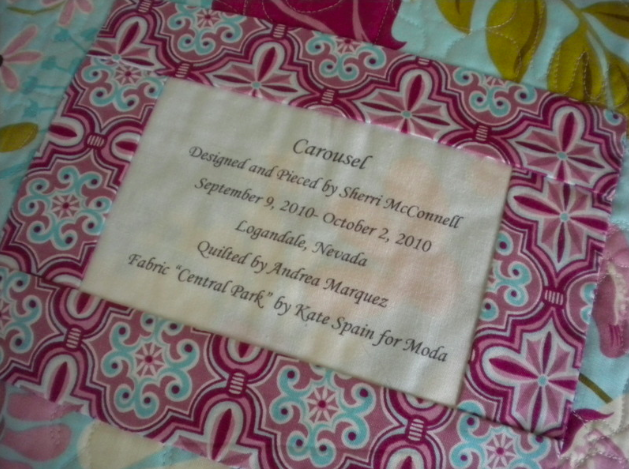 Creating quilt labels using a computer program and a home printer is another option for quilt labeling. To use this method just enter your information using a computer program designed for labels such as Quilt Label Collective: Volume I from C&T Publishing or use your office software to design a custom label. An excellent tutorial for designing your own custom quilt labels can be found here.
When creating quilt labels using a home computer and printer, a stabilizer should be used to ensure the fabric is able to run through the printer smoothly. "Quilter's Freezer Paper Sheets" may be purchased in pre-cut 8 1/2" x 11" sheets or regular freezer paper may also be used and cut to size. Fuse the shiny side of the freezer paper to the wrong side of the paper using a warm iron (be especially careful to not let the iron touch the shiny side of the freezer paper). After fusing the fabric to the freezer paper, the fabric should be able to easily feed through a home printer in order to print a computer-generated quilt label. Be sure to set the ink with a hot iron after printing, and always test your labels for color-fastness. A computer-generated label can also be traced onto fabric using an archival pen.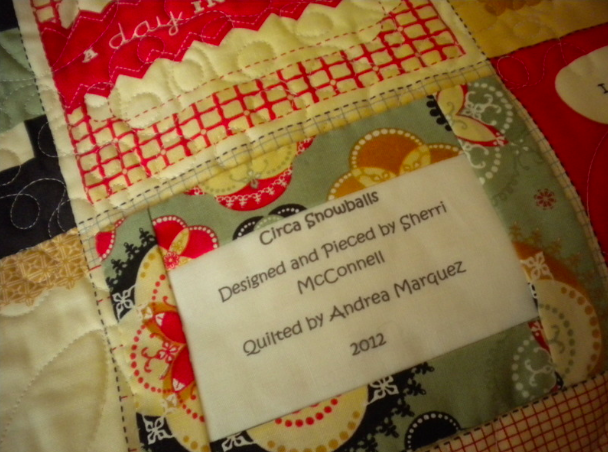 With so many methods available for making quilt labels, there is surely one way of creating quilt labels that will work for you. Which method of creating quilt labels is one you'll be likely to use?
You might also enjoy this hand appliqué tutorial. Plus, learn how to make a hanging sleeve on the Bluprint blog later this week!