A cream horn — a flaky pastry shaped like a horn and filled with rich cream — has the a delicious trait of contrast. Layers of crispy pastry that surround the decadent cream, resulting in a satisfying crunchy-but-smooth texture. It's the kind of dessert that looks impressive when you serve it, so it might surprise you to learn that cream horns are actually very easy to make at home.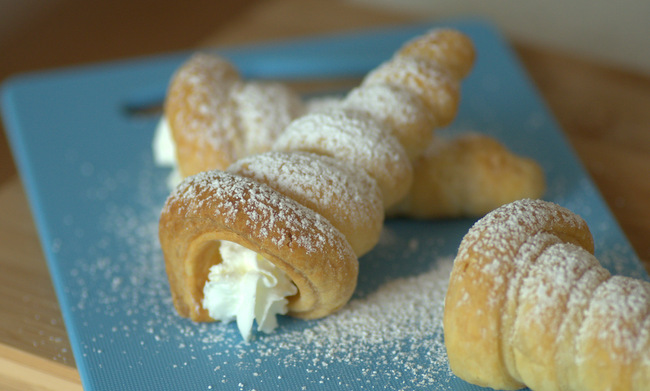 These cream horns are made with puff pastry.
In fact, that is really the only ingredient you need to make them, and frozen puff pastry works very well. This style of dessert can be made with other types of pastry, including phyllo, so once you have the technique down, you can feel free to experiment. You could use homemade puff pastry, but it's not necessary for an impressive and tasty treat.
Shaping the cream horns is easier than it looks, too.
To shape the horns, you'll need to cut your pastry into long, thin strips. You'll wind the strips around a cream horn molds, each one forming a cone.
The strips don't need to be an exact size, so you can really get away with eyeballing it as long as you cut the strips relatively straight. This also means that you can work with the dimensions of the pastry that you have on hand (especially useful if you are working with store-bought pastry) because you don't need to roll it out to a specific size.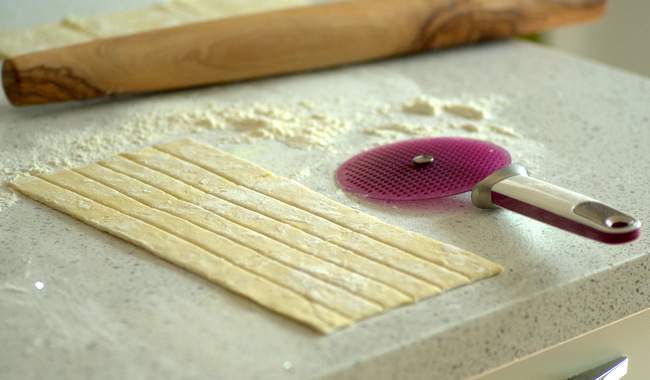 With the pastry I used, each sheet was a rectangle that weighed about 8 ounces. I cut each sheet in half, then cut each half into long, thin strips. I recommend using a pizza cutter for fast, easy cuts, but a chefs' knife will also do the trick.
If you're working with homemade pastry, aim to roll it out into a 10″ square to start – but keep in mind that there is a lot of flexibility because this recipe is really more about technique.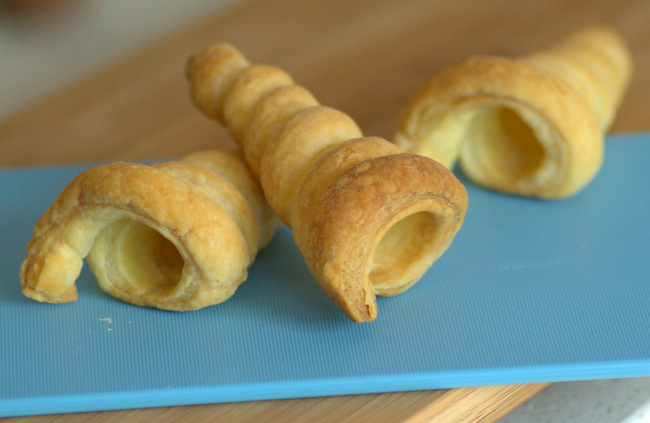 You do need some special equipment to make cream horns.
As you might have guessed by this point, you do need special molds to make these pastries. Typically sold as "cream horn molds," these metal cones are just the right size for wrapping up a pastry horn. They're not very expensive and can be purchased easily at kitchen supply stores and online.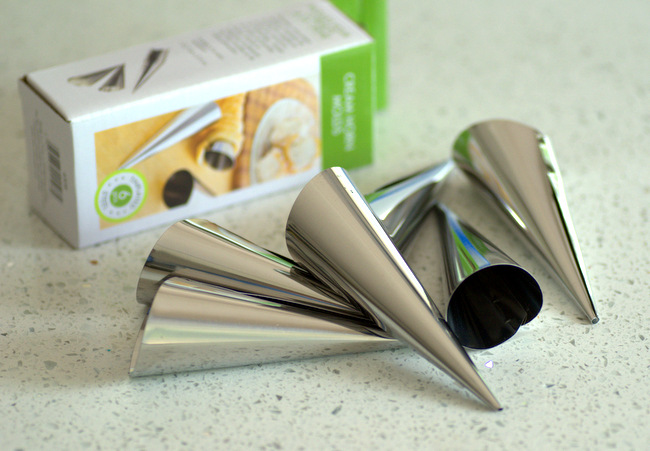 That said, you can make your own at home! Shape a piece of aluminum foil into a cone that's just over 1″ across at the base and about 5″ long.
Personally, I like the pre-made molds because they don't bend and they're reusable. The foil versions cannot be reused and really end up using a whole lot of foil. They'll do in a pinch, or if you need extras, but the molds are nicer to work with.
I can also just about guarantee you'll get a lot of use out of the molds if you buy a set, as cream horns are easy to make and a whole lot of fun to eat!
What goes on the inside?
Cream horns are most often filled with whipped cream, which is what I've used here in this recipe, but they can be used as a vehicle for a wide variety of fillings.
You can add fruit to your whipped cream — like freshly chopped strawberries or raspberries — for an easy variation that's perfect for spring entertaining.
If you prefer a richer filling, pastry cream stiffened with whipped cream can also be a delicious option. And if you want to take it over-the-top when it comes to richness, fill the horns with whipped chocolate ganache. I always like to dust mine with powdered sugar just before serving, too.
Cream horns recipe
Makes 24
Ingredients:
1 package (approximately 16 ounces) puff pastry, defrosted
1½ cups heavy cream
1 teaspoon vanilla extract

½

cup powdered sugar, or to taste
Step 1:
Preheat oven to 400 F. Line a baking sheet with parchment paper.
Roll out one sheet of puff pastry on a very lightly floured surface and flatten out any creases. If your sheet is a rectangle, lay it so the longer side faces you.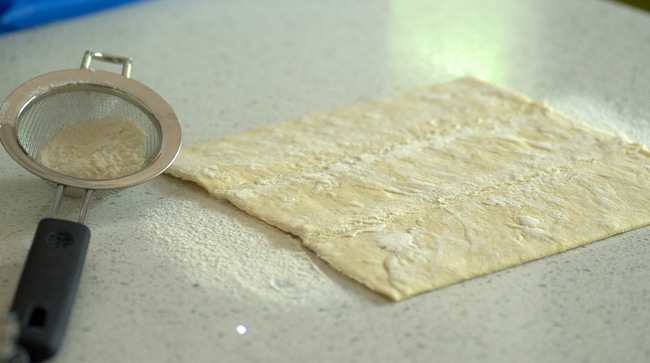 Cut the sheet in half vertically, then cut each half into six long, thin strips of pastry.
Step 2:
Working with one strip of pastry at a time, wrap the pastry around a cream horn cone.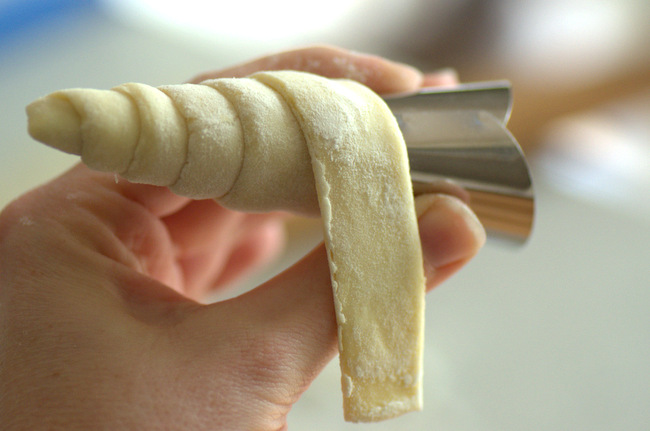 Begin at the pointed end of the cone, pinching the pastry together at the base. Overlap the pastry slightly as you wind it up. Place the cone seam-side down on the prepared baking sheet. Repeat with remaining pastry.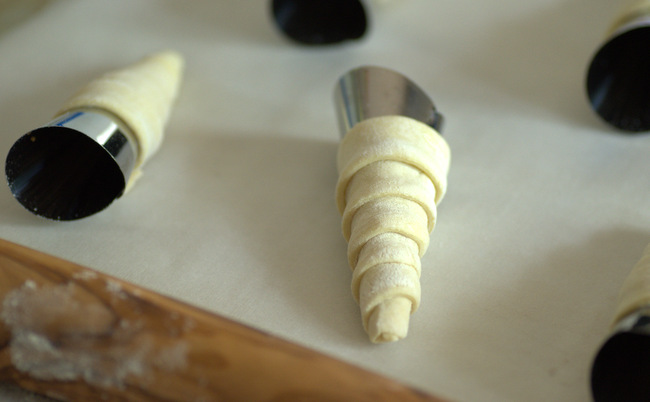 Step 3:
Bake for 13-16 minutes, or until horns are deep golden brown. Remove horns from the baking sheet and slide out the molds. Allow horns to cool completely before filling.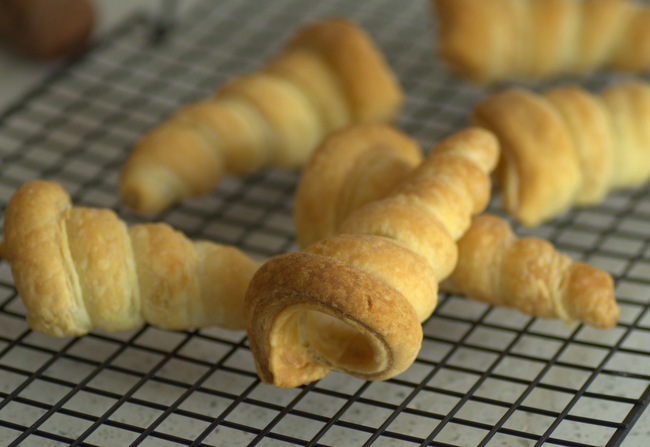 Step 4:
Make the filling: In a large bowl, beat heavy cream to soft peaks. Beat in vanilla extract and powdered sugar. Transfer mixture to a piping bag and pipe into each cooled horn. Serve immediately.