With the perfect cream cheese frosting recipe, you can rule the world (or at least the world of baking).
After all, this is the stuff that takes carrot cake from a boring loaf cake to divine dessert, that has the power to make red velvet cake memorable, that makes Hummingbird cake hum with yum. With its smooth, creamy texture and signature twang, cream cheese frosting is a crave-worthy to make just about any cake even better. 
But what does it take to make the perfect cream cheese frosting? Let's explore.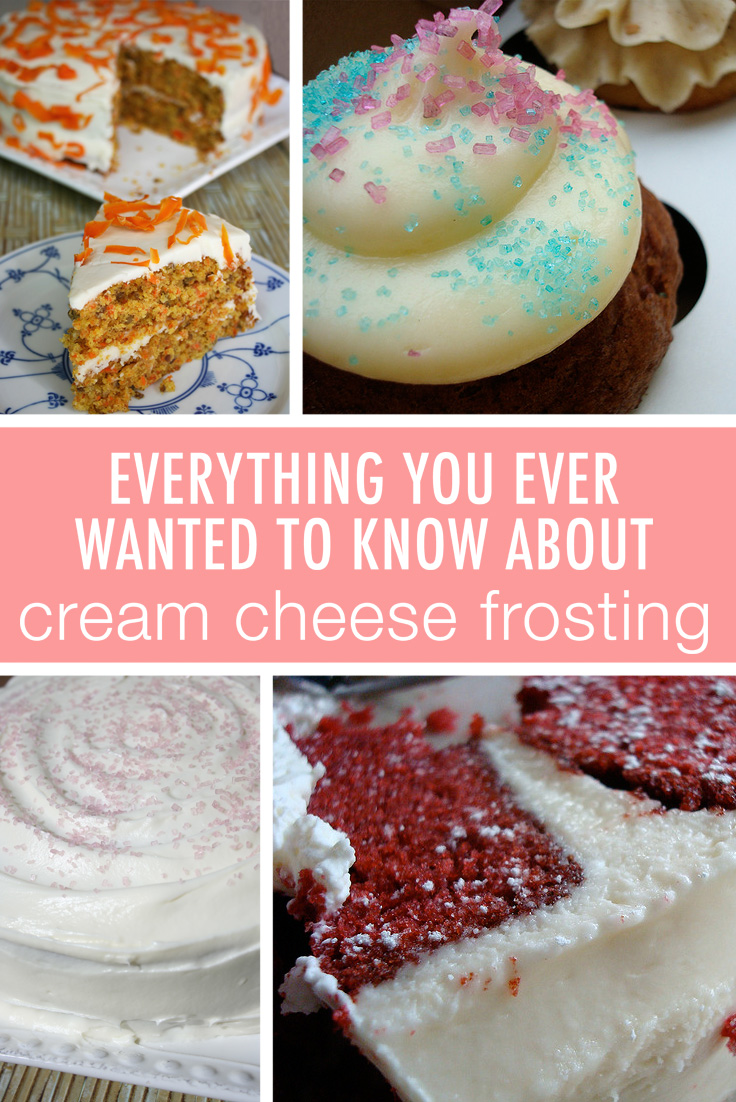 Photos via CakeSpy
Find out how to make irresistbly flavorful cakes!
Feast your senses on cocoa, orange & hazelnut buttercream, tiramisu cream cheese frosting & more when you join pastry chef Jenny McCoy in these HD video lessons.Enroll Now »
Cream cheese frosting: what is it?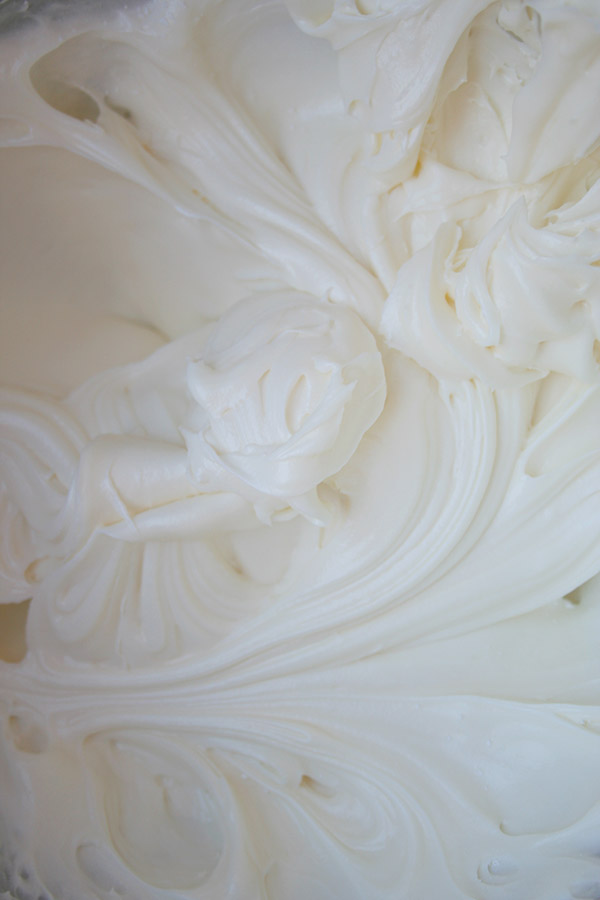 A classic cream cheese frosting is a derivative of an American-style buttercream, which is made primarily with creamed butter and confectioners' sugar. Sometimes cream cheese is substituted for all of the butter, and sometimes it is substituted for part of the butter in the recipe.
Regardless of the ratio of cream cheese employed, the method for making the frosting remains the same: you cream the "fat" (cream cheese and/or butter), and incorporate confectioners' sugar until the frosting has a spreadable consistency.
It can be flavored with an extract of your choice; if the mixture becomes too thick, a small amount of cream or milk can be added to ensure that it is a perfect consistency for spreading on top of your cake.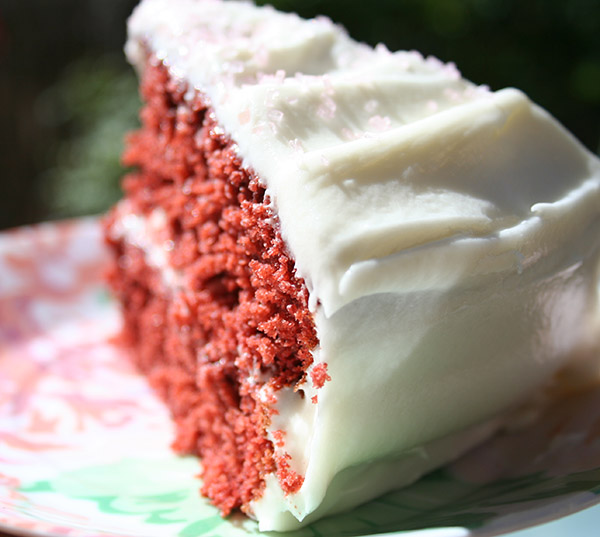 To make perfect cream cheese frosting, you'll have to have all of the right supplies and ingredients primed and ready to go. 
Supplies you'll need:
Happily, the supplies are fairly minimal for making cream cheese frosting. While it's not impossible to make it by hand, you may find that it's far easier, quicker, and quite frankly more effective to make it with a hand mixer or stand mixer. The motorized mixers will help you cream the cream cheese and butter mixture efficiently, ensuring that plenty of air gets mixed into the frosting, making it light and creamy. A spatula for scraping down the sides of the bowl is very helpful as well. 
Ingredients you'll need:
Here, let's discuss what ingredients you should use, and how you should prep them.
Cream cheese
Well, duh. But what kind of cream cheese should you use? For best results, use full-fat, plain cream cheese. Avoid whipped varieties, which may already contain stabilizers which can affect the texture of your frosting. Personally, I avoid pre-flavored varieties, preferring to flavor the frosting myself for a superior flavor. 
Butter 
To make cream cheese frosting, using part butter gives the finished product a creamy, robust flavor and smooth texture. Use the same type of butter you would for an American-style buttercream: a good quality, unsalted butter. 
Notes on your fat:
How about low fat cream cheese or butter?
It is not suggested that you use reduced fat cream cheese or butter for frosting or buttercream recipes. One of the key reasons is that the reduced fat versions of these products don't always have the same ingredients, and this makes the results inconsistent in your recipe. When you use regular, full-fat cream cheese and regular butter, the results are more reliable. If you decide to try out the reduced fat versions anyway, proceed with caution. 
However, one exception is Neufchâtel cheese. While it's often marketed as "low fat" cream cheese, this is actually a different cheese entirely, which happens to have a creamy texture that is comparable to cream cheese. In general, Neufchâtel cheese can be substituted in equal quantities for cream cheese in a frosting recipe with good results. But be sure to read the label to confirm that it is labeled Neufchâtel and not "reduced fat" cream cheese. There is a difference.
How soft is "softened"? 
Cream cheese and butter should always be allowed to soften before you make cream cheese. If you use either cream cheese or butter directly from the fridge, this can yield a lumpy, bumpy result. But just how soft do you want it to be? 
Aim for a consistency where the butter or cream cheese is still cool to the touch, but a finger will leave an imprint if you touch it gently. You don't want the fat to get too warm; if it begins to liquefy, your frosting may have trouble setting up, and will have a tendency toward separating. The best way to soften cream cheese or butter is to leave it out at cool room temperature. The amount of time it takes to soften will depend on the heat and humidity in your kitchen, but in general, it will take at least 30 minutes. 
Confectioners' sugar
Confectioners' sugar is what makes your frosting sweet, and also what gives it body and structure. Confectioners' sugar is a finely ground variant of granulated sugar. If you do not have confectioners' sugar on hand, do not substitute granulated sugar. However, you can make your own confectioners' sugar from granulated sugar by following our tutorial on how to make confectioners' sugar at home. 
Flavoring extract
Vanilla extract is probably the most popular flavoring extract used for cream cheese frosting, but you could use another extract if you prefer, such as almond, mint, etc. 
Salt
A pinch of salt can enhance the flavor of your frosting, taking it from very good to downright crave-worthy. It is a small addition, but it makes a world of difference in the finished flavor. Don't leave it out!
Cream or milk
Sometimes you won't need cream or milk, but having one or the other on hand is very helpful when making your cream cheese frosting in case you add too much confectioners' sugar. If you've ever tried to ice a cake with frosting that is slightly too thick, you know how frustrating it can be. Mixing in milk or cream a few teaspoonfuls at a time can help your icing come back to a smooth, spreadable consistency. 
Cream cheese frosting variations
Cream cheese frosting is open to additions and riffs, so that you can adapt it to be perfect for the cake you're baking. Here are some examples: 
Totally DIY cream cheese frosting
To really impress your friends, you can make your cream cheese frosting using entirely handmade ingredients. That means homemade cream cheese, homemade butter and DIY confectioners' sugar. Your bragging rights will be well deserved!
Cream-cheese kissed buttercream
Sometimes, you don't want all of the assertive flavor of cream cheese in your icing. Happily, you can adjust the ratio of cream cheese and butter. For an American-style buttercream with just a little tang, use just 4 ounces of cream cheese (that's half of an 8-ounce package) and substitute the extra 4 ounces with butter. 
Chocolate cream cheese frosting
A touch of chocolate makes most things better, and cream cheese frosting is absolutely no exception. To give your frosting a chocolate flavor, all you need to do is melt 2-3 ounces of chocolate (milk or dark is fine) and let it cool for a few minutes. Incorporate the melted, cooled chocolate into your cream cheese frosting after Step 2 in the recipe below. Because of the added moisture, you may need to add a little extra sugar to the recipe.
Lemon cream cheese frosting 
Add a little zing to your tangy frosting with the addition of lemon. Add 2 tablespoons freshly squeezed lemon juice and 1 teaspoon of grated lemon zest after Step 2 in the recipe below. Because of the added moisture, you may need to add a little extra sugar to the recipe.
Note: This method can be used with limes or other citrus, as well. 
Lower-fat cream cheese frosting
Instead of cream cheese, use naturally lower in fat Neufchâtel cheese instead. To reduce the fat even further, substitute the Neufchatel cheese for not only the cream cheese but the butter in the recipe. 
Peanut butter cream cheese frosting
Adding peanut butter to your cream cheese frosting can create an intriguingly rich, highly addictive flavor combination. Simply swap half creamy, full fat peanut butter for the cream cheese called for in the recipe. 
Strawberry cream cheese frosting 
Strawberry cream cheese frosting is just as lovely as it sounds. To make your own, use real strawberries. Puree 1/2 cup of fresh, chopped strawberries (green bits removed) and add it to your cream cheese frosting recipe. Because of the added moisture, you may need to add a little extra sugar to the recipe. If your strawberries don't yield quite the deep pink hue you crave, you can augment with a few drops of red food coloring.
Note: This method can be used with other berries as well. 
Cream cheese frosting recipe
Makes enough to frost and fill an 8-inch, 2-layer cake
Ingredients:
1/2 cup unsalted butter, softened
8 ounces cream cheese, softened
1 teaspoon vanilla extract
1/4 teaspoon salt
4-6 cups confectioners' sugar
Step 1:
Cream the cream cheese and butter in the bowl of a stand mixer, mixing on medium speed until completely combined and fluffy.
Step 2:
Stir in the vanilla, salt and 2 cups of the confectioners' sugar.
Step 3:
Mix on low speed, pausing to scrape down the sides of the bowl. Add the remaining sugar, 1 cup at a time, and mix until the icing has reached your desired consistency.
In general, this frosting is at its best consistency for icing a cake directly after it is made. Once your cake is iced, keep cakes with cream cheese frosting refrigerated. Remove from the refrigerator and let come to room temperature before serving.
Find out how to make irresistbly flavorful cakes!
Feast your senses on cocoa, orange & hazelnut buttercream, tiramisu cream cheese frosting & more when you join pastry chef Jenny McCoy in these HD video lessons.Enroll Now »