Primarily created for display rather than function, crazy embroidered quilts are believed to have originated in the mid to late-1800s. Victorian ladies broke all of the rules of traditional quilt making: symmetry, color, functionality… to name a few. For perhaps the first time in textile history, quilts were created for their beauty and artistic value rather than their warmth and usefulness.
Read on to learn more about the artful history of crazy quilting + how you can recreate this technique in your own quilting and embroidery.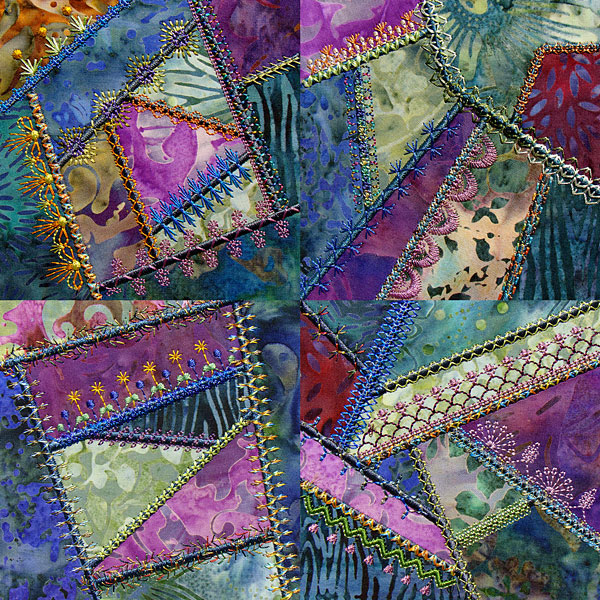 Photo via Molly Mine
Love the design pictured above? 
A brief history of crazy quilts
Popular during the last quarter of the 17th century through the first quarter of the 18th century, crazy quilts became a showcase for displaying hand-stitching skills.
With more access to luxurious fabrics like silk, satin and velvet, Victorian-era seamstresses looked at crazy quilting as a fiber scrapbook of sorts. In addition to showcasing handy-work skills, the technique also incorporated bits and pieces of fabrics acquired from friends and family, even souvenirs from life events, like pieces of a christening gown or wedding dress. Important dates were often stitched on these heirlooms. For that reason, some referred to crazy quilts as "memory quilts."
Crazy quilts were seldom laundered or used for bedding. Most were not even quilted, although they were loosely backed. As a result, many have survived as testimony to some of the most exquisite art quilt creations of the last couple centuries.

Hand stitches photo via kootoyoo
How to create a crazy quilt
In sharp contrast to Colonials, who recycled fabric by patching holes with remnants of other apparel out of necessity, Victorians used fabric scraps for embellishment. They also had the opportunity to purchase luxurious fabrics for quilting. Even tobacco companies took advantage of the trend, encouraging men of the house to buy their products, including pieces of silk.
Random scraps were basted to a muslin or flannel foundation block, not pieced as with most quilts. Edges were turned under and decorative stitching covered the seams.

Crazy Quilt Wall Decor project photos via Craftsy member wagonwife
Stitches used in crazy quilting
A product of the Industrial Revolution, women's magazines became popular, touting crazy quilt patterns and examples of decorative embroidery stitches. Crazy quilt embellishments included buttons, beads, ribbons, lace, and other embroidery. Thread was becoming easier to find and available in more colors, adding to the decorative possibilities.
Victorian romanticism featured an abundance of symbolism, which is reflected in many early crazy quilts. Spider webs in particular, like those from Craftsy member wagonwife's project pictured above, were frequent motifs as they symbolized luck. Flowers all had a specific meaning, anchors meant faith while wreaths symbolized mourning.
Decorative machine embroidery stitches using 25-weight hand quilting thread, from left to right: Honeycomb, daisy, perle stitch, herringbone, feather stitch, capped feather stitch, and half daisy.
Modern crazy quilting
Fortunately, today's modern embroidery machines make it quicker and easier to reproduce crazy patchwork hand stitching. Linda Atwill of Molly Mine has practically written the machine embroidery handbook for crazy quilting. Her designs are modular and can be combined for endless variation. In addition to traditional sets, she also has designed crazy quilt series with Christmas and Halloween themes.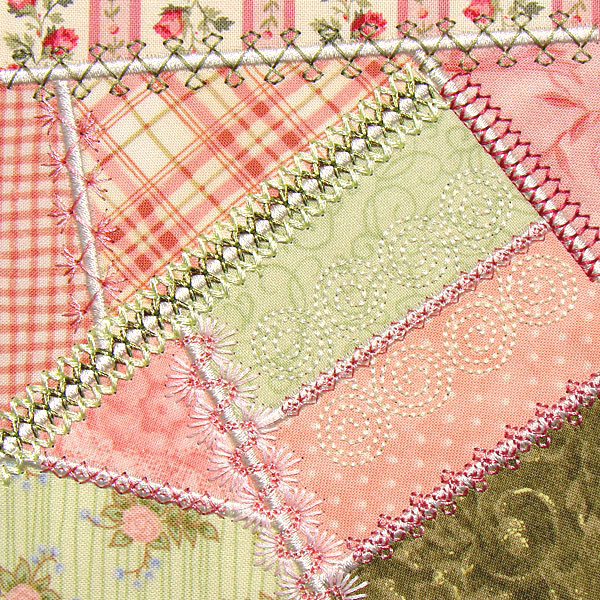 Photo via Molly Mine
Most designs consists of four embellished appliqué squares. Four squares are finished with an appliqué edge while the other four squares have only a thin edge tacked down and a 1/4″ clearance, so they can be joined, for a total of eight designs.
What's your favorite crazy quilt stitch or pattern?