No need to be a full-fledged artist. If you can trace, color and thread a needle you can create beautiful pieces of pastel art with these hand embroidery patterns. Just trace the design, color it in, seal it with a hot iron and backstitch around the edges. The result is unlike any hand stitching you have ever seen!
Here are some designs perfect for crayon coloring embroidery!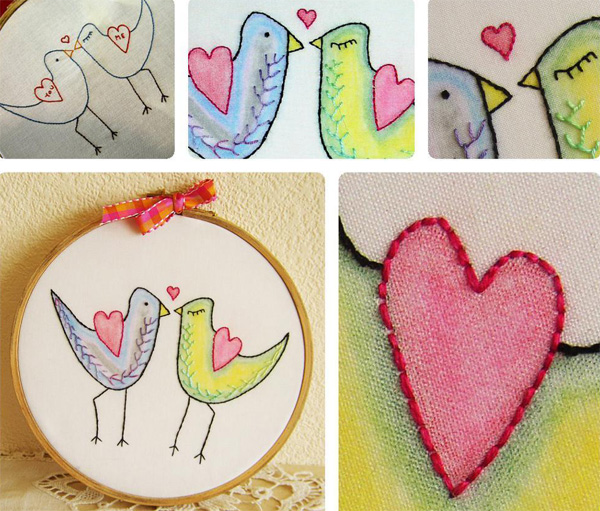 Photos via Bluprint member Julie Bull
Bluprint member Julie Bull's pattern My Funny Valentine is perfect for crayon coloring. Great for beginners, the pattern has plenty of open areas for shading.
Get the My Funny Valentine design here.

Photos via Black Cat Creations
Judy Reynolds and Amy Cotham of Black Cat Creations have designed nearly a dozen crayon quilt patterns. They would be fun as a block-of-the-month club series.
Get the Butterfly Garden pattern.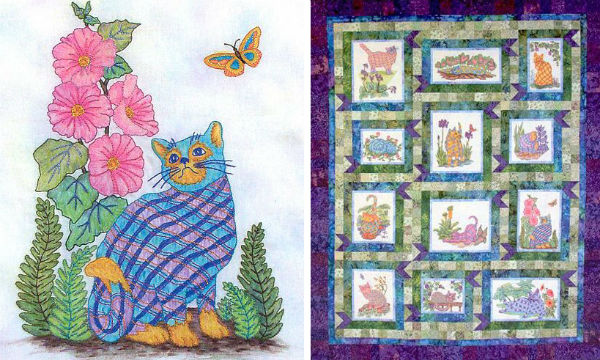 Photos via Black Cat Creations
Not only do you get the designs to color, but you also receive instructions on how to create beautiful 12-block quilts.
Get the Plaid Cats in My Garden pattern.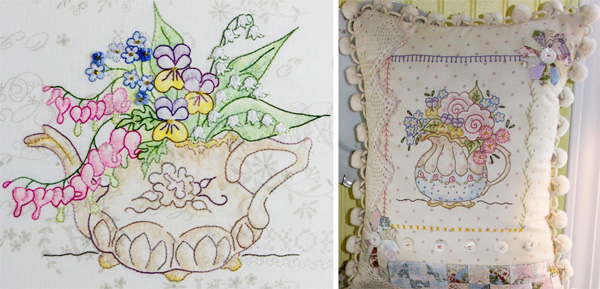 Photos via Crabapple Hill Studio
Many of the delicate, nature-themed designs created by Crabapple Hill Studio are colored with crayons. Their technique involves a generous base coat of white crayon. Additional colors are layered to tint the area before heat setting.
Get the Teapot Bouquet pattern.
Get the Breath of Spring pattern.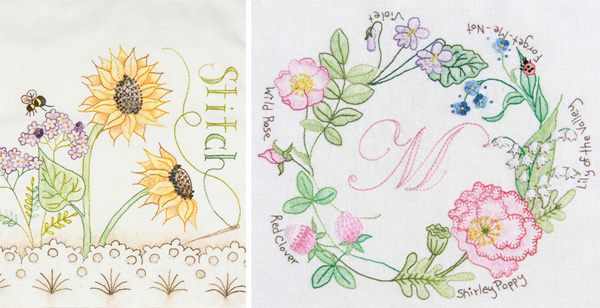 Photos via Crabapple Hill Studio
The result is a pastel quality that fully complements the stitching.
Get the Sunflower Stitchery pattern.
Get the Hedgerow Wreath pattern.
Traditional Hand Embroidery Designs
With enough open area, any hand embroidery design can be embellished with the crayon technique. The process is the same: draw the lines on the fabric, color inside the lines and stitch around the lines.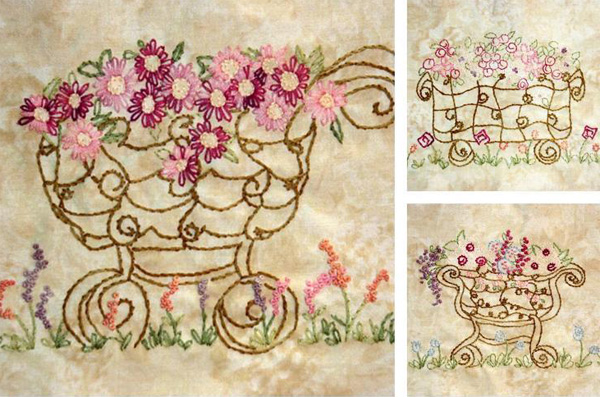 Photos via Bluprint member Country Garden Stitchery
Get the Flower Garden Carts pattern.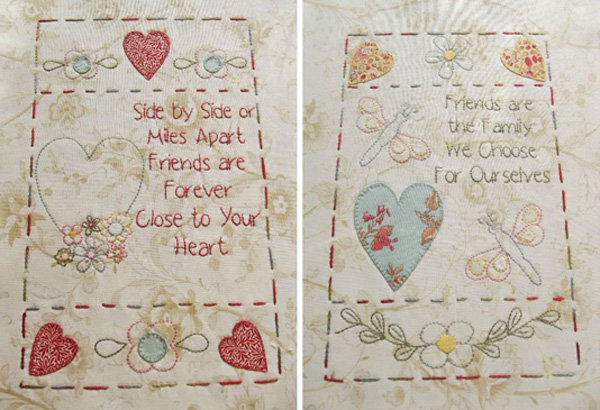 Photos via Bluprint member Designs by Fee
Get The Friendship Quilt – Block 2 pattern.
Get The Friendship Quilt – Block 4 pattern.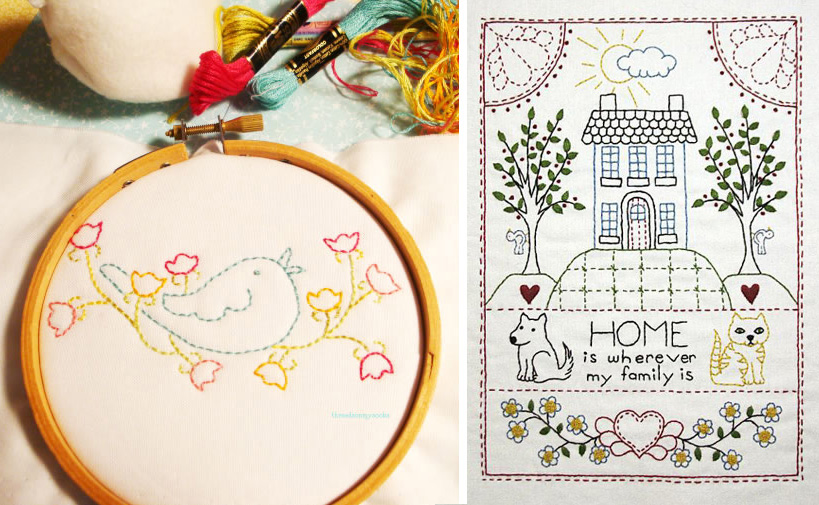 Photos via Bluprint members threads on my socks and Annie Beez Folk Art

Photos via Bluprint member Val Laird Designs
Get the Penny Farthing Cushion pattern.
Get the Walk in the Park Satchel pattern.
(Black Cat Designs recommends not using tone-on-tone fabrics for crayon coloring as the crayon adheres best to solid color muslin or cotton fabrics.)
Other patterns for crayon coloring
Much like a coloring book, redwork and single-color designs almost beg to be colored. Sections of stitching can be made any color you like. Match the crayon or use one color for all stitching. The choice is up to you!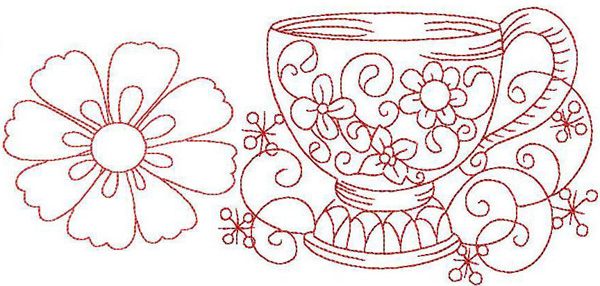 Images via Bluprint member StitchX Hand Embroidery
Get the Simple Flower Hand Embroidery design.
Get the Redwork Teacup 6 design.

Images via Urban Threads
Get the Parisian Butterflies design.
Get the Delicate Autumn Leaves design.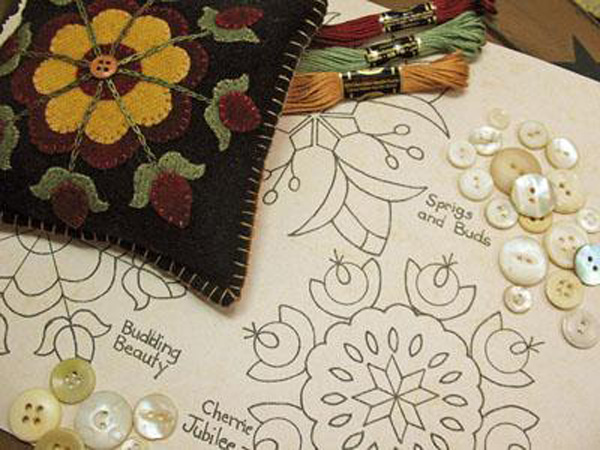 Photo via Bluprint member Annie Beez Folk Art
Even though this pattern was created for wool appliqué, it could be adapted for use with crayon-colored embroidery. The artwork is gorgeous and open enough to color with lines that will trace easily and stitch well.
If coloring machine embroidery sounds more tempting to you, don't miss our roundup of designs here!