Crafty sentiments are a creative way to add interest to your handmade greeting cards. We love this embedded stacked technique, that always prompts the question "How did they do that?" Read on to discover how to achieve the look when you make your own greeting cards.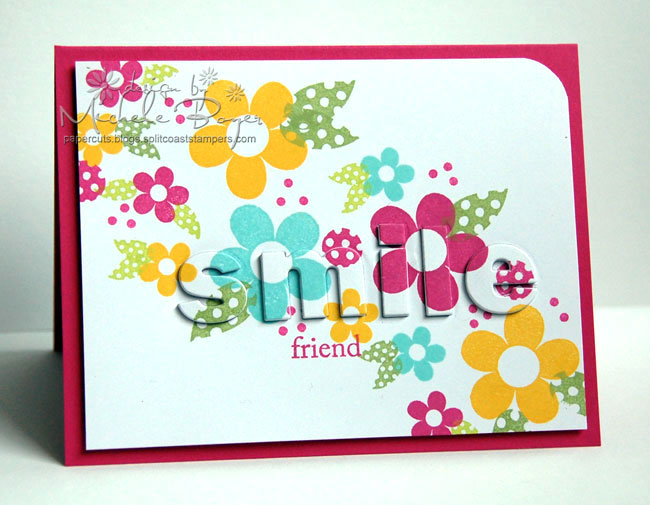 For this crafty sentiments technique, it is best to use solid image stamps. The style of alphabet dies should be somewhat "chunky" as opposed to thin, as the wider die-cuts will show better within the design.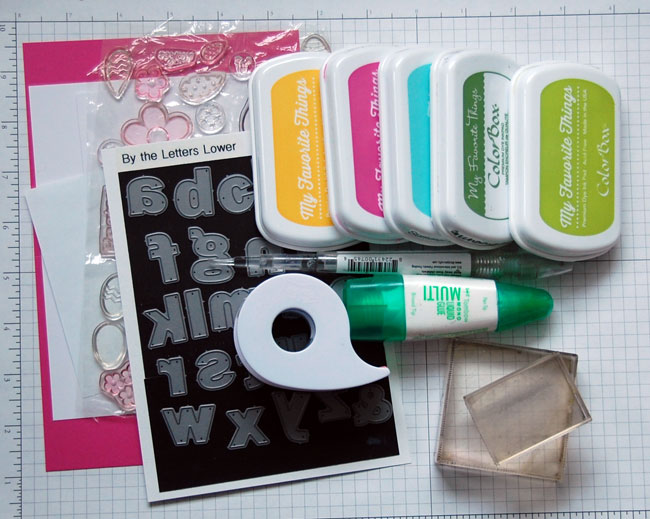 Supplies you'll need:
Solid stamps (I used flowers from Embellished Eggs by My Favorite Things)
Alphabet dies (I used By the Letters Lowercase by My Favorite Things)
Inks (I used Ripe Raspberry, Limelight, Daffodil, Gumdrop Green and Summer Splash by My Favorite Things)
White card stock for stamping, color card stock for base card
Stamp press or acrylic blocks
Thin scrap paper (I used copy paper)
Glue
Post-it or other low tack adhesive tape
QuickStick (Not required, but very helpful for picking up and positioning small card stock pieces)
Die-cutting machine
How to create an embedded stacked sentiment

Step 1:
Cut a piece of low-tack tape about 1/2″ to 1″ longer than chosen sentiment. The extra length on each end of the dies will help hold the strip on the card stock when die-cutting in the next steps. Align letters using the bottom edge of the tape as a guide.

Step 2:
Stamp your design onto white card stock. If you plan to include a small stamped sentiment near your embedded greeting, stamp that now as it can be difficult to add once the stacked letters are adhered.

Step 3:
Adhere taped dies to stamped panel just above stamped sentiment, ensuring that tape and dies are level.

Step 4:
Die-cut letters from stamped design. Should any cut pieces fall from the dies, be certain to keep them all together. All pieces will be used, including the small negative space within the letter "e."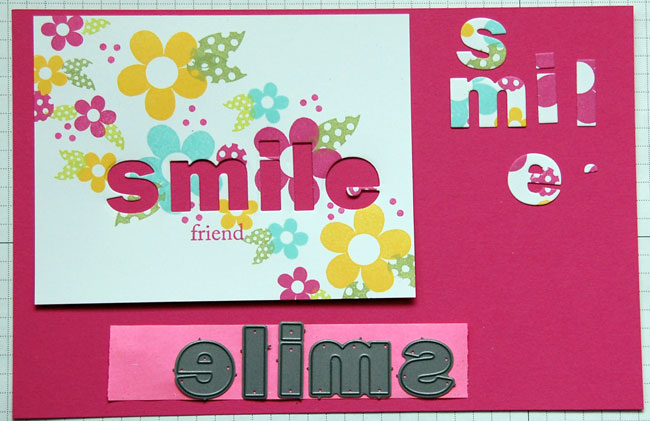 Step 5:
To remove letters from dies, partially remove first die from tape, poke through back holes with a pin or needle until die-cut letter falls out, then re-adhere die to the tape. Repeat for each letter.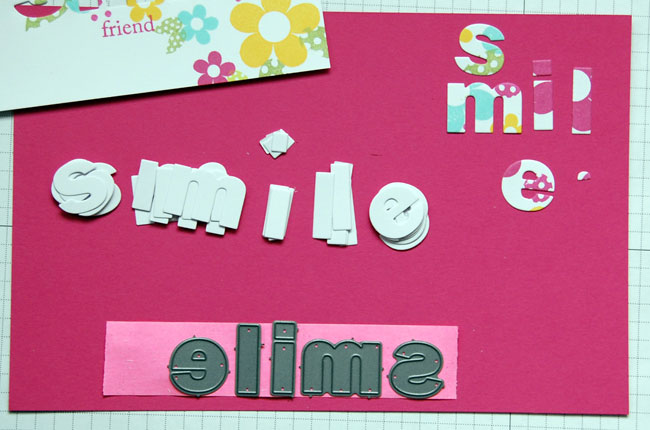 Step 6:
With dies remaining on tape, die-cut four or five additional sets of letters from white card stock. For best results, use the same type of card stock used for the stamped panel. The card stock I used is fairly thin so I cut five sets. With thicker paper, you can use less.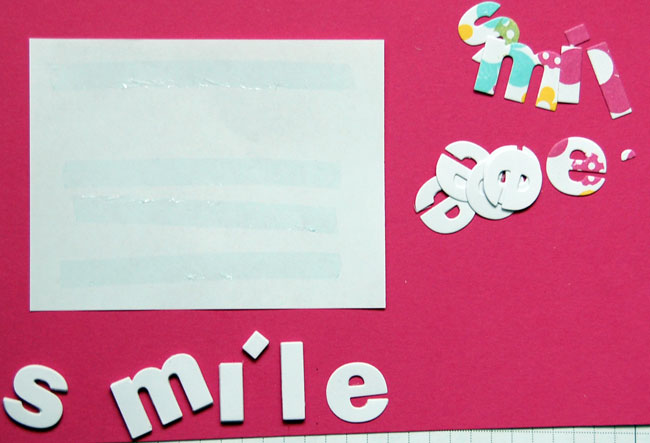 Step 7:
Glue layers of s, m, i and l together, creating a "stack" of each letter. Since the letter e has an open space, that letter will be handled a little differently. Once the s, m, i and l letters are stacked, cut a piece of scrap or copy paper smaller than the stamped panel. Liberally apply adhesive to one side.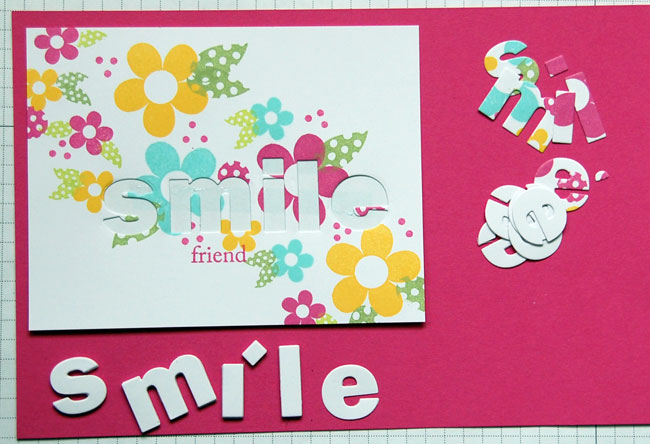 Step 8:
Adhere scrap paper to the back side of the stamped panel. Ensure that small areas such as the inside curves of the s and thin area of the e are adhered to the scrap paper.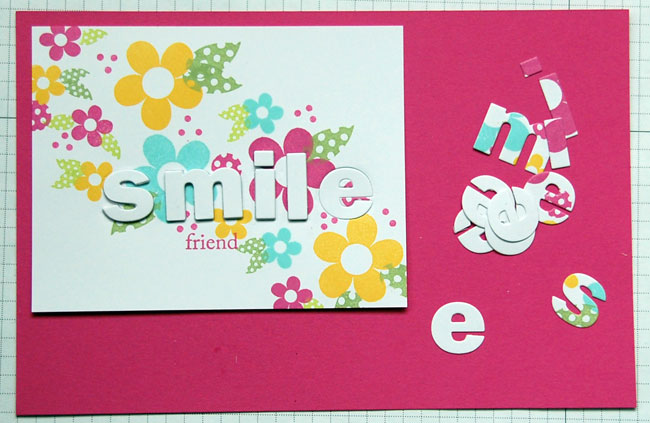 Step 9:
Glue stacked s, m, i and l into their corresponding spaces. Adhere one white e into its open space. Adhere small stamped negative piece into the e opening.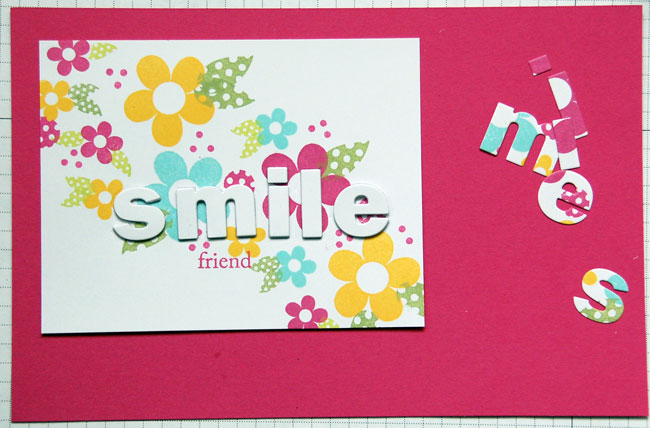 Step 10:
Adhere remaining e's over base e. You will not use the negative spaces leftover from the white die-cut e's.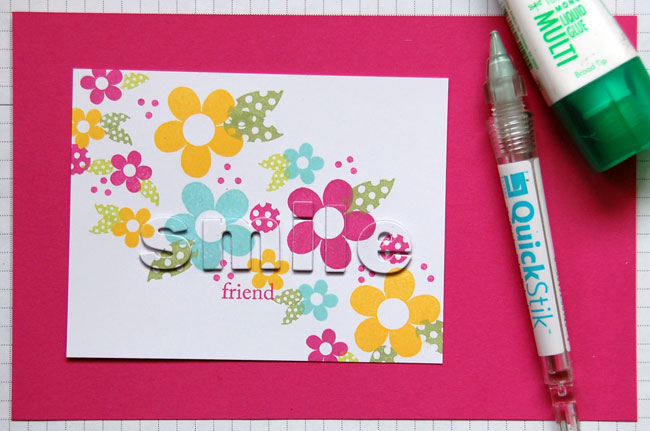 Step 11:
Carefully glue the stamped letters over the white, aligning all stamped lines and edges. Use the opposite (pointed) end of the QuickStik to help position letters. If you don't have a QuickStik, a large needle works well also.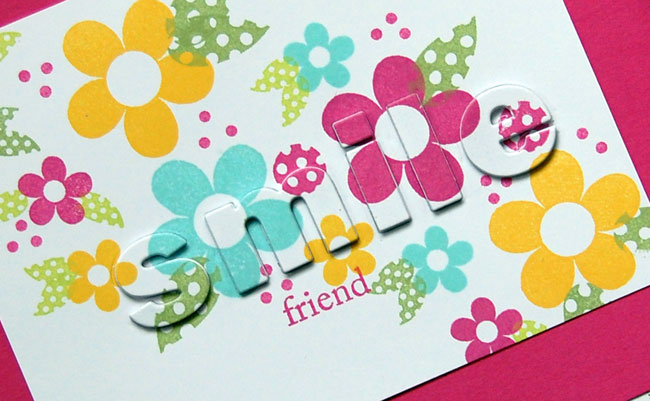 Step 12:
Finish card as desired.