"The passion I felt creating something out of wonderful ingredients with my own two hands filled me with so much excitement that I knew I had found my calling."
While it was her Splatter Paint Neon Cake that caught our eye, it is the story of how she came to love cake decorating that makes successful cake business owner, Sarah Gillespie, our June Member of the Month. So, we introduce you to Mrs. Gillespie, Owner of The End Dessert Company, who lucky for you, reveals her go-to inspiration, tips and secrets (like how to make your icing glow!) every cake decorating dreamer needs to know.
When it comes to cake decorating, what are your specialties?
My specialty as a cake decorator is creating fluidity and movement in sugar mediums in my cake designs. I hand press and shape all of my flower petals, and thin and curl each ruffle edge, all with the goal of creating fun, unique and beautiful cakes for my clients. I also pride myself on creativity, thinking outside of the usual designs to sketch out and make something personal.

We have to admit that we love your idea of using quinine to make the royal icing glow in your Splatter Paint Neon Cake! What has been the biggest struggle of your craft?
It has taken me many frustrating hours to realize that I can't be a jack of all trades, mastering all cake techniques to make every cake a client wants. Some cakes are better suited toward my skill set and interests and by marketing my business in those areas, I attract clients interested in my strongest skills. That and moving those extra large wedding cakes. I'm white-knuckled every time I deliver them!
So tell us, how did your love of cake decorating begin?
I made my first specialty cake for my daughter's 1st birthday in 2007. From that point, I was addicted. I wanted to create fresh, from scratch cakes that filled a niche in our community for specialty designed, modern technique, custom cakes. Bluprint classes were a big part of my training starting out and continue to be, for new techniques, as well as classes offered by talented pastry chefs in the U.S. In 2010, I opened The End Dessert Company, Columbus' only local and organic custom, luxury cake company and it has grown faster than I could have anticipated!
"Bluprint classes were a big part of my training starting out and continue to be for new techniques."
We can definitely see why Ohio loves your cakes because we really do too. How do you teach others?
I teach courses a few times a year to groups interested in signing up for a certain skill set, ranging from basic piping techniques and working with fondant basics, to sugar flowers and fashion-inspired cakes. My doors are also always open to anyone who wants to learn a few times a week. Anyone can call me and ask if they can come in to the shop and watch me work, picking up a few skills. I always say yes — I love teaching and the enthusiasm of others!
Wow! How wonderful that you keep your doors open to help members of the community learn your craft. We are firm believers in that kind of access too. What has been your favorite Bluprint class and why?
While it is difficult to pick, my favorite Bluprint class has to be Maggie Austin's Fondant Frills. The techniques she shared have forever changed my cake skill set and my confidence in being bold, yet elegant, in cake design. The airiness and fragility of her cakes continue to impress me, and I reference her portfolio regularly for inspiration.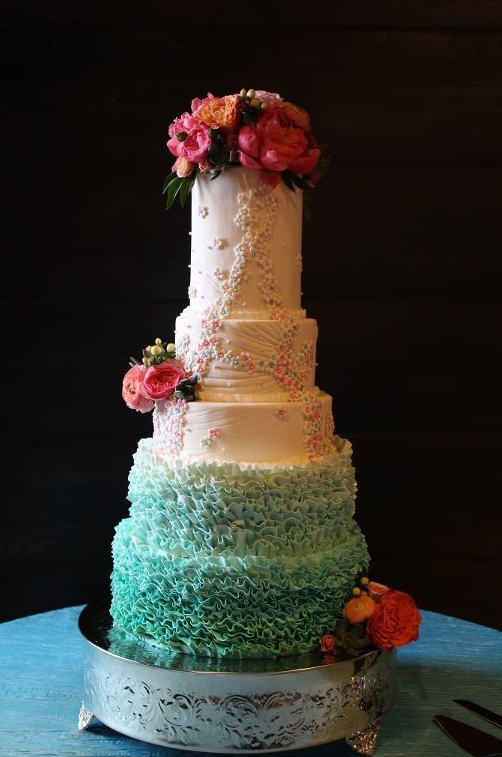 Mrs. Gillespie made this ombré ruffled wedding cake while enrolled in Fondant Frills
We love those Fondant Frills! How do you benefit from cake decorating at Bluprint the most?
Before Bluprint, my education in designing and creating cakes came from the library and countless books. The Bluprint community has inspired me and given me confidence in my craft by helping me to join forums with fellow members, seeing new projects and being able to reach out to instructors directly for advice. I admire Marina Sousa's patience for answering each of my questions every time!

It is music to our ears that you are such an active member in the Bluprint community. We created our platform for members just like you. Which instructor at Bluprint impresses you the most?
They all do, of course! Colette Peters is a legend in cake decorating and holds a special place in my heart for fueling my passion. While I love all of the new techniques I learn, her fundamentals started me on my career path. And, I was so excited to take her class on Bluprint.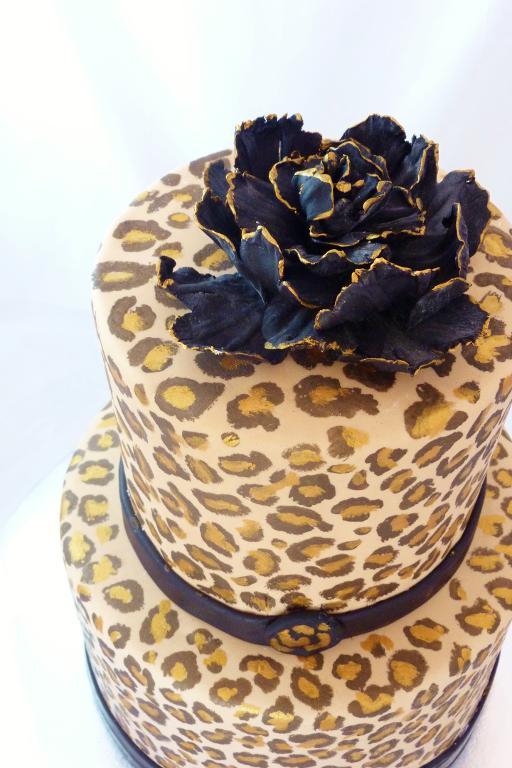 Inspiration is contagious when it comes to crafting. What advice would you give to beginners?
The moment I created a ladybug cake for my daughter's 1st birthday, the passion I felt for creating something out of wonderful ingredients with my own two hands filled me with so much excitement that I knew I had found my calling. Remembering what interests you, fuels your artistry and challenges you the most is what will help you be patient and give attention to detail during challenging times. It is always important to be patient when learning new things, to pay attention and to try and try until you do not fail.

Mrs. Gillespie's stunning project for Cake Central Magazine
We agree that your calling is in cake decorating. What project did you create that makes you most proud?
In the winter of 2012, Cake Central Magazine reached out to me to create a cake for their spring issue inspired by calla lilies, a pastel palette and requiring brush embroidery techniques. This was the first time I created a cake for a magazine shoot and was so nervous to get it just right. The first few sketches were too big, too complicated and finally I decided to create a small, detailed cake that had all of the requirements but didn't push me out of my personal style. I loved the final cake and it filled me with more pride to see it published in the magazine than I could have imagined!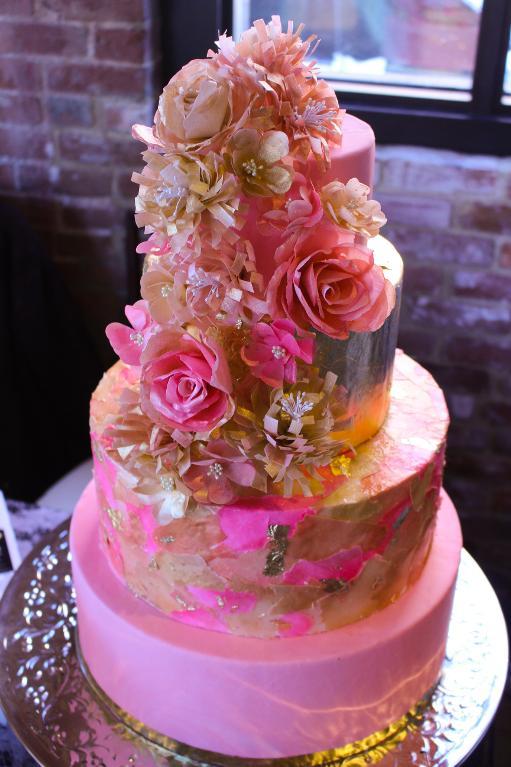 Wafer paper and edible gold leaf cake made in Stevie Auble's Delicate Wafer-Paper Cakes class
It is simply gorgeous! What project are you working on right now?
I am creating a small wedding cake that is very personal for my clients, with design elements in fuchsia and navy blue against an ivory background with royal icing piped accents. A few weeks ago, I created a five-tier wedding cake for a client passionate about food and color in a palette of teal and pale pinks. The design was very custom to my clients' needs and included a large "A" in the design for both of their first names: Andrea and Andy. Sugar flowers were combined with real ones for a perfect arrangement. It was fun, fabulous, took over 20 hours to complete and was a labor of love.
That is a labor of love indeed. Where do you find inspiration for new projects?
Recently, I have been finding inspiration for new cake designs in art catalogs at the library. The color palettes and the lines of the subjects are beautiful. There is so much beauty in a Manet vase of lilacs and fun in Andy Warhol's blotted lines daisies. I can just imagine them recreated in sugar and icing!
[box type="shadow"]
We love that you use works of art to inspire your artful cakes. And, it has been a pleasure to get to know you better, Mrs. Gillespie.
Which of Mrs. Gillespie's cake designs are you most inspired by?
[/box]