Over the past two weeks, we've learned how crafting can be therapeutic and that making crafts supports overall physical wellness. But even beyond that, crafting is so wonderful because crafting helps us help others. Join us in commemorating the health benefits of crafting as we discuss the ways people have used their love for creating to brighten the world.
[box type="shadow"]
There's still time to access our free Better Lives with Crafting Webinar, where crafting and health experts discussed the health benefits of crafting. Click here for access!
[/box]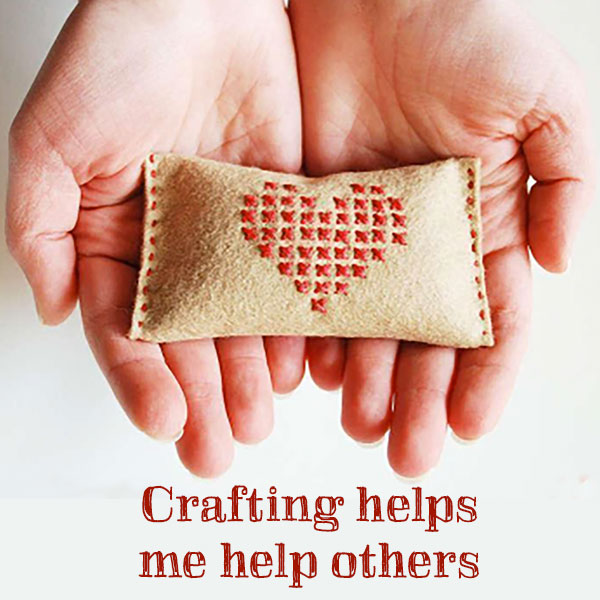 [box type="shadow"]
If you're not yet a Bluprint member, begin your crafting adventure today by joining our online community of millions of makers.
[/box]
This week: Crafting helps me help others
We crafters love to share, and usually, the most fun projects are those we make for someone else! It's a way to connect with others in our community, and channel our passion for learning and making to brighten someone's day.
Creating, whether you sew, decorate cakes or draw, is a gift you give from the heart, because when you craft, you give not only of your time and effort, but also of your mind and spirit. From knitting for charity to sewing blankets for a sick neighbor, makers are inherently generous people that make the world a warmer, brighter and more inspiring place.
Check out these heartwarming stories from our members on how crafting helped them help others: 
"My sister has been diagnosed with lymphoma, and I just recently completed a special healing quilt for her. It helped me feel closer to her as I was working on it, and she in turn feels my arms wrapped around her each time she rests beneath that special quilt."
"Knitting has helped to get me back in touch with a neighbor who is on disability and looking for ways to keep occupied. We get together weekly; I enjoy the contact, and I think it has helped her as well."
"I recently lost my mother and had several of her sweatshirts. I am making memory pillows for the family out of them. I feel so close to her as I reminisce on the times she wore each one. I think my family will feel the same."
"I like teaching others to crochet or to learn another craft, then watching the light go on in their face when they finally get it right. You both get a sense of accomplishment."
"Two specific handmade items given to me by a friend and a group of ladies I had never met were a source of comfort, encouragement and hope during cancer treatment. Making baby quilts for gifts and charity feeds my soul, and I hope that they are a source of comfort for the recipients like they were for me."
"A lot of what I sew I give to others, and at my age, that gives me a wonderful feeling. Like making another quilt for one of my Grandsons so he will have something to remember me when I am gone."
"I love teaching my grandchildren and other young people to sew. It is a wonderful way to encourage their creativity and teach perseverance and problem solving. These are skills they will use their whole lives."
"Right now I am making hats for a young lady (5th grader) in my church that is going through chemotherapy for Hodgkin's lymphoma."
"I make prayer shawls for friends and family who have lost loved ones. It is my tribute to the departed and condolences to the survivors."
"When learning to do a new project or stitch in crochet, I go to my grandmother's house in the local Senior's complex. All the older ladies come alive when asked to help or offer suggestions! It's truly inspiring to benefit from the knowledge and experience of another generation."
Want to let others know about the health benefits of crafting? Get our Better Lives with Crafting badges for your blog!
Have you ever used crafting to help others? Share your story in the comment section below!