Cowboy-themed cakes are extremely popular for not only Western-themed parties and celebrations, but for romantic and rustic weddings as well. From paisley and cow prints to cowboy hats and ropes, these recognizable Western elements are transformed into sweet confectionery — cakes and cupcakes — fit for any hoedown!
Saddle up and mosey on over to these inspirational Western-themed cakes and cupcakes for your next grand 'ole shindig!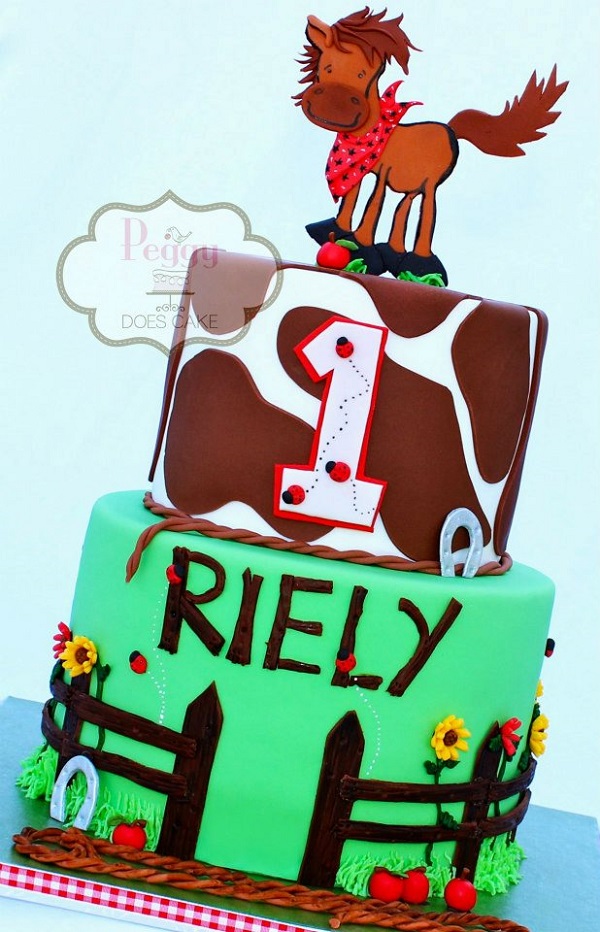 Photo via Peggy Does Cake
Horse 1st birthday cake
Bluprint blogger Peggy Lee of Peggy Does Cake created this incredibly cheerful and adorable Western cake for a little buckaroo's 1st birthday! The first layer of this two-tiered cake was covered in bright green fondant, adding a vibrant color to appeal to a younger crowd, and meticulously adorned with fencing and floral accents, along with the birthday boy's name. The second tier was decorated with a cow print and a fondant number and topped with a happy, smiling fondant horse. The use of red throughout the tiers makes the presentation pop, along with the hand-painted details amongst the embellishments.
[box type="shadow"]To practice working with and covering cakes with fondant, try out the course The Wilton Method: Decorating with Fondant, taught by Beth Somers.[/box]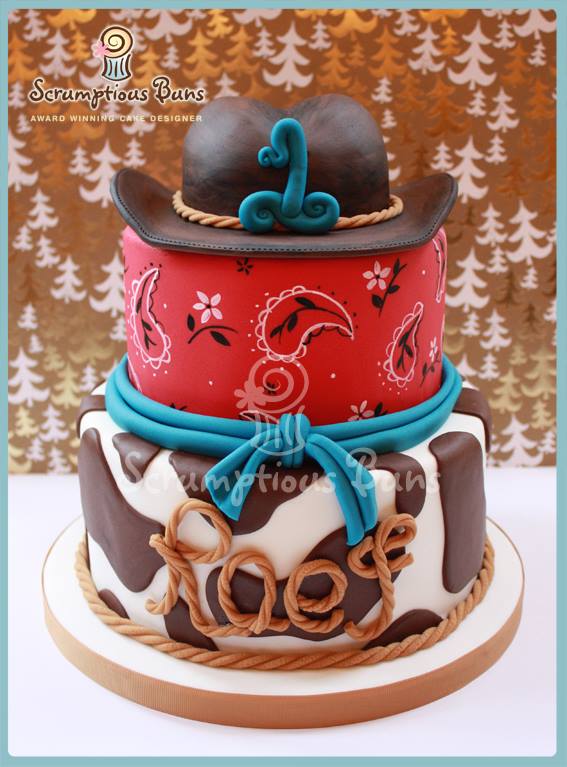 Photo via Scrumptious Buns
Little cowboy 1st birthday cake
Also for a 1st birthday, Scrumptious Buns created an exquisite cowboy-themed cake, but with a very different feel. The first tier was decorated in fondant in a cow pattern and personalized with molded letters to resemble rope sculpted from fondant twisted together. The second tier was hand-painted to depict a beautiful paisley pattern, while topped with an amazingly molded cowboy hat. The shading details add dimension, while the presentation is finished off perfectly with additional rope and scarf borders.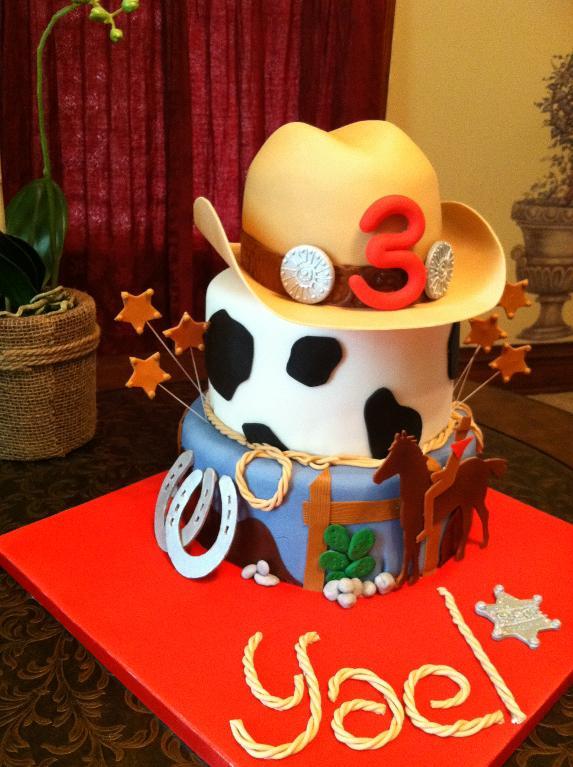 Photo via Bluprint member DSWEET
Western cowboy cake
This impressive Western cowboy cake created by Bluprint member and cake artist DSWEET combines all elements of the above cakes into one dazzling display! The first tier portrays a desert landscape with a fondant silhouette cutout of a cowboy and his horse. The cow print covers the second tier and a beautifully constructed cowboy hat. The display is enhanced with the use of sheriff stars on sticks and personalization on the cake board itself.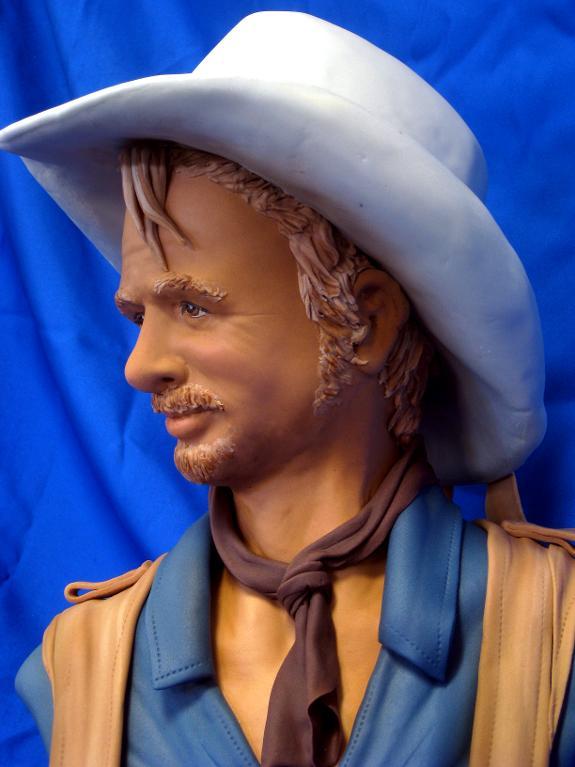 Photo via Bluprint instructor Roland Winbeckler
Cowboy bust
Renowned cake artist Roland Winbeckler, instructor of the Bluprint class Piping Buttercream Borders, sculpted this incredibly lifelike and jaw-dropping Cowboy bust cake, decorating it with a combination of fondant and gum paste! The realistic details are absolutely incredible, inclusive of the skin and hair, along with his Western wear. Roland urges cake decorators who want to create similar cakes to "study facial art" very closely to capture every feature and wrinkle.
[box type="shadow"]Learn more about constructing and shaping features and heads in the course Advanced Cake Sculpting: Bobbleheads with Mike McCarey.[/box]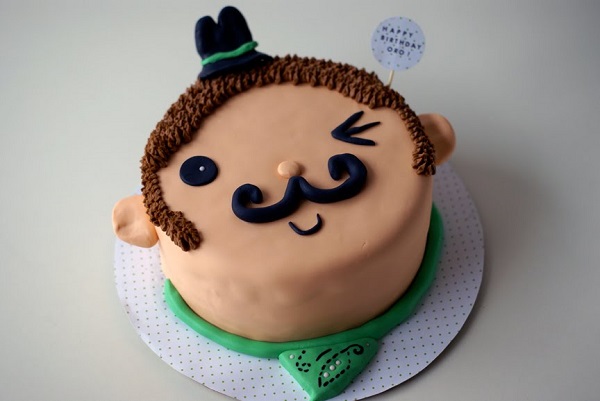 Photo via Coco Cake Land
Winking cowboy cake
Bluprint blogger Lyndsay Sung created this positively precious winking cowboy cake for a young cowpoke's birthday. Lyndsay does a tremendous job of designing beautiful and clean cakes with a combination of fondant and buttercream icing, and this little cowboy is no exception! Chocolate icing is piped to represent hair, while the remaining embellishments, including the facial features and accents, are molded with fondant.
[box type="shadow"]Hone your piping skills in the course Piping Buttercream Borders with Roland Winbeckler.[/box]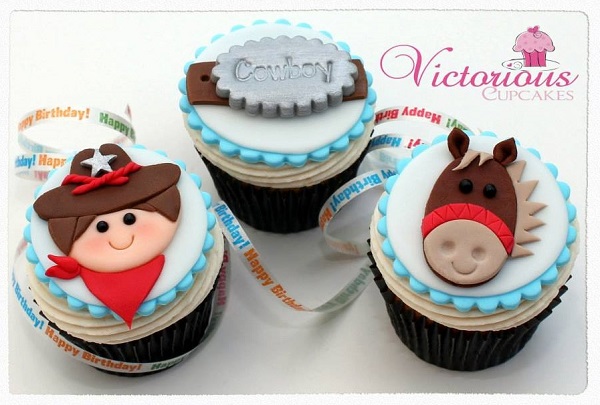 Photo via Victorious Cupcakes
Cowboy cupcakes
Victorious Cupcakes created these darling cowboy toppers that would make any lil' buckaroo say "giddy up"! The color palette of brown, white and light blue are present throughout the set, while pops of red and silver accentuate and pop the collection. The use of a scalloped circle on the bottom adds interest and dimension. Follow the cowboy cupcake tutorial at Good to Know Recipes to re-create these adorable designs.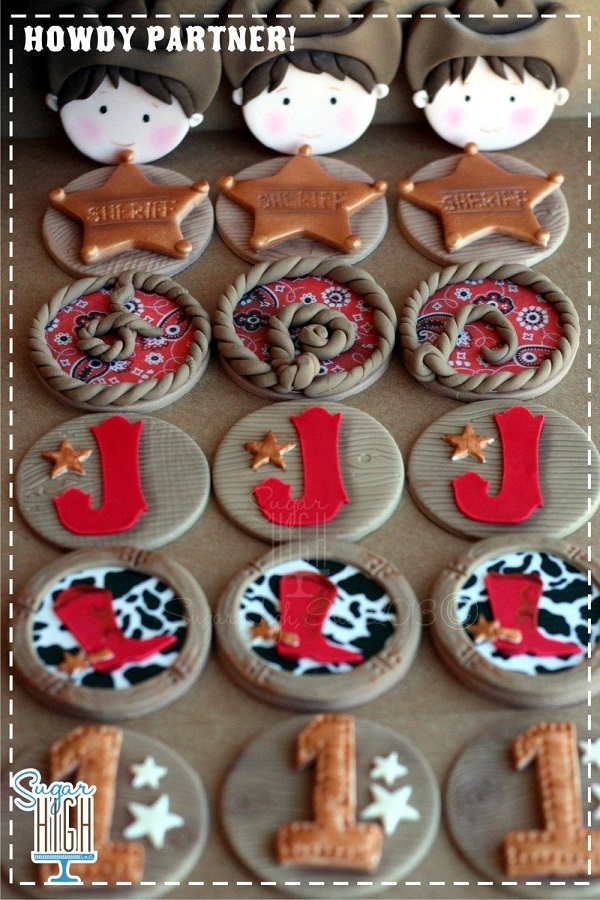 Photo via Sugar High, Inc.
Western fondant cupcake toppers
Sugar High, Inc. created this captivating and incredibly intricate set of fondant cupcake toppers with a Western theme. Each topper is layered with especially detailed ornamentation, while the round discs are either given a pattern with an impression mat or decorated with paisley or cow prints from an edible printer. An additional dimension is achieved with the use of shading or metallic hand-painting.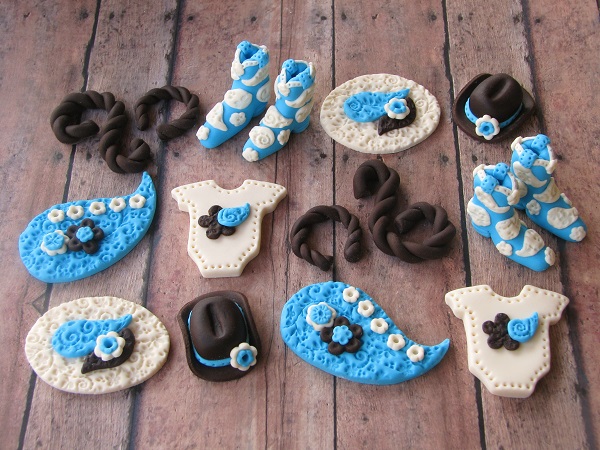 Photo via Lynlee's Petite Cakes
Western chic baby shower toppers
The Western theme is not limited to boys, it can also apply to girly events, such as the chic baby shower for which these fondant toppers were made! Three-dimensional boots and cowboy hats were molded and adorned with paisley and floral accents, while belt buckles and paisley shapes were given a floral pattern with the use of an impression mat. See additional party details and ideas for this Western Chic baby shower at Whimsically Detailed.
[box type="shadow"]For additional practice in making cupcake toppers, give Sheryl Bito's Tiny Cupcake Toppers course a try![/box]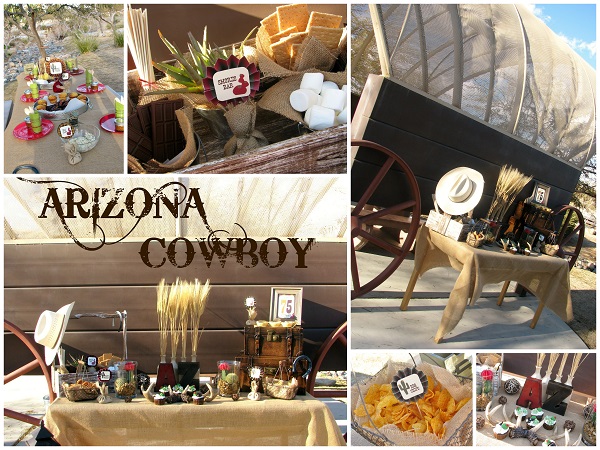 Photo via Lynlee's Petite Cakes
Arizona cowboy party
Cowboy parties are often thought of as a child's theme, but it is definitely not always the case, as seen in this grown-up Western party. Rustic display can easily be achieved with the use of burlap fabric, as well as wood and wire baskets and containers. Neutral colors give it a more mature feel, while deeper colors infused throughout enhance the presentation and maintain a level of sophistication.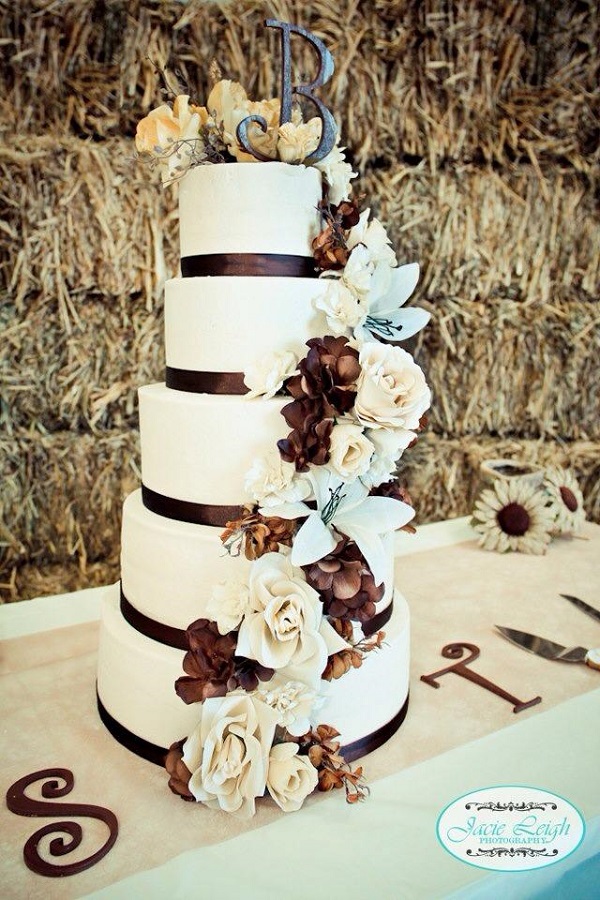 Photo via Jacie Leigh Photography
Rustic Western wedding cake
For a rustic, country wedding, Sugar Rush Bakery designed and created this incredibly elegant and gorgeous cake, perfect for a Western theme! The especially pristine layers are flawlessly stacked, while a brown ribbon is added to each border. A variety of flowers in ivory and brown shades cascade beautifully around the cake and a wooden initial tops the final tier. The color combination works adds a chic element with the contrasting hay-filled background!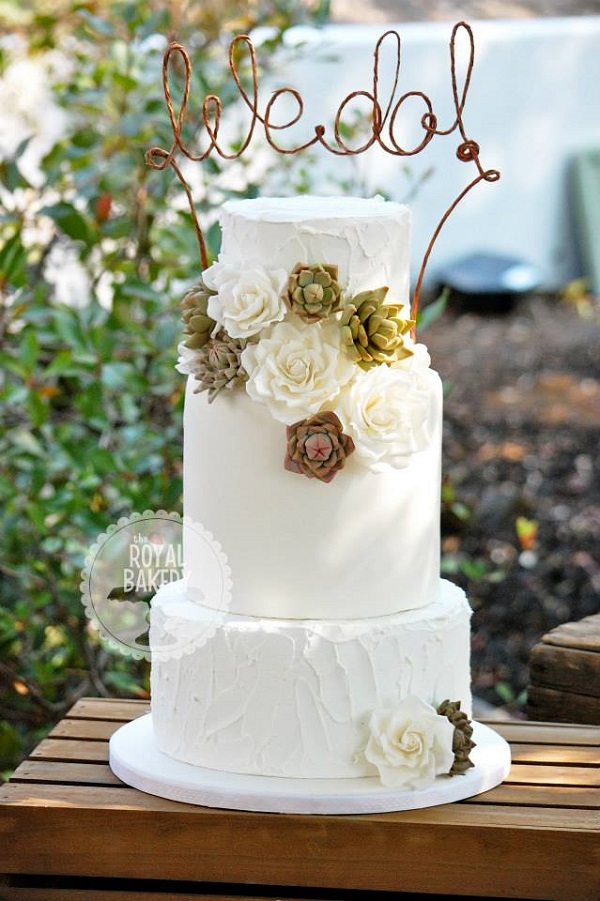 Photo via Royal Bakery
Succulent wedding cake
Bluprint blogger Lesley of Royal Bakery made this absolutely charming and exquisite wedding cake for a couple getting married outdoors. Two of the tiers were decorated with a very thin layer of royal icing for a more rustic texture to avoid melting in the heat. The middle tier was covered perfectly in fondant and the cake was embellished beautifully with gum paste roses and incredibly realistic sugar succulents. The cake was finished off with a darling "We do" topper wrapped in rustic wire to resemble rope from AntoArts.
To practice making sugar roses, make sure to check out Nicholas Lodge's The Ultimate Sugar Rose course or try a unique technique with the brand new course Delicate Wafer-Paper Cakes with Stevi Auble.
What's your country style: fun and kitschy or rustic chic?