If you'd love to own a couture garment that you've made yourself, couture sewing patterns are just what you need. They provide advanced sewists with a fun challenge and the opportunity to learn couture sewing techniques.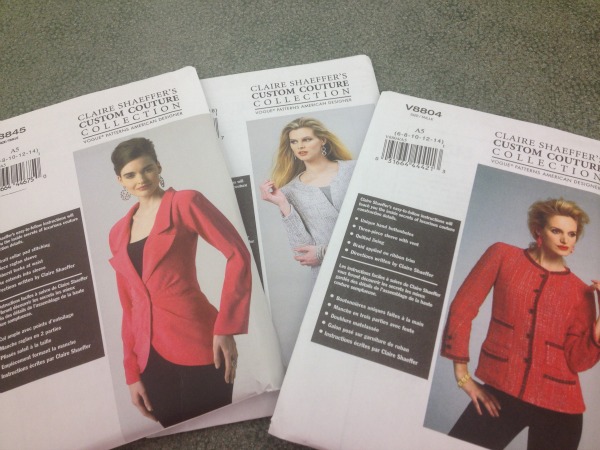 Here are five sources for couture sewing patterns:
This line of patterns from Vogue is designed by couturier Claire B. Shaeffer, who's written numerous books about couture sewing techniques. Her motto is, "I demystify couture."
The sewing patterns all feature designs in relatively classic shapes and instruction in various couture sewing techniques, such as sewing a three-piece sleeve and creating buttonholes by hand.
Some of the patterns in this line are out of print, but a few are available for purchase online. Or, you might have some luck finding them at a garage sale or on sites like eBay and Etsy. Fortunately, if you're not in the mood for a treasure hunt, several are still in print and easily found at any craft store carrying Vogue patterns. I found a great blog post with information about many of the patterns in this collection, including availability and information on the included couture sewing techniques.
On the more avant-garde side, the Show Studio Web site has a handful of free couture sewing patterns available from designers such as Yohji Yamamoto, John Galliano and Alexander McQueen. The patterns are lacking in explicit instructions, but they free and available for downloading and printing at home.
Independent British pattern designer Merchant & Mills brings couture to the masses with high quality sewing patterns. Their couture sewing patterns are printed on card, which behave better and last longer than tissue paper patterns. Card stock patterns are also great if you prefer using pattern weights to pin the pattern to the fabric. Merchant & Mills patterns come with a pattern hook so you can easily store your pattern hanging up, just like a true couturier.
While they might not technically be considered couture sewing patterns, advanced sewists will enjoy the challenge of working with Marfy patterns. Featuring Italian designs, Marfy patterns are pre-cut, single sized and printed on onionskin paper. The patterns lack cutting layouts, seam allowances, hem allowances and assembly instructions, so they aren't for the faint of heart. Marfy patterns are available online through McCall's.
Bluprint is another resource for couture sewing patterns and instruction. Bluprint offers a class called The Couture Dress, where couturier Susan Khalje demonstrates couture sewing techniques using a Vogue pattern. You can also practice couture sewing techniques on patterns purchased from Bluprint. The Kimono Robe pattern features French seams, a popular couture technique. Couture fabric flowers can be added to clothing and accessories.
You may also enjoy our roundups of famous French couturiers and couture sewing classes.
What are your favorite sources for couture sewing patterns? Please share in the comments!