I can't tell you how many times during a day that I'm craving sweets…a slice of pie with ice cream, a fresh-from-the-fryer glazed doughnut (or three), an ice-cream sundae. Well, eating all those treats is now a piece of cake, literally.
These "dessert" cakes may mystify the eye, but the mouth it will most certainly please and delight!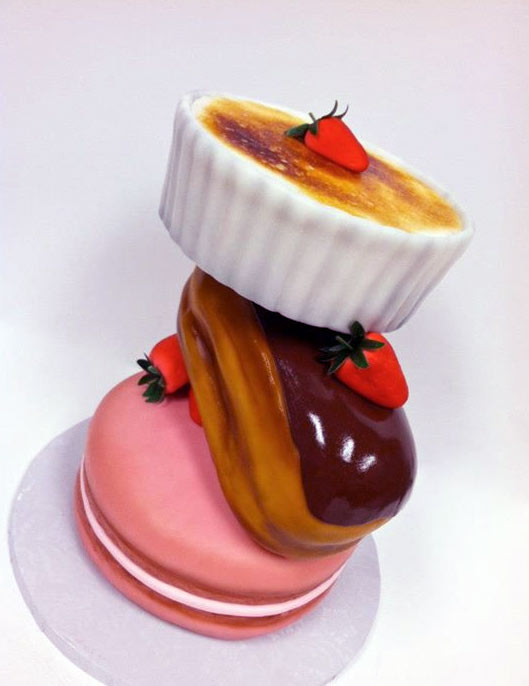 Photo via Sweet On Cake
French pastry cake:
Oooh what I wouldn't give for a beautiful slice of this French pastry stack? A pink strawberry macaron, a chocolate éclair with a thick shiny chocolate glaze, and to top it off, the pièce de résistance, everyone's favorite, crème brûlée. Oh wait — it's all cake!
This awesome French pastry lover's cake is by the ultra talented cake artist Amber McKenney of Sweet On Cake. Sweet on cake indeed, and French pastry, too.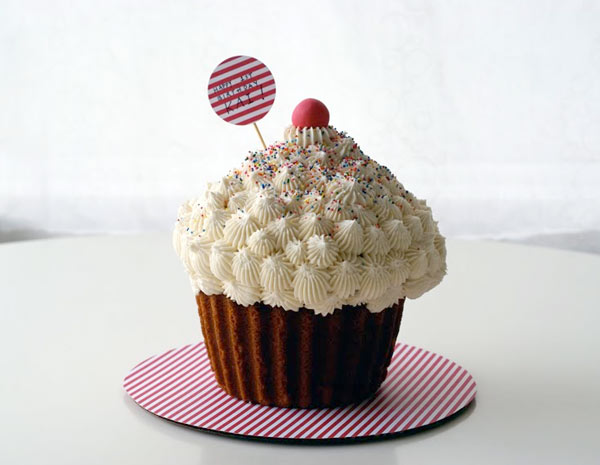 Photo via Coco Cake Land
Giant cupcake cake:
Everyone loves to chomp down a miniscule little cupcake — so why not make it in jumbo form? This one was made using the Wilton giant cupcake mold and piped with an open star tip and covered with rainbow sprinkles and a big red fondant cherry.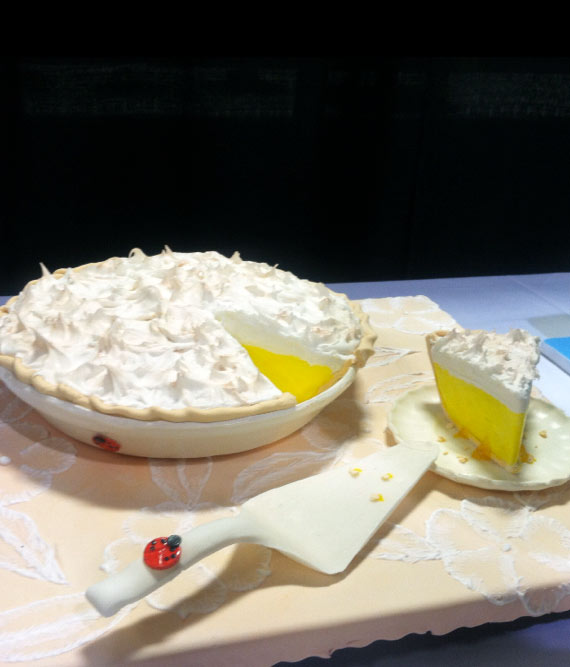 Cake by Sonja Fontana; photo via That Takes The Cake 
Lemon meringue pie cake:
This is just about the coolest fake pie cake I've seen out there. Isn't it confusing your taste buds right now? The pie cake slice really makes it. I love the bright lemon filling color and the amazing meringue made of buttercream.
If this cake is making you crave the real thing, be sure to check out our mouth-watering lemon meringue pie recipe.

Photo via Sweet On Cake
Old time candy bag cake:
Forget the handbag cake — I'll take a candy bag cake. Fill 'er up, sir! I love this clever take on the bag cake by Amber of Sweet On Cake. Bright shiny gumdrops and gumballs, bright red stripes and those incredible edible rainbow lollipops. This cake wouldn't be out of place in the multicolored corridors of Munchkin Land in The Wizard of Oz.

Photo via Craftsy member Thaty
Ice-cream parlor themed cake:
Craftsy member Thaty created this cool looking ice-cream parlor cake, complete with a vintage sundae "dish" filled to the brim with delicious "ice cream." She created the topper using Rice Krispies Treats, fondant and gum paste. It looks so real, I just want to dig in with that fake spoon.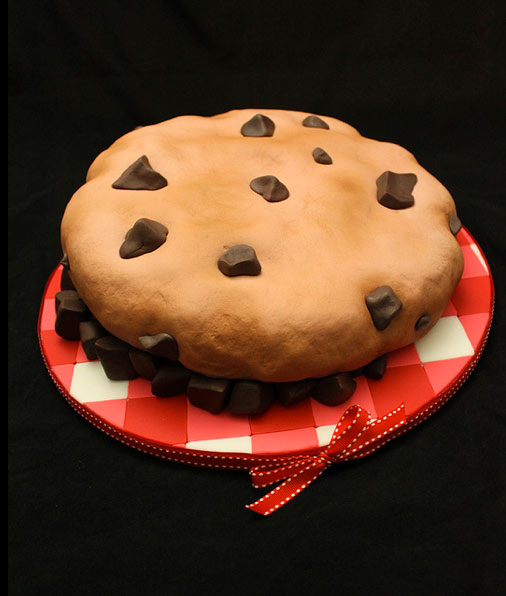 Photo via Andrea's Sweet Cakes 
Giant chocolate chip cookie cake:
When a cake that resembles a giant scrumptious chocolate chip cookie makes you crave an actual real cookie, this cake has done it's job. I love those big fondant chocolate chunks and the color variance of the "baked" cookie. The gingham fondant cake board adds a nice homey touch, too. Chomp!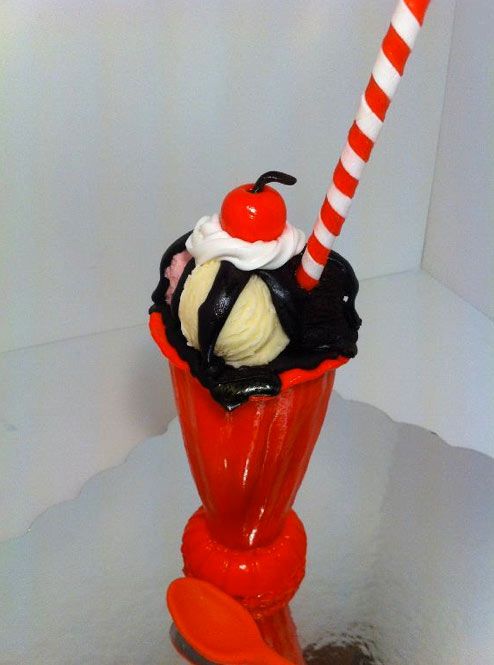 Photo via Craftsy member Oatmeal48
Neapolitan ice-cream sundae cake topper:
Craftsy member Oatmeal48 made this shiny sweet red fondant cherry-topped faux sundae cake topper. Wondering how she get the ice cream scoops to look so real? She actually "scooped" the fondant and picked at it until it looked like a big old ball of frozen ice cream. Pretty "cool," eh?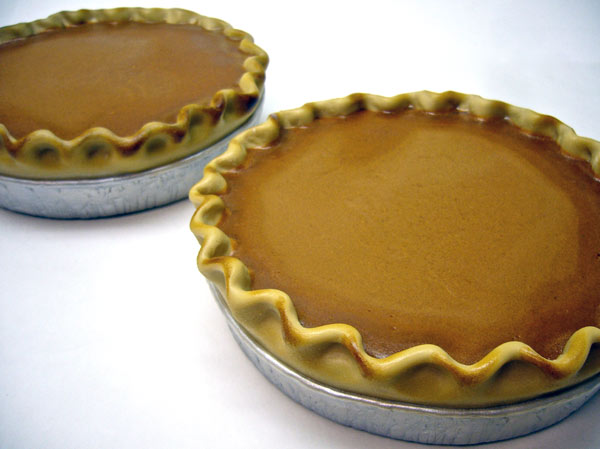 Photo via Sweet On Cake
Just baked pumpkin pie cakes:
Another awesome faux dessert cake from Amber of Sweet On Cake. Imagine the faces at the Thanksgiving table when these cakes get sliced into? A little airbrush shadowing and the perfect color of fondant for the pumpkin filling equals an awesome cake.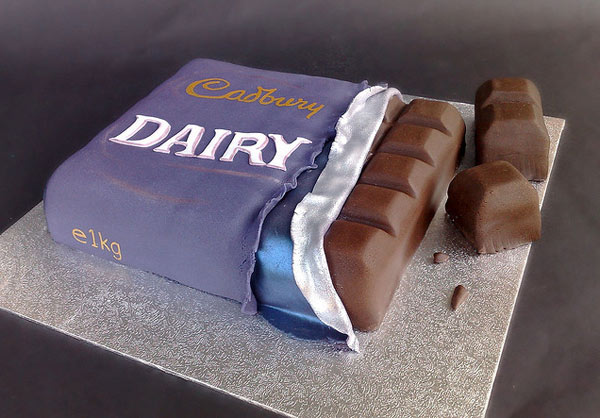 Photo via Small Things Iced
Giant chocolate bar cake:
Chocolate lovers can rejoice in this extra chocolate cake. Not only does it look like a deliciously melted chocolate bar, but the cake itself is actually a chocolate cake carved and filled with buttercream and covered in chocolate fondant! The "foil" underlay is actually fondant, too, covered in silver and blue luster dust. Amazing. I also like how she took the time to hand cut the lettering — kind of fun to try that instead of printing on edible paper.
You may also enjoy our roundups of doughnut and ice cream themed cakes and junk food cakes. And check out Craftsy's collection of sculpted and novelty cake decorating online video classes to learn the techniques used to make these unbelievable "dessert" cakes.
Come back to the Craftsy Blog tomorrow for a look at some fun wine-themed confections!
I'm dying for a piece of chocolate now! Have we activated your sweet tooth? Which "dessert" cake would you like to try?