While cakes and cupcakes are often decorated with fondant, there are some who dislike the taste of this sugary dough and simply remove the adornments. But who can refuse a cookie? Opt to provide a clever alternative and embellish your creations with decorated cookies as toppers and garnishes!
Get creative with these sweet tips and ideas for decorating your cakes and cupcakes with innovative cookie designs!
Decorating cakes with cookies:
Photo via De Koekenbakkers
This beautiful two-tiered cake by De Koekenbakkers demonstrates how the use of cookies as adornments can not only serve as a substitute for fondant or gum paste, but can also provide added dimension to the entire design. The goldfish cookies are baked and decorated with royal icing, then once completely dry, are cleverly arranged and attached to the cake.
Adhering the cookies to the perimeter of a cake can be done in a variety of ways, depending on the manner in which the cake is iced or covered. Generally, you can utilize royal icing or melted chocolate to act as a glue. Make sure to test out your choice on your medium to ensure it adheres securely.
To utilize a cookie as a topper, attach a stick (skewers, sticks, popsicle sticks, etc.) to the back of the cookie to insert it directly through the top of the cake, similar to the process of making a fondant number topper, but avoiding adding a backing, unless desired.
If you are learning the art of cookie decorating, make sure to check out the Bluprint course Decorating Essentials: Designer Cookies with Autumn Carpenter for all the tips and techniques to creative these works of art!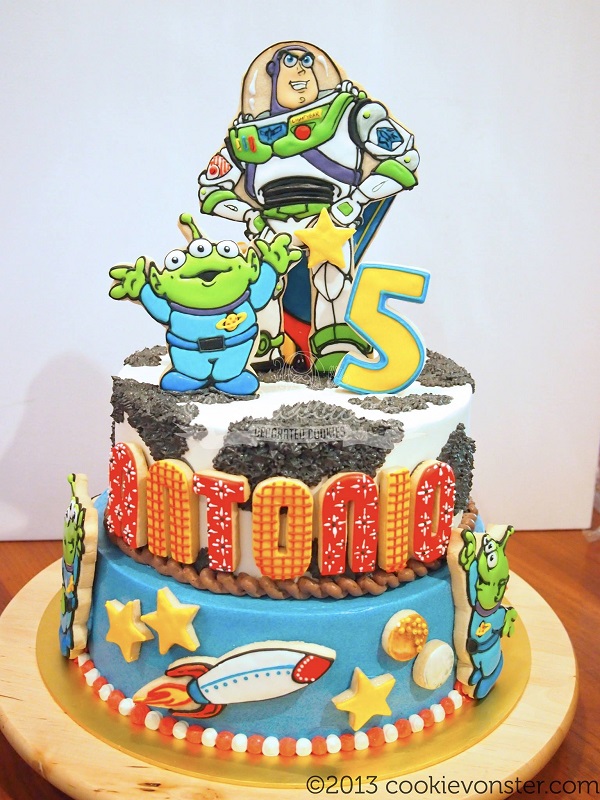 Photo via Cookievonster
This absolutely adorable Toy Story cake by Cookievonster is another example of how utilizing cookies to decorate your cakes can result in an absolute masterpiece! Though the bottom tier is iced smoothly, the second tier includes a piped cow pattern, adding extra interest to the design. The birthday boy's name was also turned into cookie form, providing additional personalization to augment the amazing character renderings. If creating a large topper such as this, make sure you include proper support behind it, as well as it is inserted in the cake to ensure it has enough support to stand.
Practice your buttercream piping skills in The Wilton Method®: Buttercream Skills with Beth Somers to decorate your cakes prior to accentuating them with cookie designs.
Decorating cupcakes with cookies: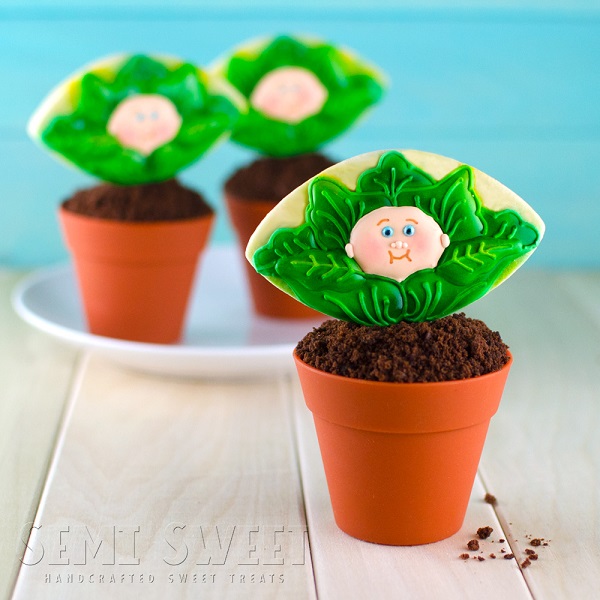 Photo via Semi Sweet
Utilizing cookies to decorate cupcakes is very similar to the techniques applied to cakes, but even easier since they are smaller and don't require any trimmings on the sides since they are covered by liners or cups! These charming and nostalgic Cabbage Patch Kids designs by Mike at Semi Sweet are the perfect example of embellishing cupcakes with cookies. In his cookie cupcake topper tutorial, Mike demonstrates how he adhered bamboo skewers to the back of the cookie to insert them directly into the cupcake. If you don't want the cookie to stand up vertically, you can easily lay it over icing just like you would a fondant cupcake topper.
Decorating with three-dimensional cookies: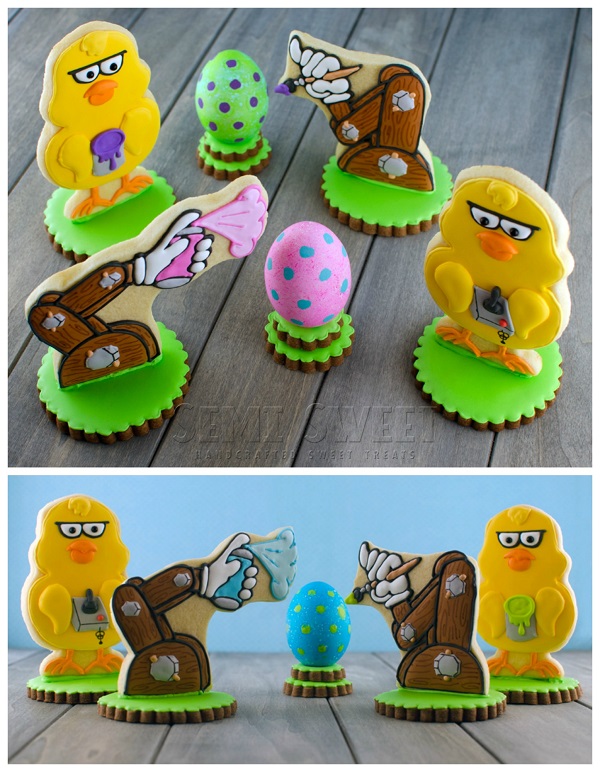 Photo via Semi Sweet
Semi Sweet also shows us another way to decorate cakes and cupcakes: with the use of three dimensional cookies! These awesome Easter cookies can literally stand on their own, but would also serve as ideal cake toppers without the need to attach a supporting stick behind it. Vary the size and they could easily sit atop flatter cupcakes as well. Follow the 3-D chick and stand tutorials to re-create this presentation and learn techniques to be applied to future projects.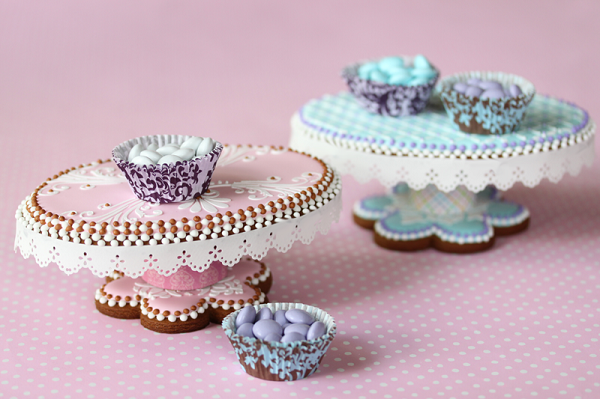 Photo via Julia Usher
Three-dimensional cookie construction is taken to the next level by Julia Usher, a renowned pastry chef and writer, recognized for her spectacular and creative cookie designs and incredible decorating skills. These gorgeous and delicate cake pedestal cookies can even serve as a cupcake holders! Watch the cookie cake stand video tutorial for instructions to build these edible creations.
Enroll in Alan Tetreault's The Secrets to Perfect Stenciling to learn techniques to create beautiful patterns such as these with the use of stencils and piping on cakes, cupcakes and cookies!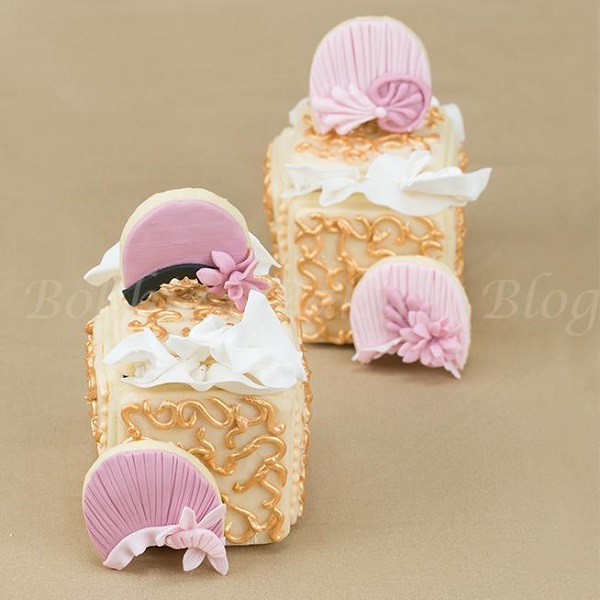 Photo via Bluprint member BobbiesBaking
These 3-D filigree hat box cookies by Bluprint member BobbiesBaking is another marvelous example of cookies utilized to construct three-dimensional designs. The techniques to piping the gold filigree pattern was learned in the course Modern Piping with Joshua John Russell, adding an elegant touch. With the adorable 1920's style hats inspired by The Great Gatsby, these decorated cookies would work perfectly as cake and cupcake toppers!
For more design inspiration from the Great Gatsby era, check out Cake Design Made Simple: Art Deco with Lindy Smith to apply to your cake and cookie creations.
Special Savings on Popular Cake Decorating Classes
Learn from the best instructors. Get up to 33% off classes you can watch anytime, anywhere, forever.Enroll Now to Save »
<!– End CTA 33% off cake classes>