While traditional quilting patterns often rely on symmetry and a fair amount of repetition between quilting blocks, more recent trends in modern quilting tend to showcase features like asymmetry and a healthy use of negative space. When it comes to modern and contemporary quilting tips, many experienced quilters rely on negative space as a key design element.
Photo via Craftsy member RhoDoh, made in the class Machine Quilting Negative Space
Here are some contemporary quilting tips from members of the Craftsy community, showing us how to quilt negative space!
What is negative space in quilting? Negative space can be thought of as the background of a quilt, where the absence of a design often creates secondary patterns. Negative space can be comprised of light or dark colored fabrics, and is usually the sashing, borders and background of a quilt pattern. Though traditional quilts still have these elements, they may often be more pronounced in contemporary quilts and modern pieces.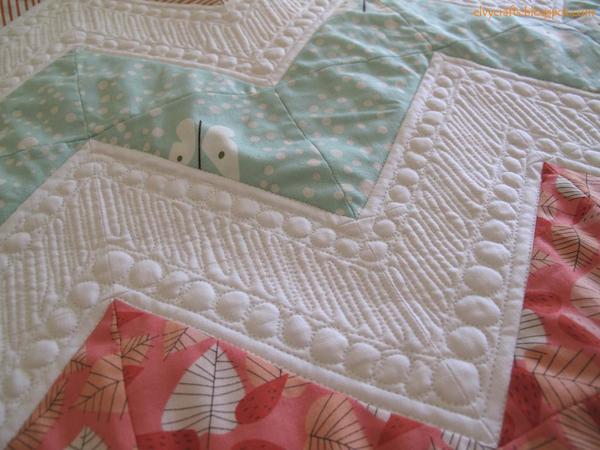 Photo via Craftsy member Elvy Crafts
Tip #1: Quilt only in the background.
One way to really make a quilt's background stand out is through heavy machine quilting. In this Chevron Toddler Quilt, the white negative space is quilted with pebbles and wavy lines, while the patterned, focal fabric is left un-quilted. The modern quilt design on this project makes it very textured, so that the background really pops.

Photo via Craftsy member kathyjdh561539
Tip #2: Vary the size.
When you are machine quilting a large, open background, you can use contemporary quilting tips like kathyjdh561539 explored in her Modern Monogram Baby Quilt. As you can see, her densely quilted swirls vary in size from large to small, which adds interest and moves the eye to the monogram featured on the quilt, since it has smaller swirls and tighter quilting overall.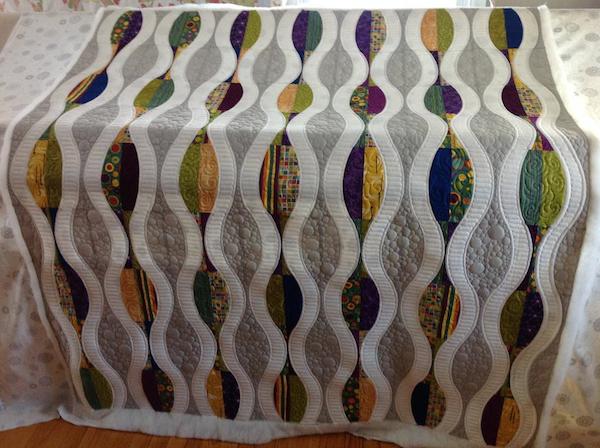 Photo via Craftsy member SewWhatsUp
Tip #3: Negative space becomes more prominent through quilting.
What happens when you have two distinct area of negative space? In the quilt Inspired by Angela, Craftsy member SewWhatsUp treated the white, vertical curves with wavy line quilting and quilted pebbles of various sizes in the solid grey areas. This contemporary quilting treatment, as well as the quilters use of colors, makes the negative space pop to the foreground more than the actual fabric prints.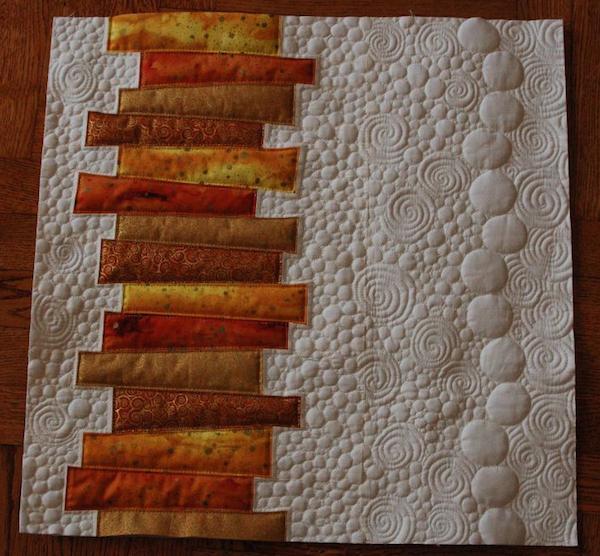 Photo via Craftsy member PaWo
Tip #4: Have two or more designs sharing the same negative space
If you only have one section of negative space, don't feel like you have to stick to just one free-motion quilting pattern. You can have the freedom to stitch a combination of different sizes and shapes onto your quilt's background fabric, just like on this quilted Pillow Cover. One contemporary quilting tip is to use areas of heavy  (like the swirls) quilting and open quilting (the large pebbles) to contrast one another and draw the eye to a specific area on the quilt.
Tip #5: Take a class on modern quilting
If you'd like to learn more modern and contemporary quilting tips to amp up your next project, sign up for Machine Quilting Negative Space with Craftsy instructor Angela Walters. You'll learn how to sketch a variety of freehand designs like swirls, wavy lines and circles and turn those into quilted free-motion patterns on your sewing machine.
Do you have any contemporary quilting tips for using negative space?
What is your favorite pattern for free-motion quilting in background, sashing and borders?