Are you curious about making a contemporary art quilt, but don't know where to start? One of the best ways to begin is to reinterpret a traditional pattern with a more modern feel. Try going back to an old favorite and see what a fresh color choice and a new look can do.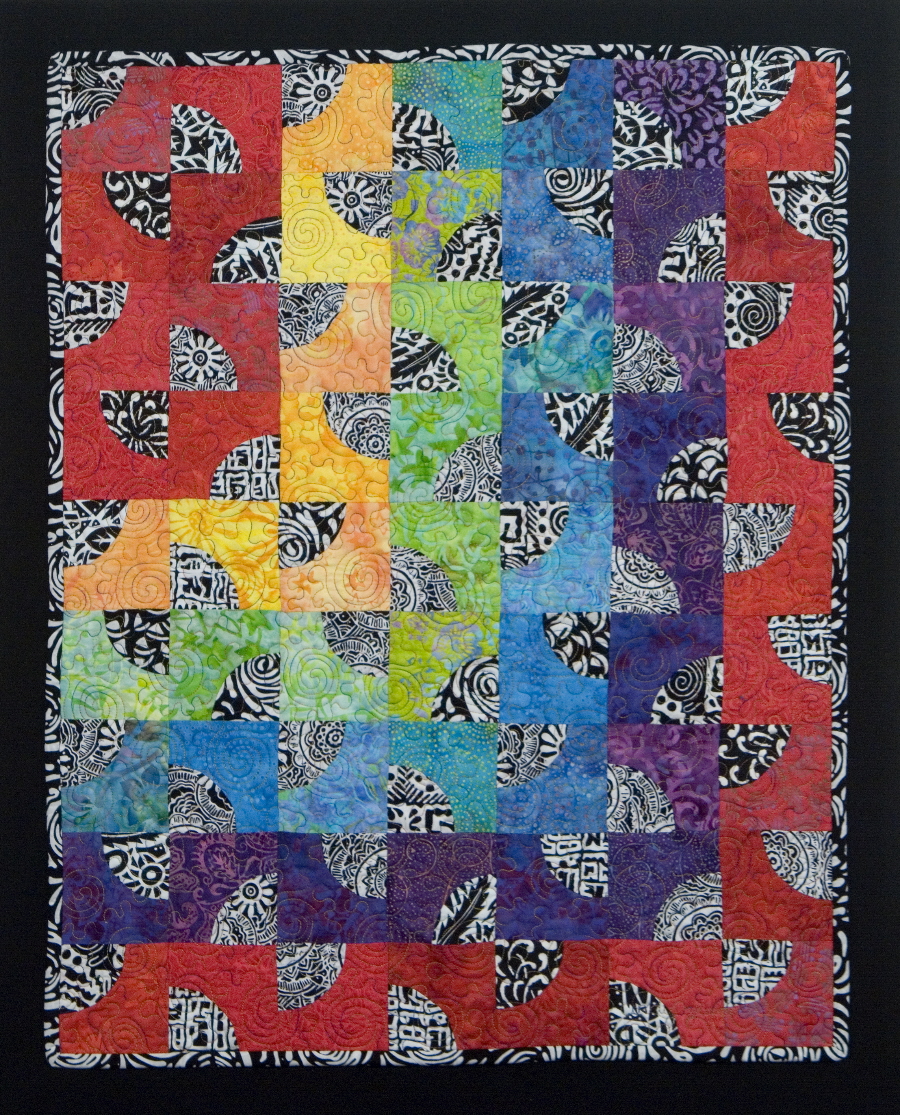 My pattern of choice is Drunkard's Path. In the Splash of Color quilt (pictured above), I used one of my favorite traditional designs, but made it contemporary with batik fabrics and a rainbow color scheme accented with black and white for that spark of excitement! Using a variety of fabrics in each color band and in the black and white accents adds to the modern feel.
A classic made modern
The Irish Chain is a classic traditional quilt pattern that has fascinated quilters for many years. Designer Lynda Milligan makes the pattern fresh and new by interspersing stars in the design and using a rainbow of colors. The kit for Starry Irish Chain includes 12 Fat Quarters in a variety of colors and 5 yards of solid fabric to make a 59″ x 74″ quilt you're sure to treasure!
You can learn to design your own Irish Chain quilt (along with three other included patterns) in the Bluprint class The Twisted Irish Chain with Amy Gibson.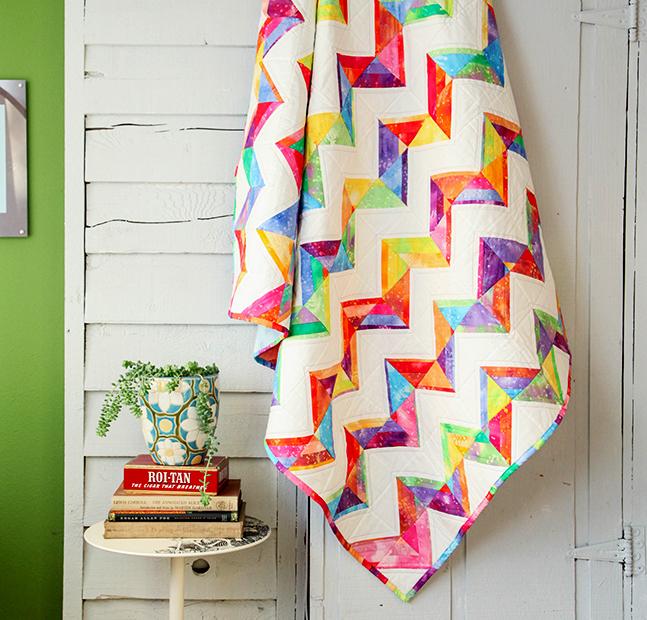 Fresh quilt for summer
If you want to step outside the box and create something completely new, the Rainbow Sherbert quilt looks almost good enough to eat! The pattern from Nancy Smith includes a 90 piece box of Fossil Fern fabrics combined with Kona cotton in Snow to make a generous 56 x 64″ quilt — perfect for adding a splash of color to your summer decor.
Modern pineapple place mats
If you'd rather start with a smaller project, what better choice than placemats and napkins with colorful Kaffe Fassett fabrics? Designed by Lynda Milligan, the kit includes the pineapple log cabin pattern to make four placemats, plus a Fat Quarter bundle in blue and green and fabric for the matching napkins. Wake up your table!
For more masculine taste
If rainbow brights aren't your taste, check out the Pinwheel Squares Quilt kit from Timeless Treasures. Blue and brown batiks set off by crisp lights give this quilt a more masculine appearance, maybe for a special man in your life. Included in the pattern are 40 Tonga batiks cut in 10″ squares, so you can dive right in to creating your quilt!
A contemporary challenge
Maybe you would rather take on a challenge from your own stash? Designed by Janice Ryan of Better Off Thread, the Spiral Geese Mini Quilt pattern will get your creativity flowing!  It's a 22″ square contemporary art quilt intended to hang on the wall, or you could be inspired to use it as a central medallion for a larger quilt. Learn a new technique as well with instructions for paper piecing and reverse turned edge applique!
Need a little more direction? Craftsy quilt kits may be the answer. From table runners or placemats to full size quilts, Craftsy kits have everything you need to make a sparkling contemporary art quilt creation!
However you choose to get started creating contemporary art quilts, it gets easier after the first one. It might open up a whole new range of possibilities, so you won't look at quilt patterns the same way again!
What's your favorite traditional pattern to make modern?