Given the chance, children love to play in the dirt and mud, especially little boys! A fascination with trucks and cranes and tires can begin at a very young age, prompting the desire for construction-themed decorated cakes and cupcakes for birthday parties that can last through adulthood.
Dump everything and grab your hard hat to check out this collection of hard-workin' construction-themed cakes and cupcakes!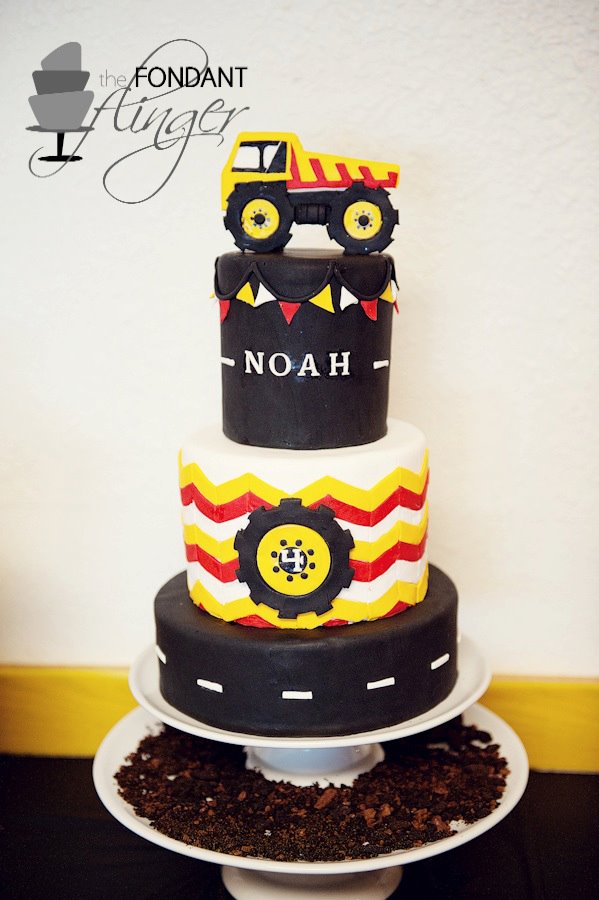 Photo via The Fondant Flinger
Tiered chevron construction cake
Fondant Flinger created this incredible three-tiered construction zone cake as part of a construction-themed dessert table. Two tiers of this amazing cake were covered entirely in black fondant to resemble black asphalt with white center lines, while the remaining layer contained a bright yellow and orange chevron pattern, giving the entirety of the presentation both a young, yet sophisticated, modern look. A fondant two-dimensional truck tops the cake, while draped bunting ties in the colors. The cake was personalized for the birthday boy, including his name and age and the display was made even grander with the addition of a second cake stand filled with edible dirt.
[box type="shadow"]Learn more about creating bold patterns and techniques to decorate your cakes in the Bluprint course Simply Modern Cake Design with Jessica Harris to construct contemporary designs such as this beautiful cake.[/box]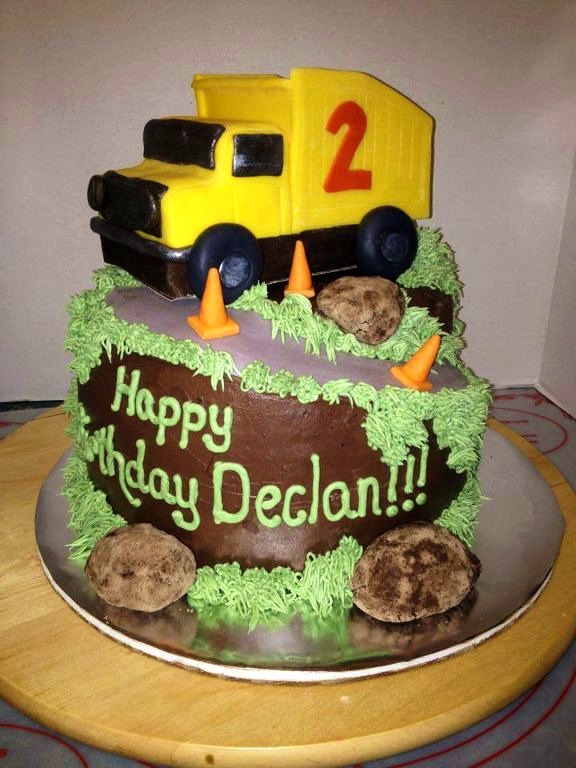 Photo via Bluprint member Just Get Baked
Dump truck cake
Bluprint member and cake artist Just Get Baked designed this super impressive dump truck cake for a little boy's 2nd birthday. The cake was sculpted asymmetrically to create a pathway along the front and decorated with buttercream icing both smoothed and piped. The carved dump truck was covered and adorned with modeling chocolate with the exception of the windows, lights and bumper. The latter elements were created from fondant to allow for painting on a metallic sheen that would not reflect on modeling chocolate.
[box type="shadow"]Learn more about modeling chocolate, its benefits and techniques to mold shapes in the new Bluprint course Modeling Chocolate Magic with Lauren Kitchens.[/box]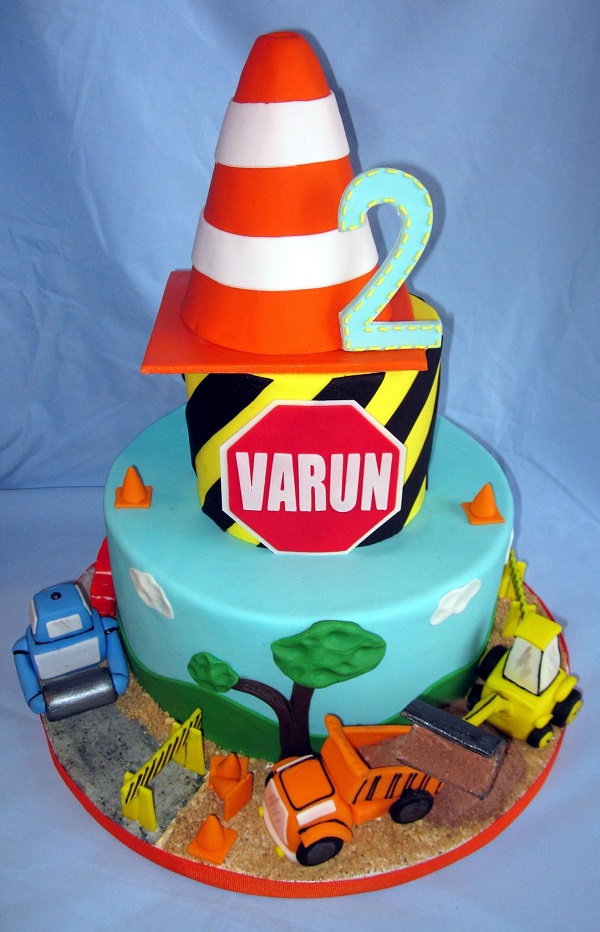 Photo via Divine Cakes
Under construction tiered cake
Divine Cakes did a tremendous job capturing all the elements of a construction site in this amazing and extremely detailed three-tiered cake! The top of the cake includes a cake carved into the shape of an orange cone, then covered in fondant. The middle tier is made to resemble the recognizable black and yellow stripes of construction zone caution tape with a stop sign including the birthday boy's name. The bottom layer depicts a landscape, while the deliberately larger cake board is incorporated into the design, including fondant construction vehicles and accessories, asphalt and edible dirt (easily achieved with crushed cookies).
[box type="shadow"]Practice basic sculpting to create cakes and shapes, such as the construction cone seen here, in the Bluprint course Cake-osaurus Rex with Catherine Ruehle.[/box]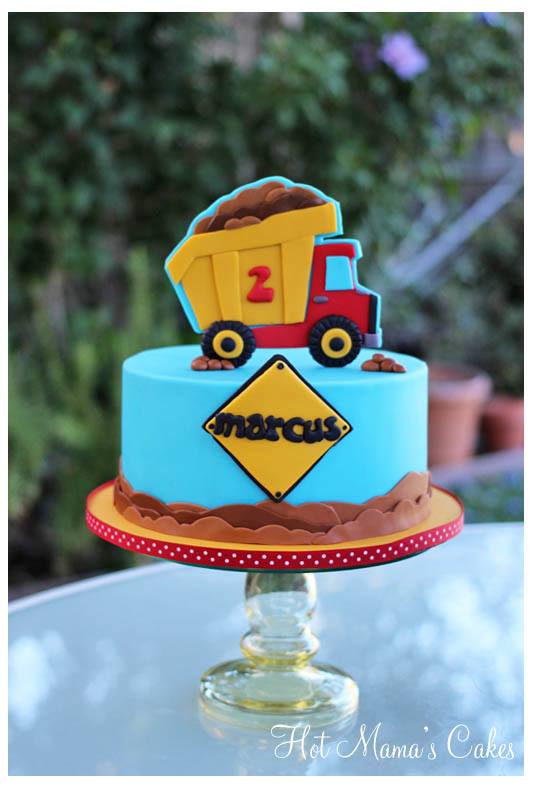 Photo via Hot Mama's Cakes
Dump truck construction cake
This clean and simple, yet incredibly adorable construction-themed cake by Hot Mama's Cakes is perfect for a smaller group of guests! The cake is so perfectly covered in light blue fondant with a personalized sign. Though the dump truck is virtually flat, added fondant embellishment and tiers give the decoration supplementary dimension and texture, making the design pop. Dirt is also given a dimensional effect with the use of layering fondant strips around the perimeter of the cake, achieved with a technique similar to our fondant wave tutorial.
[box type="shadow"]Take your fondant skills to the next level with the use of texturing, stencils, molds and piping in Marina Sousa's Advanced Fondant Techniques to create eye-popping designs![/box]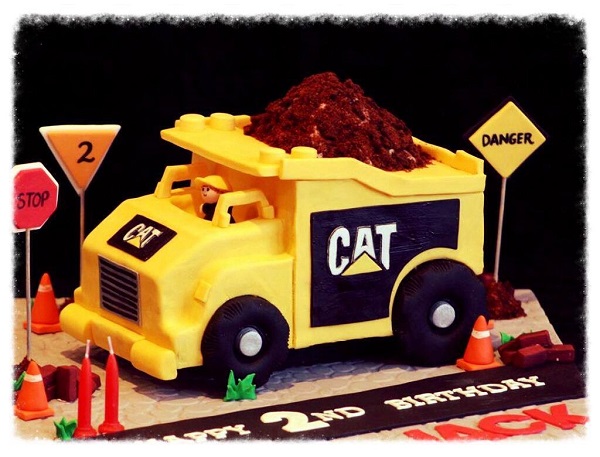 Photo via Sweet Bite
Sculpted construction truck cake
No, this not a toy truck… it's an incredibly constructed three-dimensional cake by Sweet Bite! The completely edible cake was beautifully sculpted to resemble a dump truck and decorated with details, including crumbled cake dirt. The cake board is covered in light grey fondant and pressed with an embossing mat to resemble a cobbled road, while additional embellishments, such as signs anchored with wire posts, bricks and construction cones molded and cut from fondant. Easily write on fondant with edible pens, as the logo and signs have been executed in this cake.
[box type="shadow"]Get detailed instruction on constructing cars out of cake in the Bluprint course Classic Car, Timeless Techniques with Mike McCarey and sculpt your own construction vehicle![/box]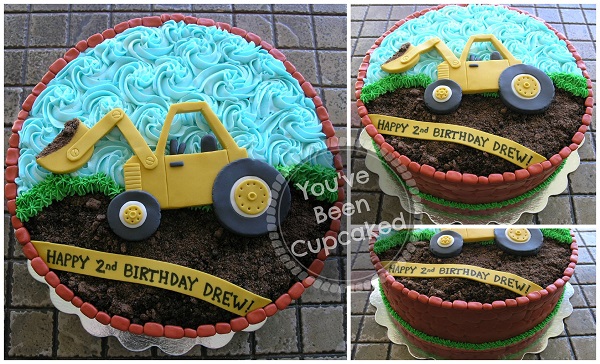 Photo via You've Been Cupcaked
Construction landscape cake
This incredibly adorable cake by You've Been Cupcaked utilizes a variety of cake decorating techniques and mediums so perfectly combined to create a delightful construction scene. The blue skies were achieved with piping swirl rosettes out of buttercream icing and grass was added with a smaller star tip. The crushed cookie dirt covered the surface on the lower part of the cake, then the front loader construction vehicle was meticulously cut and assembled from fondant and placed over the scene. To finish it off, additional fondant was textured with an embossing mat and placed around the perimeter of the cake.
[box type="shadow"]Learn extensive buttercream techniques in the course The Wilton Method®: Buttercream Skills with Beth Somers to embellish your cakes and create designs with an array of decorating techniques.[/box]
Photo via The Sugar Circle
Construction tools cake
Instead of construction trucks, why not create a cake depicting all the vital tools for a construction worker, like this incredibly realistic cake by The Sugar Circle? This design would be perfect for adult with a similar profession! A tool belt resembling leather lays across the top of the cake, while essential tools and devices are perfectly molded from fondant and strategically placed on the cake, as well as on the covered cake board embellished with a wood-grain effect. A circular saw is even cleverly cutting through the side of the cake! Finally, an edible pen is used to add markings on the measuring tape, as well as to personalize the cake.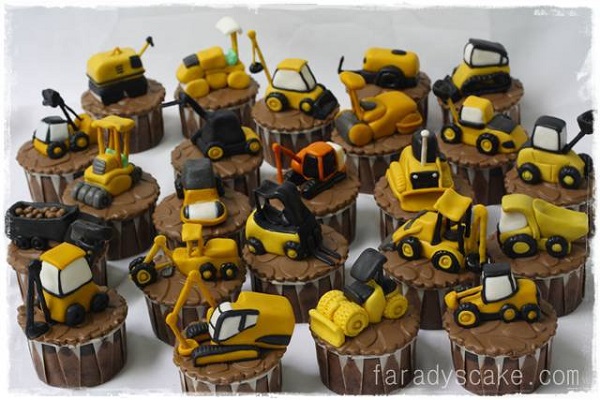 Photo via Farady's Cake
Construction vehicle cupcakes
Farady's Cake created this incredible construction scene with amazing cupcake toppers! The surface of each cupcake is covered with embossed fondant toppers, then topped with a variety of remarkably detailed hand-molded construction vehicles with the tiniest of accents. If working on a large collection, keep in mind you could always pair these more difficult and time-consuming designs with simpler ones to even out your workload.
[box type="shadow']Practice making and molding small fondant designs to adorn your cupcakes and treats in the course Tiny Cupcake Toppers with Sheryl Bito to create edible works of art such as these![/box]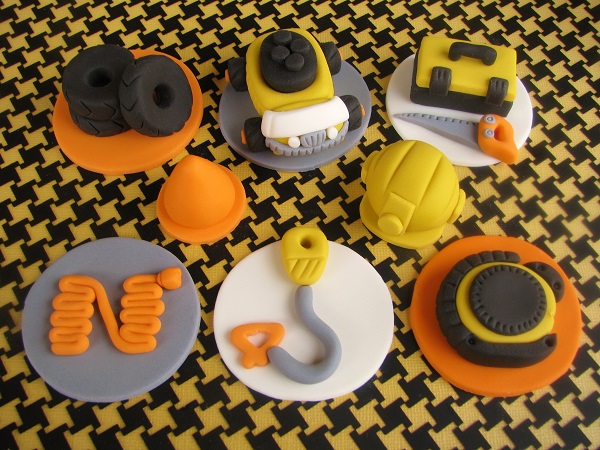 Photo via Lynlee's Petite Cakes
Consruction-themed cupcake toppers
For a construction-themed birthday, Lynlee's Petite Cakes created these cupcake toppers to match back to the coordinating party decor. Three-dimensional fondant designs were accented with simple, flat toppers. The designs were personalized to the birthday boy's name and age in a creative manner. The initial was reflected with fondant made to resemble an electrical cord, while the age punched out with a cutter is being lifted with a crane. See more of the party details for additional inspiration.
How will you construct the next cake for your crew with these inspirational projects?