Weaving is a great way to feed a community feeling and create a project. As a craft and industry, weaving's long history to humanity gives it the upper hand in meaningful metaphors and tangible results. Like tapestry of life, weaving a web of life, threads of life, weaving color together – they all have known double meanings referring to life's journey.
Planning to weave as a community creates feelings of occupation and connection with others with a purpose. The purpose can be just creating together or it can be a planned project with a lasting  product.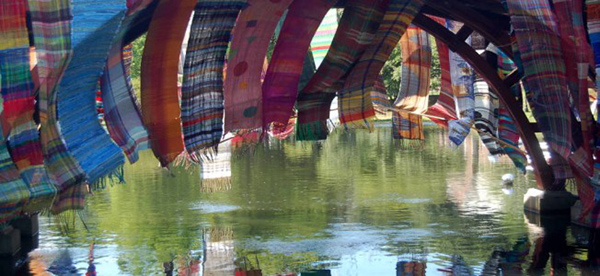 Image via Saori Worcester
Ways of weaving community
Community weaving projects share the same structure choices as other art mediums, but have a couple of extra benefits ( at least I certainly think so.) There are several ways to go about planning a project and they can be structured to suit many budgets and outcomes.
1. Get the community to design the project then you weave it.
This approach is often used when the finished tangible has to be of a high craft standard. It allows community members to design their own "look" and workshops are arranged around the design and ideas generation rather than the production of the final product.
2. You design the project then the community members weave it.
If the design is vital to the project and you are happy to let others weave on it with the possibility of introductory beginner skills, then this is a great option. However, another variation is to secure resources to run training sessions for selected community members.
An excellent example of this is the A Woman's Place is in the House tapestry (1994). This work commemorates the vote for women in South Australia in 1894. It was a woven tapestry designed by a tapestry artist and woven by trained and experienced community weavers. The weaving was set up in shopfronts in Adelaide, which allowed the community to see the work in progress and appreciate the skills needed and the significance of the tapestry. It now hangs in the Parliament of South Australia.
3. Allow groups of individuals to design and weave components that come together as a collective when complete.
This type of project allows all and anyone to contribute to a project in their own way. As the project will come together at the end, some specifications are normally required, such as dimensions, style, color or fiber type.
Suitable for disparate weaves, such as banners, bunting/prayer flags, etc. Saori Worcester used this approach with banners woven and donated by individuals and groups then sold to create a scholarship fund for emerging young weavers to learn Saori. The Bridges of Elm Park were draped in this exquisite collection. The Weaving Bridges Project is another accessible public project that connects community, environmental and indigenous groups with the theme of building bridges and displaying public art.
4. Just get all to weave and design on the go.
This community approach is an all in! Community members just sit down and weave in their own way a small section, which becomes part of a larger shared cloth. If you are worried about cohesion and consistency in the completed textile just limit the color palette and yarn available or choose a strong theme that will produce predicable responses (if there is one!). The resulting textile is exciting and creative.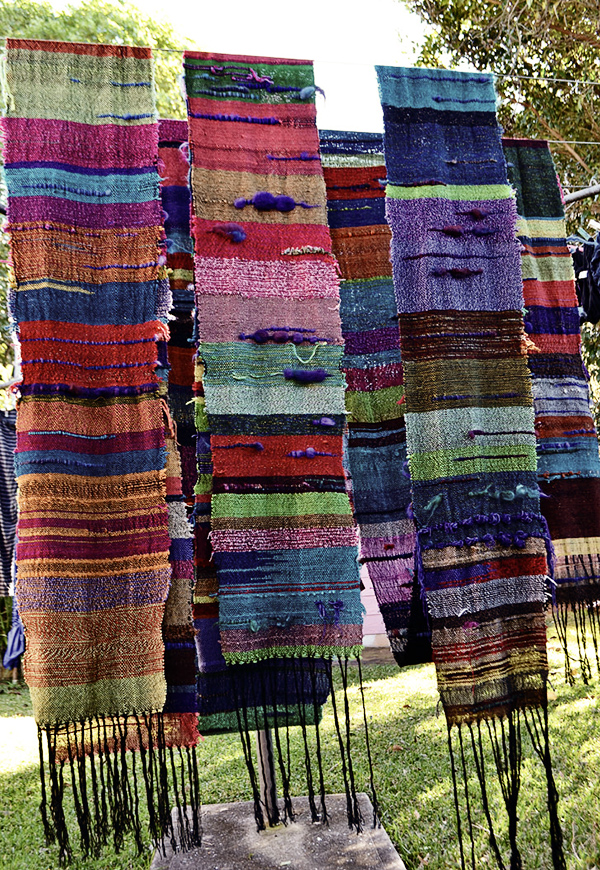 5. Community donates materials then others weave them together.
This type of project is particularly suited to weaving. A powerful example being the Thread Project initiated by Terry Helwig after the 9/11 tragedy. Each thread contributed was significant to someone and accompanied with a story. Experienced weavers around the world wove these threads into different but set colored warps, which then all came together as large commemorative hangings.
Have you ever participated in a community weaving project?